The expiry of patents on Cherry's famous MX mechanical key switches has been a great impact to the mechanical keyboard market, and we can see that there are a large number of cheaper Cherry MX alternatives that have been springing up like mushrooms after the rain. Drevo is a new yet unfamiliar name to majority of us, are one of the available alternatives for a low cost mechanical keyboard. Special thanks to Drevo for the provision of the review unit of the Drevo Calibur with us here today, the company's 71-key Bluetooth RGB mechanical keyboard that doesn't break the bank.
Specifications
Unboxing
Unlike most low cost mechanical keyboard out there with overly exaggerated packaging, the Drevo Calibur ships in a simple and minimalist packaging which gave a better overall impression.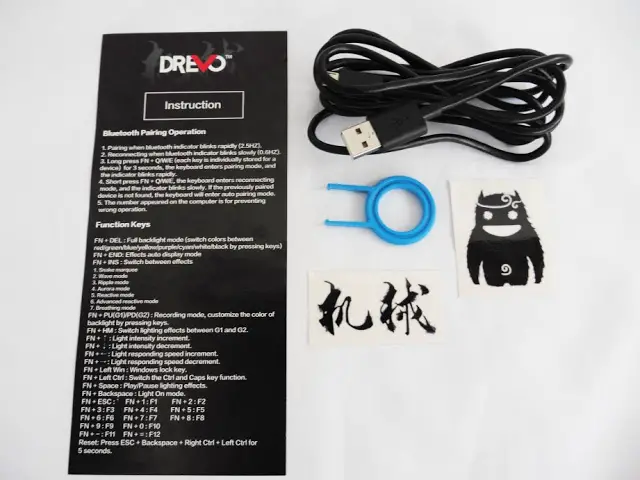 Inside the box, you'll get a piece of user's guide, stickers, ring key cap puller, USB cable.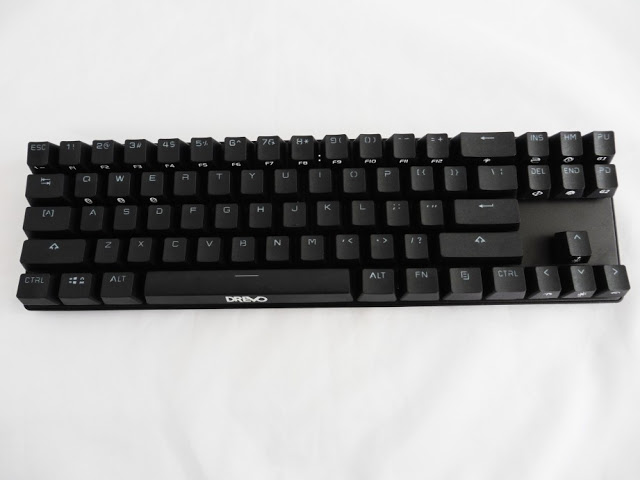 The Drevo Calibur has a pretty unique 71 key layout, rather than the usual 80% tenkeyless or 60% design.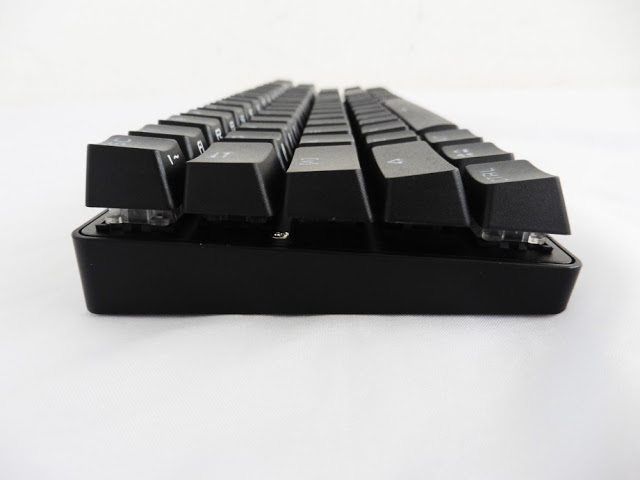 Like most mechanical keyboards out there, the Drevo Calibur has the ergonomic curve design that allows you to type on more comfortably for longer hours a flat profile.
The side printed key caps shows the extra function keys of the keyboard that can be triggered with the combination of the FN key:
QWE for Bluetooth connection of up to 3 devices
The top row of the keys for function keys F1-F12
Control pad for LED profile switching
Arrow pad for LED brightness and speed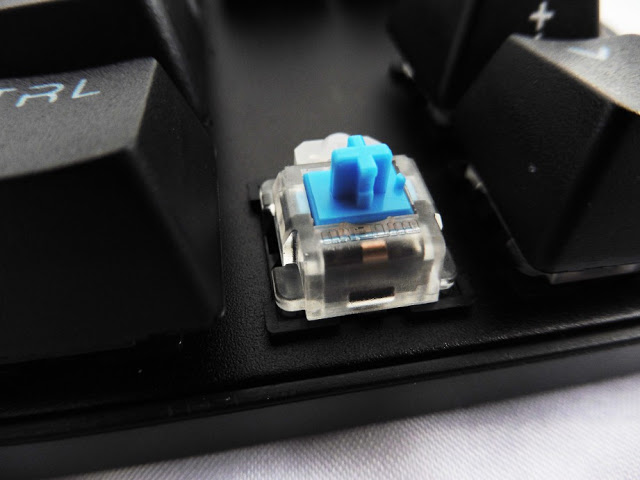 The switches used on the Drevo Calibur are the Outemu switches, a brand name under Dongguan Gaote Electronics Co., Ltd and it's now commonly seen on lower cost alternative mechanical keyboard.
As for the key caps, Drevo is using PBT doubleshot key caps that is made to last longer than traditional key caps for illuminated keyboards. While we weren't able to point out the exact material used for these key caps, but based on the floating test conducted, we can assure that it's definitely not ABS.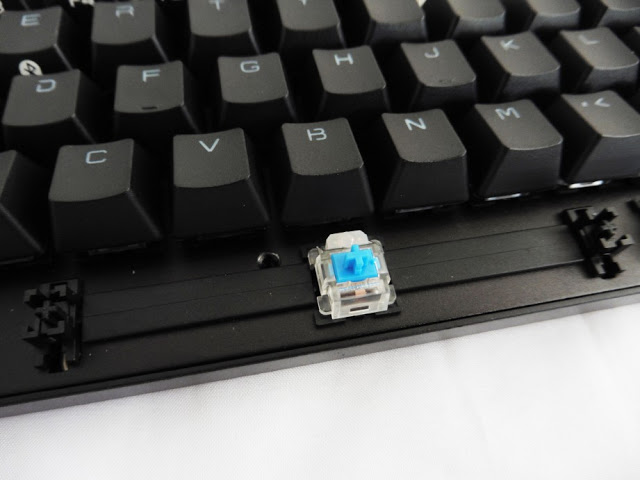 Like most mechanical keyboard nowadays, Cherry stabilizer are seen used on longer keys on the Drevo Calibur keyboard, like the space bar, shift key, enter key, etc.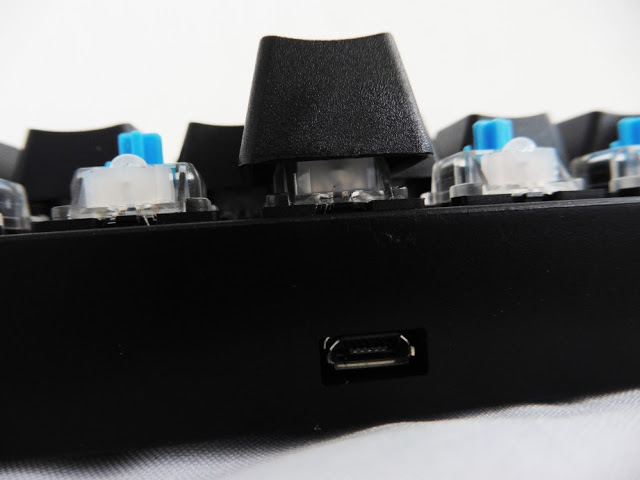 Behind the keyboard is the micro-USB connector for USB connection to PC, as well as charging the keyboard.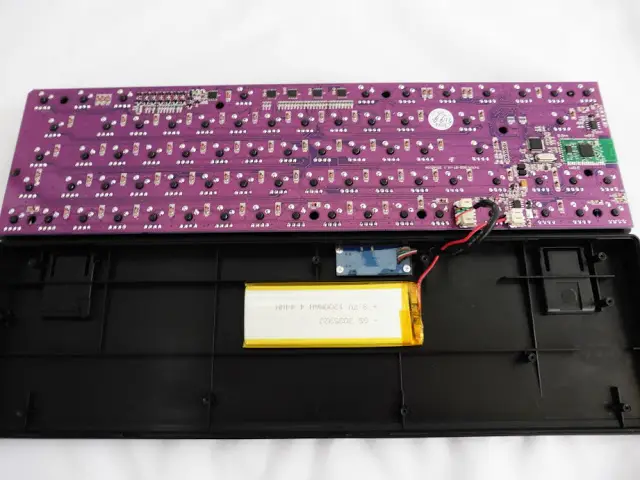 From the tear down above, we can see that Drevo Calibur is a Keycool made board from its work. Other than the clean work from Keycool, we can see the Bluetooth built onto the keyboard PCB, an a built-in 1200mAh lithium-ion battery to power up the keyboard on wireless mode.
The keyboard feet comes with a rubber pad for that extra grip you'll need to keep the keyboard in place with or without the keyboard feet raised.
Under the keyboard, you'll find a DIP switch to enable the Bluetooth mode.
User Experience
Key rollover test wise, we're able to hold down each and every key with no signs of signal blocking and ghosting effect on both wired and Bluetooth wireless mode without any issue. Although there are noticeable input delay with rapid tapping with the keyboard connected to tablet devices like iPad.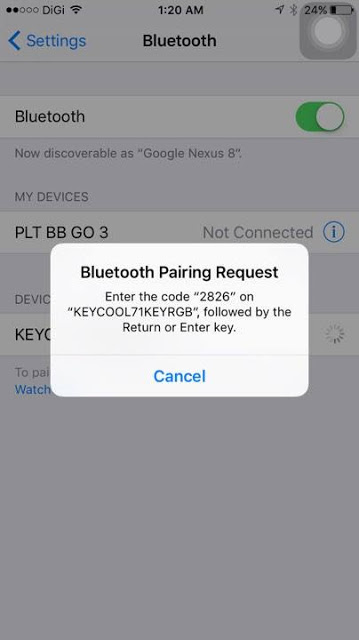 As for Bluetooth mode, we can see that the keyboard has a built-in 1200mAh battery from our tear down earlier, which will last you approximately 2 days on a very frequent usage i.e 9-5 office job. Charging it to full takes roughly 2 hours, as what Drevo suggested on the user's guide, and we have confirmed that it can indeed last for 14 days on standby.
Final Thoughts
While there are minor lacking in some of its features, the Drevo Calibur still comes with some notable qualities of a very decent mechanical keyboard, i.e full key rollover (NKRO), doubleshot keycap, wireless Bluetooth connection to up to 3 devices, etc that would have cost you more than $39.99.
Design wise, we'd say that the Drevo Calibur's 71 key layout isn't something that is widely acceptable due to the fact that majority users has gotten used to the full-sized layout. For users who appreciate a keyboard with small footprint, the Drevo Calibur is a very solid keyboard that is worthy for the real bang for the buck mechanical keyboard without any doubt.
Pros
Clean, solid build quality
Doubleshot keycaps
Decent LED modes
Support Bluetooth pairing with up to 3 devices
Built-in 1200mAh Lithium-ion battery for wireless operation
Full key rollover (NKRO)
Good keyboard feet design
Very, very good value
Cons
Very limited LED modes
Inflexible LED modes toggle
Noticeable input delay on Bluetooth mode