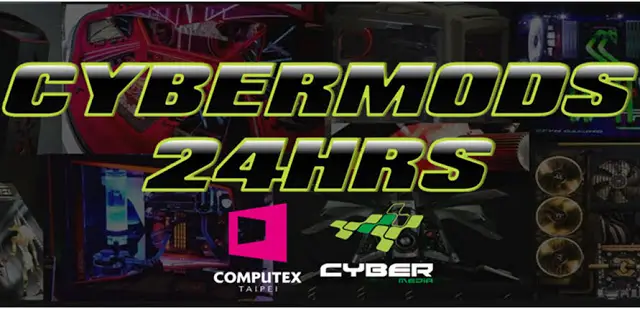 CyberMedia, together with TAITRA, is thrilled to announce that COMPUTEX 2017 will be the host for the first ever CyberMods 24hrs internationalPC case modding competition. CyberMedia and COMPUTEX have been working hand-in-hand for many years now thanks to a common goal and understanding of the trends for tech companies that provide the groundwork for excellent new products and assist the entire tech industry for new developments and innovations at every COMPUTEX. This year,Invited modders from around the world will be given 24 hours to craft a special build focused on a special theme which includes Sci-Fi, video games and movies. Big prizes await those who will come out on top on this momentous occasion including a prize pool of US$20,000 in cash and prize.
The CyberMod 24hrsmodding competition will be held during COMPUTEX 2017 at the Nangang Hall 4F, Light Gallery starting May 30th to June 2nd at 9am until 6pm. The contestants will showcase their built PC mods on June 3rd at the last day of COMPUTEX and will be interacting with the public to share their experience about modding.
CyberMods 24hrs will be a global event with modders from the USA, Thailand, Philippines, Australia, China and UK amongst others that will be having representatives in the event. Modders will be grouped in teams and will select from a predetermined theme for their build. They will be given a total of 24 hours to finish their build. Judging will be done on the final day where the winners will be announced.
PC Modding in the Global Stage
Modding stems from the word modification and has been an artform for quite a while now where creators or "modders" as they are referred to, customize products to suit their personal tastes, oftentimes with a theme to go with, inspired by any and all things that the creator finds interesting.
PC modding has been a key element in the growing PC gaming industry as aesthetics and functionality have been part of what keep PC gamers coming back to the platform. Allowing nearly unlimited possibilities to show-off their personal style or to add functionality to their systems, modding has grown from simple mods to intricate and highly advanced extensions of one's PC.
CyberMedia and TAITRA Brings the Spotlight to Modders
CyberMedia along with TAITRA understand how vital the modding community is in shaping the DIY PC landscape and with many individuals carving a name for themselves from different parts of the globe, it is rare for these people to get the chance to be in a single place. CyberMods 24hrs makes this possible bringing the best in the world to show-off their skills in this momentous event. CyberMods 24hrs aims to highlight these modders, what goes through their mind as they shape their projects and what approach they take and how it all goes together into forming another masterpiece.
Time and Location
Date: May 30th – June 3rd, 2017
Event: 9am – 6pm (9am – 4pm on June 3rd)
Location: Nangang 4F Light Gallery (Area L Lobby)
"Media's Choice" 
A special award dubbed "Media's Choice" will be awarded by CyberMedia to the top team as voted by the media. This category aims to highlight the importance of the media in this event, giving them the opportunity to also select a favorite from the modded builds during the event. With this, CyberMedia wants to express their gratitude to the media who have been invaluable partners throughout the years. A media lounge will be available in the event venue to further facilitate hands-on access with the mods and activities.
Participating media will be eligible to join a raffle after the event to take home a major prize during the awarding ceremony on June 2nd, 4PM.
For More Information about CyberMods 24hrs at: 
More Information about CyberMods 24hrs at: