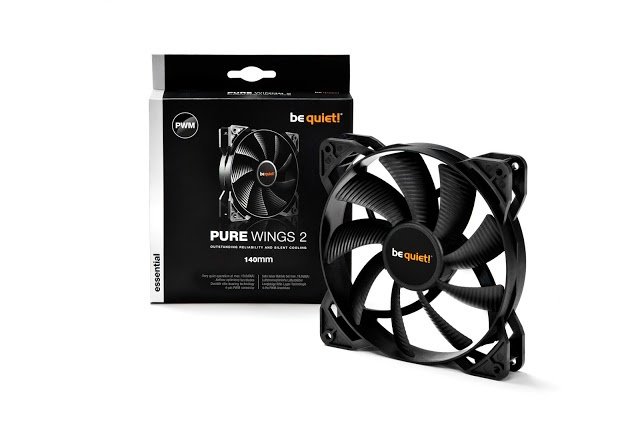 Glinde, October 28th, 2015 – be quiet!, the market leader in PC power supplies in Germany for nine consecutive years*, introduces the latest version of the Pure Wings 2 fans with PWM functionality. This allows for an even easier control of this proven entry-level fan and makes it suitable for a wide range of applications. The all-new Pure Wings 2 PWM offers the highest reliability and an extremely low noise level at an excellent price-performance ratio, just like the 3-pin version.
PWM-control for optimal airflow
be quiet! adds PWM functionality to the rock solid Pure Wings 2. This low-cost entry-level fan can easily be controlled over a 4-pin connector via Pulse Width Modulation, either automatically by the motherboard or manually through the BIOS or with the appropriate software. The flexible rotational speed of the new Pure Wings 2 is ideally suited for a wide range of applications and represents the ideal choice for air and water cooling setups. The fan can be mounted on the radiator, radiator body or in the case to support an optimum airflow.
Durable technology and optimized airflow
The Pure Wings 2 PWM is assembled with a durable rifle bearing which, together with a high-quality motor control, does not just provide a low noise level but also enables an operating lifetime of up to 80,000 hours. To drop the noise level even further, be quiet! utilizes airflow-optimized fan blades that reduce noise-generating turbulence to a minimum. The advanced IC chip isn't just very efficient, it has also been optimized for a low switching noise. Through all these measures, the Pure Wings 2 PWM is nearly inaudible even at maximum load: the fan generates (depending on its diameter) an extremely low noise level of 19.2 to 20.2 decibels.
Four models for a wide range of applications
be quiet! offers the Pure Wings 2 PWM in four sizes, with a diameter of 80, 92, 120 or 140 millimeters. The two smaller versions are working at 1,900 rpm. As for the 120mm and 140mm models, the rotational speed drops to 1,500 and 1,000 rpm, respectively. Due to the availability of different sizes, this new fan is optimally suited for use in HTPCs, multimedia and gaming systems, as well as high-end water-cooled configurations.
The Pure Wings 2 PWM is available immediately at a suggested retail price of $9.90 (80mm), $10.90 (92mm), $11.90 (120mm) and $12.90 (140mm). In early 2016, the fans also will be available in North America.
*Source: GfK Panel Market Germany, sales units internal computer power supplies, January 2015