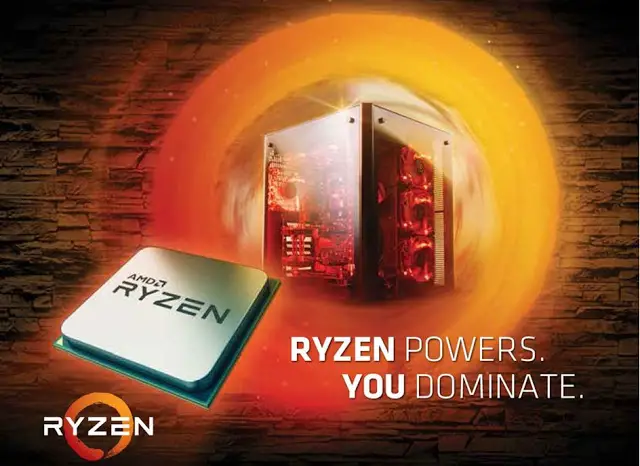 Following the global release of award-winning AMD Ryzen 7 desktop processors in March,
AMD
 today launched all four models of its new high-performance AMD Ryzen 5 desktop processor, introducing disruptive levels of compute performance at a variety of price points.AMD Ryzen 5 processors deliver immersive experiences and high performance innovation to gamers and creators worldwide, with up to 87% more performance when comparing the AMD Ryzen 5 1600X to the Intel flagship Core i5 model, the 7600K. 
Featuring outstanding multitasking capabilities,
AMD SenseMI Technology
, and the powerful and efficient new "Zen" core architecture, AMD Ryzen 5 desktop processors adapt to individual needs with incredible responsiveness and performance.
"AMD Ryzen is a proven game-changer,ultimately bringing innovation and competition back across PC market segments, and we are excited to introduce the next tier of AMD Ryzen processors to the market today," said Jim Anderson, senior vice president and general manager, Computing and Graphics Group, AMD. "AMD Ryzen 5 revitalizes the mid-section of the desktop market, offering consumers excellent pricing while providing as mooth and impressive overall experience, whether for high-performance gaming or demanding applications."
Availability
Starting today there are two 6-core and two 4-core AMD Ryzen 5 models available, all featuring AMD simultaneous multithreading (SMT) technology. All AMD Ryzen processors support the new AM4 infrastructure, with motherboard designs already broadly available from top motherboard manufacturers. 
AMD Ryzen 5 1600X and 1600 models are designed for smooth gaming and broadcasting, and deliver true workstation-class performance in a new market segment. The 1600X and 1600 models are two of the highest-performing and lowest power 6-core desktop processors that consumers can buy,with 12 threads delivering a decisive advantage in multi-core processing capability in its price level.
AMD Ryzen 5 1500X and 1400 are designed for performance gaming and processing featuring 4processor cores with 8 threads for high performance gaming and processing, with AMD SenseMI Technology to analyze and adapt to customer needs. To deliver the best gaming experience possible, the 1500X features up to 200MHz of XFR (extended frequency range) when used with superior cooling– among the largest extended frequency ranges seen on anAMD Ryzen processor to date.
The Right Processor for Streamers
In the last five years, eSports has grown to be a global phenomenon on track to reach
$1 billion in revenue by 2019
. In turn, eSports has made broadcasting game footage a major trend, and with certain games being extremely CPU-intensive, simultaneous gaming andstreaming is acknowledged to require a multi-threaded CPU design. For this rapidly growing audience of gamers, the AMD Ryzen 5 1600X processor, with 6 cores and 12 threads offers a highly accessible solution for high-quality 1080p/ 60 FPS/ 3500Kbps game streaming.
AMD Ryzen 5 Processor and Platform Availability
Availability for all four AMD Ryzen 5 models begins today at etailers around the world. All AMD Ryzen processors support the new AM4 infrastructure, with motherboard designs being produced from top ODMs. Announced at CES 2017, AMD and its motherboard partners already debuted a wide array of new motherboards from ASRock, Asus, Biostar, Gigabyte, and MSI, all built upon the following desktop chipsets for AMD Ryzen processors – the X370, B350 and the A320. 
With the release of AMD Ryzen 5 processors, AMD motherboard partners are also highlighting the A320 chipset-based motherboards, specifically addressing the needs of mainstream PC gaming customers looking for a feature-rich, robust and affordable platform for gaming PCs, priced ranging from approximately $50USD SEP.