Weeks after Lenovo Malaysia's official launch, we finally got our hands onto the laptop and here's what we think about it. Spoiler alert, it is way better than we had expected.
The review sample we received from Lenovo is the entry model that comes with the following specifications:
Specifications
| | |
| --- | --- |
| | Lenovo Legion 5 15 (Ryzen 5) |
| CPU | AMD Ryzen 5 4600H |
| GPU | NVIDIA GeForce GTX 1650 |
| RAM | 8GB DDR4-3200 |
| Storage | 512GB NVMe SSD |
| Display | 15.6-inch 1080p 120Hz ~60% sRGB |
| Price | RM3,899 |
Video Review
Lenovo Legion 5 15
Let us start with chassis. Lenovo started using this new chassis since last year if I'm not mistaken. This has to be Lenovo's best decision so far. First of all, even though the chassis is mainly constructed out of plastic, the integrity and build quality are exceptional. I strongly believe that Lenovo has directly applied its expertise in building ThinkPads onto the Legion line of gaming laptops.
This is the kind of design I would describe as clean and professional. Mind you that the Legion line is supposed to be gaming oriented and I'm glad that they didn't go with those cringe black and red colour scheme nor those sketchy designs that scream "I AM A GAMER" at everyone.
Back to the build quality, the keyboard deck is very sturdy and it has this soft-touch surface coating which I certainly hope it doesn't get sticky in the long run. This keyboard has to be the best laptop keyboard I have used so far.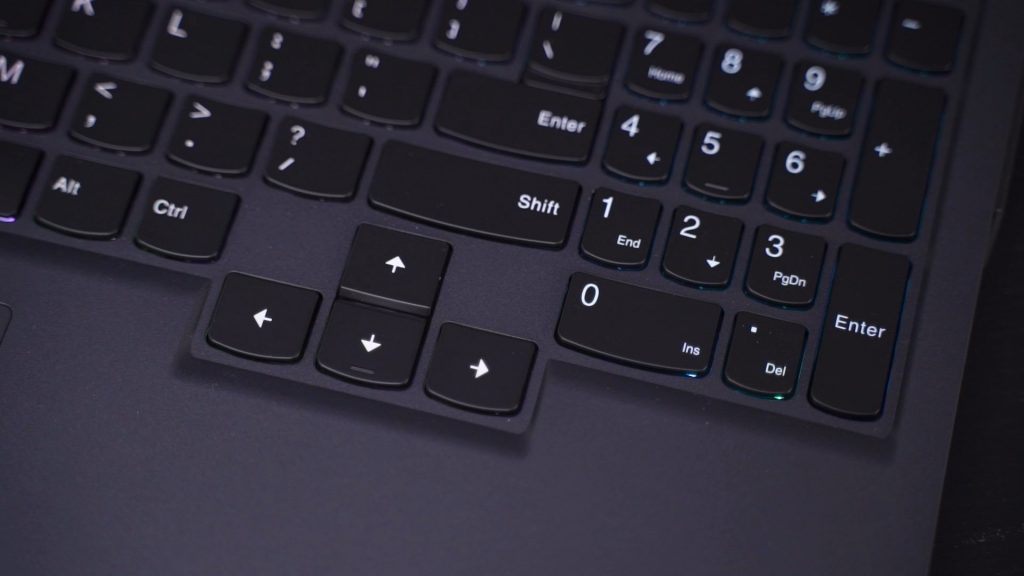 Just look at this proper, full-sized arrow cluster that doesn't get in the way of the dedicated numpad section. Look at the zero key, it is a proper 2-key length instead of the single-key sized.
The overall typing experience has been positive and I really like how the keys have nice travel distance as well as responsive feedback. It does have a 4-zone RGB backlight, but you don't really have a lot of customisation in the software.
I particularly like this kind of display hinge where you can open the display up to 180-degrees. If they were to construct the laptop around the size of the display, they would have got a slightly shorter chassis, but because of this hinge design, that means there is extra room behind the laptop for heatsinks and ports.
The port selection on this laptop is generous and I really like how they placed most of the connectors at the back:
Left
USB 3.1 Gen1 Type-A (always-on)
3.5mm Audio combo jack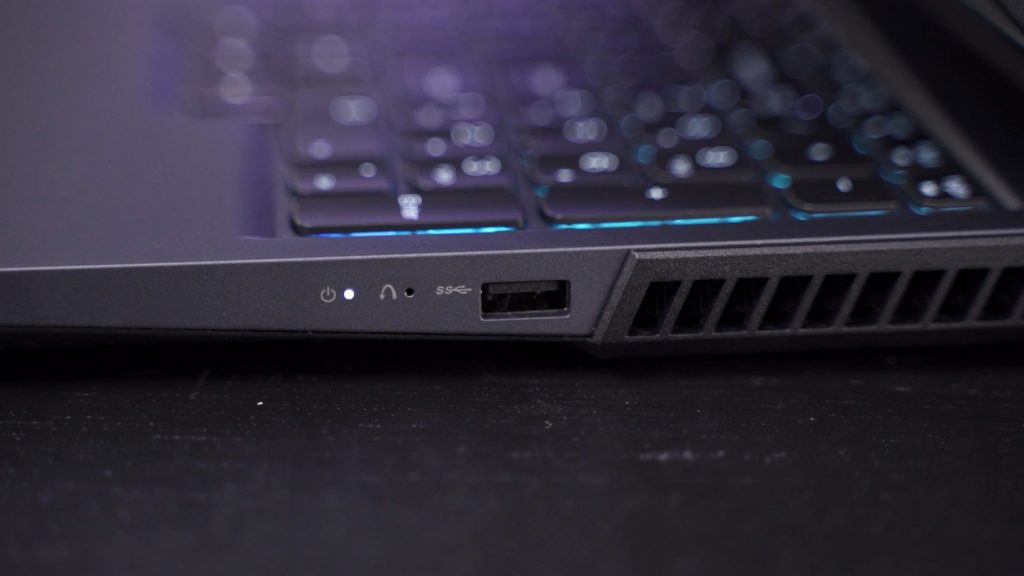 Right
Back
Gigabit ethernet
USB 3.1 Gen1 Type-C (DisplayPort)
2x USB 3.1 Gen1 Type-A
HDMI 2.0
Charging
Display
The display panel is slightly on the disappointing side. This 15.6-inch AUO panel has a 1080p Full HD resolution and comes at 120Hz refresh rate. PC spec enthusiasts will definitely complain about why it is not a 144Hz display? Well, in real-life situations, 120Hz and 144Hz do have that much of a difference, especially while you're playing games. However, because of the stagnated development of the 120Hz display, this panel only covers about 60% of the sRGB colour gamut. It is decent for regular usage as well as gaming but I won't recommend it for colour critical work. Otherwise, you can opt for the higher-end model of the Legion which will have 144Hz refresh rate and 99% sRGB colour gamut.
The top display bezel houses an HD webcam and it also comes with a slider to cover the camera.
Performance
Synthetic Benchmark
Unsurprisingly, the Ryzen 5 4600H triumphs when it comes to the multi-core performance against the troubled Intel Core i7-10750H. Just that Intel still holds onto stronger single-core performance which we can clearly see in the Counter-Strike: Global Offensive game benchmark later. GPU performance comparison is not a head-to-head comparison but more like a showcase of the score difference between different GTX 16 series GPU on laptops.
Gaming & Thermal Performance
vs ASUS ROG Zephyrus G14
The Zephyrus G14's GTX 1650 Ti has about 10% of a performance advantage over the Legion 5's GTX 1650. Sufficient to say, we're still getting average 60 frames in PUBG at highest graphical settings, so GTX 1650 is not entirely that bad after all. Only when you're trying to play triple-A titles, you will need to reduce the settings to medium for smooth gameplay experience.
Once we shift our focus to the temperatures, I just couldn't believe how cool the Legion 5 is running. The maximum CPU temperature never went pass 80-degree Celsius while the GPU is kept within 70-degree Celsius. The best of all, the fan noise is noticeably quieter than many other laptops even when we're running those demanding triple-A titles.
vs MSI GF63
Comparing with the MSI GF63's Intel Core i7-10750H we can see Intel's better single-core performance helped with the higher frame rates in CS: GO. Apart from that, because of the use of GTX 1650 Max-Q chip in the GF63, the overall performance is about 10% slower than the standard GTX 1650 found in the Legion 5. The higher temperature on the GF63 is reasonable as it only comes with a single cooling fan. All in all, I strongly believe the bare minimum of an entry-level gaming laptop requires a standard NVIDIA GeForce GTX 1650.
Upgradability
The Lenovo Legion 5 is user-serviceable by removing the bottom chassis, do take note that it is a little tricky to take it apart, so be careful with it. There are 2 RAM slots under a metal shield which can be pried open easily. The WiFi card can be upgraded but I don't think you will need to touch it because the default WiFi card is already supporting WiFi6. As for the storage options, there are 2 M.2 slots available, one for the M.2 SSD while the other one is hybrid for NVMe and SATA. Right now the ribbon cable is pre-connected for the 2.5-inch SATA drive. Part of the drive cage is anchored down by the battery, so you need to slightly lift the battery to remove and install the cage. Conveniently, Lenovo has placed all the required screws in the plastic placeholder. Talk about overengineering things.
Battery Life
A single full charge of the battery is capable of providing up to 6 hours of regular usage with 50% screen brightness and Silent Mode enabled. I wrote this entire script on Google Chrome while having YouTube playing music in the background. This is a decent laptop to be used for your everyday task as well as gaming. Do keep in mind that the screen will automatically switch to 60Hz when you unplug it from the power socket. If you really want to game while on battery, expect the battery to run dry within 2 hours while having lower performance.
Final Words
Lenovo Legion 5 15 (Ryzen 5)
ASUS TUF Gaming A15 (Ryzen 5)
CPU
AMD Ryzen 5 4600H
GPU
NVIDIA GeForce GTX 1650
RAM
8GB DDR4-3200
Storage
512GB NVMe SSD
Display
15.6-inch 1080p 120Hz ~60% sRGB
15.6-inch 1080p 144Hz ~60% sRGB
Price
RM3,899
RM3,499
So at the retail price of RM3,899, this is a very strong contender against the ASUS TUF Gaming A15 (R5-4600H & GTX 1650 – RM3,499). As much as we wanted to directly compare their performance and cooling capabilities on equal terms, we simply don't have the same model with us at the time of review. On paper, the TUF Gaming A15 is looking extremely attractive because it has a slightly faster screen and RM400 cheaper. However, there are a couple of important aspects that you can't overlook, the Legion 5's chassis is miles ahead of its competitors at the same price range. I am very impressed with the build quality, IO port placement, the keyboard and most importantly, the cooling performance. The display, well, even if it is not the best, I believe this is more than enough for your gaming needs.
Lenovo Legion 5 15
(Ryzen 7)
ASUS TUF Gaming A15
(Ryzen 7)
ASUS TUF Gaming A15
(Ryzen 7)
CPU
AMD Ryzen 7 4800H
GPU
NVIDIA GeForce GTX 1650 Ti
NVIDIA GeForce GTX 1660 Ti
RAM
2x8GB DDR4-3200
8GB DDR4-3200
Storage
256GB NVMe SSD
1TB 5400rpm HDD
512GB NVMe SSD
Display
15.6-inch 1080p 144Hz ~99% sRGB
15.6-inch 1080p 144Hz ~60% sRGB
Price
RM4,549
RM4,099
RM4,699
For those who need a higher-performing model, the Legion 5 15 also comes with Ryzen 7 CPU option. Personally I think it is a solid option and worth the upgrade over the Ryzen 5 model.
Pros:
Outstanding build quality
Clean design
Good IO selection & placement
Excellent keyboard
Excellent cooling
Quiet fans
Good battery life
Cons:
OK display (not terrible, not impressive)
Subpar customisation in Lenovo software
Slightly more expensive than the competition