ILLEGEAR has primarily sold custom gaming laptops with Intel CPUs, however, the rise of AMD Ryzen mobile means that they can offer more component options to the end customers. In this case, the company essentially swaps out the internals of the 17.3-inch ROGUE with an AMD system, hence here we have it – the ILLEGEAR ROGUE Ryzen.
Customers have Ryzen 5 and Ryzen 7 CPU options as well as a choice for either GTX 1650 Ti or RTX 2060 GPU. Besides, there are also plenty of different configurations available for the RAM, storage and other accessories. The review sample we received from ILLEGEAR has a respectable spec as follows:
AMD Ryzen 7 4800H
NVIDIA GeForce RTX 2060
2x8GB DDR4-3200
256GB NVMe PCIe3.0x4 SSD
17.3-inch 1080p Full HD IPS 120Hz
Video Review
Around the Chassis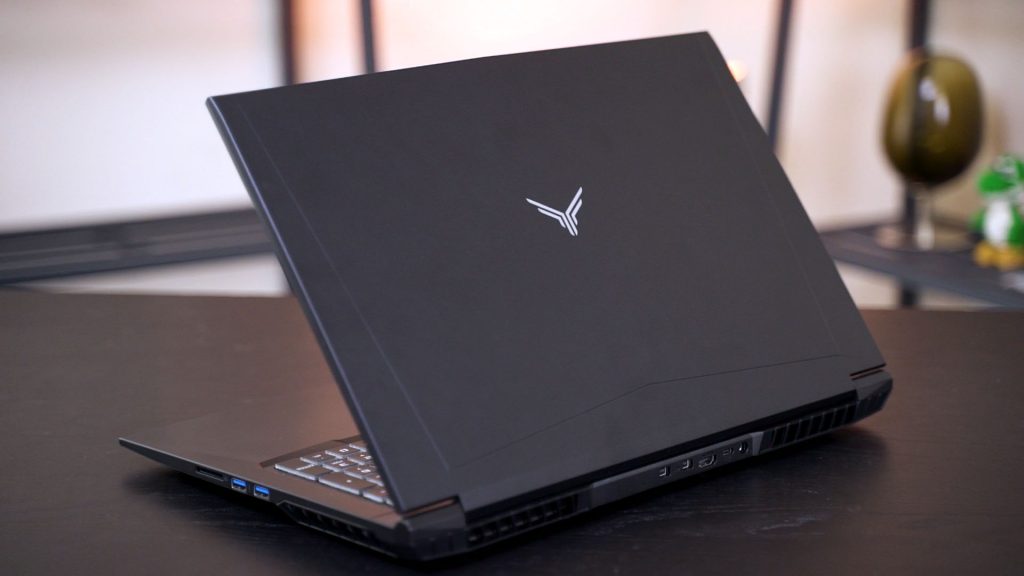 Knowing the fact that the ROGUE series is ILLEGEAR's mainstream 17-inch gaming laptop, I did not expect a lot from the build quality. The chassis is primarily made out of plastic and to be fair, the construction is pretty robust especially on the lid.
Or I should say, overdid, as it is thick, heavy and sturdy. Not that I would say the same to the keyboard deck as it sounds hollow when you tap on it.
Now here's a problem, because of this unbalanced weight distribution, this laptop has a top-heavy issue and you can't open the lid with one hand. It is not really an issue as I don't think you'll plan to use this device on your lap.
Display
Despite the laptop uses a 17.3-inch larger form factor display, the laptop itself really doesn't look all that big thanks to the narrow bezels surrounding the screen.
There's an HD webcam at the top bezel which is decent for your ZOOM calls. These laptops exist because there are still quite a number of users out there in the market prefer to game on a bigger display instead of 14 or 15.6-inch panel. The resolution is 1080p full HD and it runs at 120Hz refresh rate. While on paper 120Hz is slower than 144Hz, if you put both displays side by side, you can't really tell which one is faster. If you want the 144Hz option, ILLEGEAR does offer it as an upgrade by adding RM199. Besides, the 144Hz screen is claimed to have 99% sRGB colour gamut.
The 120Hz display's colour is not as good and even though ILLEGEAR does offer display colour calibration service for their laptops, there is a limit what they can really do to calibrate. At the end of the day, I would just say this particular display is solely made for gaming because the colour reproduction is not really that good on this panel.
Keyboard & Trackpad
The keyboard is a full-sized laptop keyboard with a dedicated numpad section. I have only one complaint and I will continue to mention this until they get the factory to change it. Why is the arrow cluster still mixed up with the right control and numpad? Why can't they just shift down the arrow cluster and make a full size zero key?
The trackpad is surprisingly good even though underneath the keyboard deck being, well, sort of empty. At least the trackpad itself is being mounted properly to prevent it from flexing. The use of Microsoft Precision Touchpad driver makes it a decent trackpad to be used for normal situations. Nonetheless, if you're getting this laptop for gaming purposes, I believe your bag should have space for a mouse.
IO Ports
When it comes to the IO ports, I have questions about the decision to place 3 display output on the ROGUE Ryzen. Just look at the back of the laptop you'll see one full-size HDMI port and two Mini DisplayPort. There is a single USB Type C at the back supporting USB 3.1 Gen1 speed. On the left-hand side, you'll find a gigabit ethernet port and a single USB 2.0 port. ILLEGEAR also separates the 3.5mm audio jack for microphone and headphone. Meanwhile, on the right side is a full-size SD card reader and two USB 3.1 Gen1 ports.
Performance
Synthetic Benchmark
We don't really have much of the choices when it comes to comparing 17.3-inch laptops so we compared those models which have similar components. The Ryzen 7 4800H fares pretty well when it comes to the synthetic benchmarks. We can't really say much about the comparison between this laptop and the TUF Gaming A15 because there was a BIOS update in between our review.
Gaming Benchmark
The gaming performance between both ROGUE and TUF Gaming A15 is pretty similar with the exception of Overwatch which could be due to the map difference. Overall, you should be able to push most of the games at maximum settings without any issue.
Thermal Performance
What really sets them apart is the thermal performance. We all know that the TUF Gaming A15 is plagued by the infamous overheating problem. The well-positioned vents underneath the chassis combined with the use of Thermal Grizzly Kryonaut thermal paste did wonders with ROGUE Ryzen. The highest CPU temperature we have recorded is 94-degree Celcius which is almost 12-degrees cooler than the TUF Gaming. So, make sure to choose the thermal paste upgrade if you're getting this laptop.
Upgradability & Battery Life
Opening the chassis, just like the usual stuff, we get two RAM slots as well as two M.2 slots for memory and storage upgrades. Now, here's the reason why the laptop felt top-heavy, almost half of the battery chamber is left empty because the review sample we got has a 47Wh battery instead of 63Wh. Now, the ironic part is that even though the empty space was supposed for a 2.5-inch drive, the ROGUE Ryzen actually won't be able to support it as the motherboard simply don't have the SATA ribbon connector for it. That makes me wonder why ILLEGEAR don't just directly ship a larger 63Wh battery instead.
As for the battery life, a single full charge of this 47Wh battery is capable of lasting us somewhere around 2 hours and a half in Silent Mode.
Final Words
At the time of review, our sample's configuration – Ryzen 7 4800H, RTX 2060, 16GB RAM, 256GB SSD, and 17.3-inch 1080p 120Hz screen can be purchased at the retail price of RM5,197. Unfortunately, the Intel-based ILLEGEAR ROGUE with similar specs will set you back for RM5,599.
To be completely honest with you, the 17-inch laptop market is very niche, especially at this pricing bracket of RM5000 range. The only competition is probably the ASUS TUF Gaming A17 that comes at roughly the same price point and same screen size. Give and take, you have the option to go for Ryzen 9 4900H but losing out from the RTX 2060 graphics.
Apart from the weaker colour reproduction on this particular 120Hz display, the ILLEGEAR ROGUE Ryzen is a good option if you're in the market looking to a large display gaming laptop. It has a great price to performance ratio and most importantly, it doesn't have any of the overheating issues. I just hope that ILLEGEAR will make good use of the internal space by either offer a bigger battery option as a standard, otherwise, just make the factory to support a SATA drive.
Pros:
Decent choice of ports
Good performance
Excellent cooling
Good price to performance ratio
Cons:
Unbalanced weight distribution
Keyboard layout could have been better
Non-optimal 120Hz display
Poor use of internal space