AMD Radeon RX 6600 is finally here and just like the RX 6600 XT, it's also a graphics card targeted for 1080P gaming but with a slightly more affordable price tag of $329. We managed to get our hands on the XFX Speedster SWFT 210 Radeon RX 6600 this time and we'll be comparing it against both RX 6600 XT and RTX 3060 to see what kind of performance can we expect from the RX 6600.
Specifications
| | | |
| --- | --- | --- |
| GPU | Radeon RX 6600 XT | Radeon RX 6600 |
| Shading Units | 2048 | 1792 |
| TMUs | 128 | 128 |
| ROPs | 64 | 64 |
| Compute Units | 32 | 28 |
| Game Clock | 2359 MHz | 2044 MHz |
| Boost Clock | 2589 MHz | 2491 MHz |
| Memory Type | GDDR6 | GDDR6 |
| Memory Size | 8GB | 16GB |
| Memory Bus | 128-Bit | 128-Bit |
| Bandwidth | 256 GB/s | 224 GB/s |
| Effective Memory Speed | 16 Gbps | 16 Gbps |
| Bus Interface | PCIe 4.0 x 8 | PCIe 4.0 x 8 |
| Additional Power Connector | 1 x 8-pin | 1 x 8-pin |
| TDP | 160W | 132W |
| Recommended PSU | 500W | 450W |
Unboxing
Starting off with the packaging, the XFX Speedster SWFT 210 Radeon RX 6600 ships in a vertical box design that is not commonly seen but much expected if you have previously owned a card from XFX. Unlike some of the brands we've seen, there's no visible fancy marketing message that can be found on the box but the features which the card has to offer – much commendable I'd say. Inside the box, you'll find the graphics card alongside the documents such as the notice on the graphics card driver and the product warranty card.
The XFX Speedster SWFT 210 Radeon RX 6600
The XFX Speedster SWFT 210 Radeon RX 6600 comes with a dual-fan cooler and has a dimension of 244mm x 118mm x 38mm, which is compact enough to fit in most of the PC cases you can find in the market.
While XFX didn't specifically mention anything about the cooler design, the fans don't look like those generic fans you'll find on a generic OEM card. The heatsink seems pretty reasonable as well, with two heat pipes and a reasonably-sized heatsink that seems to be enough to handle a GPU that has a TDP rated at 132W.
The card will require an 8-pin PCIe power connector to run and the recommended power supply is at least 450W. One feature that wasn't mentioned anywhere on the box is the dip switch located next to the PCIe power socket, which allows you to toggle between two modes depending on your needs.
Like most of the graphics cards nowadays, XFX Speedster SWFT 210 Radeon RX 6600 also comes with a metal backplate to improve the rigidity of the card, as well as for the aesthetics. You'll find a familiar-looking cutout design at the near end of the card to improve the cooling performance.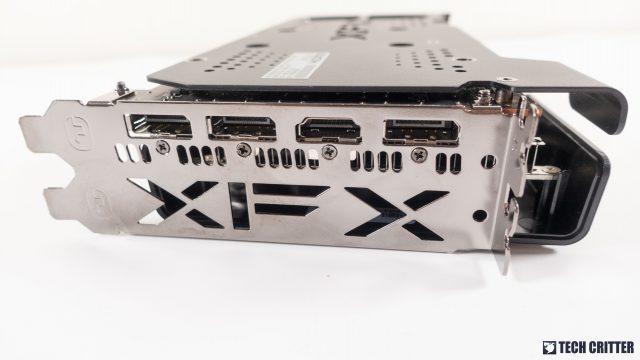 For the display output, you'll find 3 x DisplayPort and 1 x HDMI on the XFX Speedster SWFT 210 Radeon RX 6600, which is a very common option nowadays.
Test System Setup
For our games benchmark test, we've selected a number of AAA titles to run at its highest possible settings using the following setup under an ambient temperature of 31°C:
| | |
| --- | --- |
| CPU | AMD Ryzen 9 5950X |
| Motherboard | MSI MEG X570 GODLIKE |
| Memory | TEAMGROUP T-FORCE Dark Z FPS DDR4-4000 |
| Graphics Card | XFX Speedster SWFT 210 Radeon RX 6600 |
| Power Supply | Cooler Master V1200 Platinum |
| Primary Storage | Corsair MP600 2TB |
| Secondary Storage | WD Black 6TB |
| CPU Cooler | Cooler MasterLiquid Master ML360R RGB |
| Chassis | Streacom Open Benchtable BC1 |
| Operating System | Windows 10 64bit |
Games Benchmark (DX12)
Based on our observation of the raster performance, we can see that both the RTX 3060 and RX 6600 are trading blows most of the time while the RX 6600 XT leads in most of the titles tested. Though the performance gap between both RX 6600 XT and RX 6600 is like 10% away most of the time, you can actually overclock the RX 6600 a little further to achieve performance that is close to the RX 6600 XT in 1080P gaming.
As we scale up the resolution to 1440P, we can see that the RX 6600 is still able to handle some of the titles but is barely able to maintain a consistent 60fps framerate with the highest graphics settings. You can technically game on 1440P with the RX 6600 but that will require some compromise on the graphics settings. Going up to 4K has proven too much for all the cards we have here, which were intended for 1080P gaming only.
Games Benchmark (DXR)
Moving on to the ray tracing performance, the outcome is still pretty much expected for the existing titles that only come with DLSS. For newer titles that come with the option to enable FSR (FidelityFX Super Resolution), things are looking much better for the Radeon cards this time for sure. FSR isn't perfect of course, as we still cannot overlook the fact that it's a different technology than what NVIDIA is presenting with the DLSS technology, which involves image training by AI that is not just scaling and sharpening work. Though I'd recommend going for FSR Quality or Ultra Quality if possible and avoid going FSR Performance because the game will look like something from the 80s with all the details mushed up together.
For some of the existing titles which clearly will not be getting FSR anytime soon, you'll just have to forget about enabling Ray Tracing if you seriously want to have a smooth and enjoyable experience on these titles. While newer and upcoming titles will probably be getting FSR as well, it's totally up to the game developer to either choose DLSS or FSR for their games, but hopefully both if it's possible.
Temperature & Power Draw
We've also compared the thermal performance and power draw for both the RX 6600 and RX 6600 XT here using the FurMark GPU burn-in utility, just to see how hot the GPU will get and how much power is it drawing under load.
| | | |
| --- | --- | --- |
| | PowerColor Red Devil RX 6600 XT | XFX Speedster SWFT 210 Radeon RX 6600 |
| Idle Temp. | 50°C | 40°C |
| Load Temp. | 60°C | 60°C |
| Power Draw | 162W | 138W |
Even though the load temperature totally depends on the cooler design from the board partners, both cards are doing just fine throughout the test and it never goes more than 60°C after many reruns during the testing period. We cannot guarantee its performance for non-gaming usage but overheating is probably the last thing to worry about if it's used for normal gaming.
Temperature aside, we can also see that both the RX 6600 and RX 6600 XT doesn't really draw much power during load. So we can assume that it'll run just fine on a decent 500W power supply, which makes both the RX 6600 and RX 6600 XT a reasonable upgrade for the budget gamers. Personally, I think that the RX 6600 is a slightly better-looking option because of the lower power draw despite the 10-15% performance difference.
Final Thoughts
Performance-wise, the RX 6600 performs pretty well on 1080P gaming and that's pretty much it. Despite being able to trade blows with the RTX 3060 on various occasions, the RX 6600 as of now, is all about the raster performance. It can easily be crippled by games with ray tracing features enabled, if the FSR options are absent from the game, especially the titles that are already in the market for more than a year. With a number of existing titles that are clearly not going to get FSR anytime soon, it's best to put your hopes on the newer titles and hope that the game developers will adopt FSR for their games.
For the gamers who don't really see the benefit of having ray-tracing and would prefer to have a better raw raster performance than the fancy aesthetics, the RX 6600 and RX 6600 XT will still be a reasonable option to consider for even though price is just not looking good at the moment. Between both RX 6600 and RX 6600 XT, the specifications are pretty similar with a performance difference at about 10-15% depending on the titles. The performance can be reduced of course, if you're willing to overclock the card a little further, which is highly recommended and can be done easily using the Radeon Software Adrenalin and you can save a few more bucks to invest in other components upgrades.
Pros
Reasonable 1080P gaming performance
GPU temperature never goes beyond 65°C even after a long hours gaming session
Cooler performs reasonably well
Can toggle between OC and Silent mode (?)
Quiet operation
Low power draw
Cons
Ray-tracing performance is still mediocre for older titles without the FSR option
Subjective
No RGB lighting, some users might not like it