The review embargo for the Radeon RX 6600 XT has finally lifted and this time, we'll be taking a look at the PowerColor Red Devil RX 6600 XT and see what kind of performance it can deliver. As it's being marketed as a card for 1080P gaming, I think it's fair for us to compare it with GeForce RTX 3060, which is also targeted for 1080P gaming so that we can see which is a better deal for the money.
Specifications
| | | |
| --- | --- | --- |
| GPU | Radeon RX 6600 XT | PowerColor Red Devil RX 6600 XT |
| Shading Units | 2048 | 2048 |
| TMUs | 128 | 128 |
| ROPs | 64 | 64 |
| Compute Units | 32 | 32 |
| Base Clock | 1968 MHz | 1968 MHz |
| Boost Clock | 2589 MHz | 2589 MHz |
| Memory Type | GDDR6 | GDDR6 |
| Memory Size | 8GB | 16GB |
| Memory Bus | 128-Bit | 128-Bit |
| Bandwidth | 256 GB/s | 256 GB/s |
| Effective Memory Speed | 16 Gbps | 16 Gbps |
| Bus Interface | PCIe 4.0 x 8 | PCIe 4.0 x 8 |
| Additional Power Connector | 1 x 8-pin | 1 x 6-pin, 1 x 8-pin |
| TDP | 160W | 160W |
| Recommended PSU | 500W | 500W |
Unboxing
The PowerColor Red Devil RX 6600 XT ships in a pretty standard packaging like most of the graphics cards of its tier, simple and nothing fancy from here.  While the front of the box doesn't really say anything much about the card, you can still find most of its highlighted features at the back of the box.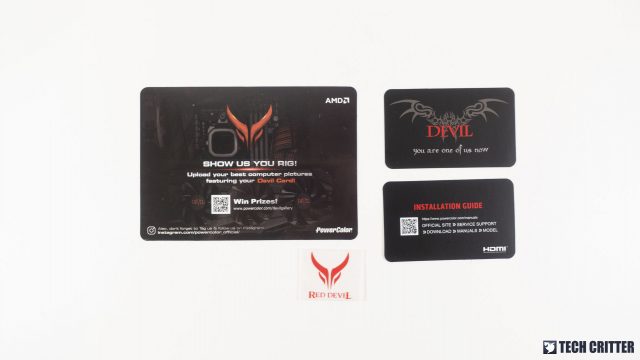 Inside the box, you'll find the paper, cards, and sticker which I think is the optional content that not many people are actually interested in and will probably be ended up in the box once the card has been taken out. The only included accessories that might be useful to some is the ARGB cable to sync the RGB lightings on the card to your motherboard.
The PowerColor Red Devil RX 6600 XT
The Red Devil RX 6600 XT we have here features a dual-fan cooler as the cooling solution for the card. From the side, you can see that the card will take up roughly 3 slots on your PCIe expansion slots, which is pretty common for the custom design on the partner cards nowadays. Although PowerColor never specifically mention anything about the cooling fans, they did highlight the heatsink's direct contact with the GPU die for optimal cooling performance.
For the power requirement, the Red Devil RX 6600 XT will need at least a 500W power supply with 1 x 6-pin and 1 x 8-pin PCIe power connector to work. Personally, I think that the extra 6-pin is somewhat unnecessary because it's very unlikely that mainstream users will actually overclock the card beyond the limit of a normal use case.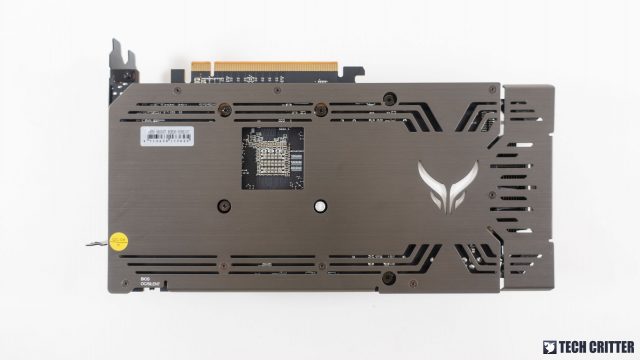 A metal backplate is included at the back of the card, a commonly seen inclusion for most of the graphics cards you'll find nowadays. Not only that you get full coverage on the PCB for aesthetics, but the cut out on the backplate will also give the card some breathing room at the back of the PCB for heat dissipation. Also, there's a cutout with the Red Devil logo that will light up when powered on, which is part of the aesthetics as well.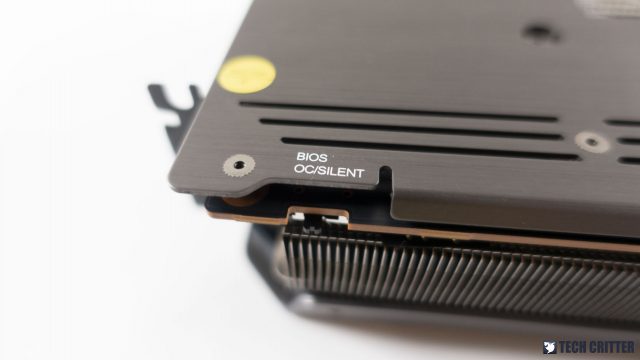 In case if you're into the low noise settings, there's actually a BIOS toggle switch located near the PCIe bracket. The card comes with the BIOS set at OC mode, so you'll have to restart your system if you flicked the switch to the Silent more in order for the settings to take effect.
If you're into the RGB thingy for your system, well, this is probably something that will give you a bit of a headache on the cable management part. Looking at the ARGB pins located next to the BIOS toggle switch reminds me of the RTX 3060 Ti EX from Galax, something rather inconvenient no matter how you look at it but this is necessary and unavoidable if you want to sync it with your motherboard.
Unlike anything we've seen so far, the PowerColor Red Devil RX 6600 XT comes with a rather interesting lightbar design for its RGB lightings. As someone who doesn't really like RGB lightings, I think the diffused light effect is something I can accept and will probably enable it once in a while just for the fun of it.
For the display output, you'll get the standard 3 x DisplayPort and 1 x HDMI option on the Red Devil RX 6600 XT. The only extras that can come in pretty handy for some are the lightings near the ports so it's visible in the dark.
Test System Setup
For our games benchmark test, we've selected a number of AAA titles to run at its highest possible settings using the following setup under an ambient temperature of 31°C:
| | |
| --- | --- |
| CPU | AMD Ryzen 9 5950X |
| Motherboard | GIGABYTE X570S AORUS MASTER |
| Memory | TEAMGROUP T-FORCE XTREEM ARGB DDR4 @3600MHz |
| Graphics Card | PowerColor Red Devil RX 6600 XT |
| Power Supply | Cooler Master V1200 Platinum |
| Primary Storage | Corsair MP600 2TB |
| Secondary Storage | WD Black 6TB |
| CPU Cooler | Cooler MasterLiquid Master ML360R RGB |
| Chassis | Streacom Open Benchtable BC1 |
| Operating System | Windows 10 64bit |
Games Benchmark (DX12)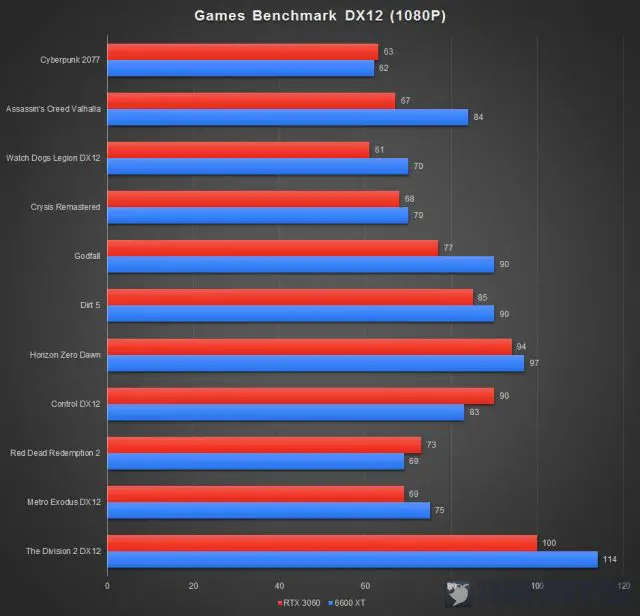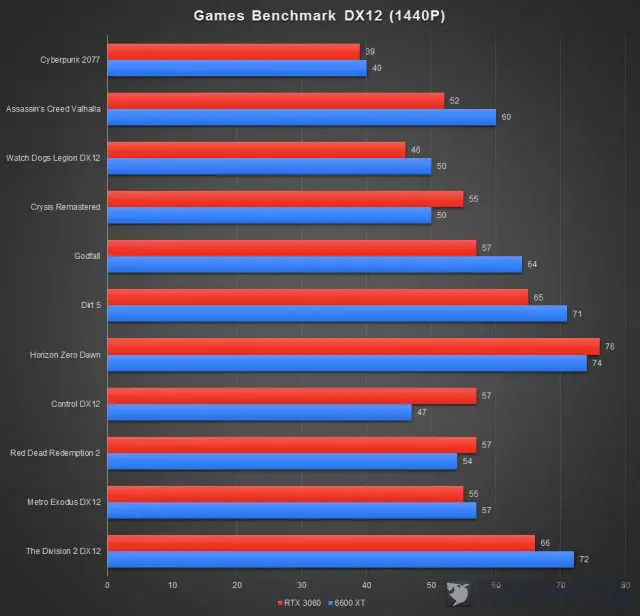 Starting off with the raster performance for the RX 6600 XT here, which is pretty good I'd say given that we have pretty much all the game tested at its highest possible graphics settings. On most occasions, it can easily overpower the RTX 3060 while maintaining reasonably good framerates on 1080P gaming at the highest possible settings. 1440P gaming is still possible if you're willing to lower the graphics settings but this is pretty much the highest you can go with the RX 6600 XT.
4K gaming is a big nope for both cards as they're not designed to handle games at this resolution. Though we can see that the RTX 3060 does have its advantage here with that extra 12GB VRAM, especially for games from Ubisoft that will take up quite a lot of resources if you're going for the highest graphics settings.
Games Benchmark (DXR)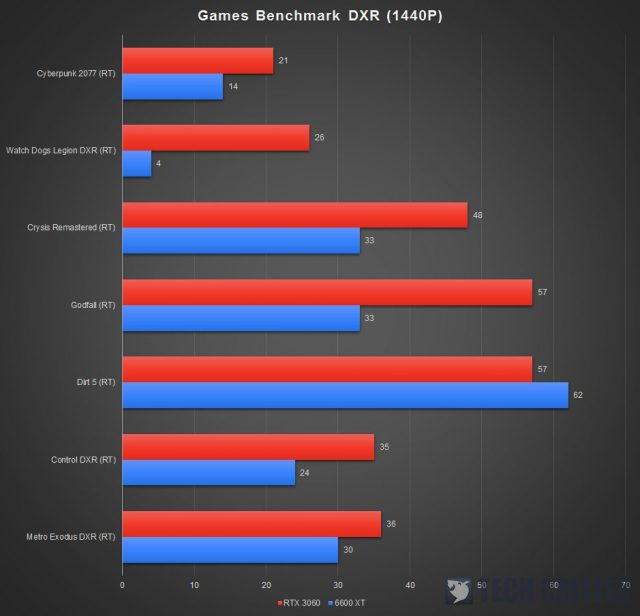 Moving on to the ray tracing performance, the outcome is pretty much just as we've expected. The only games that seem to be playable at this point are newer titles like Crysis Remastered, Godfall, and Dirt 5, while the rest are just simply unplayable with very high graphics settings.
Even though FidelityFX Super Resolution is finally available now, we still don't see a lot of games that actually implement it after the announcement, especially the older games. So… It'll still take a while before we see more games to get FSR updates and hopefully some of the older games that have ray tracing features available.
Temperature & Power Draw
We've also compared the thermal performance and power draw for both the RTX 3060 and RX 6600 XT here using the FurMark GPU burn-in utility, just to see how hot the GPU will get and how much power is it drawing under load.
Looking at the performance the RX 6600 XT can deliver, the slightly higher power draw seems pretty fairly reasonable despite having that extra PCIe 6-pin connector on the card. Since it requires only a 500W power supply to power up, it's a fairly reasonable upgrade for the mainstream gamers who still game on 1080P resolution.
The temperature, on the other hand, is something we didn't expect to see. We're very pleased to see that the GPU temperature only peaked at 60°C and the hotspot temperature at 70°C, but the idle temperature is surprisingly high for a card that is on idle. After we're done with the stress test, our RTX 3060 quickly cools down to 40°C in just a matter of minutes but the RX 6600 XT stays at 50°C even after leaving it on idle for more than an hour. We've also cross-checked with some of our friends who got their hands early on the RX 6600 XT and turns out that they're getting the same behavior on their RX 6600 XT as well.
Final Thoughts
We'll start off with the downside first, just so that you know what you're getting yourself into if you're planning to get yourself an RX 6600 XT.
For the PowerColor Red Devil RX 6600 XT, the biggest complaint I have is probably the light effect synching that requires an external connection and extra cable to accomplish. It's the last thing I'd want for my system because it'll affect the overall tidiness of the cables and it just shows that there's still a whole lot for PowerColor to catch up on this. There's plenty of graphics cards out there that can have their lighting effect synched to the motherboard without an external cable like what we're seeing on the Red Devil RX 6600 XT here.
Performance-wise, the Red Devil RX 6600 XT is doing reasonably well on 1080P but that's only for its raster performance. With FidelityFX Super Resolution still new and very limited games that actually have the feature implemented, you're far better off with an RTX 3060 which is obviously better at the moment. If you're looking for a reasonable option for an entry-level ray-tracing enabled gaming experience, the RX 6600 XT is definitely not the card you will want to go for. As for gamers who don't really care about all the ray-tracing features and would rather invest in the raster performance, the RX 6600 XT is a reasonable option to consider if you can get it at the starting price of $379.
Pros
The lightings are not overwhelmingly bright
Good 1080P gaming performance
GPU temperature never goes beyond 65°C even after a long hours gaming session
Cooler performs reasonably well
Can toggle between OC and Silent mode
Quiet operation
Cons
Ray-tracing performance is still mediocre for older titles
Idle temperature is rather high
Need to use the included cable to connect the card to the motherboard if you want to sync its lightings effect
More expensive than an RTX 3060 but having less VRAM
Subjective
Plugging in cables in a low light environment is easier with the lightings on the display output ports