Sapphire, a familiar name to those who has been with the red team for the past decades and it is known to offers ridiculously affordable price of their graphics cards compared to majority of its competitor. Sapphire is one of the very few brands that focuses heavily on AMD Radeon GPU, much like to how EVGA focuses on NVIDIA GeForce GPU.
Mega thanks to the awesome guys at ROOTS Asia Pacific for sending over a Sapphire Nitro R7 370 for today's review. AMD's R7 series GPU is pretty much similar to NVIDIA's GeForce GTX 950 which both are meant for games that is less taxing to the GPU itself such as DOTA 2, League of Legends, Counter Strike: Global Offensive and many more that falls into the same category.  
Unlike the ordinary R7 370 we've seen, the Sapphire Nitro R7 370 comes with a little more extras – factory overclocked and a whopping 4GB worth of GDDR5 VRAM. Now, let's see how will the Sapphire Nitro R7 370 do in our tests.
(The Sapphire Nitro R7 370 retails at RM 799.00)
Specifications
Packaging
Sapphire has gone with its usual cyborg image at the front of the box, along with some of the highlighted features such as factory overclocked, Dual-X cooling fan, 4GB GDDR5 VRAM, etc.
At the side of the box you'll find a brief specifications of the Nitro R7 370.
If you're not into lengthy descriptions, you'll find a labelled diagram that briefly describes the overall construction of the graphics card.

Accessories
Inside the box you'll find a Sapphire product catalogue, User's guide, Warranty guide, Driver CD, DVI-VGA converter and the Sapphire Nitro R7 370.

Overview
The Sapphire Nitro R7 370 undoubtedly one of the best looking entry level graphics card, much better looking that the previous R7 270. 
The signature Dual-X fans that has been used on the previous generation of Sapphire's R7 and R9 graphics card.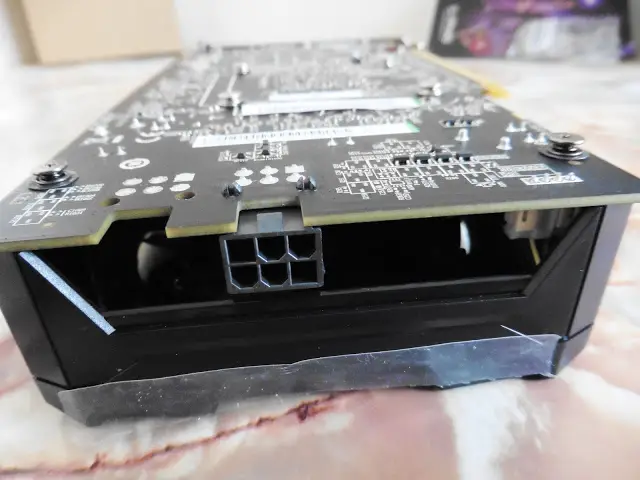 Powering up the Sapphire Nitro R7 370 requires a 6-pin PCIe from a power supply with a minimum power of 500W, as suggested by Sapphire. 
A single CrossFire setup is possible for the R7 370 in case if you've decided to get another one in the future to slightly juice up your system.
Output option for the Sapphire Nitro R7 370 consist of 1 x DVI-D, 1 x DVI-I, 1 x HDMI and 1 x DisplayPort.
Performance Test
Test Rig Configuration

CPU Cooler

Corsair H100i

CPU

Intel Core i7 4770K

Motherboard

ASUS Maximus Gene VI 

Memory

Kingston HyperX Savage 16GB

Primary Hard Drive

Crucial M500 120GB

Power Supply

Be Quiet! Straight Power 10 600W

Chassis

Vector Benchcase
We've conducted our test by installing the Sapphire Nitro R7 370 to our test bench as above. Each and every benchmark is conducted in a room with 30C° ambient temperature.
Performance, Overclocking
We ran a few graphically demanding games and synthetic benchmark in our possession on 1080p with the highest achievable clock speed for both its memory and GPU that is stable enough to be able to complete each benchmark with the following values:
Maximum boost clock of 1125MHz 
6320MHz on the memory clock
1.2V on the voltage for GPU
That's a 140MHz gain from the stock boost clock of 985MHz for GPU and 720MHz gain from the stock memory clock of 5600MHz in total.
Performance
We ran a few graphically demanding games and synthetic benchmarks in our possession on a selected settings, which is considered as high for much of our test as usual.The final result of each benchmark is presented in the form of the graph below: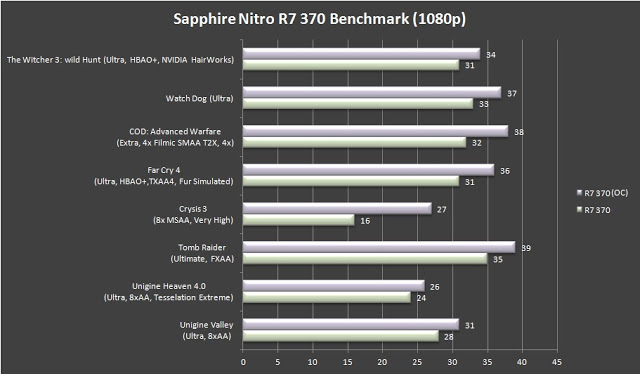 Temperature
We've ran a 15 minute burn-in test on the FurMark GPU stress test utility with the fan operate under normal mode and maximum fan speed mode and the temperature for both test is recorded and populated in the graph below.
Verdict
The Sapphire Nitro R7 370 might be marketed as an entry level graphics card that is meant for MOBA games, but our benchmark result shows that it is more capable than just handling the common MOBA game. Most of the graphically demanding games used for our benchmark is set on ultra settings and the Sapphire Nitro R7 370 managed to keep most of the games running on 30fps, which is deemed playable.
Compared to the cheapest GTX 950 which priced about the same as the Sapphire Nitro R7 370, RM799 isn't really an appealing price for what it can deliver. However, if you really need to enjoy your game on multiple display on a budget gaming system, the Sapphire Nitro R7 370 that comes with 4GB VRAM will do far better.
Pros
Comes factory overclocked
Good appearance 
Great choice for budget gamer who wants to enjoy gaming on 2 display setup
Cons
A little expensive
Limited overclocking headroom on GPU