SSDs are known for its impressive fast boot and loading speeds which leave mechanical hard drive to bite the dust. It's considered a luxury and unnecessary a few years back due to its high price that not many could afford even for the smaller capacity 60GB or 64GB variant. This has changed a lot since then and the once dreamed 120GB / 128GB SSD would probably cost you around RM250 or much lesser. Some would even opt for RAID setup on their SSDs to achieve better performance due to the limitation of the current SATA III 6Gb/s interface that is bottle-necking current gen SSD.
For those who prefer other alternatives other than RAID setups, this is where PCI-E SSD and M.2 SSD are capable of offering speeds up to 10Gb/s comes to play. Mighty thanks to Plextor for supplying the M6E Black Edition for today's review. The price is yet to be decided at the time this article is written, but we do know that it comes in 3 different capacity of 128GB, 256GB and 512GB. 
Specifications
*Further technical details can be found on Plextor's website.
Packaging
The Plextor M6e Black Edition we received is the 256GB model. It comes in a handsome red-black themed box and one thing printed in front that caught my attention at the bottom are PlexTurbo support, True Protect and True Speed, a 5-year limited warranty from Plextor. 

At the back of the box you'll find the specifications of the drive, performance, power requirements, operating system and file format support, box content, etc.
Content
What's in the box – the Plextor M6e Black Edition PCIe SSD, a quick installation guide, VIP card and a screw to secure the drive in a PCIe expansion slot.
The heat sink covered pretty much the entire PCB of the M6e Black Edition with red anodized aluminum fins. From its design we can get a brief idea on how the cooling is intended to be – fans at the front directs air through the aluminum fins to remove heat through the ventilation holes on its PCIe bracket.
The back of the M6e Black Edition looks pretty clean, but that's not the actual SSD!
We decided to take it apart to see what's hidden under that heat sink – do note that taking the M6e apart will immediately void the 5 year warranty, so don't try this at home! 
The huge chunk of red anodized aluminum block is the main body of the heat sink, while the thermal pad act as a thermal conductor and electrical insulator so heat can be removed from the SSD without any risk of short-circuiting the SSD.
And there you have it, an M.2 SSD that looks almost identical to the standard M6e from our
past review
.
It requires a SATA power connector to juice up the M6e Black Edition.

Aside of having the TRIM, SMART, NCQ support, it also features True Protect and supports AES 256-bit full drive encryption.
Just like the standard M6e, you'll find a total of 8 Toshiba A19 MLC NAND flash and a single Marvell 88SS9183 controller on the M6e Black Edition. 
Software
The Plextool is Plextor's very own SSD Toolbox for viewing necessary information, firmware updates, secure erase/format, diagonostic and SSD caching feature.
The drive status tab has a drop down menu where you can select and view information of the drives installed to your system i.e, total usable capacity, remaining free space, total used space, SSD heath, temperature (no exact value) and TRIM status indicator.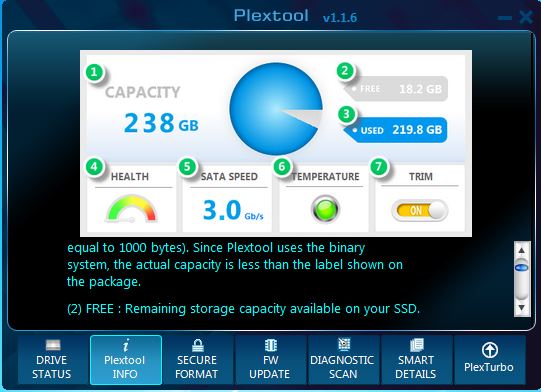 The Plextool info tab is basically a built-in user guide with well labeled diagram that can be understand easily.
As performing a full format is not recommended on an SSD, secure erase is a more preferred method and it should guarantee the secure erasure of all stored data on a storage medium. A secure erased SSD will then be usable at its original ideal performance level (theoretically).
Firmware update is pretty much self explanatory, this allows you to update the firmware of the SSD much easier by retrieving the necessary files directly from Plextor's server and automatically update the firmware of your SSD.
Diagnostic scan is an SSD diagnostic utility to obtain comprehensive information of the SSD and should there be any errors detected, timely action can be taken before any disastrous event can occur.
The PlexTurbo is intelligent SSD caching software, which uses a combination of system RAM, the SSD DRAM cache, and SSD storage. We've published a brief introduction on the PlexTurbo earlier, click
here
to find out more.




Testing Method
Test Rig Configuration

CPU Cooler

be quiet! Pure Rock

CPU

Intel Core i7 4770K

Motherboard

ASUS Maximus Gene VI 

Memory

Kingston HyperX Savage 16GB DDR3

Primary Hard Drive

Kimtigo KTA-350 120GB

Power Supply

be quiet! Straight Power 10 600W

Chassis

Vector Benchcase
Synthetic Benchmarks
ATTO Disk Benchmark
The most frequently used benchmarking utility by many manufacturers for performance specification. As ATTO Disk Benchmark uses compressible data rather than compressible data, it results in higher benchmark scores. We've ran the benchmark with transfer size ranged from 0.5KB to 8192KB and total length of the test to be 256MB.
Without PlexTurbo
With PlexTurbo
AS SSD Benchmark
Widely used SSD benchmarking utility that uses incompressible data to simulate the worst possible scenario for a SSD and thus giving a much lower sequential read and write speed result than what has been stated by the manufacturer as result of the heavy workload.
Without PlexTurbo
With PlexTurbo
Anvil's  Storage Utilities
By far the most complete SSD Benchmark utility available. The Anvil's Storage Utilities not only comes with the standard SSD Benchmark function, it also includes other functions such as endurance testing and threaded I/O read, write and mixed tests and option to configure the compressibility of the test data.
Without PlexTurbo
With PlexTurbo
CrystalDiskMark
Developed by a Japanese coder that goes by the nickname Hiyohiyo, CrystalDiskMark is one of the most frequent used SSD Benchmark utility to measure SSD's read and write performance. There's 2 option for the test data used, compressible (0 fill) and incompressible (1 fill).
Without PlexTurbo
Without PlexTurbo
With PlexTurbo
With PlexTurbo
Real World Usage
We've ran several test that with several SSD (including the Plextor M6e) with at least 40% capacity occupied with various commonly used software to simulate the real world scenario. 
The M6e Black Edition leads the race as the best performer in launching Adobe Photoshop CS6 and large file copy, minor improvement can be observed after enabling the PlexTurbo feature.
In game launching test, the PlexTurbo caching features doesn't seems to have any effect at all, while the M6e Black Edition still have a minor advantage in launching Watch Dog but it's only about 10 seconds ahead the Crucial M500 SATA III SSD. When we launch the Assassin's Creed Unity which Steam users claims to be poorly optimized (seems true), there's almost no difference for launching the game from either a SATA III SSD or PCIe SSD.
Final Thoughts
On aesthetic aspects, the Plextor M6e Black Edition looks way much better than the green colored standard M6e and its PCIe adapter. Gamers and enthusiasts who has been very picky when it comes to picking the right hardware to match their preferred color scheme would definitely prefer this more than a PCIe SSD on the mainstream green PCB – adding few more color scheme i.e, blue-black, green-black, etc would be great for those who prefer something other than red-black theme. 
Performance wise, the Plextor M6e is basically a revision of the standard M6e which its performance is just about the same as the standard M6e that we've previously tested only that it's much easier to isntall and it doesn't requires any extra drivers or configuration in the BIOS settings. 
The Plextool an interesting piece of utility especially PlexTurbo SSD caching utility. The SSD caching is a really useful feature that can help most applications to perform better to a certain extend although it might very. A good example would be the inconsistent reading in our ATTO Disk Benchmark result after enabling PlexTurbo but doesn't really affect the overall experience of using the Plextor M6e Black Edition. 
Comes with 5 year warranty
Decent build quality
Good looking
No extra drivers is required
Good software package
Cons
Difficult cable management as the SATA power connector L-shape is facing upwards
Not many would actually use or fully utilize the PlexTurbo feature