i-Rocks has been a manufacturer of gaming peripherals well known to the Chinese eSports scene and sponsor to Team WE over the years, made its initial debut in our local market with their ROCK Series gaming peripherals and A05-G Gaming Headset. While it's not as popular as the gaming peripherals titans like Razer, SteelSeries, i-Rocks does have some pretty awesome budget oriented products with wide range of features that can easily surpass the big brands.
We have the i-Rocks Golem Series K50E Illuminated Gaming Keyboard arrived at Tech Critter's lab just very recent, many thanks to i-Rocks Malaysia in provision of the K50E. Our initial impression with the i-Rocks Golem Series K50E isn't as good as the i-Rocks keyboards – it comes with a pretty steep price of RM229 and it doesn't support cherry MX keycaps like the
K10
and
IK6
, but we'll put that aside for now and take a closer look at it to determine if it's really worthy of spending that RM229 for!
Specifications
Unboxing
The packaging of the Golem Series K50E has that fancy look of the mainstream gaming keyboard, with its prominent features such as the scissor structure switch, gaming optimized key matrix of 24 key rollover on the most commonly used area.
The back of the box has the technical specifications printed on, as well as a brief introduction on the gaming optimized key areas. Do note that the 24 keys mentioned works only on P/S2 connector, but you'll still be able to enjoy up to 13 keys rollover on the gaming optimized key areas under USB connection.
Content of the box is very simple, just the i-Rocks K50E, a USB to P/S2 converter and a user's guide.
There's a ferrite bead attached to the USB cable which function as a filter to help eliminate noise which could potentially affect a gamer's performance when fast and rapid input takes place.
The legends / font used is the same as the i-Rocks K10, we're not exactly sure why i-Rocks picked it but it looks really weird for us who has already been used to the standard legends / font used on majority of the keyboards you can find on the market.
The space bar comes with i-Rocks logo that will illuminate along with the other keys.
Unlike the commonly seen ANSI layout, the K50E comes with a big return key (Enter) and an ultra small backspace key.
Upon removing the keycap we can see the mechanics behind, scissor switch. It's still a rubber dome switch, but with enhancement of the scissor mechanism. The perks of the scissor mechanism is its extra stability where each corner of the keycap has its own support for the scissor switch structure to keep it from wobbling too much, compared to any standard type rubber dome switch keyboard or even a mechanical switch.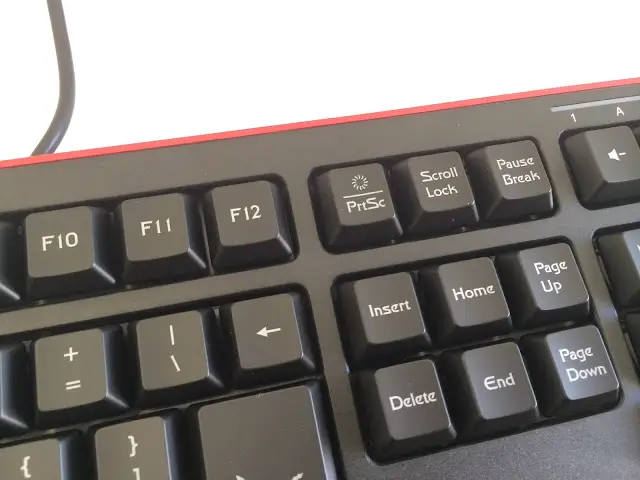 The Print Screen key act as the trigger key to activate the backlit feature of the K50E by holding it down for at least 1 second.
While function of the volume control keys is easily comprehensible from its symbol, the mode key activates rapid character input for gaming purpose.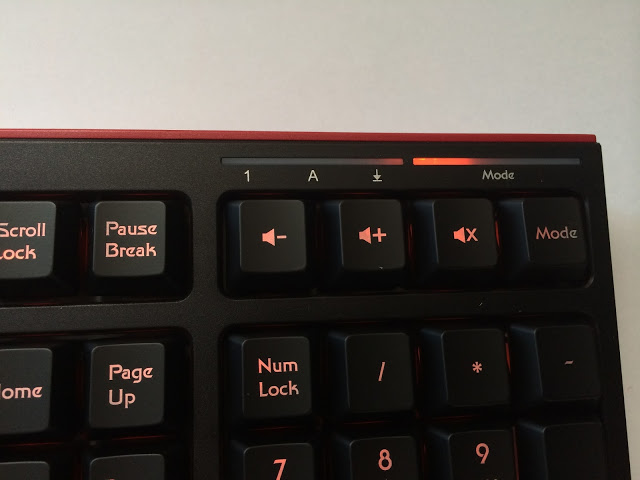 Mode behaves differently under P/S2 connector and USB connector. There's a total of 3 level for the turbo mode; level 1 supports up to 13 character input per second, level 2 supports up to 50 character input per second and level 3 supports up to 120 character input per second. As USB has become the mainstream connector for most input devices, the level 3 turbo mode is pretty much less accessible for most users. While under USB connection, you're limited to only the 1st level of turbo mode, which supports up to 13 character input per second.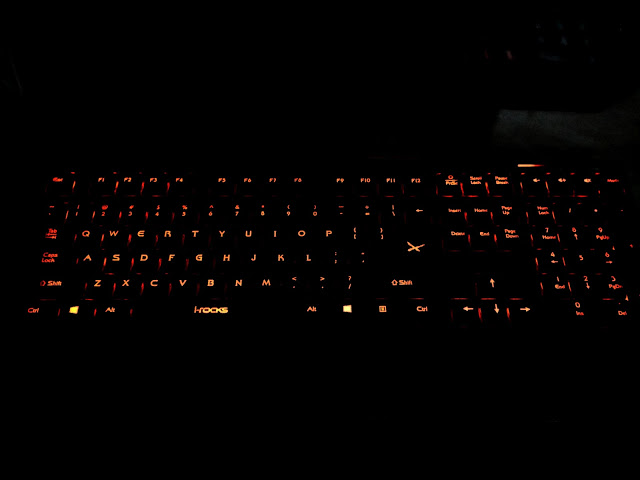 Here's how the K50E looks like in the dark. Hot stuff we'd say!
You'll find plenty of holes at the bottom of the keyboard, which helps to let liquid to flow out from the keyboard to prevent any further damage in case of any accidental spillage.
Large keyboard feet is used to keep the keyboard in place to reduce the chance of mistakes during intense gaming session, especially when the keyboard decided to troll you by sliding across the table.
There's cable routing path as well to make way for the setup on your desk.
Testing Methodology
The actuation force required to register each key feels really close to Cherry MX Clear except for the fact that you will still need to bottom the key to make it register. Bottoming the key gives a solid but comfortable landing from the rubber dome which makes it really comfortable for different occasion, be it rapid taps or to type on.
Gaming wise, the K50E response very well to our rage press on FPS games like Battlefiled 4, Call of Duty: Advanced Warfare and rhythm games like O2Jam, DJMax Trilogy with ease. Each key pressed response almost immediately. As for its key rollover capability, we've done some test on the key configuration for the games tested and the result is as below:
From the registered keys shown in the Aqua KeyTest screenshot above, we can see that the i-Rocks IK6 is pretty much game ready with optimized key matrix for most FPS and RTS games.
As for rhythm games like o2jam, DJMax, etc, if you're not into the non-mainstream key configuration, the commonly used key configuration will work just well.
There is however, a small finding that we've noticed while testing out all the possible key press that will trigger a ghosting effect. While pressing the key 'A','W','D', 'Space', 'J' and 'L' altogether, tapping the 'I' key will trigger a ghost signal where the 'PrintScreen' key is registered. There's no major issue with our games tested so far, but some might find it annoying because holding down this key combination will trigger the backlit On / Off.
Final Thoughts
While its pretty kickass in terms of aesthetics, the i-Rocks K50E however, isn't going to be the alternative for customizable keycaps like both the i-Rocks K10 and IK6 – but that won't be an issue if you're planning to customize its keycaps with any fancy 3rd party keycaps.
Usability wise, it works great as both office and entertainment use. Typing experience is excellent and we have no issue nor complaint on that. While i-Rocks promised a total of 24 key rollover in the common gaming used key area, it will only work that way if you're connecting it to your system via the P/S2 connector, else it'll be limited to only 13 key rollover in the common gaming used key area. Still, the 13 key rollover is more than enough for some of the most commonly played games genre (FPS, RTS, Rhythm games).
Price wise, RM 229.00 is a pretty steep price compared to both K10 and IK6 that offers freedom of customization for keycaps, and not to mention that there are mechanical keyboard with a very close price point to it but without the fancy backlit feature. We're not really over the moon with it but if the price point can be lowered, the i-Rocks K50E is still a gaming keyboard that is worthy to be considered by taking account of the overall features offered.
Pros
Aesthetically pleasing
Scissors structure keeps the keycaps stable and wobble less compared to normal membrane keyboard and even mechanical switches
Gaming optimized key matrix
Very responsive
Windows key lock function to prevent unintentional actuation during gaming session
Cons
A little costly
Odd choice of legends / font
Gaming optimized key matrix is limited to 13 key when under USB connection
Minor ghosting effect that triggers the 'PrintScreen' key