Imperion is brought to the Malaysian gaming gear aficionados by the same guys behind the speaker brand Salpido (if you've heard of them). This is their fairly new venture into the local gaming market and let's see what they have to offer with their Mech 10 mechanical keyboard!
Hence it is not surprising the first thing that came to my mind was: "What brand is this? This is totally unheard of!"
Unboxing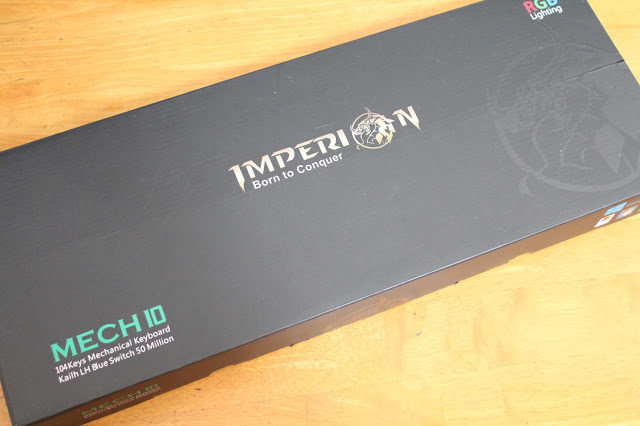 The packaging was okay, to be honest, they're (still) fairly new so you can't expect a top top-notch from the get-go. There's definitely room for improvement, even for the packaging. Typos here and there, fonts can be better and etc. Some of the pictures displayed are, well, kinda misleading for me.
You'll be getting just the keyboard (covered with a thin layer of foam) and nothing else. No replacement keycaps, no key pullers, no USB to the PS/2 converter. There's also no extra instruction manual of any sorts so your box is your best friend when it comes to lighting instruction/configs.
The Imperion Mech 10
At first glance, this keyboard actually looks pretty neat, nothing too flashy except for the logo below the navigation cluster (Insert, Delete etc). I'm a fan of minimalistic-no-logo designs so to each their own.
I guess it's safe to say that the current 'trend' for the mainstream mechanical keyboard market is either RGB and/or thin (exposed switch) design. This Mech 10 features both of them. While RGB is okay, I'm not really a fan of thin designs. Yes, it's easy to clean the dust off and what not, but on the long run, you'll be annoyed with the louder noise of every key clack.
The font design on the keycaps closely resembles that of another brand out there. At the very least, tweak the fonts used to at least suits your brand, Imperion.
Not sure if the choice of screw type is intended but keeping the screw head flush to the board is definitely gonna look better than having it protruding it like this.
The top of the keyboard is a piece of aluminium where (most likely) it's sandblasted, painted, and edge chamfered which is a nice touch. The top also serves as a plate for the switches.
At the top right edge of the board lies the non-detachable USB connection. Although the cable is braided, being non-detachable is a no-no for me; how am I supposed to replace it later on if it starts to fray? At about 2 meters long and they've included a velcro cable tie to help keep it neat, so that's pretty nice.
Also, they've opted for Kailh switches and this unit that's in my hands right now has Kailh blues.With 60g of actuation force, as opposed to 50g on Cherry's blue switches, these feel pretty okay as I've always found Cherry's blue to be a little bit on the lighter side. Take it from someone who actually uses linear switches daily, these Kailh switches hit the spot for tactility; still hate the sound though.
On to the bottom; here you can see 4 rubber pads in each corner and none on the stand-up feet. The two pads at the bottom do it job pretty well (providing grip) even though the feet has no rubber pads. The feet, however, doesn't lock into place like most other mechanical keyboards; it feels like it's going to be freely moving once you've set it up but that doesn't seem to be the case.
You will find Cherry style stabilizers used for the space bar and longer modifiers, so no missing parts like what you may have in Costar stabilizers. Both the stabilizers and the switches are plate mounted.
Keycaps are indeed doubleshot ABS, and while the packaging failed to mention that it's actually ABS, I think consumer deserves and would love to know just that. This means that you won't be having key legends (or fonts) fading anytime soon. However, the sub FN-function legends are pad printed.
Features
Being an RGB keyboard, it provides that extra bling that gamers want to either brag to their friends or match to their PC's theme. You can choose from a variety of lighting modes and which you can see in the video(s) below:
Keyboard FN-functions can be found in this keyboard, ranging from media keys to hotkeys that launch your favourite browser.
There's also a few interesting keys on the number row (1-5) labelled G1 to G5. Those are your user lighting profile keys. Video below briefly explains how to set those up and what it does.
Lighting profiles saved will be stored in the keyboard's memory and it's just plugged and play across all devices, no software needed!
Then there are your typical lighting adjustment keys which can be found on the arrow keys, some keys in the nav cluster and also the Print Screen key. One thing worth mentioning is that the Lighting mode Off key (Print Screen) only turns it off. There's no way to turn it back on and get straight to the lighting mode you're on before that. You'll have to use the Lighting/LED Mode button to get it back on and of course, it'll jump straight to another default LED mode instead.
The lighting features are okay, nothing extraordinary here. However, they can do better in the brightness. Currently, the three steps brightness level doesn't make much difference.
Sad news for heavy macro users: This board has none. AutoHotKey is your solution for this.
Typing test
I've only used Kailh switches twice. Once on Razer's green switches (they're actually made by Kailh following specifications that Razer wants) and this Imperion Mech 10 board is my second. Keystrokes are pretty consistent for these blues, unlike the Razer green switches, which I've had very bad experience with (first batch, so that could be the issue there).
With the NKRO that you have on this keyboard, both gamers and professional would definitely benefit from this as you can key in 6 inputs (and more) simultaneously and it'll be registered on the computer.
Typing feels okay with this board, it's solidly built, doesn't flex a lot (who in the world will type on a mech keyboard and it flexes??). The only complaint here is that sounds coming out from the click is loud, given its design, and it's Kailh (usually louder than Cherries).
Bottoming out this board doesn't really give out any 'ping'-ing sound since you have the clickity blues masking that, and it doesn't really give out any feedbacks when you bottom out as well.
Teardown
ALL the screws are at the top of your board (Note: you'll have to remove some keys to gain access to other screws). Once done, you can just remove the top plate to view the innards.
The PCB is dual-layered with 1.6T (or 1.6mm) thickness. Pretty neat stuff. Can't be sure if it's FR-4 PCBs though.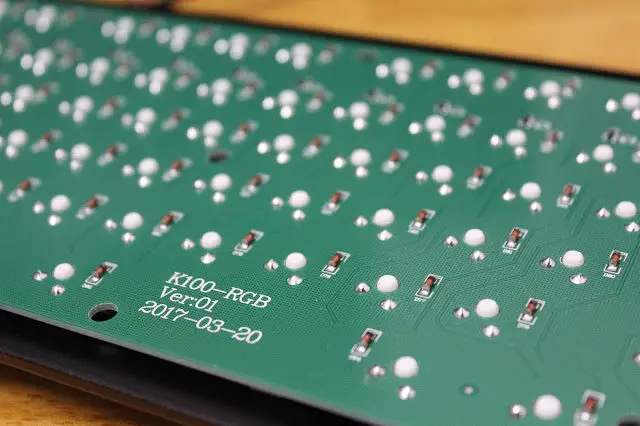 This is basically an OEM board manufactured according to Imperion's standards and design. Being an OEM board, the soldering job is actually very neat! No excess fluxes on the switches, diodes and other components. I might be the only one with the OCD here but there's one tiny spot near the USB connector on the PCB.
Not much info can be found about the BYK816 chip online, but since this is an OEM chip, there are much more boards that are using the same chip as well.
Conclusion
With a price tag of RM199, this puts the Imperion Mech 10 in the budget mechanicals out there with RGB for your bling and also sturdy typing experience.
If you're not nitpicky about having only Cherries on your keyboard, you can give this a try and see what Kailh (or Longhua now) has to offer after refining what they have to offer from crappy quality control previously.
Pros:
No software needed for RGB lighting, everything's plug and play
VERY budget friendly
Sturdy build with nice finishing touches on the design
Lots of lighting modes and colors to choose from
Doubleshot caps out of the box
Cons:
Packaging can do a whole lot more of error checking or getting the terms right
Loud to type on
No macro functions, some if not most people might need it
Key legends can be designed better to represent the brand more
Some screws need to change (for some this might not be aesthetically pleasing)
Non-rubberized feet
Non-detachable USB cable
Brightest lighting is actually not that bright
Some functions can be designed better i.e. adding a LED/Lighting ON key