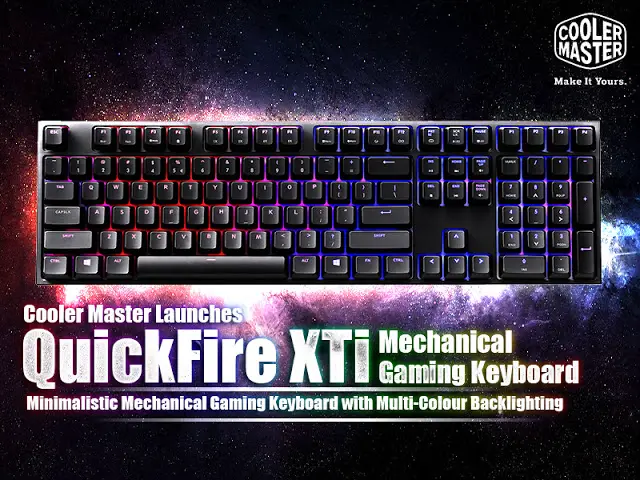 Apart from harnessing the original maker spirit with its new MasterCase ATX chassis, Cooler Master have also announced a bunch new gaming peripherals during
our visit to Computex 2015
which takes place in Taipei. The mechanical keyboard arrived at Tech Critter's lab is among the announced gaming peripherals – behold, the QuickFire XTi!
With no further ado, let's take a look into this keyboard!
The QuickFire XTi that I'm reviewing is a Cherry MX Blue switch variant. If blue's not your color, there's also other variant such as Red, Green, and Brown Cherry MX switches.
Some features of this keyboard as mentioned at the back of the box.
Pretty nice packaging from them.
So, as usual, you'll get the keyboard, a user's manual and also some extra keyboard goodies! (The USB cable as well)
The extra keyboard goodies that I've mentioned earlier is a keypuller (thankfully, not the ring type) and a 1.25U Cooler Master logo keycap, which you can replace the Control, Alt, FN or Windows key with.
Gold plated USB cable (USB to micro USB) to prevent from corrosion, standard issue.
Kudos to Cooler Master for keeping the standard layout so that keyboard enthusiasts can get third party replacement keycaps and use it with this keyboard.
The fonts for this keyboard is nice and sharp, much similar to the
Quickfire Rapid-I
 from our previous review.
The navigation cluster, which doubles up as the media control keys, to be used with the FN key. It'll come in handy for those who need to access media functions without having to reach out for the further media control keys that is usually located on the function key row (F1 to F12). 
Yes, I've forgot to mention that this is a 108-key mechanical keyboard. There's 4 extra profile keys which can be located on top of the numpad section. The profile keys is used to alternate between different LED profiles that you've saved.
Need macro? You have it!
Repeat rate tweaking is also available if hi-speed rapid input is required, a very useful feature for MMORPG that requires you to spam for a certain skill set.
For the secondary F1 to F3 function (which can be accessed with the FN key) is used to alter the LEDs on your keyboard while the F4's secondary function is to lock your Windows key. So, no more jumping to Windows in game!
It's good to see that brands like Cooler Master is still using Cherry switches. Not only that, Cherry (plate mount) stabilizers is used as well.
The design of the keyboard itself is very nice and sleek. No visible branding as well. This is one minimalist keyboard from Cooler Master
There's also a little tiny hole (on the front and the sides), so that you can route out your USB cable.
The USB cable fits nicely into the routing holes, giving it a nice look.
At the bottom side of the keyboard, the Cooler Master logo is seen. Along with the USB port, serial number and also the keyboard feet.
Up close shot of the engraved Cooler Master logo.
The end of the keyboard feet is also rubberized to ensure grip on the keyboard if you've decided to tilt the keyboard.
Before, and after raising the keyboard feet. The raised angle is just about right and it's pretty comfort to type on with the keyboard feet.
The USB can be routed to either the middle, left or right side depending on how you want to put it. Too bad other third party USB cable might not fit.
You can refer to the video above for the LED colors on this keyboard. It's not RGB, but it's pretty nice that you can mix around blues and reds to get what you want within the color spectrum.
Typing on this keyboard has been a pretty nice journey, especially with the vibrant LED colors that's available. Doesn't feel flimsy at all. Do note that blue and green switches do emit that very clicky sound, which isn't something that anyone can tolerate with. There's also NKRO (which is also standard issue with mechanical keyboards these days), this means you can input any amounts of key and it'll get registered at the same time.
Cooler Master also uploaded a video on YouTube on how to access the various functions including macros and LED profile setting. The video is the only manual you need to get things working.
Verdict
This is definitely one of the most advanced keyboard made from Cooler Master. Jam packed with features and LED modes (which can be added via firmware updates), LED profile settings to cater to your different needs. With the price tag (recommended) of RM599, this is a pretty expensive keyboard to purchase if you just need a keyboard with basic features. Not only that, the SRP of RM599 is heavily influenced by the exchange rate as well. So, hopefully when the economy is better we'll get better prices for keyboards, and especially this one.
Pros
Minimal looks, very sexy and sleek exterior
Vibrant (mixable) Red and Blue LEDs
Macro functions which is mappable to any key that you like, with various macro modes as well (explained in the Cooler Master video)
Repeat rate tweaking for various needs
LED profiles, where you can set to what key you want to light up and what color that you want to light up (up to 4 different profiles)
Easily accessible media function keys
Standard layout, so you can use your third party keycaps
Plug and play, no software is needed
UPGRADABLE FIRMWARES!
Cons
The price tag (which is heavily influenced by the current exchange rate)
Setting up macro might be confusing for some
You can't adjust the speed of your recorded macro. So don't expect your macro to have fast inputs
USB port isn't like Quickfire Rapid-I (not outside) so you can't use any other third party USB cables