ASUS has a wide range of award winning products that has been one of the most selected brand when it comes to PC DIY components, especially graphics card and motherboards that is feature rich and packs with great overclocking potential throughout all generations of both Intel and AMD platform.
Greatest thanks to ASUS Malaysia for sending over a ASUS Z97-A motherboard for today's review. The ASUS Z97-A is positioned below the ASUS Z97-Deluxe and Z97-Pro but some features of both i.e, Crystal Sound 2, M.2, SATA Express, etc is retained, with a lower SRP of RM660 in return.
Technical Specifications
Model
ASUS Z97-A
Warranty
3 Years
Form Factor
ATX
Supported CPU
Intel LGA 1150 Socket CPU
Chipset
Intel Z97
Expansion Slots
2 x PCIe 3.0/2.0 x16 (x16 or dual x8)

1 x PCIe 2.0 x16 (x2 mode)

2 x PCIe 2.0 x1 *1

2 x PCI

Memory Support
Four DDR3 DIMM slots supporting up to 32 GB Up to Dual Channel, 1333-3200 MHz
I/O Panel
1 x PS/2 keyboard/mouse combo port(s)

1 x DVI-D

1 x D-Sub

1 x DisplayPort

1 x HDMI

1 x LAN (RJ45) port(s)

4 x USB 3.0 (blue)

2 x USB 2.0

1 x Optical S/PDIF out

5 x Audio jack(s)

Internal I/O Connectors
1 x USB 3.0 connector(s) support(s) additional 2 USB 3.0 port(s) (19-pin)

3 x USB 2.0 connector(s) support(s) additional 6 USB 2.0 port(s)

1 x SATA Express connector: , compatible with 2 x SATA 6.0 Gb/s ports

1 x M.2 Socket 3 for M Key, type 2260/2280 devices

1 x TPM header

4 x SATA 6Gb/s connector(s)

1 x CPU Fan connector(s) (1 x 4 -pin)

1 x CPU OPT Fan connector(s) (1 x 4 -pin)

4 x Chassis Fan connector(s) (4 x 4 -pin)

1 x S/PDIF out header(s)

1 x Thunderbolt header(s)

1 x 24-pin EATX Power connector(s)

1 x 8-pin ATX 12V Power connector(s)

1 x EZ XMP switch

1 x Front panel audio connector(s) (AAFP)

1 x System panel(s) (Q-Connector)

1 x DRCT header(s)

1 x MemOK! button(s)

1 x TPU switch(es)

1 x EPU switch(es)

1 x Power-on button(s)

1 x Clear CMOS jumper(s)
Overview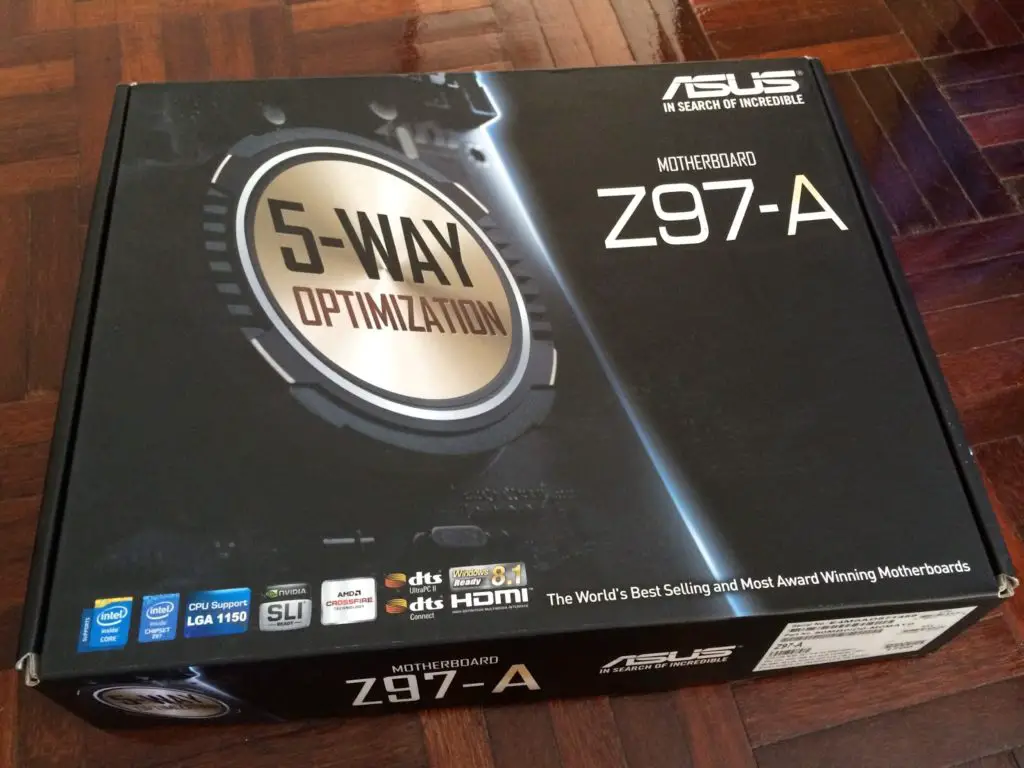 The front packaging of ASUS' Z97-A packaging shares many similar designs of the Z97-Deluxe and Z97-Pro, especially the 5-Way Optimization as the highlighted feature.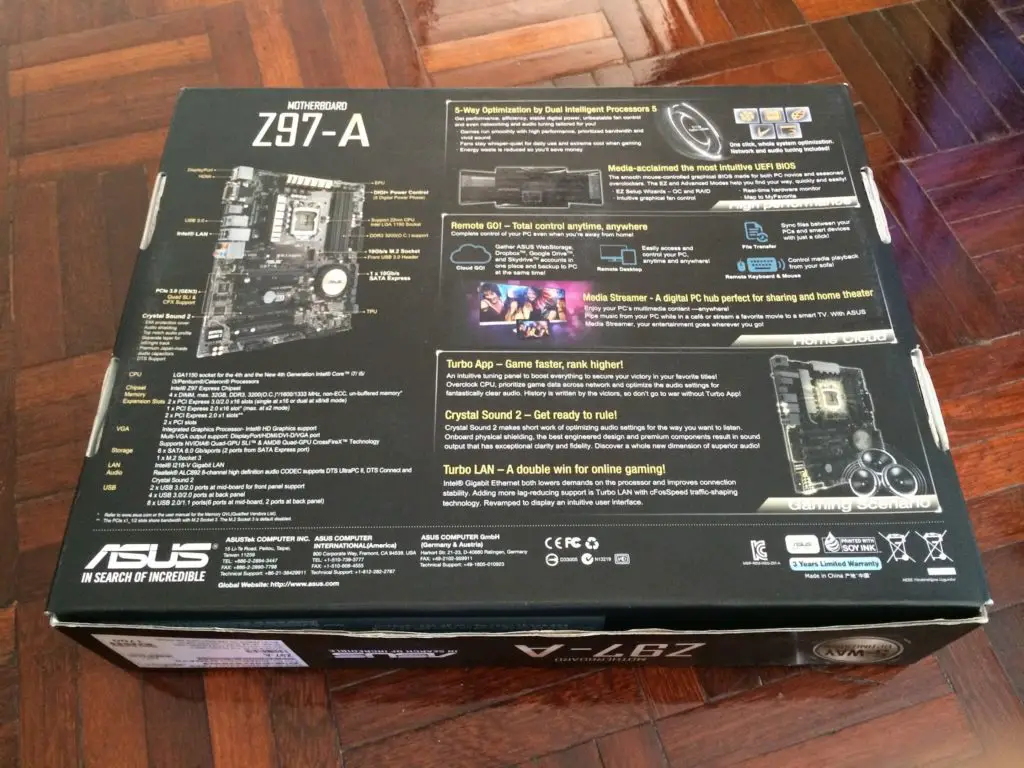 Other description for prominent features of the Z97-A such as Remote GO!, Crystal Sound 2, etc can be found at the back of the packaging.
Accessories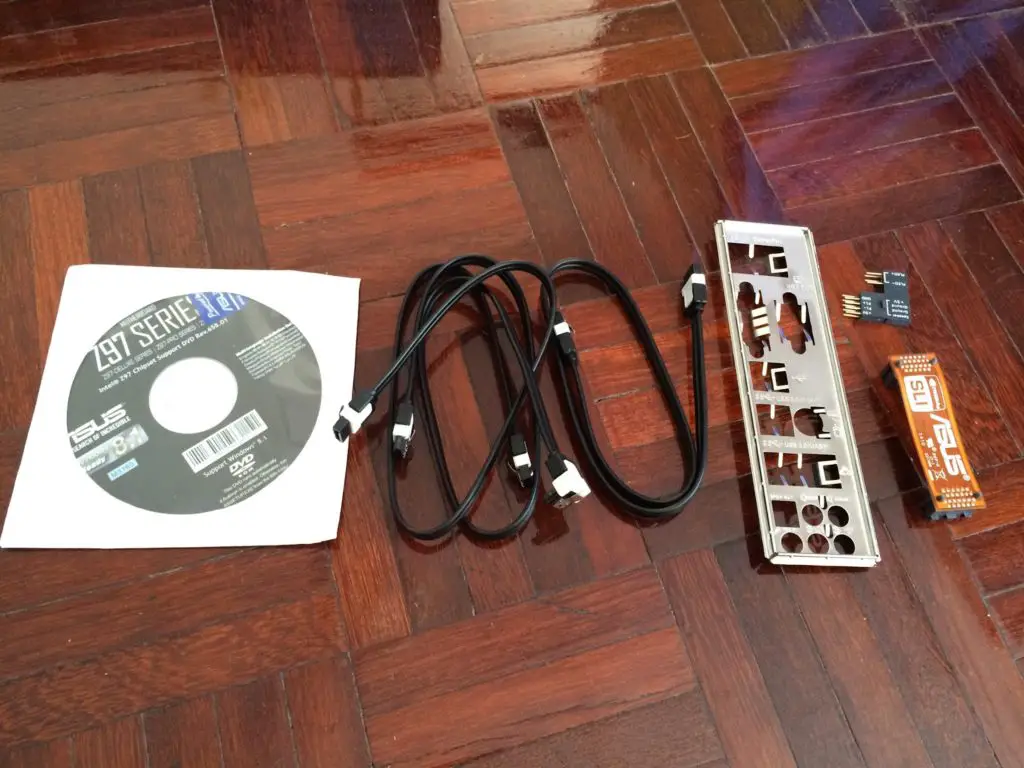 There isn't much accessories given but here's the list – Software & Drivers CD, 4 x SATA Cables, Easy DIY connector, rear panel cover, SLI bridge and user's manual.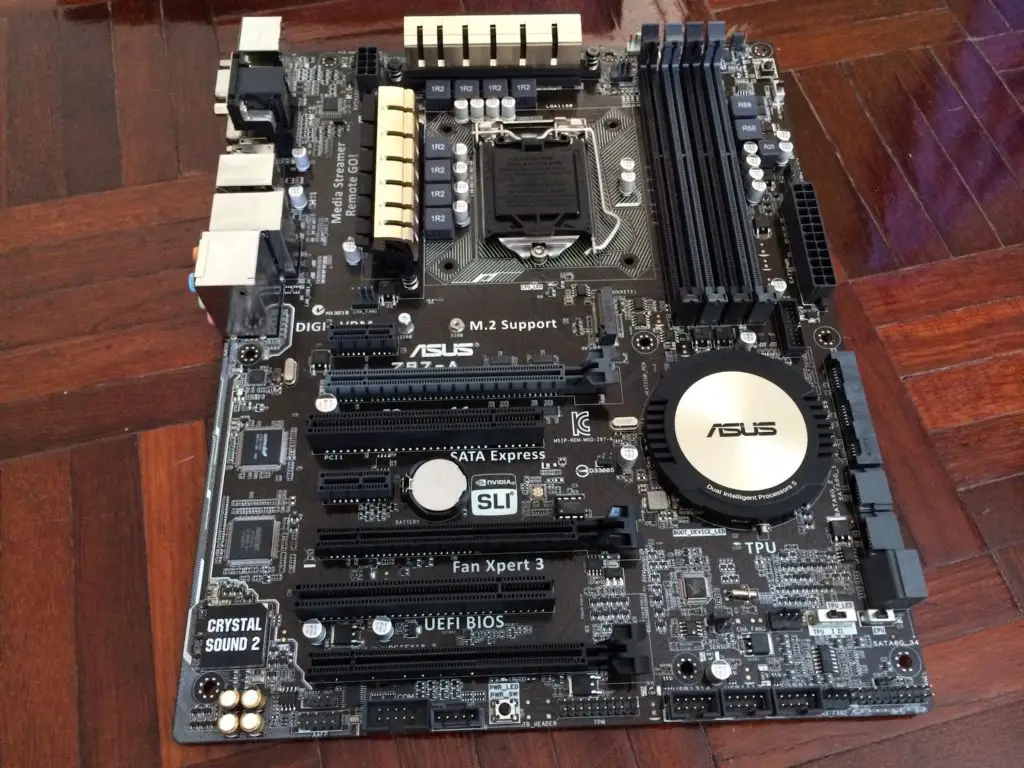 The ASUS Z97-A is the lower end ASUS Z97 series motherboard but notable features on the Z97-Pro such as Crystal Sound 2, M.2 SSD socket, SATA Express port, EPU, TPU, etc can still be seen on it.
The back layout of the ASUS Z97-A.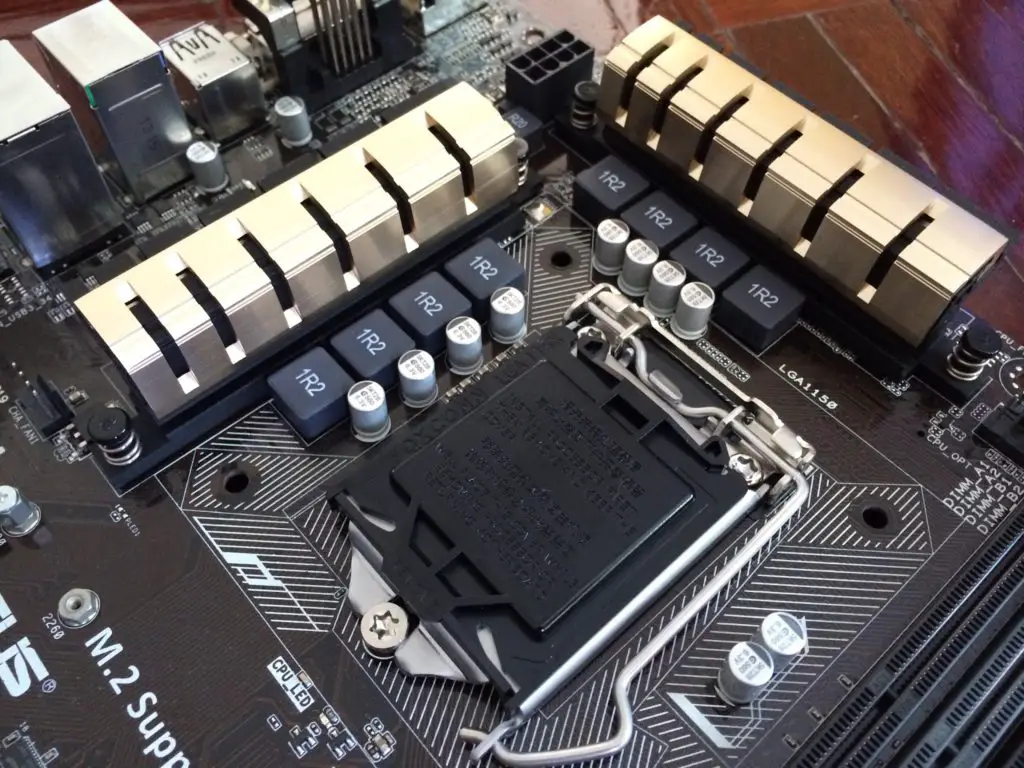 Chokes and capacitors used on the Z97-A appears to be less robust compared to the higher end Z97-Pro and Z97-Deluxe, but we'll find out soon enough its capability in the performance test.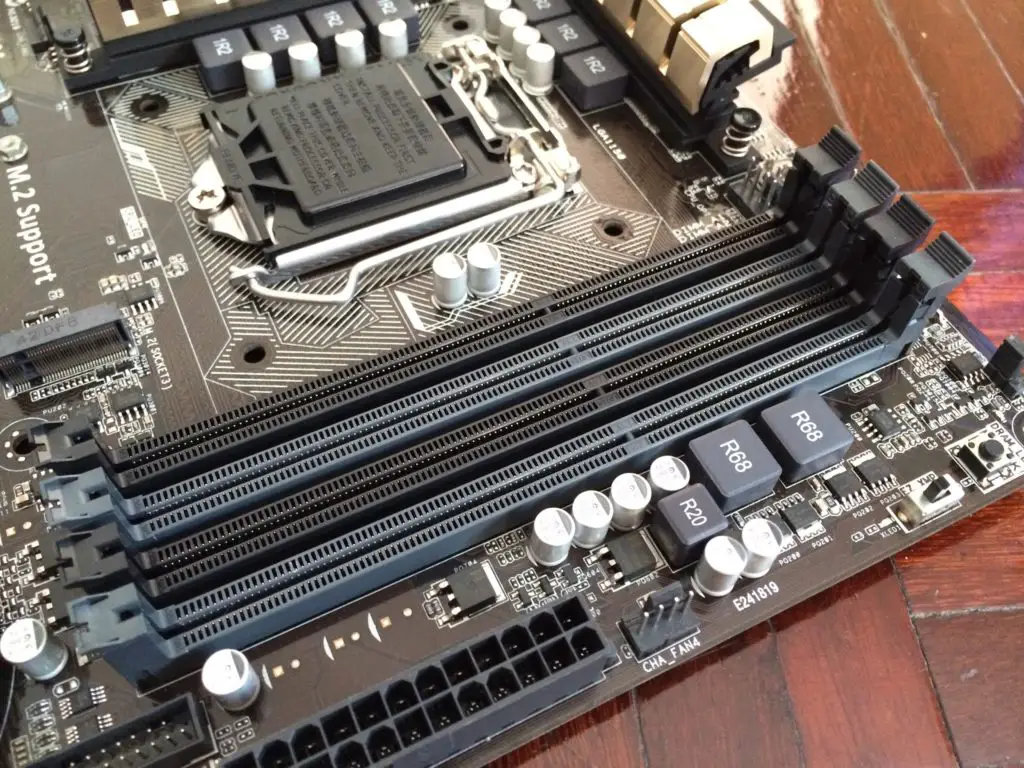 It supports maximum of 4 x DDR3 Memory (32GB in total) and memory speed up to 3300 MHz.
Features such as the MemOK button ensures the memory boot compatibility and EZ XMP switch allow users to enable Extreme Memory Profile with a single flick on the switch for memory tuning can be found at the top right corner of the ASUS Z97-A.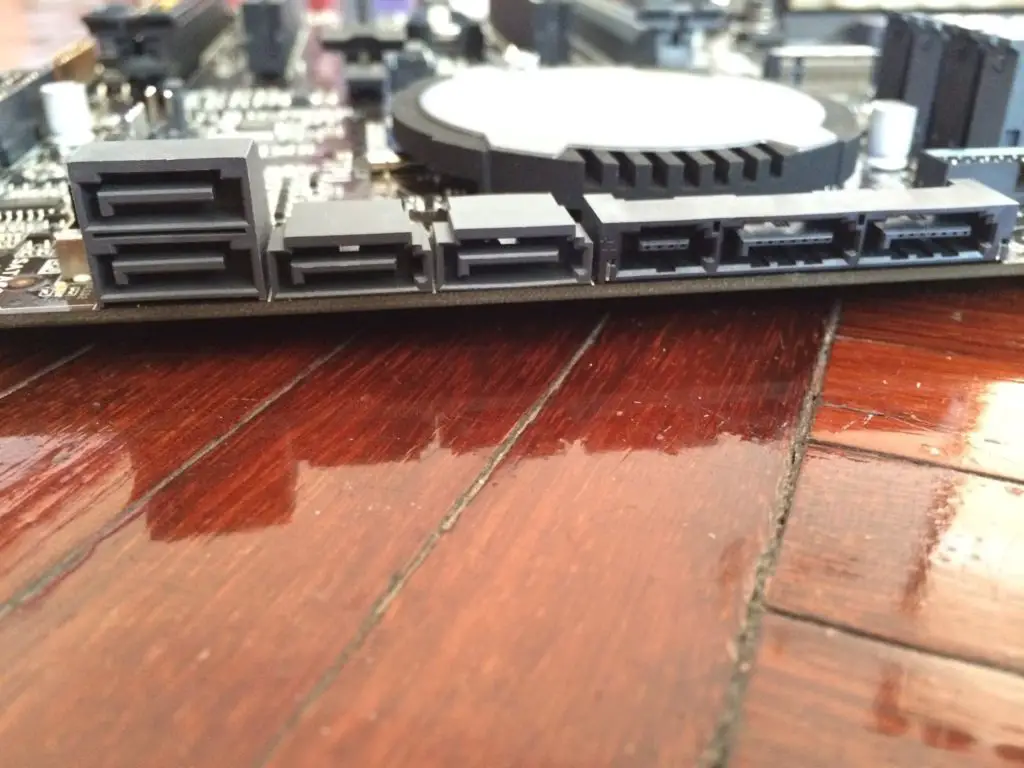 The ASUS Z97-A has a total of 4 x SATA III 6Gb/s port and 1 x SATA Express 10Gb/s port. The placement is rather odd as ASUS could have opted for 2 x stacked SATA III port instead of what we're currently seeing now.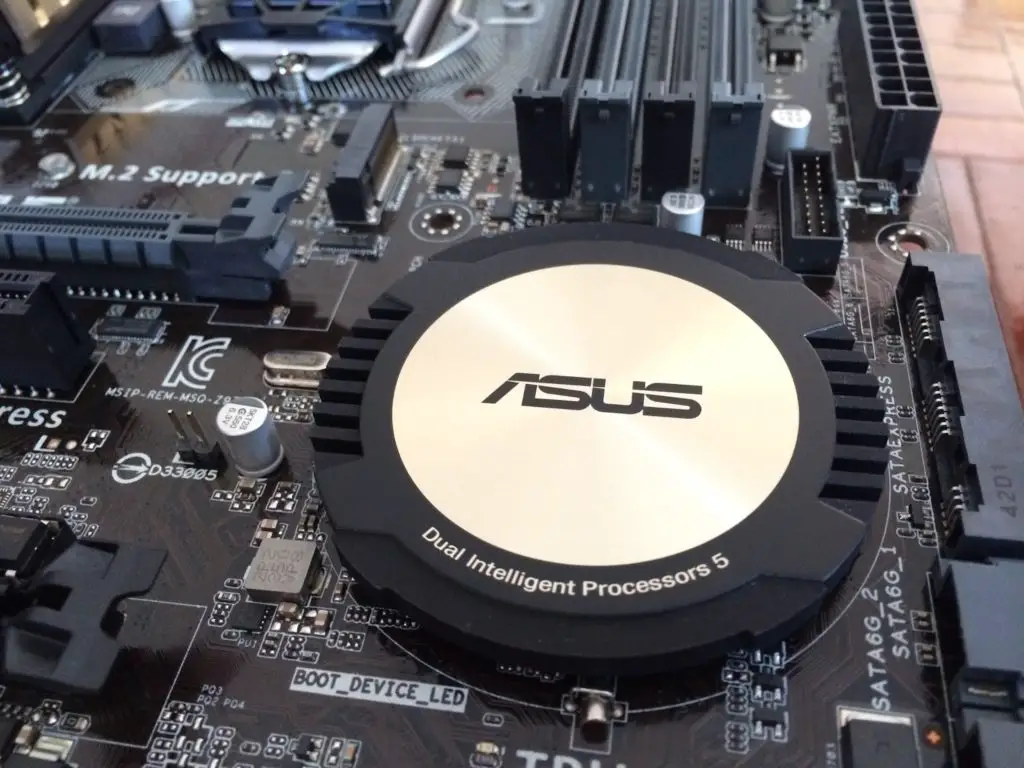 The identical disc shaped chipset heatsink of the Z97-Pro.
TPU: Flicking this switch will trigger the system to auto overclock to improve system performance. Level 1 is a modest over-clocking by the adjustment of CPU ratio, while Level 2 is an aggressive over-clocking by the adjustment on both CPU ratio and base clock speed (BLCK).EPU: Flicking this switch will enable the EPU power saving mode automatically by lowering power consumption level of the current system.
Features like Q-code indicator and Direct Key isn't available on the Z97-A but ASUS seems to be generous enough to maintain the on-board power switch although it's smaller in size and the commonly used headers that is less prone to accidental breakage.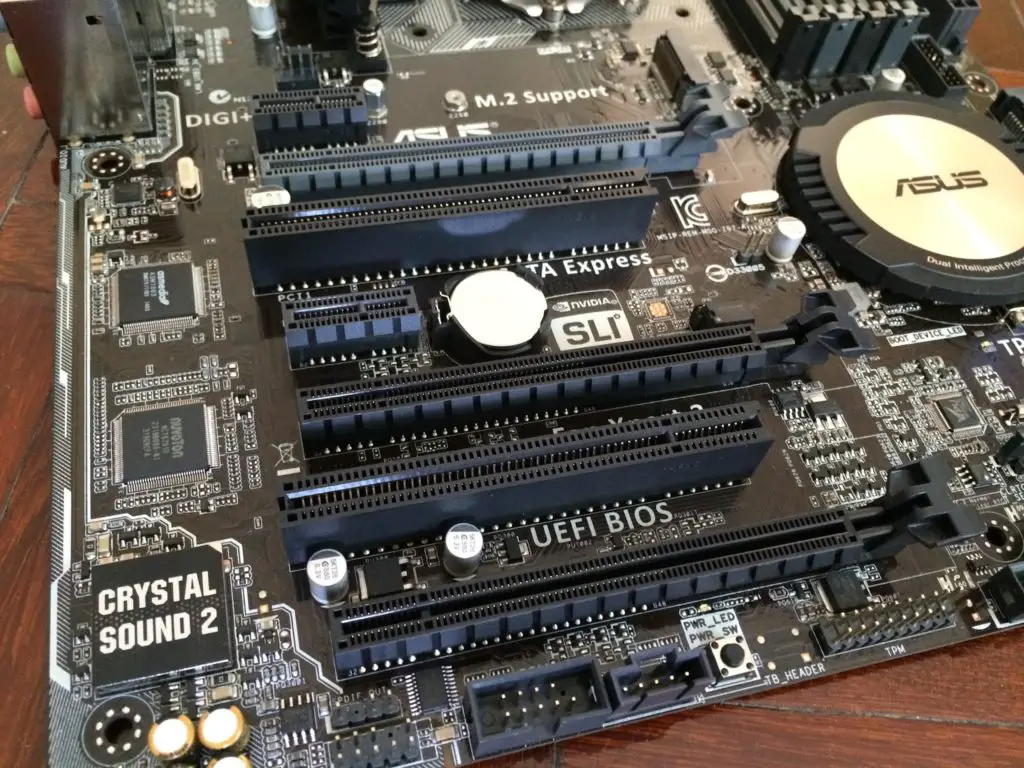 Conventional PCI has been around for ages but it's rarely seen on high end motherboard nowadays. Some still adopt the standard as there are users who still have the need for certain devices that only comes available in the form of a PCI devices.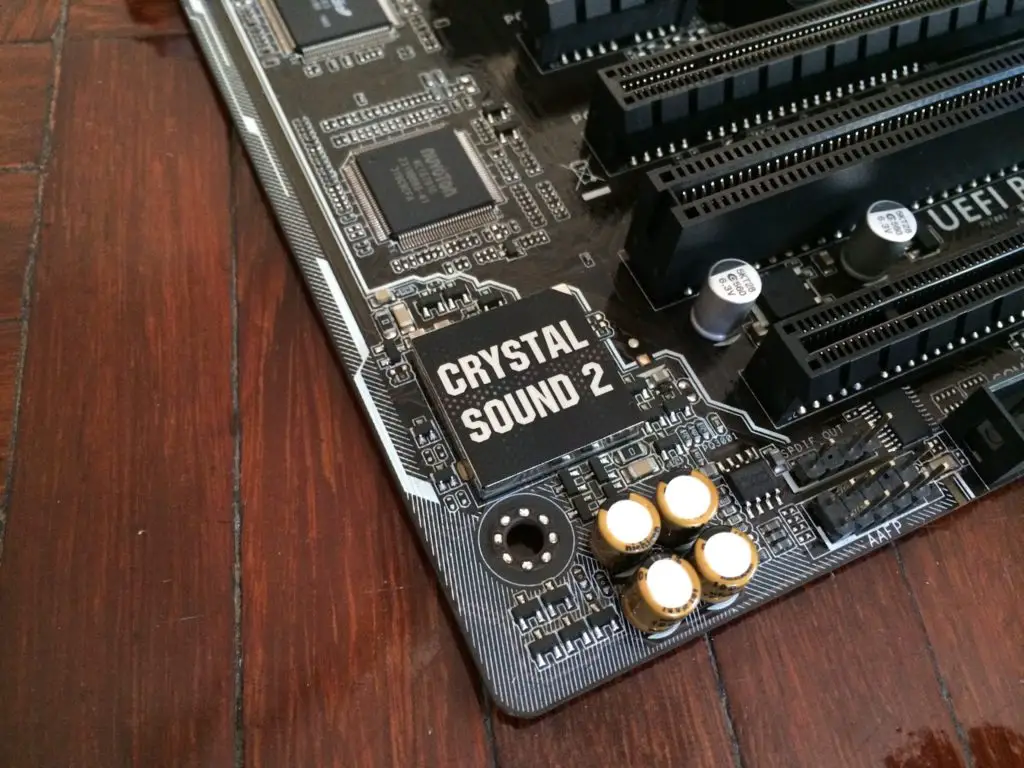 Because that the on-board audio chipset with Crystal Sound 2 chip that is capable of producing 192KHz / 24-bit audio is identical as the one found on the Z97-Pro, similar audio performance as the Z97-Pro is much to be expected.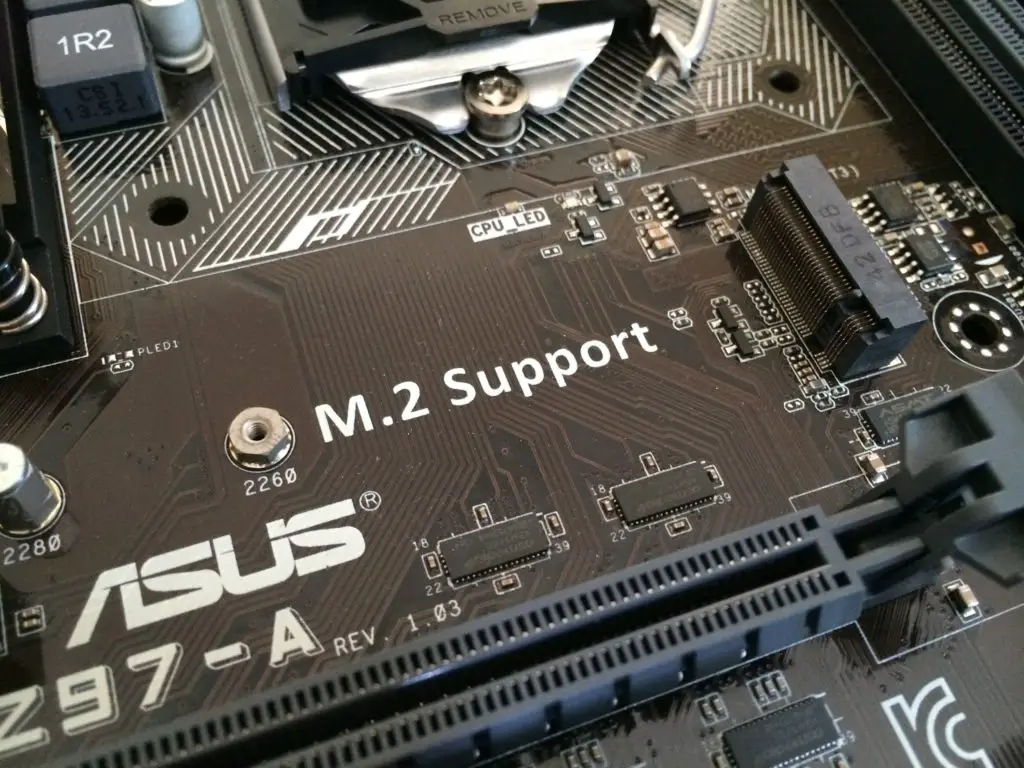 By far the SATA Express devices isn't something common you can find locally, therefore the M.2 SSD with a higher availability and runs at the same speed as the SATA Express (10Gb/s) will be a good alternative to tryout the 10Gb/s standard.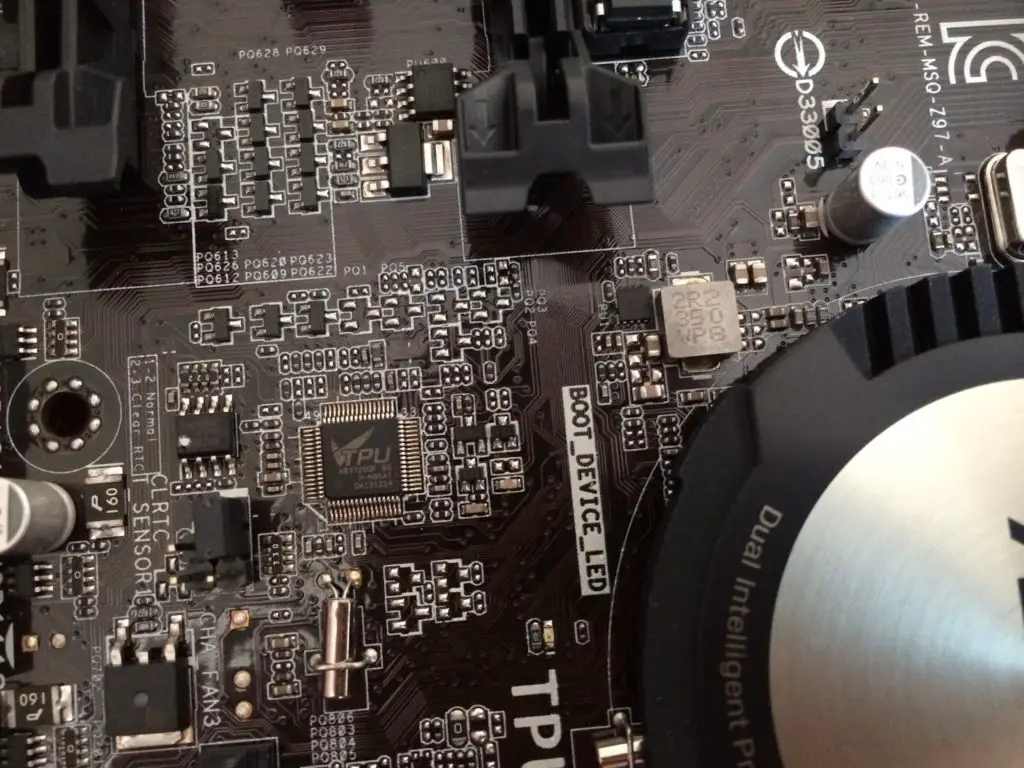 The TPU processing unit is the key behind the system auto overclocking features.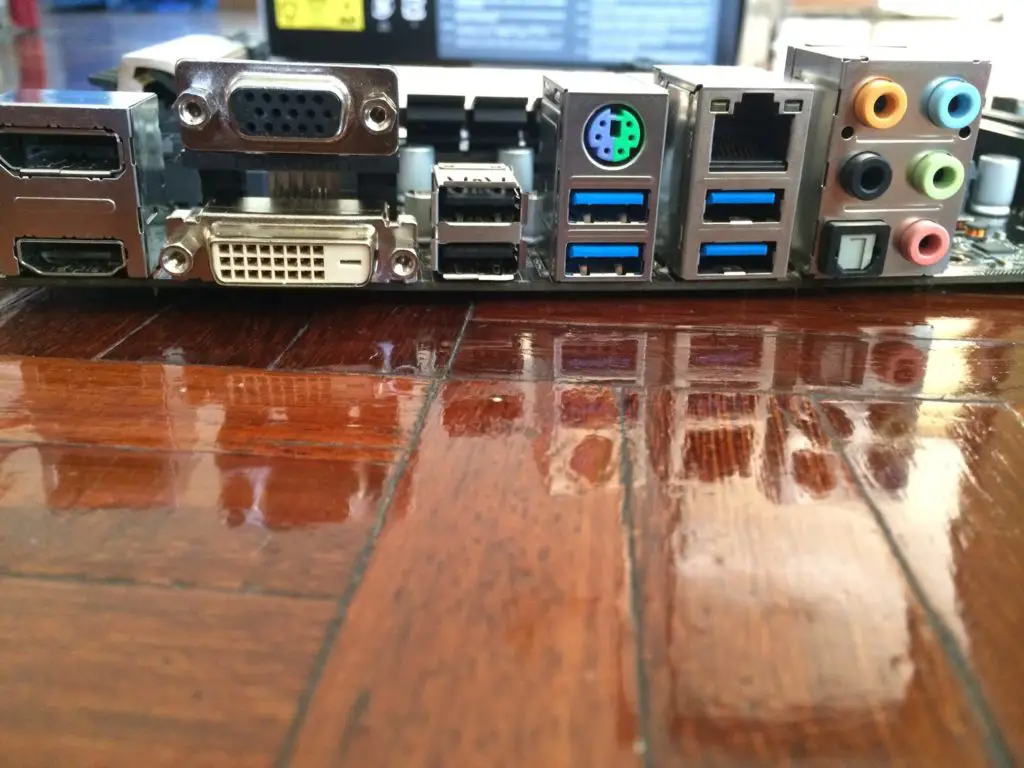 A look at the I/O panel:
Display port and HDMI
VGA and DVI-D
2 x USB 2.0 ports
4 x USB 3.0 ports
P/S2 Keyboard Mouse combo port
1 x Intel Ethernet ports
Audio Jacks
S/PDIF
UEFI BIOS
The new ASUS UEFI BIOS interface has gotten a new look, gone is the blue colour scheme replaced with an overall clean dark background. Accessing it the first time will lead you to the Ez Mode interface that has all the basic functions to allow quick and easy system optimization even to entry level users.
Advanced users may opt for the Advanced Mode for more tweaking options. The main tab basic details of your system and also the option to adjust your system date, time and language.
The Ai Tweaker is where advanced users will spend vast amount of time to tune their system clock speed, voltage, strap, etc. Highlighted in yellow are the brief details on the targeted outcome of the current system tuning.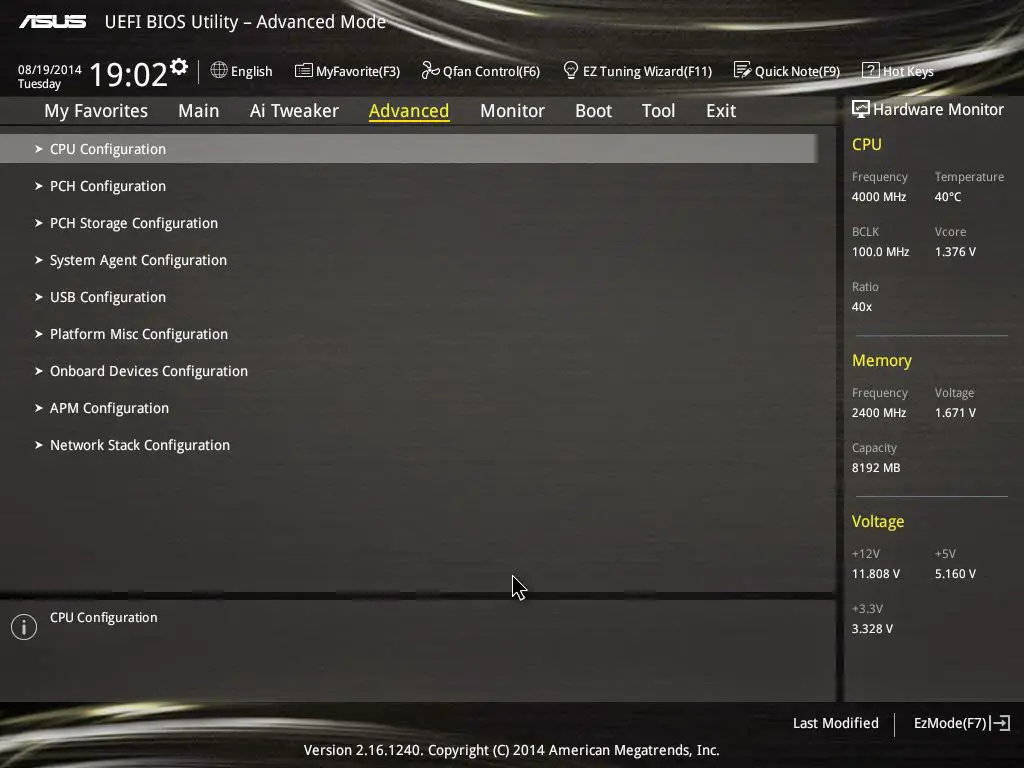 At the Advance tab, users can further adjust the settings of CPU, storage devices, USB ports, On-board Devices, APM, Network Stack, Platform Misc and so on.
Monitor tab allow users to monitor components temperature and fan speed, adjust fan speed with profiles so the fans will behave accordingly.
The Boot tab allows you to adjust both boot options and POST options. One notable option here is the DirectKey that allow the system to boot directly into the BIOS when the DirectKey button is pressed.
The Tool tab comes with some useful function such as the ASUS EZ Flash Utility for BIOS update via flash drive (similar to the BIOS flashback button) and the ASUS Overclocking Profile to backup your stable over-clocking profiles.
The functions in the Exit tab is pretty common but still worth to mention.
Load Optimized Defaults – Basically this will restore the changes done to the factory default settings.
Save Changes & Reset – This will save the changes done and restart your system.
Discard Changes & Reset – This will save the changes done and restart your system.
Both option 2 and 3 can be accessed without the need of accessing the exit tab as user will be prompted with a confirmation message when exiting the BIOS via the Esc key.
The My Favourite function comes very convenient and can be accessed by pressing F3. It allows you to select the most commonly accessed options and compile it together for quick and easy access.
The Qfan Control function is an easy to use function that allows you to configure the fans to behave according to temperature straight from the motherboard. This can be accessed by pressing F6 key.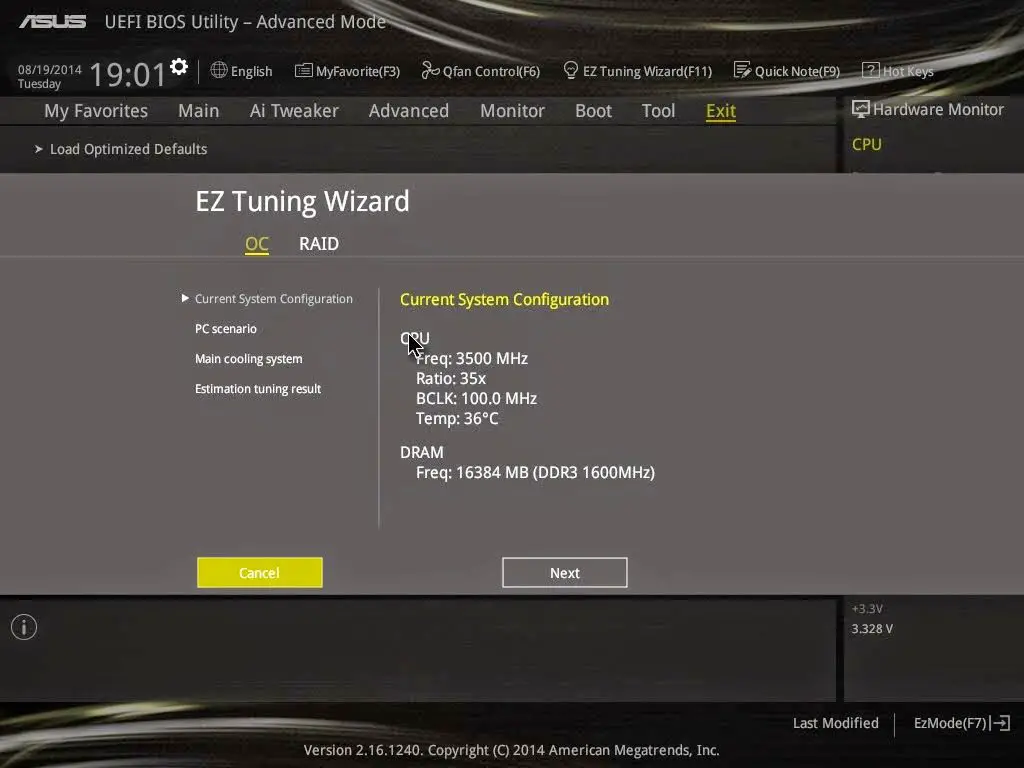 The new EZ Tuning Wizard is a simple to use utility that offers quick and easy system over-clocking and RAID configuration with a single click.
ASUS AI SUITE III 
The ASUS AI Suite III has gotten a new look and enhancement. The previous 4-Way Optimization has an added feature to further enhance your system – Turbo App.
The Auto-Tuning fan position setup.
TPU settings can be configured for desired optimization with the help of the TPU switch located at the motherboard we've seen earlier.
EPU settings for power saving that is similar to the EPU switch on the motherboard can be configured here as well.
Once started, the system will be optimized automatically that involves several auto restart until the optimization is done.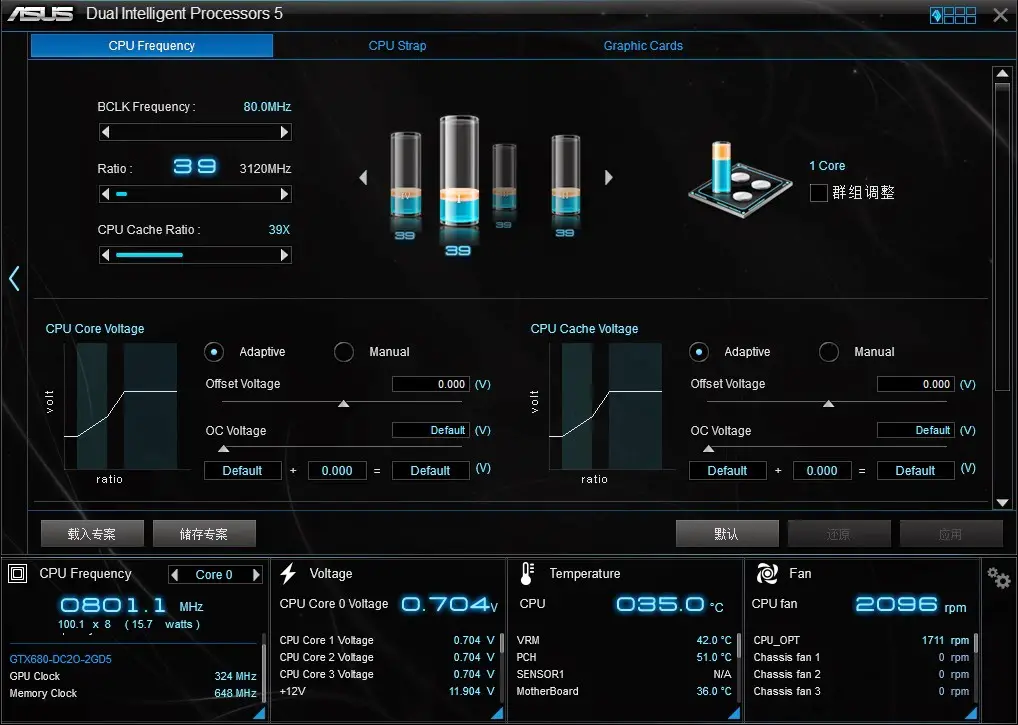 TPU is one of the feature in 5-Way Optimization but users may access it to adjust voltage and CPU ratio easily if there is any necessity of doing so.
CPU Strap adjustment can be done here as well, in the range of 100 MHz to 250 MHz.
There's tweaking option for graphics card installed as well, allowing users to adjust the GPU Clock, Memory Clock, Voltage and power target.
One of the key features of 5-Way Optimization, Fan Expert features easy to use fan configuration with several profiles that can be applied to all fans attached to your motherboard to suit all your needs – Silent, Standard, Turbo, Full Speed.
Yet another featured function in the 5-Way Optimization, Digi+ Power Control comes in 2 different tab for CPU and DRAM. The CPU tab allow users to adjust CPU power phase, VRM switching frequency, thermal control etc to achieve higher and better power efficiency.
The DRAM tab offers adjustments to DRAM Voltage frequency, DRAM current capability and DRAM power phase control.
Moving on to the EPU power saving function function – yes, this is another featured function in the 5-Way Optimization, we have all the power saving options available. The auto tab features some basic options such as turning off display, set system to sleep and fan profiles after the system is left unattended for a certain amount of time.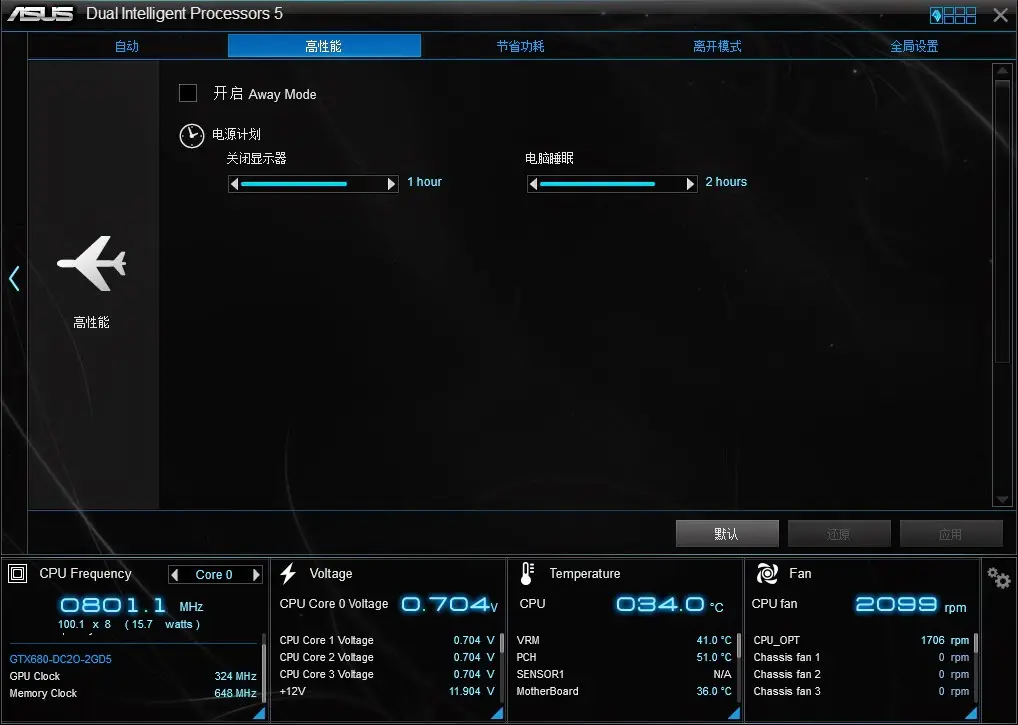 The performance tab only comes with options to turn off display and set system to sleep.
Power saving tab has the same feature as the auto tab and an add-on feature to limit the maximum power consumption of the CPU.
Away mode tab allows users to go even further in power saving by having the same options available in power saving mode and some extras to mute system sound and USB power output control.
The final tab allow users to limit the CPU maximum power consumption and SATA Express power consumption in overall.
A new feature on ASUS' AI Suite III, the Turbo App utility allow users to configure several options for a designated application to enhance the overall experience when running a certain applications – set process priority, performance, audio profiles and internet connection priority.
There's other extra utilities that can be accessed by clicking the grid like icon at the top right corner of the AI Suite III.
Starting off with the AI Charger+, enabling this option will shorten the charging time when your iPod, iPhone and iPad is connected to the USB port. We have personally tested the AI Charger+ with an iPhone and it seems to work as described.
USB Charger+ offers the same USB quick charging as the Ai Charger+ for your smartphones and Tablet PC. It requires extra steps to detect the device to be charged but the it comes with a sweet option to enable USB charging even after the system is in sleep mode or has been shut-down.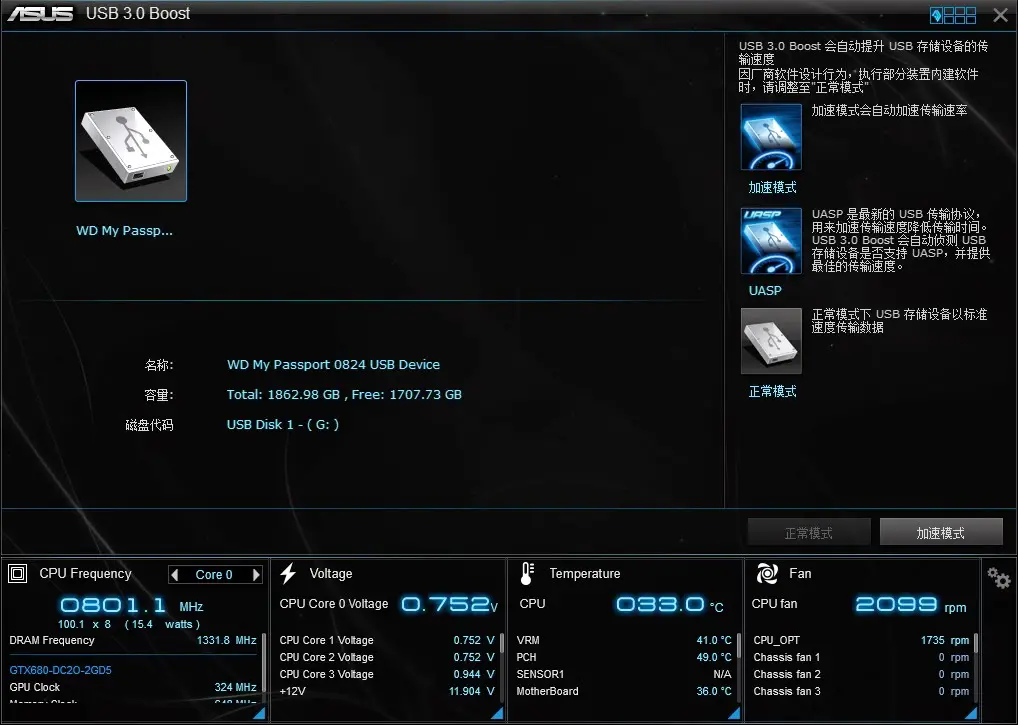 USB 3.0 Boost allows UASP enabled devices to display improvement in transfer speed.
EZ Update is a BIOS update utility that automatically checks for the latest BIOS updates from ASUS official and BIOS update can be done easily with a single click on the update button after the latest BIOS file is selected.
System information utility allow users to navigate the details of their motherboard, CPU and Memory – similar as the CPU-Z often used by advanced users during over-clocking session.
One of our favourite utility since our first experience with the previous AI Suite, the USB BIOS Flashback will automatically checks for the latest BIOS and save it to a designated USB storage device. User can easily recover from boot failure by pressing the BIOS flashback button on the motherboard with a guaranteed successful recovery – the USB storage device with the BIOS file must be plugged into your USB port.
The sweet feature of the Wi-Fi Engine is that the AP mode allow the system to act as an access point other than just being a client in a wireless network. AP mode is proven extremely useful when your PC is connected to the internet via Ethernet cable to a distant wireless router with poor signal and you desperately needs wireless connectivity in your room for mobile devices.
Push Notice is an utility that notify you on selected event via mobile devices so you will always be updated with your system status when you're few miles away from it.
ASUS HomeCloud
ASUS HomeCloud Server allows users (the system Administrator) to add authorized HomeCloud members to access files stored in his ASUS Webstorage.
ASUS Media Streamer is a great sharing feature that allows HomeCloud members to access files in the ASUS Webstorage wherever they are, whenever they want.
ASUS Wi-Fi GO! is a great feature that offer users with the following features:
Cloud GO!
Users may sometimes wish to utilize more than one Cloud web storage service for different applications. However, due to the difference in user interface and architecture between the various service providers, it may not be that easy for any users to utilize multiple Cloud web storages at the same time. This is especially critical when the users would like to back up to the home PC, or even across different Cloud storage service providers. Cloud GO! Makes all previously mentioned scenario possible, while allow the same level of management from both the PC and the mobile devices. This time, web storage Skydrive is now available, delivering more convenience any time, anywhere.
Remote Desktop (Relay Supported)
This is when the mobile device can be used as a separate monitor under both clone and extended display mode, while also supporting inputs from the mobile device in remote. This version, internet relay is added and the zoom in/out quality improved, so users can also make use of this feature to either watch video content s or even play PC games from the mobile device through wireless network at anytime and anywhere without hassle.
File Transfer (Relay Supported)
This could be one of the most commonly used options, to allow one touch send and receive of data between the PC and the mobile device. The files can be easily transferred as if they are transferred across simple communication protocols, also by adding the internet relay which now Bluetooth and wireless network are both now ready to take place, just with a much faster speed, merging convenience and performance into one.
Remote Keyboard & Mouse
This feature uses the mobile device as the input of the PC system for light tasks when needed. This will be convenient for applications when the keyboard or mouse is out of reach. Zoom in/out, Windows desktop switching, Scroll bar are now available, which makes similar applications like trying to work the PC system from bed or similar applications much easier to use.
Test Overview
Moving on to test, we've build the following system configuration using the ASUS Z97-A:
Test Rig Configuration
CPU Cooler
Corsair H100i
CPU
Intel i7 4770K / i7 4790K
Motherboard
ASUS Z97-A
Memory
Kingston HyperX Savage 16GB
Primary Hard Drive
Kimtigo KTA-350 120GB SSD
Power Supply
be quiet! Straight Power 10 600W
Graphics Card
ASUS Radeon R9 280X DirectCU II
Display Monitor
Dell U2312HM
Auto Tuning vs. Manual Overclocking (4790K)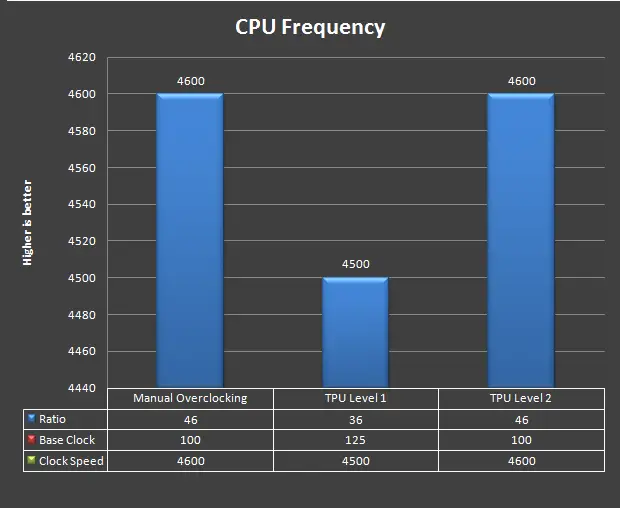 SuperPI Mod 1.9 32M (4790K)
SuperPI Mod 1.9 32M (4770K)
AIDA64 Memory Benchmark
3DMark Fire Strike
ATTO Disk Benchmark
We've ran the ATTO Disk Benchmark utility for a quick benchmark on SATA III SSD(s) and the result is shown as below:
Result of sequential read/write for Intel 520 Series 120GB (left) and Crucial M500 120GB (right), everything seems fine at this point.
Result of sequential read/write for Corsair Voyager GO under normal mode (left) and USB 3.0 Boost mode (right). There's a slight improvement after the USB 3.0 Boost is enabled, where the initial read wasn't able to reach even a nibble of 80 Mb/s is now able to reach 80 Mb/s and a little bit more.
Final Thoughts
Unlike the higher-end ASUS Z97-Deluxe and Z97-Pro, we'd say that the ASUS Z97-A falls in the category of entry-level motherboard for overclocking. The absent of the advantageous features such as Q-code indicator, clear CMOS and BIOS flashback makes overclocking with the ASUS Z97-A tougher when it comes to troubleshooting a failed attempt but we still manage to get a decent result after several attempts manually and via AI Suite III software. The 5-way optimization in ASUS AI Suite especially is a sweet feature that saves you the trouble in fine-tuning your system, which is a great help for the less experienced users who just getting started to set their foot in the overclocking scene. Do note that the software will not give you a record-breaking overclocking result and it requires a certain amount of knowledge in overclocking for manual adjustments on the BIOS settings if you're planning to go for lower temperature, higher frequency, etc.
We won't call it as just another motherboard made for overclocking as it does offers features such as both 10Gb/s M.2 and SATA Express, Crystal Sound 2 that delivers better sound quality than any average onboard audio and almost every feature found in the ASUS AI Suite III. The Z97-A retails around RM660 now, a price that is not overly expensive for what it has to offer to the end-users but it won't be a significant upgrade from Intel Z87 chipset-based system. Pros
User-friendly UEFI BIOS
5-Way Optimization Auto-Tuning for easy system optimization
Easy auto over-clocking with TPU switch
Energy-saving feature with the EPU switch
Simple but handy on-board feature – MemOK, EZ XMP, Power on switch
Good bundled software
Support new M.2 and SATA Express devices
Cons
Limited amount of USB port
Overclocking can be tough for less experienced users