With the embargo for the Intel 13th-gen Core processors finally lifted, we can see all the Z790 chipset motherboards from the Intel board partners flooding our search results today. Just like the Z690 chipset motherboards, the Z790 chipset will also come with models that still support DDR4 memory. After going through some Z790 chipset motherboards with DDR5 support in the past 2 weeks, we'll be taking a quick look at the MSI MAG Z790 Tomahawk Wifi DDR4 this time.
As the name suggests, the Z790 Tomahawk Wifi DDR4 is one of the many Z790 chipset motherboards that still supports DDR4 memory modules. Due to limited resources this time, we will only be doing a quick preview of the Z790 Tomahawk Wifi DDR4 for now and proceed with the test as soon as we manage to get our hands on another 13th-gen Intel Core processor.
Specifications
CPU support
Intel LGA 1700 ( Supports 12th and 13th Gen Intel Core Processors, Pentium Gold, Celeron Processors)
Chipset
Intel Z790
Memory

4x DDR4 memory slots, support up to 128GB
Max. overclocking frequency:
– 1DPC 1R Max speed up to 5333+ MHz
– 1DPC 2R Max speed up to 4800+ MHz
– 2DPC 1R Max speed up to 4400+ MHz
– 2DPC 2R Max speed up to 4000+ MHz
Supports Intel XMP
Supports Dual Controller Dual-Channel mode
Supports non-ECC, un-buffered memory

Graphics

1 x HDMI 2.1 port
1 x DisplayPort 1.4 port

Expansion slots

1 x PCIe 5.0 x 16 slot
1 x PCIe 4.0 X16 slot (PCIEX4)
1x PCIe 3.0 x1 slot (PCIEX1)

Storage

7 x SATA 6 GB/s ports
4 x M.2 slots (PCIe Gen4 x4)

Network

1 x Intel I225V 2.5Gb Ethernet
Intel Wi-Fi 6E (supports 2.4/5/6GHz frequency band)
Bluetooth 5.3

Back I/O Ports

DisplayPort 1.4
USB 3.2 Gen 1 5Gbps Type-A
USB 3.2 Gen 2 10Gbps Type-A
2.5G LAN Port,
HD Audio Connectors
HDMI 2.1 Port
Clear CMOS Button
Flash BIOS Button
USB 3.2 Gen 2 10Gbps Type-C
USB 3.2 Gen 2×2 20Gbps Type-C
Wi-Fi / Bluetooth Antenna
Optical S/PDIF OUT

Audio

Realtek ALC4080 Codec
7.1-Channel USB High-Performance Audio
Supports S/PDIF output
Supports up to 32-Bit/384 kHz playback on the front panel

Internal Connectors

1x Power Connector(ATX_PWR)
2x Power Connector(CPU_PWR)
1x CPU Fan
1x Pump Fan
6x System Fan
2x Front Panel (JFP)
1x Chassis Intrusion (JCI)
1x Front Audio (JAUD)
1x TBT connector (JTBT, supports RTD3)
1x Tuning Controller connector(JDASH)
3x Addressable V2 RGB LED connector (JARGB_V2)
1x RGB LED connector(JRGB)
1x TPM pin header(Support TPM 2.0)
4x USB 2.0
2x USB 3.2 Gen1 Type A
1x USB 3.2 Gen2 Type C

LED Feature
Included accessories

1 x Wi-FI Antenna
1x User Manual
1 x Quick Installation Guide
2 x EZ M.2 Clips
1 x USB Drive
2 x SATA Cables
1 x Cable Stickers

Form factor
ATX Form Factor (305mm x 244mm)
Unboxing
The Z790 Tomahawk Wifi DDR4 ships in the usual packaging that is standard across MSI's motherboards that falls in the same tier. Inside the box, you'll find included accessories such as the Wi-FI Antenna, User Manual, Quick Installation Guide, EZ M.2 Clips, USB Drive, SATA Cables, and Cable Stickers.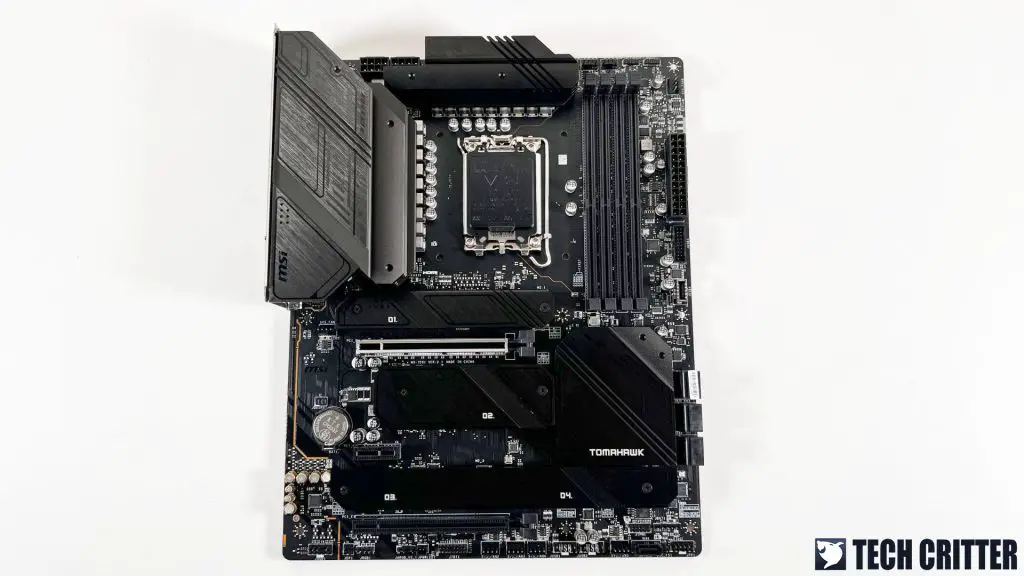 Design-wise, the Z790 Tomahawk Wifi DDR4 has an all-black design that can easily pair with a lot of components and is especially useful when it comes to themed builds. That Z790 Tomahawk Wifi DDR4 has a very similar layout to the previous-gen Z690 Tomahawk Wifi DDR4, though you can easily tell the difference around the bottom part of the motherboard, notably the changes on the PCIe expansion slots area. The repositioned PCIe x1 slots and the absence of one PCIe x16 slot are probably design consideration that caters to modern-day graphics cards that usually comes with a ridiculously thick design that for most of the time, renders the PCIe slots below unusable.
The Z790 Tomahawk Wifi DDR4 can support up to 128GB of DDR4 memory and a memory frequency of DDR4-5333+ on 1 DIMM per channel configuration but for a more practical use case, the 2 DIMMs per channel configuration is what most of us will be using. We're not entirely sure how much of an improvement we'll see with DDR4 memory on the Z790 chipset motherboard but we're looking forward to seeing higher frequencies support with Gear 1 mode for the memory controller.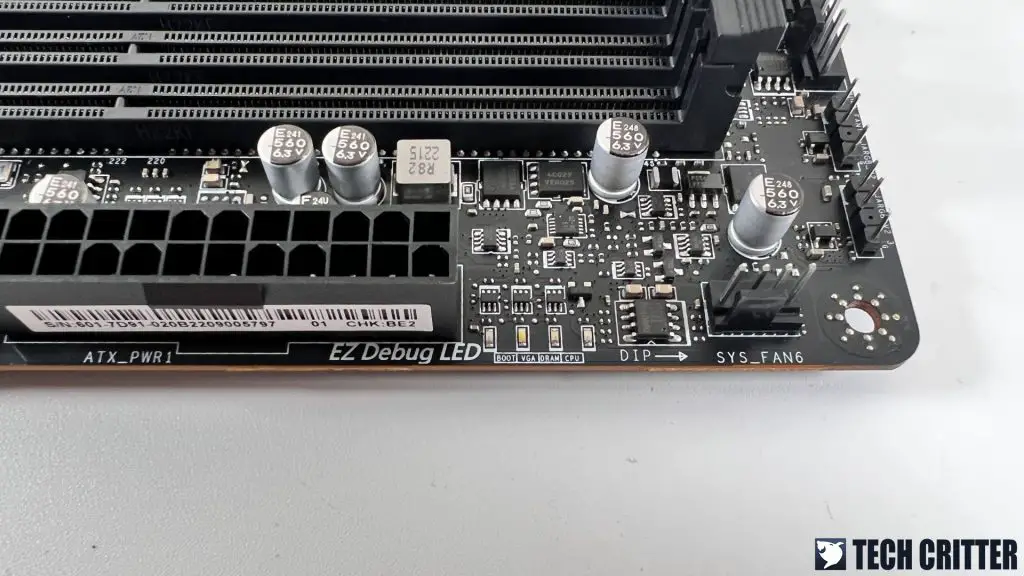 Near the 24-pin ATX power connector, you'll find the EZ Debug LED that is especially useful for troubleshooting and it's actually one of those really useful features that are often overlooked by many even to this day. It might not be as specific as a Q Code display, but it will show you which part actually went wrong if the system fails to POST.
For the storage options, you'll find 7 x SATA 6GB/s ports and 4 x PCIe Gen4 x4 M.2 slots on the Z790 Tomahawk Wifi DDR4. While it's pretty unlikely that you'll use all of them but hey, it's still a nice inclusion for those who actually need all these storage options on a tight budget. The heatsink for the M.2 SSD isn't the optimal type of heatsink for the M.2 SSDs though, so you'll have to make sure that you have enough airflow in this area if you're planning to install a lot of M.2 SSD here.
Moving on to the power design, MSI has equipped the Z790 Tomahawk Wifi DDR4 with a fairly reasonable 16+1+1 phase according to the official product page. A closer look reveals that it actually comes in a teamed configuration, involving doublers that distribute the same signal from the PWM controller to every two of the power stages.
The components used for the power design consist of the Renesas RAA22010540 power stage which is rated at 90A each used on the Vcore rail, the Renesas RAA220075R0 rated at 75A used for the integrated graphics, and the Renesas RAA229132 PWM controller that handles the signals going to all of the power stages here.
And for the rear I/O, you'll find 1 x HDMI port and 1 x DisplayPort for the integrated graphics display output, clear CMOS and Flash BIOS button that can come in handy during system maintenance or light overclocking session, 6 x USB type-A ports and 2 x USB type-C ports, a 2.5GbE LAN port and Wi-Fi 6E for network connectivity, S/PDIF and audio jacks for the audio.
Test System Setup
| | |
| --- | --- |
| CPU | Intel Core i7-13700KF |
| Motherboard | MSI MAG Z790 Tomahawk Wifi DDR4 |
| Memory | Kingston FURY Renegade DDR4-4600 RGB 16GB (8GB x 2) / TEAMGROUP T-FORCE XTREEM ARGB DDR4-3200 CL14 |
| Graphics Card | GeForce RTX 3080 |
| Power Supply | Cooler Master M2000 Platinum 2000W |
| Primary Storage | Kingston KC3000 2TB |
| CPU Cooler | Cooler Master MasterLiquid PL360 FLUX |
| Chassis | Streacom Open Bench Table |
| Operating System | Windows 11 64bit |
CPU Load Test and Thermals
We have paired the Z790 Tomahawk Wifi DDR4 with an Intel Core i7-13700KF for the test this time but we won't be looking at the CPU overclocking. Just like the Core i9-13900K, this CPU also requires a rather powerful CPU cooler to tame and the contact frame we've used on Z690 chipset motherboards doesn't seem to be doing any different this time around. For the stress tests, we are using UL Procyon Video Editing Benchmark, RealBench benchmark, and Cyberpunk 2077 to simulate a more realistic use case.
While the thermal throttle doesn't kick in as frequently as the Core i9-13900K, the Cooler Master MasterLiquid PL360 FLUX still struggles to keep the temperature under 100°C. So, your only choice is either to get a better CPU cooler or set the power limit lower.
For the motherboard, we've also managed to capture the temperature readings on both the VRM and chipset area just to see if the cooling is adequate. From the stress test, we can see the load temperature on both VRM and chipset peaked at about 59°C and 53°C respectively. Compared to the previous-gen MSI Z690 motherboards we've tested, this is actually reasonable.
DDR4 Memory Overclocking
While Intel has announced its new 13th-gen Core processors and Z790 chipset motherboards, there are Z790 chipset motherboards that still support DDR4 memory and the Z790 Tomahawk Wifi DDR4 is one of them. Though getting DDR4 memory to run at 6000MHz like what we've seen on DDR5 memory takes a bit more effort and can have diminished return if it's not properly configured.
So if you're planning to upgrade to the Intel 12th-gen or 13th-gen with DDR4 memory, you can consider getting a decent DDR4 memory kit with Samsung B-die memory chips. DDR4-3800 or DDR4-4000 on Gear 1 is recommended if you're on a K-SKU CPU and DDR4-3200 CL14 on Gear 1 for non-K SKU. As of now, most of the memory kits with Samsung B-die we've tested can achieve DDR4-3800 CL14 on the Z790 Tomahawk Wifi DDR4 with VDIMM of 1.5 – 1.55V, VCCSA at 1.3 – 1.35V, and VCCIO at 1.2-1.25V.
As for other DDR4 memory kits with SK Hynix CJR/DJR (C-die or D-die) memory chips or Micron E-die memory chips, we don't have any extra memory kits available at the time when we're doing memory overclocking tests with this motherboard. So we can't really comment on anything at the moment but you can try to target DDR4-3800 CL16 with VDIMM at around 1.5V.
Final Thoughts
The MSI MAG Z790 Tomahawk WiFi DDR4 is no doubt, a feature-rich motherboard aimed at users who wanted to get a taste of the Intel 12th-gen or 13th-gen Core processors but still not ready for DDR5 memory. Of course, a K SKU CPU is recommended if you really want to take the most advantage of DDR4 memory on this motherboard due to the fact that system agent voltage or VCCSA is still locked on the non-K SKU CPUs. DDR4 memory support is pretty decent I'd say, as DDR4-3800 CL14 and DDR4-4000 CL16 on Gear 1 are surprisingly easy to achieve on this board if you pair it with an Intel 13th-gen Core processor.
There are also a handful of features on the motherboard that I really appreciate, notably the debug LED, but you'll need to take some time to explore all these features and see if it's actually beneficial to you. For those who need more high-speed storage devices, the support for PCIe 5.0 and lots of M.2 Gen4 SSDs is one of the selling points of the Z790 Tomahawk WiFi DDR4. While you might not be able to experience PCIe 5.0 storage devices for now due to the low availability of supported devices, M.2 SSDs are still something you can enjoy right now and it's actually gotten more affordable in recent months. Though the included heatsink might struggle a bit if you're planning to fully populate all the M.2 slots available on the motherboard.
At RM 1,489, the MSI MAG Z790 Tomahawk WiFi DDR4 isn't exactly cheap for starters but if we look at the features it has to offer, I'd say the price is still somewhat justifiable.