KUALA LUMPUR, 12 NOVEMBER – The "Dew Challenge 2016" battle continues as it makes its way from Selangor to Kuala Lumpur. After the success of last year's Dew Challenge, Mountain Dew brought back the highly anticipated challenge to Malaysians with the ever popular Largest Amateur DoTA 2 Tournament with a prize pool of RM150,000. Additionally this year, Mountain Dew injects more excitement by introducing a new mobile gaming challenge in augmented reality format catered to all members of the public which will definitely bring a smile to e-gamers enthusiasts as there is a big prize pool of RM50,000.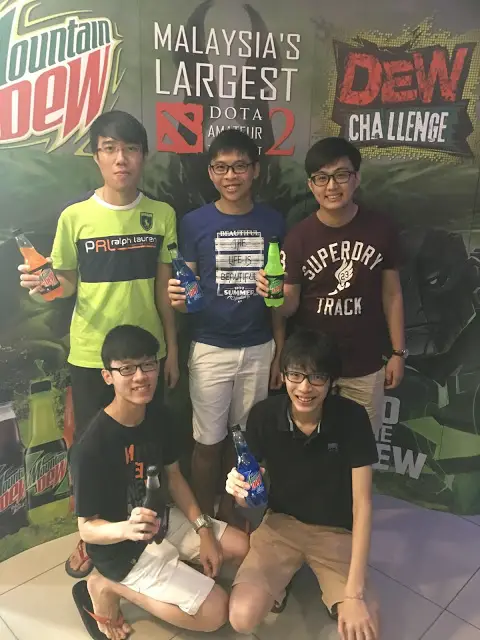 Players huddled in a group with their favourite Mountain Dew flavours before to prep for the battle
Where there is passion, there is Mountain Dew – the brand itself relates to action sports, entertainment, gaming, co-creating and youth lifestyle. Within the gaming platform itself, Mountain Dew is committed to providing a platform encouraging the growth of e-gamers in the local scene and those with a passion for gaming to compete.
With its mantra of "DO THE DEW", Mountain Dew strives to encourage individuals to push their boundaries through exhilarating challenges. Furthermore, Mountain Dew has strategically latched on to the rise of the gaming scene in Malaysia which could potentially open up more opportunities for the winners. An excellent example of this scenario would be last year's winner of the Dew Challenge 2015, Yeik Nai Zheng or also known as MidOne.
MidOne was at the brink of giving up his DoTA 2 career but saw an opportunity through the Dew Challenge 2015 and formed a team with his friends to enter the tournament. After a successful battle amongst other teams within his region, Penang, his team qualified to the final round and won the tournament. The success from the Dew Challenge 2015 tournament landed him an offer from Fnatic to be part of the team and he was placed fourth at The International 2016 tournament.
First group to consist mostly female players for the Kuala Lumpur round
For the DoTA 2 challenge, there are a total of 1,120 participants from 224 teams which consist of five players in each team across all regions. Participants will need to battle it out on a state level in order to proceed to the finals.
Fortunately for non-online gamers, Mountain Dew has introduced an entertaining mobile gaming challenge that allows individuals to participate in the gaming phenomena. The mobile gaming challenge is an interactive and fun challenge where each player will be required to capture as many virtual Mountain Dew drones as possible and earn the highest points but with a twist of others stealing points from the other participant. Only the top ten participants from each region will proceed to the final.
The kick-off of the Dew Challenge 2016 in Penang was well received and had more than 100 participants partaking the DoTA 2 and mobile gaming challenge. The second destination of the tournament was held in Selangor which received participation from approximately 64 teams. Continuing from the success in Penang and Selangor, the DoTA 2 and mobile gaming challenges will both take place in the following states:
Kuala Lumpur on 12 and 13 November 2016 

Kuantan on 19 and 20 November 

Johor on 25 and 26 November 

Players concentrated in their game
All the selected teams from DoTA 2 challenge in the respective states will then compete at the group stage level which will be held on 9 December 2016. After which, the top eight teams will battle it out at the finals for a RM150,000 prize pool which will be held on 10 and 11 December 2016 in Kuala Lumpur. As for the mobile gaming challenge, top 10 scorers from each state will be selected and they will battle it out at the final for RM50,000 prize money which will be held on 11 December 2016 in Kuala Lumpur.
"We are big advocates of following one's passion and we highly encourage Malaysians to do so. Hence, we have created this online gaming arena and the mobile gaming application for fellow gaming enthusiasts as a platform for them to channel their passion for gaming," said Etika Sdn Bhd (formerly known as Permanis Sandilands Sdn Bhd) Vice President of Marketing and Business Development, Hemalatha Ragavan.
DoTA 2 and e-gaming in general requires intense training and endurance in order to win, hence all participants get to enjoy and boost their energy with their favourite Mountain Dew throughout the game. Teams often go through rigorous stages of practice and strategy meetings spanning more than 40 hours a week. The dedication and commitment that gamers have towards their skills is reflective of the Mountain Dew brand belief of pushing Malaysians beyond their limits. This is why Mountain Dew supports e-gamers as their efforts deserve the recognition.
"We are extremely excited to be organizing the Dew Challenge 2016 and we look forward to having participants join the challenges while at the same time having their family and friends come support them at this this exciting gaming event," added Hemalatha Ragavan.
DoTA 2 fans and participants can stay tuned to the challenge updates and results on Facebook page https://www.facebook.com/MountainDewMalaysia/.