This year at CES 2022, AMD has announced the Radeon RX 6500 XT, its entry-level gaming GPU for the budget-friendly gaming segment, or is it? The new RX 6500 XT is targeted at 1080p gaming, sporting a surprisingly fast 2.6ghz GPU frequency and GDDR6 4GB memory but has a low TBP starting at 107W only, which can be easily driven with a 400W power supply.
The RX 6500 XT we have here today is the XFX Speedster QICK 210 Radeon RX 6500 XT, which shares a similar design to the SWFT 210 RX 6600 from our previous review. So without any further ado, let's get on with the review and see if
Specifications
GPU
Radeon RX 6500 XT
Radeon RX 6600
Shading Units
1024
1792
TMUs
64
128
ROPs
32
64
Compute Units
16
28
Game Clock
2610 MHz
2044 MHz
Boost Clock
2815 MHz
2491 MHz
Memory Type
GDDR6
GDDR6
Memory Size
4GB
16GB
Memory Bus
128-Bit
128-Bit
Bandwidth
144 GB/s
224 GB/s
Effective Memory Speed
18 Gbps
16 Gbps
Bus Interface
PCIe 4.0 x 4
PCIe 4.0 x 8
Additional Power Connector
1 x 6-pin
1 x 8-pin
TDP
107W
132W
Recommended PSU
400W (Recommended by AMD)
500W (Recommended by XFX)
450W
Unboxing
The QICK 210 RX 6500 XT ships in the vertical packaging that many XFX graphics cards users are familiar with, and the content is of course the graphics card and the product warranty card.
Taking a closer look at it, we can see that it's a dual-slot card with a reasonable-looking dual-fan cooler equipped. XFX never specifically mentioned anything about the cooler design so… it just works? Dimension-wise, the QICK 210 RX 6500 XT is measured at 233mm x 13mm x 4.2mm, which is pretty compact, so it can easily fit into most PC cases nowadays. Of course, you will need a 6-pin PCIe for this though.
Like most graphics cards nowadays, the QICK 210 RX 6500 XT also comes with a backplate of its own. You'll find a handful of holes and cutouts for the airflow, as well as for the looks.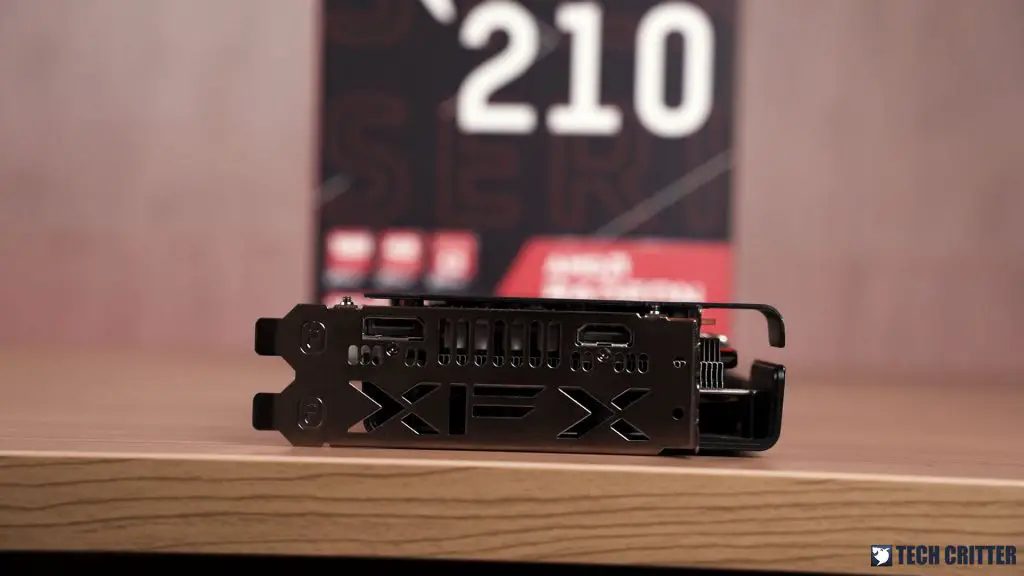 The output options will be 1 x HDMI and 1 x DisplayPort, some might complain it's too little but honestly, I think that's more than enough for most of the entry-level gaming system for a very obvious reason – you don't need more than two display if you're already having a very limited budget for your PC upgrade.
Test System Setup
For our games benchmark test, we've selected a number of AAA titles to run at its highest possible settings using the following setup under an ambient temperature of 30°C:
| | |
| --- | --- |
| CPU | AMD Ryzen 9 5950X |
| Motherboard | X570S AORUS MASTER |
| Memory | T-Force XTREEM ARGB DDR4 16GB |
| Graphics Card | XFX Speedster QICK 210 Radeon RX 6500 XT |
| Power Supply | Cooler Master V1200 Platinum |
| Primary Storage | Corsair MP600 2TB |
| Secondary Storage | WD Black 6TB |
| CPU Cooler | Cooler MasterLiquid Master ML360R RGB |
| Chassis | Streacom Open Benchtable BC1 |
| Operating System | Windows 11 64bit |
As it's an entry-level card for 1080p gaming, going beyond that is not worth the time and effort and you might as well invest in a higher-end card if you're into 1440P or 4K gaming. We've tested a number of games, not esports titles but some AAA titles we usually use for our games benchmark just to see how far it can go.
Starting off with the 1080p low graphics settings, we can see that going with low settings allow us to play all the games we've tested with more than 60fps on average, easily. Some might ask, why low graphics settings when AMD did show that the card can even do high settings on some games at 1080p? Well, we just want to know what kind of performance we're getting in case going for low is our only option for certain titles.
You can of course go with slightly higher settings on these games but after some trial and error with the settings, we decided that going for low graphics settings is probably the best for the card so we can get a consistent performance that is actually playable. In case you're still interested to know what kind of performance numbers are we getting for medium and high graphics settings, here are the graphs for your reference.
Seeing that the RX 6500 XT can actually deliver some reasonable performance even at high settings (just some), it's pretty obvious that esports titles that don't require much on the GPU requirement will do well without any issue.
We've also noticed that the memory isn't exactly 4GB but 3.9xGB according to some of the games we've tested, so just try not to push it too hard there if you're going to play some AAA titles with the RX  6500 XT because the 4GB memory is very limited for games that require a lot of memory even on 1080p.
Power and Thermals
Moving on to the thermals and power, the GPU has an idle temperature of 43ºC and will go up to 66ºC on heavy load. The memory and hot spot temp on this card are pretty reasonable as well, as 80ºC is the highest we see during the test. So it's very unlikely to see the card getting overheat during a normal gaming session.
As for the power draw, we're only seeing at about 100W as the highest power draw from the card (according to our wattmeter), so I can say that the power efficiency seems to be on the point. That's a good sign for budget gamers who plans to stick with their existing power supply, as long as it's at least 400W as recommended by AMD.
Verdict
So what's the conclusion? It's a reasonable 1080p gaming focused graphics card with a catch, for now. Its 1080p gaming performance may vary from game to game and there's a very good reason for us to go with low graphics settings on AAA titles – that 4GB memory. We didn't really touch on the ray tracing performance this time because we found out that some games are just unplayable even when we have the settings at the lowest. Honestly, games with ray tracing that only has DLSS will always put the RX 6500 XT at a disadvantage because even though you'll get some pretty nice performance boost on games with FidelityFX Super Resolution (FSR), we still don't see a lot of adaptation as of now.
While the RX 6500 XT seems like an okay card for users looking for an upgrade from integrated graphics or probably a 6 years+ gaming PC that focuses only on 1080p gaming but the biggest problem with the card here is obviously the MSRP itself. At $199, you're not getting the performance of any of the $199 cards at this price segment from the previous years. To make things worse, the actual price of the card when it hits the market is definitely going to be doubled the MSRP due to the seemingly neverending shortage. Unless you're craving for the minimal ray tracing performance of the RX 6500 XT and actually able to get it at $199, you might as well go and find a used card such as the Radeon RX  580 that will probably cost about the same but gives you a similar or if not, better raster performance and of course, more memory.
Pros
Reasonable 1080p gaming performance
Reasonable cooling design
Low power requirement
Ray tracing is there
Cons
Ray tracing performance is just bad without FidelityFX Super Resolution (FSR)
Price is just not good