We all heard rumors of the GTX 1070 Ti's arrival for quite some time over the last few months, and NVIDIA just dropped the bomb one day. Of course, the AIB partners have already prepared the cards and are ready to hit the market. As usual, we have a care package from NVIDIA for this round – a GTX 1070 Ti Super JetStream.
It's pretty unusual for NVIDIA to fill in the gap between the GTX 1070 and GTX 1080. So, this is actually the first Ti in between the 70 and 80 models from NVIDIA. While there's always a first time for everyone, does the GTX 1070 Ti actually fit right into that slit?
Specifications
| | | | |
| --- | --- | --- | --- |
| | NVIDIA GTX 1080 | NVIDIA GTX 1070 Ti | NVIDIA GTX 1070 |
| CUDA Cores | 2560 | 2432 | 1920 |
| Texture Units | 160 | 152 | 120 |
| ROPs | 64 | 64 | 64 |
| Core Clock | 1607MHz | 1607MHz | 1506MHz |
| Boost Clock | 1733MHz | 1683MHz | 1683MHz |
| TFLOPs (FMA) | 9 TFLOPS |  8.1 TFLOPS | 6.5 TFLOPS |
| Memory Clock | 10 Gbps GDDR5X | 8Gbps GDDR5 | 8Gbps GDDR5 |
| Memory Bus Width | 256-bit | 256-bit | 256-bit |
| VRAM | 8GB |  8GB |  8GB |
| Price | $599 |  $449 |  $379 |
Unboxing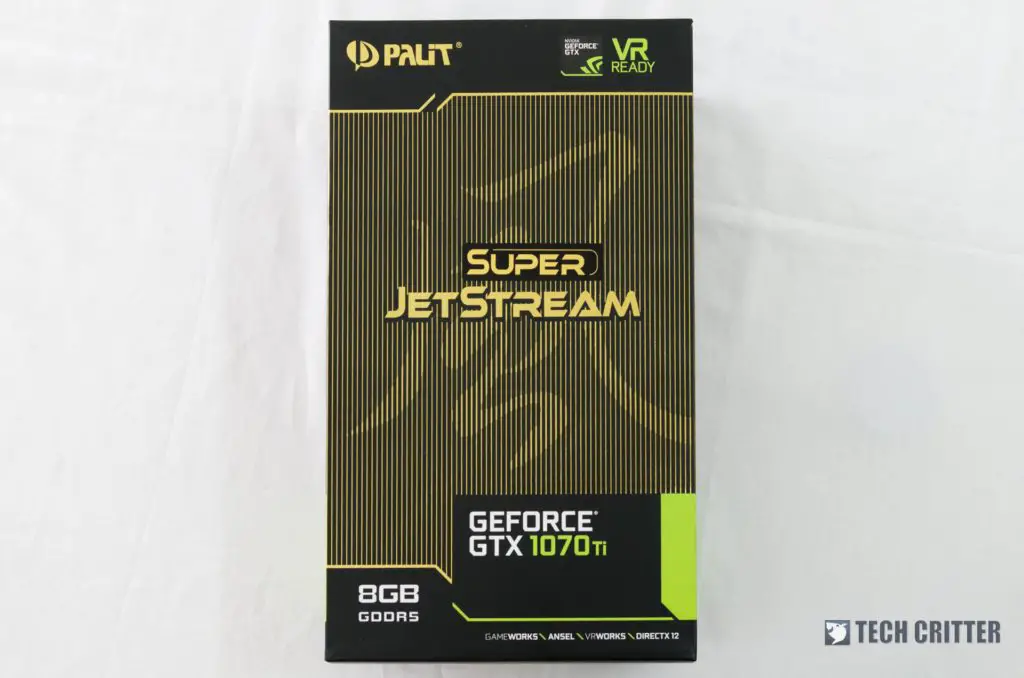 Palit chose to have a vertical packaging design as the box stands tall. For the front, Palit tweaked the packaging design from the GTX 900-series Super JetStream packaging design language, actually.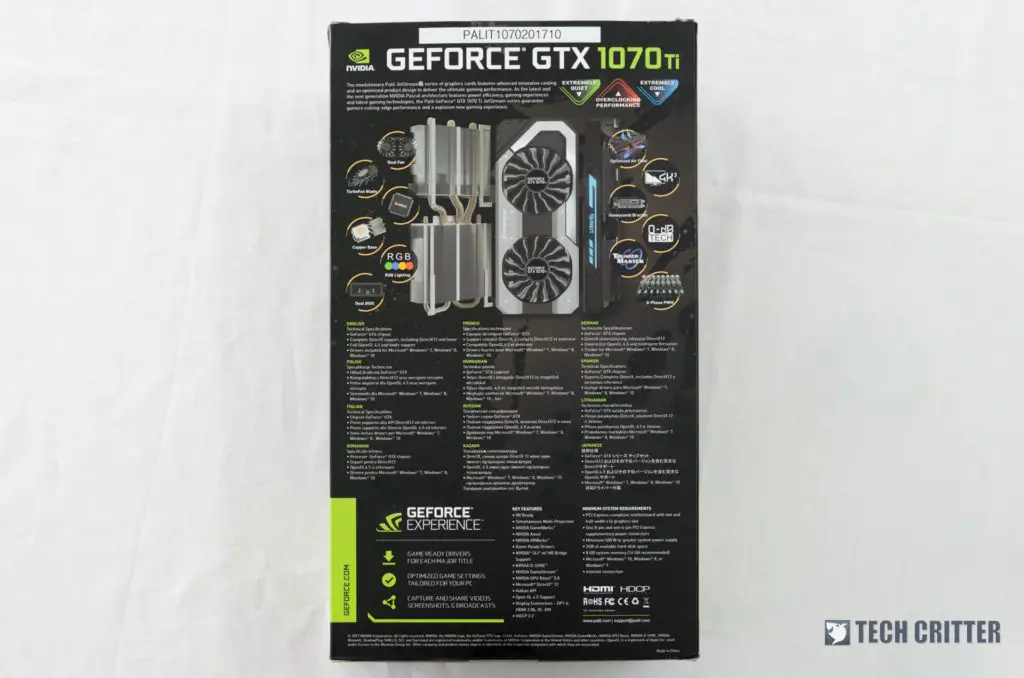 At the back, Palit employs an exploded view of the cooler design, alongside with other feature highlights. Few things to take note here is the copper base, 8-phase PWM power, dual BIOS, and also the 0dB fan technology. Of course, it's 2017 and RGB is a necessity.
Appearance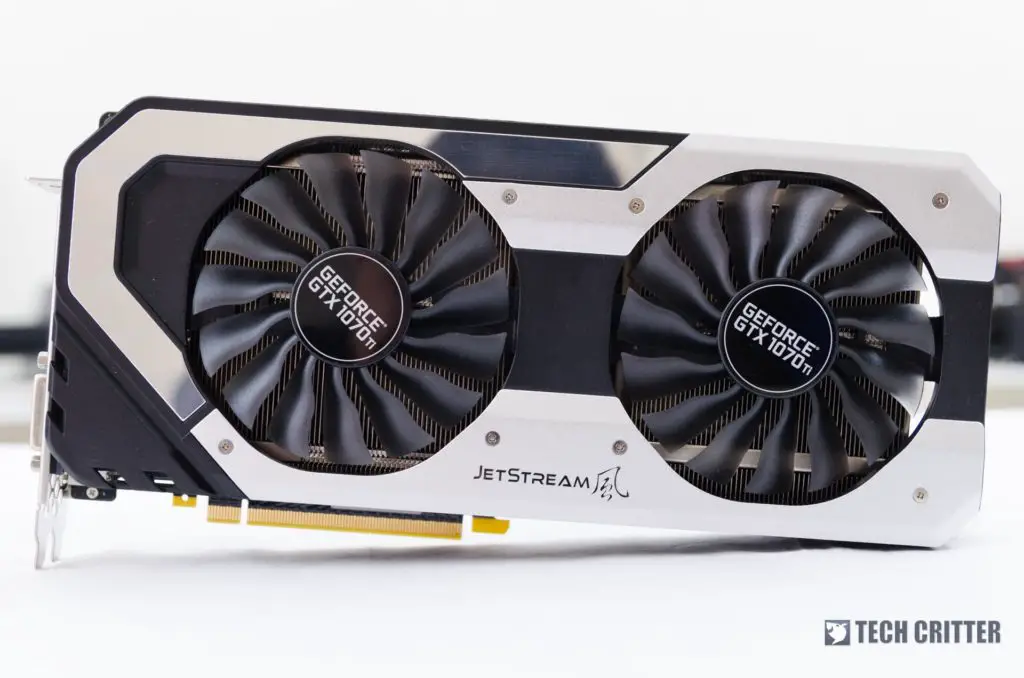 In terms of aesthetics, the GTX 1070 Ti Super JetStream Edition takes on a similar design as the other Super JetStream cards within Palit's GTX 10-series family.
The GTX 1070 Ti Super JetStream comes with a dual-fan design encased with a matte gray shroud that has a hint of chromed accent going around the rim. Of course, the new GTX 1070 Ti Super JetStream's shroud comes with RGB lighting around the Palit logo too.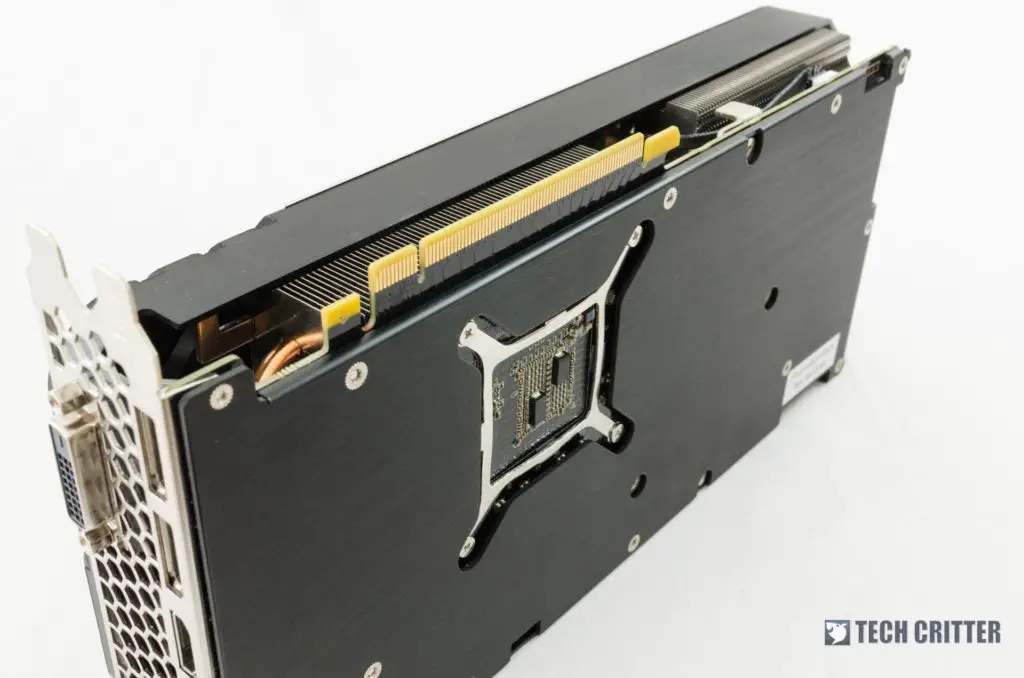 At the back of the card is where the brushed aluminium backplate is found. It will be better in terms of aesthetics if Palit can consider ditching that cutout behind the GPU die.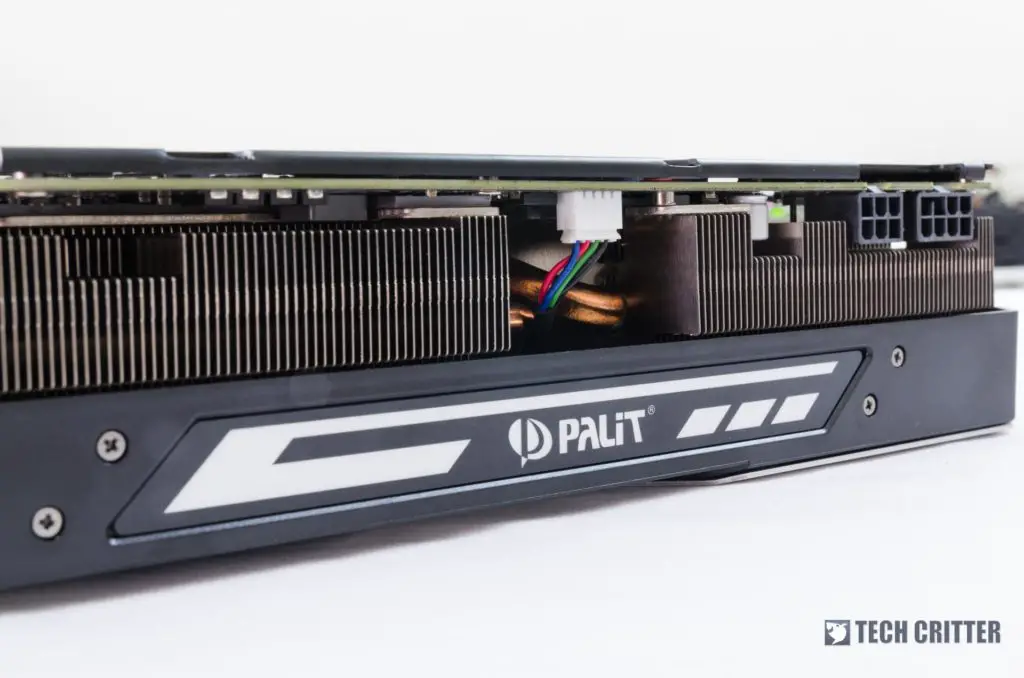 On the far edge of the GTX 1070 Ti Super JetStream is where the PCIe pins are found. This card takes in a 6+8 pin, and because of the width of this card, the power cables might hit your side panel.
While we're talking about the dimensions, it's also worth noting that the GTX 1070 Ti Super JetStream occupies 2.5 slots.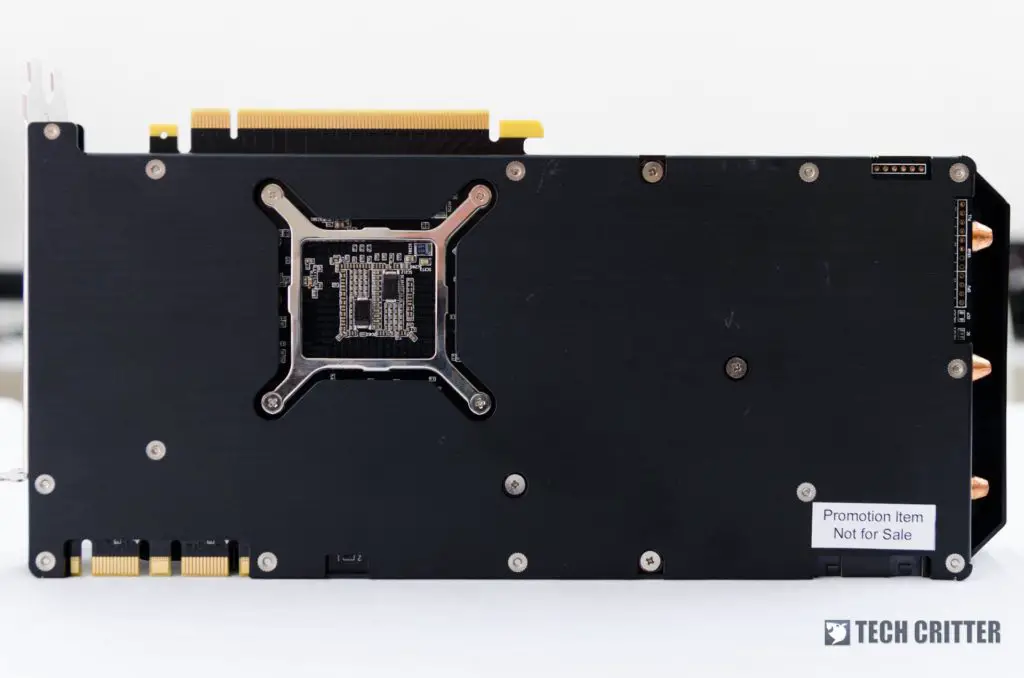 As for the BIOS switch, Palit placed it near the high bandwidth connectors, but is buried quite deep just like its GameRock counterpart. The switch is not easily reachable and will most definitely need something small i.e a pin to push it.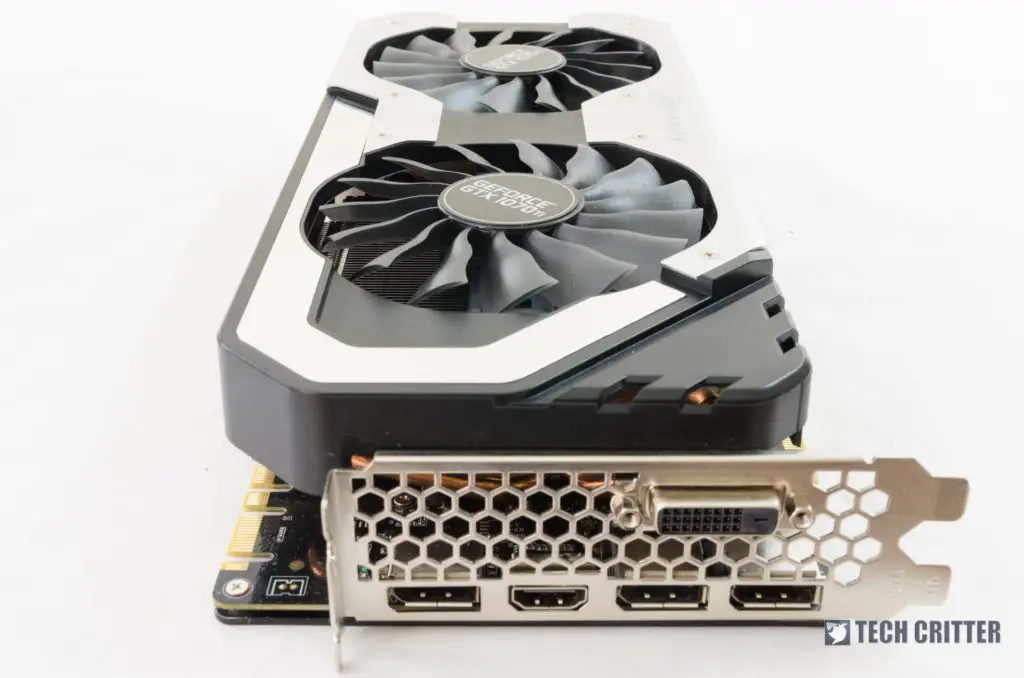 At the rear of the honeycomb-designed bracket, you'll find a total of 5 different outputs. There are 3x DisplayPort 1.4 outputs, a single HDMI 2.0b output, and a DVI-D port.
Performance Test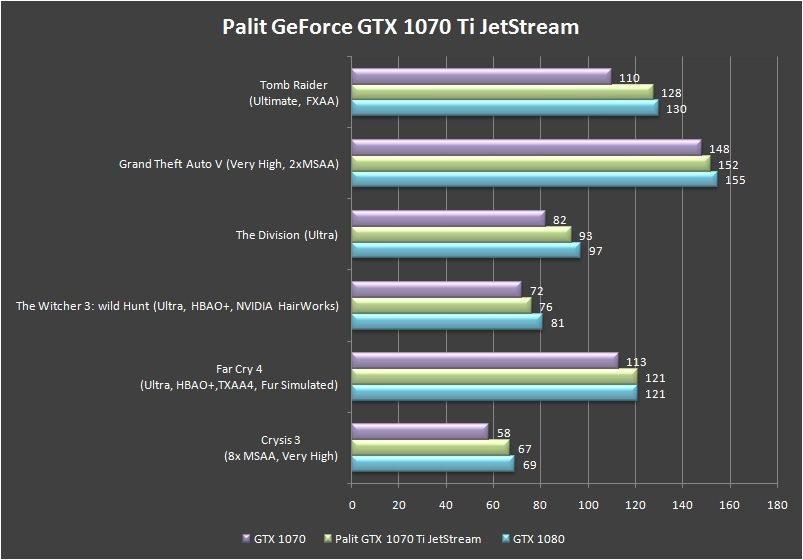 We ran a series of tests with selected AAA titles using the GTX 1070, GTX 1070 Ti and GTX 1080 to see what kind of numbers can we expect from these cards. The factory overclocked GTX 1070 Ti does seems to be running almost on par with the GTX 1080 on most occasions.
Overclocked Test
The card alone is already powerful enough to run most AAA titles and it performs closely to a reference GTX 1080 on few occasions. So, we overclocked the card just to see how far it can go up against a GTX 1080.
We've tried a few settings i.e +230 GPU clock with +400 memory clock, +200 GPU clock with +450 memory clock to get the best performance possible from the card. The best settings for us so far would be +225 GPU clock and +426 memory clock because we find it almost impossible to push the memory clock over 460.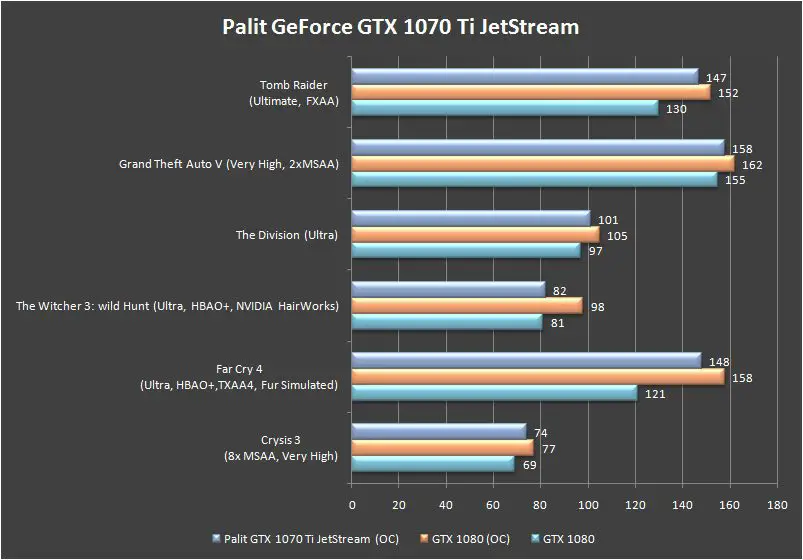 For gaming benchmark, the overclocked GTX 1070 Ti easily surpasses the reference GTX 1080 in most of the games we've tested. It's true that the GTX 1070 Ti is able to perform really close to a GTX 1080 after overclocked, but that's just how far it can go without any form of modification which can lead to the void of warranty.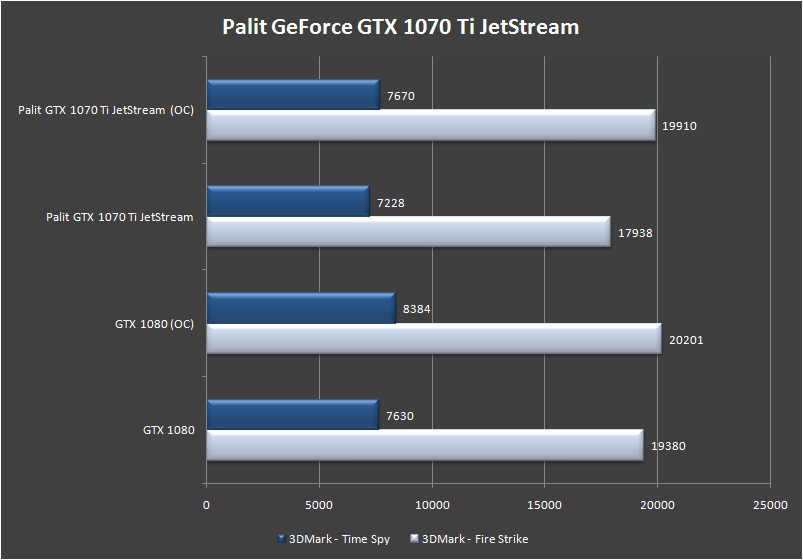 For the synthetic benchmark, we're using Futuremark's 3DMark Fire Strike and Time Spy as usual. Again, we can still see clear difference in terms of performance. With the GTX 1080 still being superior over the GTX 1070 Ti, both on default and overclocked, it is very unlikely for the GTX 1070 Ti to cannibalize its bigger sibling.
Temperature
With the 0db fan design, it's no surprise if the idle temperature of the card hovering around 44°C~46°C. The fan will start to spin as soon as the temperature of the GPU hits 63°C.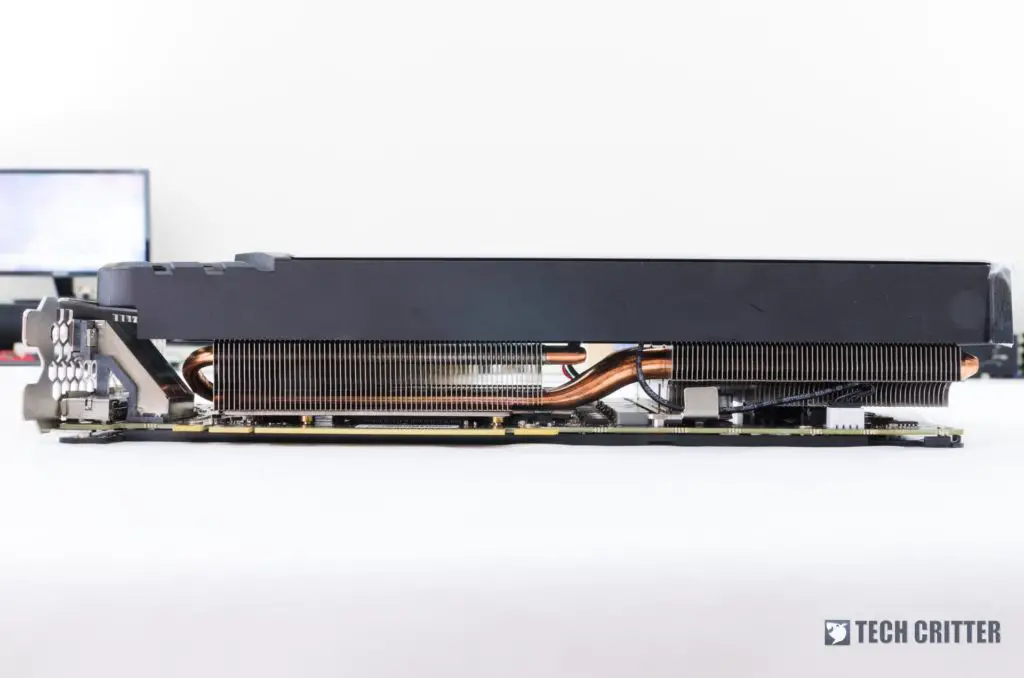 72°C is the highest temperature recorded during our stress test, with the fan running on default mode. Sacrificing the acoustic performance by setting the fan speed to maximum will shave that extra 8°C~10°C off your GPU. With fan running at maximum speed, the highest temperature recorded during our stress test is 61°C.
Verdict
The GTX 1070 Ti is a very direct answer from NVIDIA to AMD's Vega 56. Based our test results, a nerfed GTX 1080 is the best way we can think of to describe the GTX 1070 Ti. The specifications is slightly skewed to the GTX 1080 side, which makes it a good alternative for users with limited budget who wanted to get a card that performs close to a GTX 1080 on stock.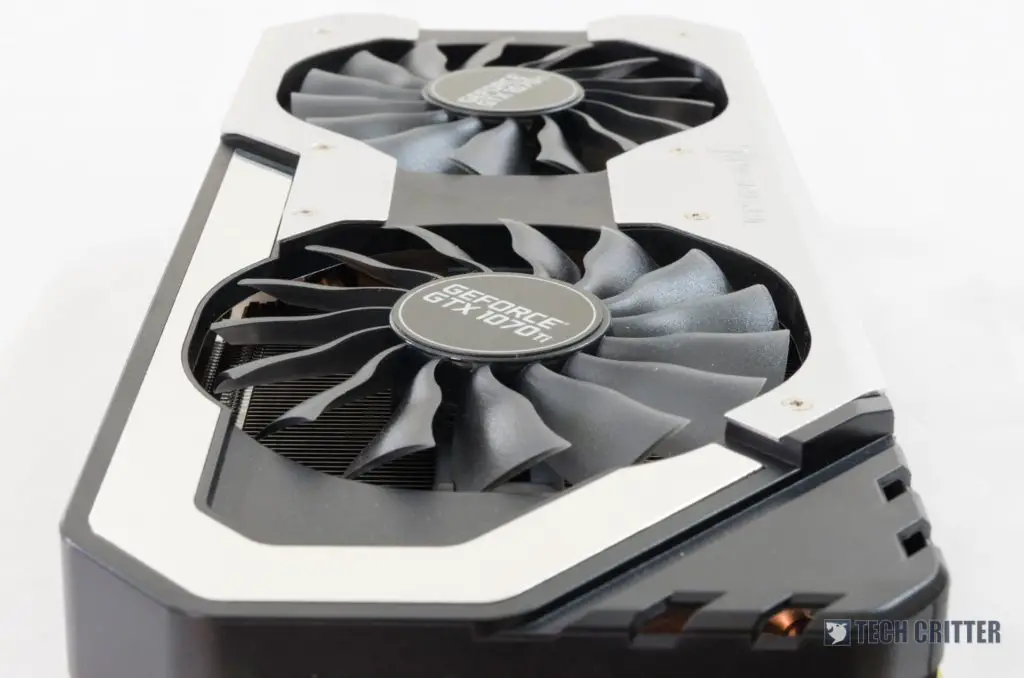 If you don't game on 4K (3860×2160), the GTX 1070 Ti is more than enough to handle most of the latest AAA titles on the market. Overclocking the card is pretty easy in case if you need some extra juice. Going above 2100+MHz on the GPU clock is easily achievable. We managed to overclock the GTX 1070 Ti to 2139MHz on boost without much trouble.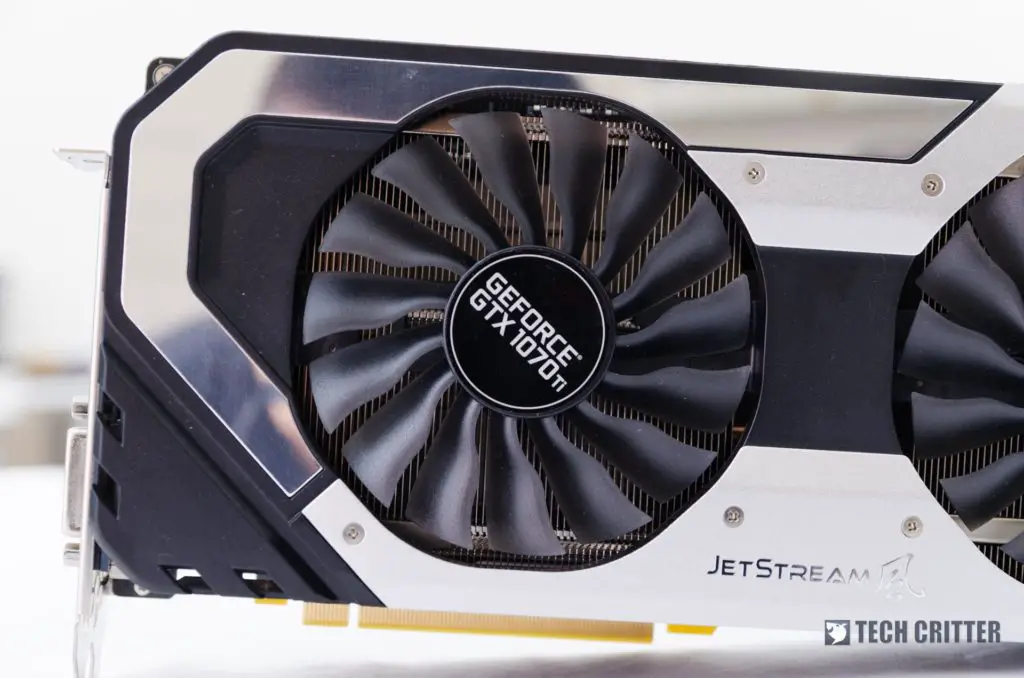 As for its cooling performance, that gigantic cooler it has is not just for the looks. It actually cools down the card, quite a lot. Even with the fan running on auto mode, it's very unlikely for you to hit 70°C on most games. Of course, you can always opt for manual fan speed for better cooling.
The Palit GTX 1070 Ti Super JetStream has yet to made any appearance on the market, but we do expect its  SRP to be under $500. We do expect gamers on the budget will rather opt for a GTX 1070 which is more budget friendly. Or perhaps, enthusiasts who will rather to fork out some extra fund to go for a GTX 1080 with GDDR5X. But if you're looking for something that is in between both, the GTX 1070 Ti is definitely worthy for your consideration.
Pros
Good looking
Good overclocking performance
Excellent cooling performance
Dual BIOS switch
Comes with metal backplate for enhanced rigidity
0db fan design for quieter performance and less dust collection
Cons
2.5 slot design is occupying more space than usual
Software UI needs improvement