MSI has specially announced a brand new laptop series that comes equipped with AMD CPU and GPU. While the decision of using a green thunderbird (yes, that's a thunderbird) as the new series' mascot/icon is a rather questionable decision, cause you know, AMD is red while NVIDIA is green. Nevertheless, let us not get distracted with the branding and shift our focus to the actual laptop itself to determine whether if it is worth getting over the Intel + NVIDIA counterpart.
The MSI Alpha 15 we have received is officially retailed at RM4,799.
MSI Alpha 15 Specifications
CPU
AMD Ryzen R7-3750H
GPU
AMD Radeon RX 5500M 4GB GDDR6
RAM
2x 8GB DDR4-2666
Storage
512GB NVMe PCIe 3.0×2 SSD
Display
15.6-inch Full HD IPS 144Hz
IO
1x RJ45
1x SD (XC/HC)
1x (4K @ 60Hz) HDMI
1x Mini-DisplayPort
1x Type-C USB3.2 Gen1
3x Type-A USB3.2 Gen1
Connectivity
Killer Gb LAN
802.11 ac Wi-Fi + Bluetooth v5
Battery
51 Whr
Those who are familiar with MSI laptops will immediately recognise the Alpha 15 is using the same chassis as the MSI GP series. Some may comment it is a lazy work from the team by simply slapping a new logo on an existing product, I personally don't think it is a bad move as long as it is capable of providing good cooling capabilities. On that side note, I see it as a conservative decision especially when they're threading into this new full AMD-only laptop segment.
What I don't really understand is why do they even bother creating a new branding segment just to use AMD-only CPU + GPU configuration. It will cost them money to launch all the product introduction campaigns and marketing. Unless their regular G series gaming laptops are Intel exclusive or simply because AMD is willing to shoulder all the cost. I mean, who knows, right?
That being said, the decision to re-use GP chassis means that we have a tested and proven building block for the Alpha series to grow.
The Alpha 15 employs MSI's signature USB ports with LED backlight, making your life easier when trying to look for the port. What I think they should've changed is moving all their right side USB ports to the left side. No gamer would like to have any sort of cables getting in their way.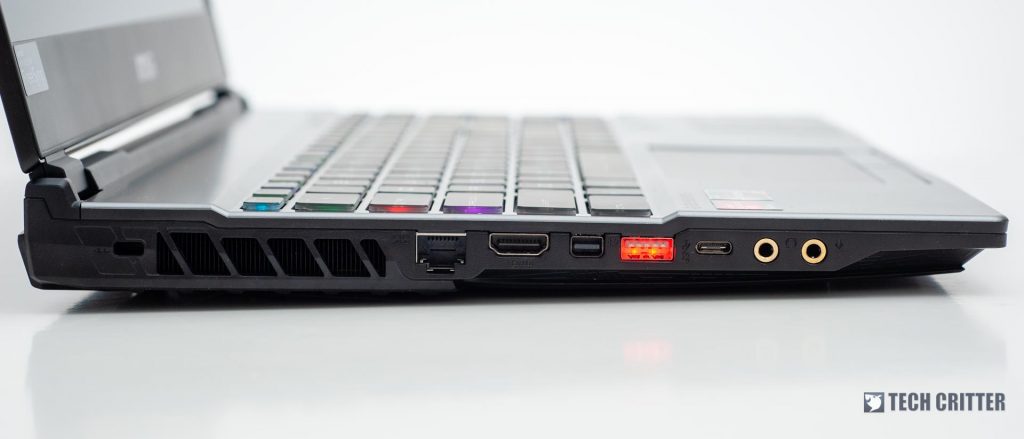 Gigabit ethernet
HDMI
Mini DisplayPort
Type-A USB 3.2 Gen1
Type-C USB 3.2 Gen1
3.5mm headphone & microphone port
2x Type-A USB 3.2 Gen1
SD card reader (XC/HC)
There are thin bezels on both sides as well as the top which the webcam still remains in place. It supports AMD FreeSync which reduces tearing and stuttering graphics. Colour reproduction is pretty decent from an IPS panel for games and entertainment. MSI official website has another variant of Alpha 15 that comes with a 120Hz display. It is great to see how 120Hz and 144Hz display has become a norm for gaming laptops even for mid-range models. Sure some of them are not capable of pushing the games over 100 fps mark, but it gives the player an option to lower their graphics settings to achieve that smooth visual experience.
As per usual, the keyboard in the Alpha 15 is still co-branded with SteelSeries. It has per-key RGB and simply put, it looks great. I have somehow mixed feelings when it comes to the typing experience. Sure the typing feel is relatively positive with good key travels and feedback. The ever-slightly wider gaps among each and every key make the key surface itself smaller than what we are used to. That didn't affect our muscle memory as the switch positioning still remains constant.
Mine only complain, again, back to their long time decision of using one single keyboard layout throughout the world. In case you're wondering, some of the region in the world are using a different keyboard layout than yours. As such you'll discover how they have and extra front slash ("\") key beside the space bar. What really drives me crazy is their decision to outright remove the left Windows key. Making things complicated is the arrow key cluster that is positioned way too near to the other keys for mistakes.
On the other hand, the touch-pad is pretty decent with actual physical left & right-click buttons. It uses the Windows Precision Touchpad driver which leads to a pleasant experience when using the trackpad.
Synthetic Benchmark
In terms of the raw performance of the R7-3750H, don't expect it to go head to head with Intel Core i7-9750H as its Cinebench performance is even lower than the Intel Core i5-9300H. What it does great is matching with mid-tier graphics for the best bang-for-buck performance. That means not wasting money on getting an over-powered i7-9750H CPU together with GTX 1660 Ti. We'll talk more about the R7-3750H and RX 5500M gaming performance in a while.
Storage
The WD PC SN520 SSD itself is a decent 512GB PCIe 3.0 x 2 NVMe SSD. However, for some reason, our unit doesn't really perform as well as per specification. Even after going through the hassle of reseating the SSD. Sure it is faster than SATA SSD but losing out 33% of the SSD's performance is not OK.
Gaming
The Radeon RX 5500M performs decently well in games albeit you might need to reduce the graphics settings on your triple-A games. Competitive titles average out at least at 60fps at maximum graphical settings. Meanwhile, CS: GO can easily take advantage of the 144Hz panel on the Alpha 15.
| | | |
| --- | --- | --- |
|   | AMD Radeon RX 5500M | NVIDIA GeForce GTX 1660 Ti |
| Time Spy | 3976 | 5121 |
| Fire Strike | 10195 | 12060 |
| Superposition | 2428 | 2923 |
The GPU performance is somewhat sitting in between the GTX 1650 and GTX 1660 Ti Max-Q. Definitely not something that would be on par with GTX 1660 Ti as per how AMD has claimed. Check back our recent review of the MSI GF65 Thin to learn more about the GTX 1660 Ti's performance.
Thermals
The thermal performance of the MSI Alpha 15 is at least better than the competition, especially the GPU. I guess that's the benefit of having a 7nm node.
User can upgrade the M.2 SSD, 2.5-inch SATA drive and RAM. Just that the genius behind the cooling design decides to cover the M.2 2280 SSD's screw under the heat pipe. I've seen some straight up mount the SSD on the other side of the motherboard, but I have never seen anything like this before. Clearly an oversight from the design team. A supposedly fast SSD upgrade took us 10 times longer to get it finished.
The small 51Whr battery can only last through about 3 hours of normal usage which includes a lot of web browsing with YouTube video playback and, of course, the drafting of this review article. Gaming on battery power is not recommended as you won't be able to extract the most out of the hardware.
Before we conclude our review, let us have a look at the official pricing for the MSI Alpha 15.
 
MSI Alpha 15 A3DD
MSI Alpha 15 A3DDK
CPU
AMD Ryzen R7-3750H
AMD Ryzen R7-3750H
GPU
AMD Radeon RX 5500M 4GB GDDR6
AMD Radeon RX 5500M 4GB GDDR6
RAM
1x 8GB DDR4-2666
2x 8GB DDR4-2666
Storage
512GB NVMe PCIe 3.0×2 SSD
512GB NVMe PCIe 3.0×2 SSD
Display
15.6-inch Full HD IPS 120Hz
15.6-inch Full HD IPS 144Hz
Keyboard
Red LED Keyboard
Per-Key-RGB Keyboard
IO
1x RJ45
1x SD (XC/HC)
1x (4K @ 60Hz) HDMI
1x Mini-DisplayPort
1x Type-C USB3.2 Gen1
3x Type-A USB3.2 Gen1
1x RJ45
1x SD (XC/HC)
1x (4K @ 60Hz) HDMI
1x Mini-DisplayPort
1x Type-C USB3.2 Gen1
3x Type-A USB3.2 Gen1
Connectivity
Killer Gb LAN
802.11 ac Wi-Fi + Bluetooth v5
Killer Gb LAN
802.11 ac Wi-Fi + Bluetooth v5
Battery
51 Whr
51 Whr
Price
RM 4,299
RM 4,799
The starting price of RM 4,299 for the A3DD model is a difficult recommendation for the Malaysian market as there are plenty of other highly competitive models available out there, including MSI's own GF65 Thin 9SD or ASUS TUF Gaming FX505D. Heck, the FX505D after discount is under RM4000 and running on a 1660 Ti.
On the other hand, the A3DDK model at RM 4,799 is pretty reasonable when compared to other brands offering which also has 144Hz display. Competitors at this price point are mostly equipped with a comparable GTX 1650 but with either lower capacity SSD or just 8GB RAM. Then again, the benefit of upgrading from the 120Hz screen to a 144Hz screen is rather minuscule because remember, we're talking about GTX 1650 and RX 5500M level graphics.
All in all, MSI had a messy dive into the AMD ecosystem with the Alpha 15. While AMD has presented the RX 5500M should rival against the 1660 Ti but instead, its real-world performance said otherwise. Things are certainly not going well for both AMD and laptop brands if things continue to stay on this track. Hence it is either AMD finds ways to overcome their challenge or else the retail prices for these laptops will go down to remain competitive.