It's been some time since NVIDIA announced its GeForce RTX 40 series graphics cards and with more titles getting DLSS 3 support as time goes by, notably the much-hyped Diablo IV, the GeForce RTX 4070 Ti is probably the most affordable option right now for the fans to experience the new tech on their favorite title.
We have recently updated our test data list with the Gigabyte RTX 4070 Ti Gaming OC 12G,  which we have tested again the GeForce RTX 3090 and RTX 4080 just so we can have a better look at the performance it can deliver, as well as the thermal performance.
Specifications
| | | | |
| --- | --- | --- | --- |
| GPU | GeForce RTX 3090 | GeForce RTX 4080 | GeForce RTX 4070 Ti |
| CUDA Cores | 8704 | 9728 | 7680 |
| Tensor Cores | 272 | 304 | 240 |
| RT Cores | 68 |  76 | 60 |
| ROPs | 96 | 112 | 80 |
| GPU Boost Clock | 1695 MHz | 2505 MHz | 2610 MHz |
| Memory Data Rate | 24 Gbps | 22.4 Gbps | 21 Gbps |
| Total Video Memory Size | 24G GDDR6X | 16G GDDR6X | 12G GDDR6X |
| Memory Interface | 384-bit | 256-bit | 192-bit |
| Memory Bandwidth | 936.2 GB/s | 716.8 GB/s | 504 GB/s |
| TDP | 350W | 320W | 285W |
| Recommended PSU | 750W | 750W | 700W |
| Power Connectors | 1 x 12-pin | 1 x 16-pin (12VHPWR) |  1 x 16-pin (12VHPWR) |
Overview
Due to its sheer size, the RTX 4070 Ti Gaming OC 12G is shipped in a rather big box compared to what we have seen from its predecessor. The support bracket and 2 x 8-pin PCIe to 12VHPWR adapter are the accessories you can expect to see included inside the box.
At first glance, we can see that Gigabyte has come up with a new design for the RTX 4070 Ti Gaming OC 12G. Although the Gigabyte uses a 2-slot bracket at the back, the card is still technically a 3-slot card because of the massive cooler, which is pretty common on all the RTX 40 series graphics cards released to date. Apart from the massive cooler that comes with it, Gigabyte has also introduced its new fan that has a new blade design and Graphene Nano lubricant to ensure the best cooling performance.
Based on the official specs, all the RTX 4070 Ti has a rated TGP of 285W and NVIDIA recommends at least a 700W power supply for it. We get can a slight hint of the power efficiency here, as the power requirement is slightly lower than the RTX 3070 Ti which requires a 750W power supply.
While I usually recommend a dedicated 12VHPWR cable for the new RTX 40 series cards, the RTX 4070 Ti actually comes with a much more manageable 2 x 8-pin PICe to 1 x 12VHPWR adapter this time. It's still not great for aesthetics but you'll only use two pieces of 8-pin PCIe cable on this one and it's definitely a lot easier to handle.
At the back of the card, you'll find the metal backplate for both PCB strengthening and aesthetics purposes. Again, you'll find the same cutout design at the back that is supposed to improve heat dissipation but it's a lot bigger than what we've seen on the previous design.  You can also find the BIOS toggle switch located right next to the 12VHPWR connector to select between OC or Silent mode, but I'd recommend sticking to the OC mode as the fan noise during load isn't really that noticeable even at close distance.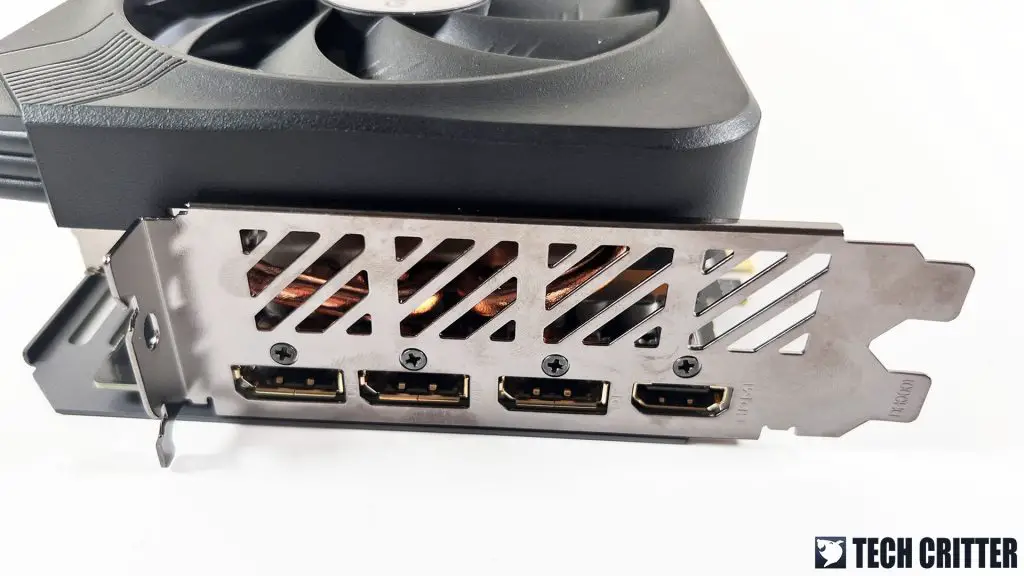 Now for the display output options, we can see the usual 3 x DisplayPort and 1 x HDMI port that is commonly used on graphics cards targeted at gamers nowadays. My concern though, however, is why Gigabyte still uses a 2-slot bracket on a 3-slot card like the RTX 4070 Ti Gaming OC 12G?
Test System Setup
We have put together this review by testing the RTX 4070 Ti Gaming OC 12G against the RTX 4080 and RTX 3090. For our games benchmark test, we've selected a number of AAA titles to run at their highest possible settings using the following setup under an ambient temperature of 28°C:
| | |
| --- | --- |
| CPU | Intel Core i9-12900K |
| Motherboard | ASUS ROG Maximus Z690 APEX |
| Memory | Kingston Fury Beast DDR5 RGB @ DDR5-6000 CL30 |
| Graphics Card | GeForce RTX 3090 / GeForce RTX 4080 / RTX 4070 Ti Gaming OC 12G |
| Power Supply | Cooler Master M2000 Platinum |
| Primary Storage | Kingston KC3000 2TB |
| CPU Cooler | Cooler MasterLiquid PL360 Flux |
| Chassis | Cooler Master MasterFrame 700 |
| Operating System | Windows 11 64bit |
For the test, we're using the Intel Core i9-12900K, ASUS ROG Maximus Z690 APEX, and the Kingston Fury Beast RGB DDR5 memory kit mainly to minimize the chances of bumping into any performance bottleneck.
Games Benchmark – Raster Performance
Assassin's Creed Valhalla
Control
Cyberpunk 2077
Far Cry 6
Forza Horizon 5
Hitman 3
Horizon Zero Dawn
Metro Exodus
Red Dead Redemption 2
Shadow of the Tomb Raider
The Division 2
Watch Dogs Legion
When it comes to the raster performance, the RTX 4070 Ti Gaming OC 12GB held up easily with more than 60fps on average, not just on the 1440p resolution but 4K resolution as well on quite a few occasions. There are titles that the RTX 4070 Ti cannot deal with on its own when it's on 4K resolution, but DLSS is there for a very good reason and it's not an option that is only available when you want to go full blast with ray tracing effect.
Enabling DLSS will give that extra boost you need to play these titles on 4K resolution if you're open to it. This, of course, is available on the RTX 3090 as well but we can still easily tell that the RTX 4070 Ti is still more powerful in terms of raw performance.
Games Benchmark – Ray Tracing Performance
Control
Cyberpunk 2077
Far Cry 6
Forza Horizon 5
Hitman 3
Metro Exodus
Shadow of the Tomb Raider
Watch Dogs Legion
Now for the ray tracing performance, we have tested a handful of titles on the highest settings possible with ray tracing ultra and DLSS quality preset. Unlike what we have observed on the pure raster performance test, both the RTX 3090 and RTX 4070 Ti clearly struggle to maintain 60fps at 4K resolution on demanding titles like Hitman 3, Cyberpunk 2077, and Metro Exodus. You can lower the graphics settings or ray tracing effect for fps gain but you're definitely sacrificing the aesthetics right there.
If you want to experience the best possible visual effects, 1440P resolution is probably the one to go and this also explains why NVIDIA marketed the RTX 4070 Ti as a graphics card for 1440P gaming instead of 4K gaming.
DLSS 3 Hands-On
With the high adoption rate and quick implementation of DLSS which is way more robust nowadays, it didn't take long for us to see more games with DLSS 3 support. So it's not just Cyberpunk 2077 now and there are actually a handful of games out there that you can immediately put your RTX 40 series cards to the test.
While we can see more new games that come ready with DLSS 3 support, existing titles like Portal, The Witcher 3, and Bright Memory: Infinite too, are getting the ray tracing and DLSS 3 treatment, allowing fans of these titles to re-experience the game they love and be amazed by the enhanced visuals.
Power Draw and Thermals
Moving on to the power draw, the RTX 4070 Ti Gaming OC 12G performs almost on par with the RTX 3090 and sometimes better than the RTX 3090 but is drawing only about 284W on load. This translates to about 18.6% lower power draw than the RTX 3090, which gives us an idea of the power efficiency of the RTX 4070 Ti. So it's no surprise that the included 12VHPWR adapter included is a 2 x 8-pin instead of a 3 x 8-pin, as the power draw is unlikely to hit 300W if you don't really overclock it.
As for the thermals, it's not as good as the AORUS RTX 4070 Ti Master 12G but that's only by about 3°C on the GPU temperature and 2°C on the Memory Junction and Hot Spot temperature. However, these are the results from synthetic benchmarks and the GPU load temperature recorded during gaming sessions is actually lower.
For demanding titles like Cyberpunk 2077 and Microsoft Flight Simulator with the graphics settings set to the highest and resolution set to 4K, the highest GPU load temperature recorded is at about 65°C. So the cooler is not just for show and it really gets the job done, despite not being as good as the AORUS RTX 4070 Ti Master 12G.
Final Thoughts
When it comes to gaming performance, the RTX 4070 Ti is easily better than the RTX 3090 despite having a lower bandwidth and VRAM than the latter. So unless you are really going to utilize all of the bandwidth and that 24GB worth of VRAM that is very unlikely to happen for most gaming use cases, I'd say the RTX 4070 Ti has more to offer in terms of features, DLSS 3 especially if you're all in for the ray tracing effects. Of course, not everyone is into these fancy visuals and AI-assisted features but like it or not, we cannot overlook the fact that the feature is here to stay and will continue to improve in the future. If you're open to experiencing it yourself, the RTX 4070 Ti is probably worth your consideration I'd say.
For the power draw and thermals, it's pretty much the same as what we've observed on the RTX 4070 Ti we have tested since it was launched. The power efficiency is definitely commendable and as far as the cooler performance goes, Gigabyte did a fair job on the cooler design. While Gigabyte didn't over-exaggerate the RGB elements on the RTX 4070 Ti Gaming OC 12G, I still find the RGB on the fan blades rather annoying if mounted vertically but I'd say that's just my personal preference. Users who are into the light show will definitely appreciate the design if they can get the RGB Fusion working without any issues.
Price-wise, the RTX 4070 Ti Gaming OC 12G is retailed at RM 4,399 right now and I'd say it's still on the slightly more expensive side but I'd say the price is still acceptable if you compare it to the AORUS RTX 4070 Ti Master 12G which goes at RM 4,759.