The GeForce RTX 3070 is finally here and it's probably the RTX 30 series card that most people are waiting for. While NVIDIA didn't exactly position the RTX 3070 at the same level as the previous flagship RTX 2080 Ti, many are expecting it to be the RTX 2080 Ti killer after seeing how the RTX 3090 and RTX 3080 performs.
We managed to get our hands on one of the RTX 3070 this time and in this review, we'll be taking a look at one of the latest GeForce RTX 3070 cards from Gigabyte, the RTX 3070 Gaming OC 8G. Without any further ado, let's see what kind of performance we can expect from it and if it's truly an RTX 2080 Ti killer, or not.
Specifications
| | | |
| --- | --- | --- |
| GPU | GeForce RTX 2080 Ti | Gigabyte GeForce RTX 3070 Gaming OC 8G |
| CUDA Cores | 4352 | 5888 |
| Tensor Cores | 544 | 184 |
| RT Cores | 68 | 46 |
| Texture Units | 272 | 184 |
| ROPs | 88 | 96 |
| GPU Boost Clock | 1545 MHz | 1815 MHz |
| Memory Data Rate | 14 Gbps | 14 Gbps |
| Total Video Memory Size | 11G GDDR6 | 8G GDDR6 |
| Memory Interface | 352-bit | 256-bit |
| Memory Bandwidth | 616 GB/sec | 448 GB/sec |
| TDP | 250W | 220W |
| Recommended PSU | 600W | 650W |
| Power Connectors | 2 x 8-pin | 1 x 8-pin, 1 x 6-pin |
| Dimensions | 267mm x 116mm x 35mm | 286mm x 115mm x 51mm |
unboxing
Starting off with the packaging, the box design is the usual eye logo for the Gaming OC series lineup. Other than the usual information such as RGB Fusion 2.0 support, 4 years warranty, Windforce cooling design, you won't find much information at the front of the box, so you can flip to the back of the box for the specifications and features of the product. If we look at the design and the information on the box, it's pretty obvious that Gigabyte is emphasizing the cooling design for their cards.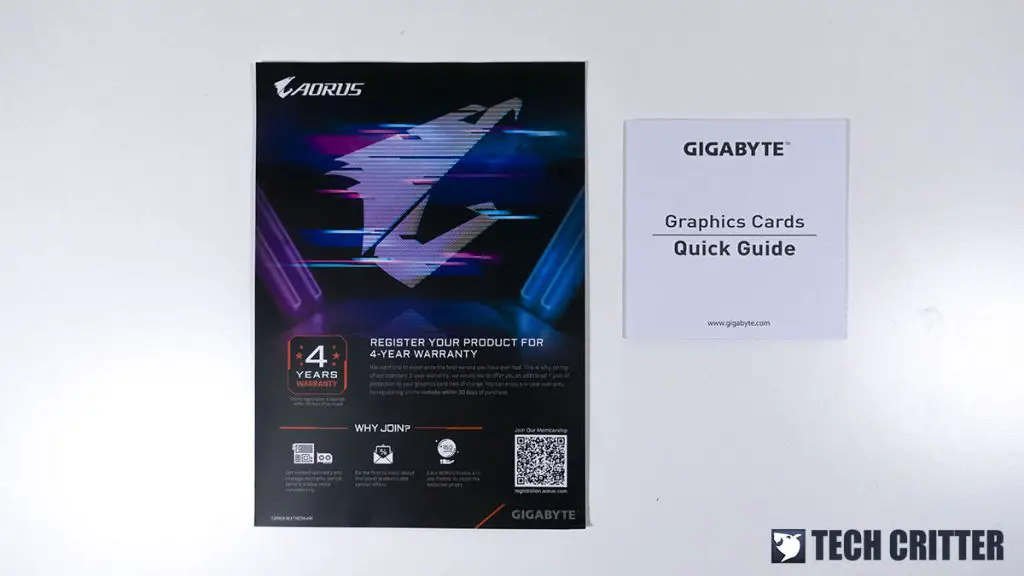 The included accessories are much lesser than what we've expected this time. We're not entirely sure of it but it seems that Gigabyte might no longer provide the Driver CD like they used to. Though that does makes sense because you can pretty much get the software/utilities and drivers from their official product page nowadays as long as you have an internet connection.
Design – Gigabyte GeForce RTX 3070 Gaming OC 8G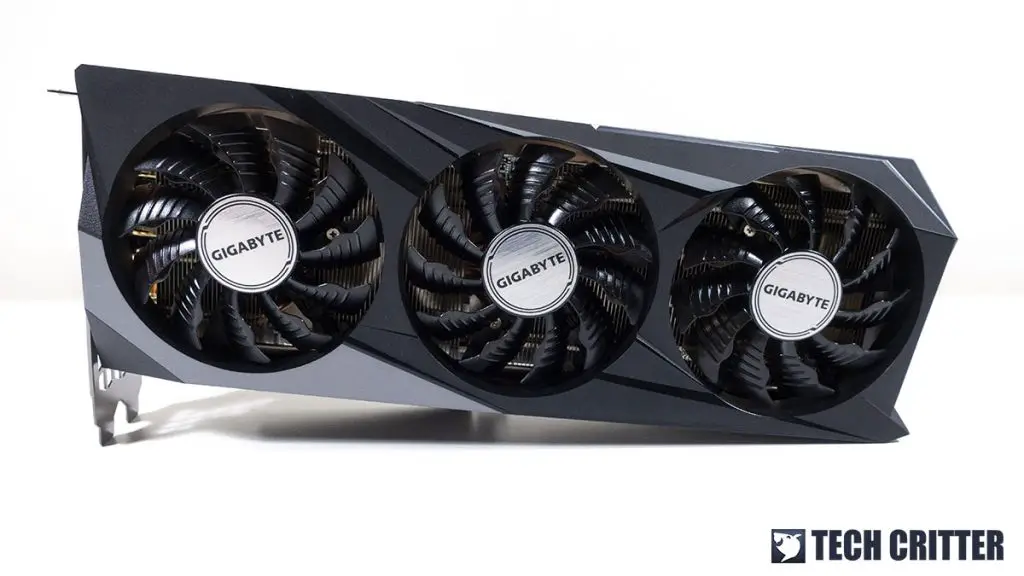 Gigabyte equipped the RTX 3070 Gaming OC 8G with a triple-fan featuring its signature cooling fans, similar to the RTX 3090 Gaming OC 24G in terms of design but with a more compact design and smaller cooling fans. Of all the Gaming OC series cards from Gigabyte we've seen to date, this is definitely the best-looking design so far – minimalist yet stylish design and of course, very, very minimal RGB lightings on the card.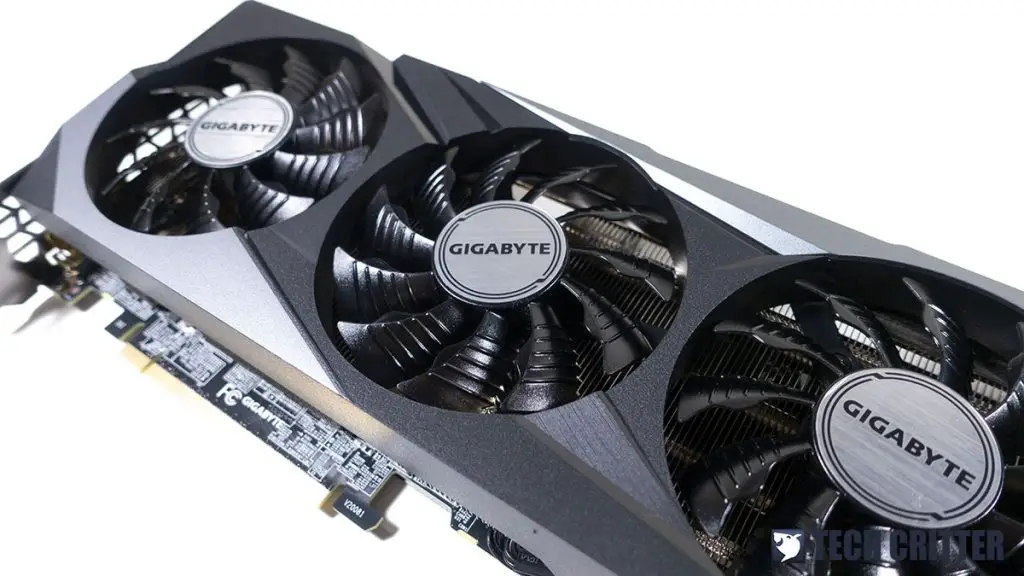 The cooler features a unique blade design that helps to reduce air turbulence and improve acoustic performance and the middle fan that spins in a reversed direction to provide a larger coverage to improve the cooling performance. According to Gigabyte, the fans have been applied with Graphene nano lubricant which allows the fan to last longer, close to the lifespan of double ball bearing, and runs quieter.
Looking at its dimension, the card has a Z height dimension of at 51mm (will take up 2 slots and slightly more) and length measures at 286mm. The heatsink has quite a number of heat pipes that are in direct contact with the GPU die to improve the heat dissipation to achieve a better cooling performance.
For those who still fancy some RGB lightings in their system, the RTX 3070 Gaming OC 8G does have some RGB lightings on its Gigabyte logo. The RGB lightings are enabled by default and can be customized with the RGB Fusion 2.0 software. If you're not a fan of RGB lightings, you can also disable it entirely with the software.
The RTX 3070 Gaming OC 8G also features a greyish metal backplate that is very similar to the design on the RTX 3090 Gaming OC 24G. The cutout at the near end of the backplate acts similarly to the cooling design as the RTX 30 series Founders Edition cards, but we didn't really understand why Gigabyte name this design as 'Screen Cooling'. It allows the cooling fan at the near end of the heatsink to channel the heat off to the upper section of the PC case and let the case fan(s) handle the rest.
As for the power requirement, Gigabyte recommends at least a 650W power supply and 2 x 8-pin PCIe power cable (or 1 x 6-pin and 1 x 8-pin) for the RTX 3070 Gaming OC 8G. The PCIe power connectors are very well placed for easier cable management and a cleaner look, much better than the current Founders Edition cards with the new PCIe 12-pin power connector which is located in the middle of the card and requires a custom adapter.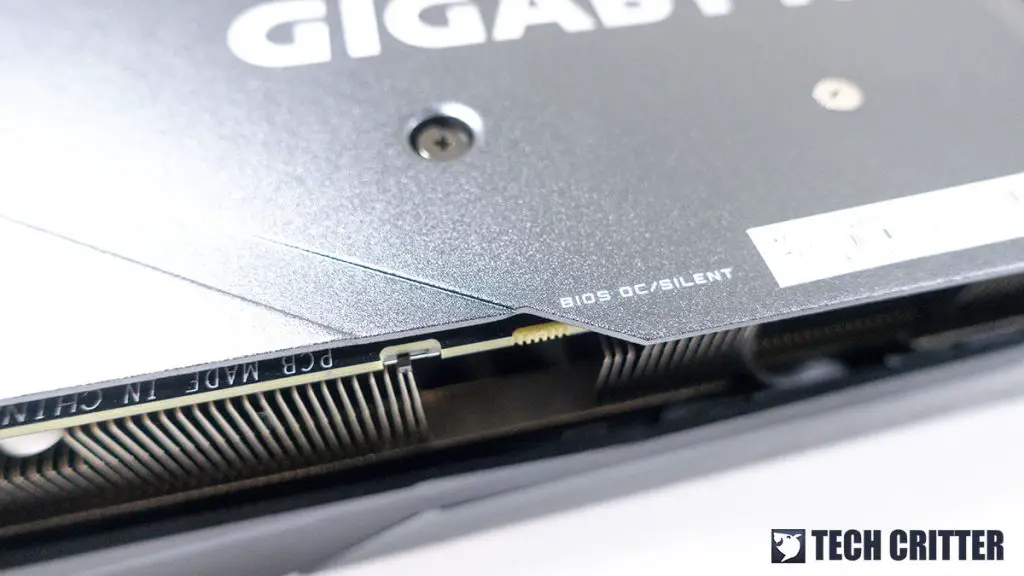 You'll also find a dip switch located at the back of the card to toggle between OC mode and Silent mode, depending on your preference. While is running at OC mode on default, you can switch to Silent mode if you prefer quieter operation, but it requires a reboot to take effect. This design is also useful for those who want to give custom BIOS a try without the risk of bricking the card entirely if the BIOS flashing failed, as you will always have a backup BIOS.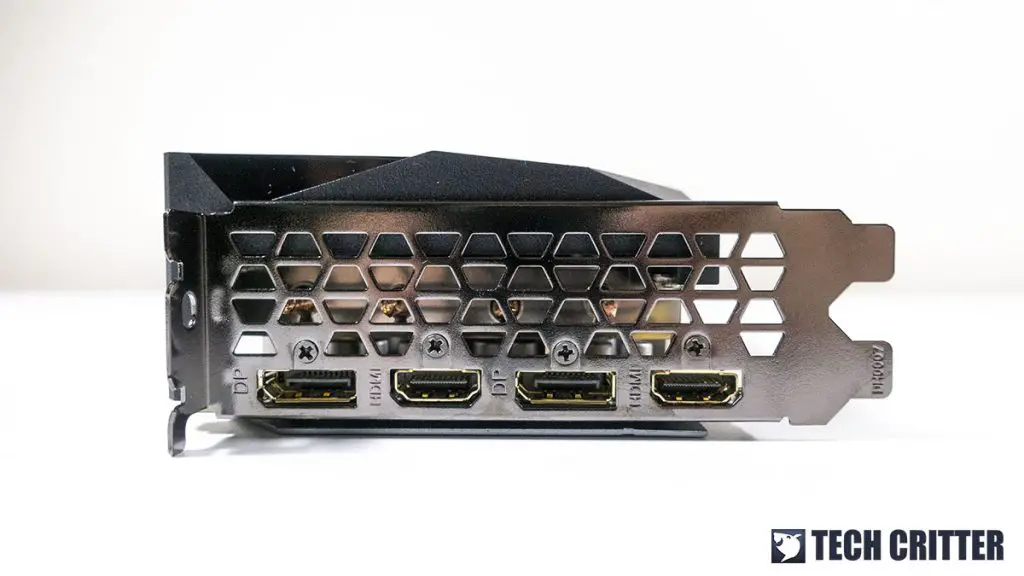 As for the display output, the RTX 3070 Gaming OC 8G comes with 2 x DisplayPort 1.4 and 2 x HDMI 2.1 ports. While not everyone owns an 8K display at home, the extra HDMI ports will still come in handy for most users who are using monitors with HDMI ports.
Test System Setup
For our games benchmark test, we've selected a number of AAA titles to run at its highest possible settings using the following setup under an ambient temperature of 31°C:
| | |
| --- | --- |
| CPU | AMD Ryzen 9 3900X |
| Motherboard | MSI MEG X570 GODLIKE |
| Memory | TEAMGROUP T-FORCE XTREEM ARGB DDR4 @3600MHz |
| Graphics Card | GeForce RTX 2080 Ti / Gigabyte GeForce RTX 3070 Gaming OC 8G |
| Power Supply | Enermax MaxTytan 1250W |
| Primary Storage | Force Series Gen.4 PCIe MP600 2TB NVMe M.2 SSD |
| Secondary Storage | WD Black 6TB |
| CPU Cooler | Cooler MasterLiquid Master ML360R RGB |
| Chassis | Streacom Open Benchtable BC1 |
| Operating System | Windows 10 64bit |
Games Benchmark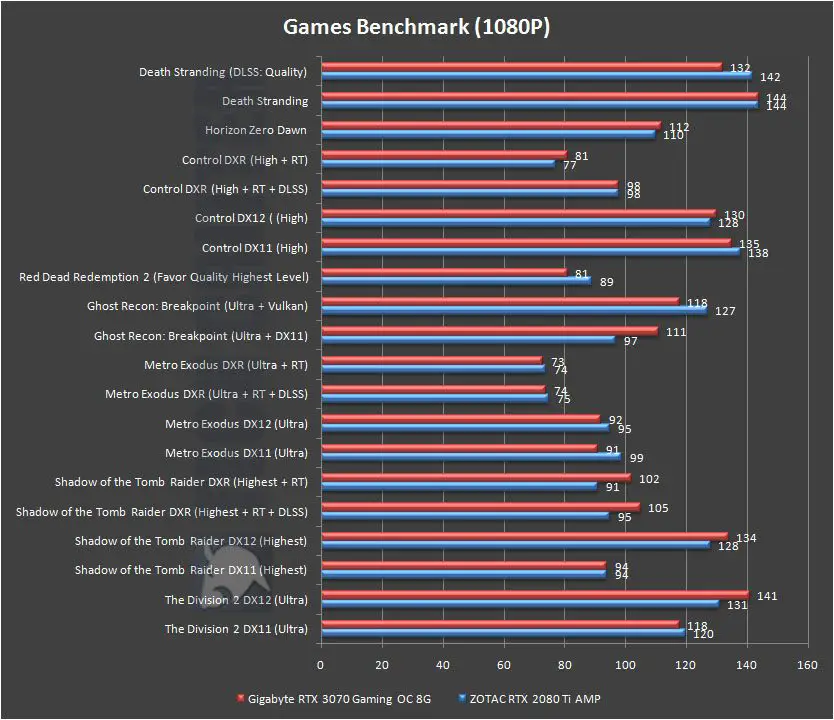 1080p gaming is definitely a piece of cake for both the RTX 3070 and RTX 2080 Ti, but looking at the numbers from our 1080p games benchmark results, we can see that the RTX 3070 aren't exactly overpowering the RTX 2080 Ti as some rumors claimed. For those who prefer to game on 1080p, we do recommend a high refresh rate monitor to take advantage of the high framerates you'll be getting at this resolution.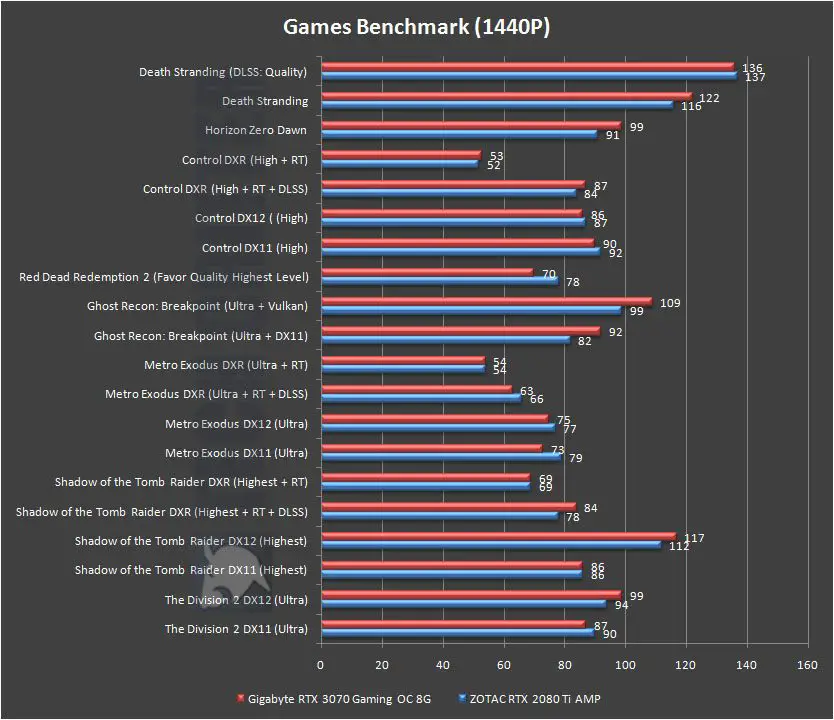 Moving on to 1440p, the RTX 3070 can be seen performing better in most of the games but it's still not enough to completely overpowering the RTX 2080 Ti. Other than Metro Exodus and Control, both the RTX 3070 and RTX 2080 Ti can handle most of the games with ray tracing feature at above 60fps with ease. As we're using very high graphics settings for the games used for this benchmark test, the results show that this is pretty much the highest we can go with the RTX 3070.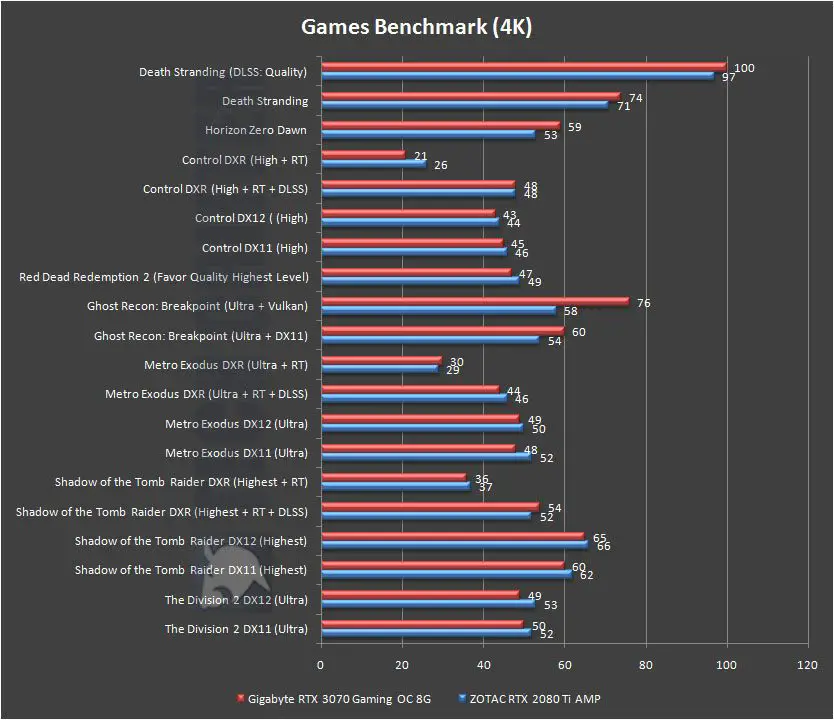 Looking at the 4K gaming results, we can definitely tell that 4K is too much for both RTX 3070 and RTX 2080 Ti to run these games at very high graphics settings. Though this doesn't mean that you can't do 4K gaming with the RTX 3070, but you will definitely have to lower the graphics settings for the game to be much more playable at this resolution.
Operating Temperature
We left the RTX 3070 Gaming OC 8G to run on FurMark stress test for a whole day and the highest temperature recorded is at 71°C. The temperature is slightly higher than what we've observed on the RTX 3090 Gaming OC 24G and RTX 3080 Eagle OC 10G probably because of its smaller design. Since the fan noise is barely audible from a close distance, we do recommend increasing the fan curve a little so the fans will run faster to achieve better cooling performance.
Despite the slightly higher temperature reading, the power draw of the RTX 3070 Gaming OC 8G during heavy load is pretty commendable. Compared to the RTX 2080 Ti which draws around 340W on heavy load, the RTX 3070 here draws only 272W and that's actually pretty decent if we look at the fact that it's performing fairly close to the RTX 2080 Ti.
Final Thoughts
Now we have the performance numbers compared, we can say that the RTX 3070 isn't exactly the RTX 2080 Ti as some claim. It's still a very powerful graphics card and the price which starts at $499 is attractive enough for those who are previously looking forward to upgrading to an RTX 2080 Ti because this cost way less than the latter but able to perform almost on par with it. Based on the numbers from our test results, we can say that 1440p gaming is more like the sweet spot for the RTX 3070. It can still handle 4K gaming, of course, if you don't mind lowering the graphics settings in exchange for better frame rates.
The RTX 3070 is pretty much an RTX 2080 almost-Ti in terms of performance which offers performance that is very close to an RTX 2080 Ti and not to mention that it's not as taxing as the higher-end RTX 3080 and RTX 3090 when it comes to the requirement for power supply. If you're already using a 650W power supply on your current system, it'll be able to support the RTX 3070. Though we recommend going for a 700W power supply just to be safe, especially for those of you who have some extra power consuming parts in your system.
The Gigabyte RTX 3070 Gaming OC 8G here will cost you RM 2899, which is RM300 more than the most affordable RTX 3070 Eagle OC 8G in Gigabyte's current RTX 3070 lineup, which is priced at RM2599. Personally, we think that the extra RM300 that you're paying for the RTX 3070 Gaming OC 8G is still pretty justifiable, mainly for the design and the cooler which just looks way much better than the RTX 3070 Eagle OC 8G.
Pros
Excellent performance out of the box
Excellent build quality
Good placement for PCIe power connectors for easier cable management
Runs silently even during full load
Come with two HDMI ports
Cons