NVIDIA has officially lifted the embargo on the GeForce RTX 3090, the current best GPU in the newly released GeForce RTX 30 series lineup, more powerful than the RTX 3080 which is already a very, very powerful graphics card that can easily give you a good 4K gaming experience on most of the existing AAA titles.
In this review, we will be a taking a good look at one of Gigabyte's own take of the RTX 3090, the RTX 3090 Gaming OC 24G which features the same Ampere GA102-300-A1 as what you'll get on the Founders Edition card, and a brand new cooler design for its Gaming OC lineup.
Review Video
Specifications
| | | | |
| --- | --- | --- | --- |
| GPU | GeForce RTX 2080 Ti | Gigabyte GeForce RTX 3080 EAGLE OC 10G | Gigabyte GeForce RTX 3090 Gaming OC 24G |
| SMs | 68 | 68 | 82 |
| CUDA Cores | 4352 | 8704 | 10496 |
| Tensor Cores | 544 | 272 | 328 |
| RT Cores | 68 | 68 | 82 |
| Texture Units | 272 | 272 | 328 |
| ROPs | 88 | 64 | 112 |
| GPU Boost Clock | 1545 MHz | 1780 MHz | OC: 1755 MHz / Silent: 1725 MHz |
| Memory Data Rate | 14 Gbps | 19 Gbps | 19.5 Gbps |
| Total Video Memory Size | 11G GDDR6 | 10G GDDR6X | 24G GDDR6X |
| Memory Interface | 352-bit | 320-bit | 384-bit |
| Memory Bandwidth | 616 GB/sec | 760.3 GB/sec | 936.2GB/sec |
| TDP | 250W | 320W | 350W |
| Recommended PSU | 600W | 700W | 750W |
| Power Connectors | 2 x 8-pin | 2 x 8-pin | 2 x 8-pin |
The Gigabyte GeForce RTX 3090 Gaming OC 24G
The RTX 3090 Gaming OC 24G has taken a new design for its cooler, looks even cooler than the pretty much all the previous Gaming OC cards with the polygonal design on the shroud.
Size-wise, it's much bigger than all of the Gaming OC cards we've seen so far but it still retains the same minimalist yet elegant design without any unnecessary and overexaggerated RGB elements, which is one of the reasons why I still prefer the Gaming OC cooler design more than the much fancier AORUS cards with all the RGB lightings – it's just a personal preference.
Just like all the Gaming OC cards we have tested in the past, the RTX 3090 Gaming OC 24G also features the WINDFORCE 3X cooling design with 2 x 90mm and 1x 80mm fans with a unique fan blade design that allows the fans to operate silently for the best acoustics. According to Gigabyte, the cooling fans have Graphene nano lubricant applied to its double ball bearing to improve both the acoustics and lifespan of up to 2.1 times more than the previous design.
The middle fan is, as usual, spinning in an alternate direction as the other two to minimize turbulence while enhancing the cooling performance with bigger coverage and improved airflow pressure on the heatsink. It also comes with the silent fan design which many of you NVIDIA card users are familiar with, which the fan will only start spinning when the GPU temperature reaches around 50°C and slowly increases the fan speed according to the GPU load.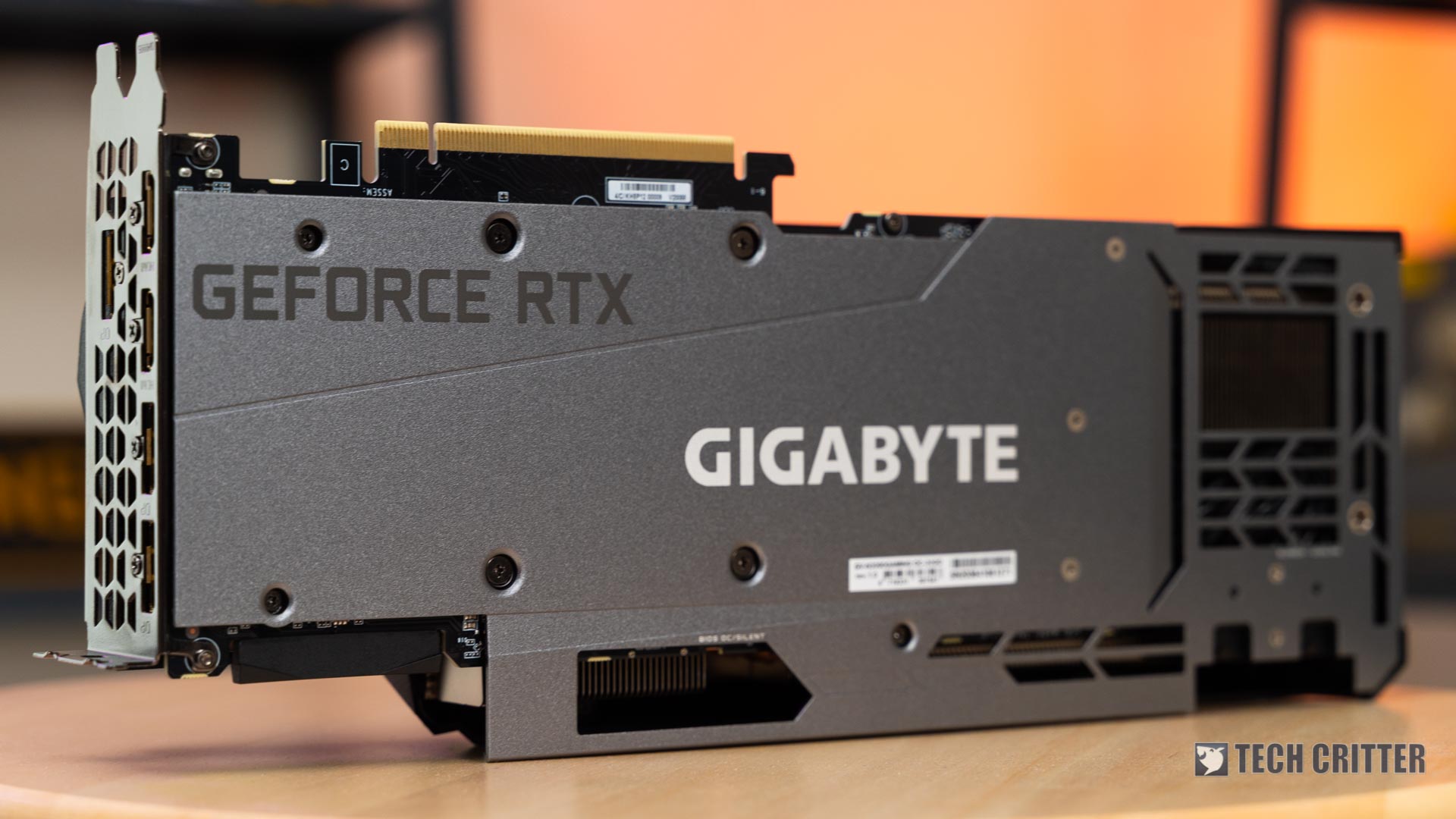 Apart from the new cooler design, the RTX 3090 Gaming OC 24G also comes with a new metal backplate design, a surprisingly good looking one that really matches the new cooler. The metal backplate provides full coverage on the PCB for a cleaner look, along with some cut out on specific areas to let hot air from the heatsink to go through improve the overall cooling performance.
In case if you missed this, the RTX 3090 Gaming OC 24G has an interchangeable dual BIOS design which can be accessed via the dip switch located at the back of the card. The card is running at OC mode on default but you can switch to Silent mode if you prefer quieter operation, which requires a reboot for the BIOS switch to take effect.
The RTX 3090 Gaming OC 24G also features a thick heatsink with a large Copper plate that is in direct contact with the GPU die and other components for efficient heat dissipation through the connected Copper heat pipes. Together with the heatsink, the RTX 3090 Gaming OC 24G will take up roughly 2.75 slots on your PCIe expansion slot, which might be a challenge for those who are planning for an ITX build with this card.
As many of you have known, the RTX 3090 Founders Edition card features a new cooler design with a cooling fan on each side, one to push the hot air directly out from the chassis while the other one that pushes hot air from the heatsink to the upper area of the chassis which is then exhausted by the rear cooling fan. If we take a closer look at the cooler design, we can see a slightly different approach as compared to all of the previous Gaming OC cards, which is the opening at the end of the heatsink. similar to what we can see on the RTX 3090 Founders Edition.
The Gigabyte logo with RGB lighting and can be controlled or turn off using the RGB Fusion 2.0 software, depending on what you like for your system. Technically, there are still some RGB elements on the RTX 3090 Gaming OC 24G but very minimal. If you don't like overexaggerated RGB lightings on your RTX 3090, the Gigabyte RTX 3090 Gaming OC 24G is a choice worthy of your consideration, perhaps?
According to the official specifications, you will need at least a 750W power supply for the RTX 3090 but you might need more (850W maybe) if other components in your system are drawing an equal amount or more than the graphics card itself. There might be some issue with older power supplies like what we've faced during our test, but you shouldn't face any issue as long as your power supply is fairly new and fits the criteria to run an RTX 3090.
Although NVIDIA did introduce a new 12-pin connector on the new RTX 30 series Founders Edition cards, Gigabyte and the rest of the AIC partners cards will still feature the 6-pin or 8-pin PCIe power connectors that many of us are familiar with. Even if you've decided to get a Founders Edition card for your system, NVIDIA still included an adapter together with the card to work with existing power supplies. So, don't worry about your current power supply not supporting the new RTX 30 series cards.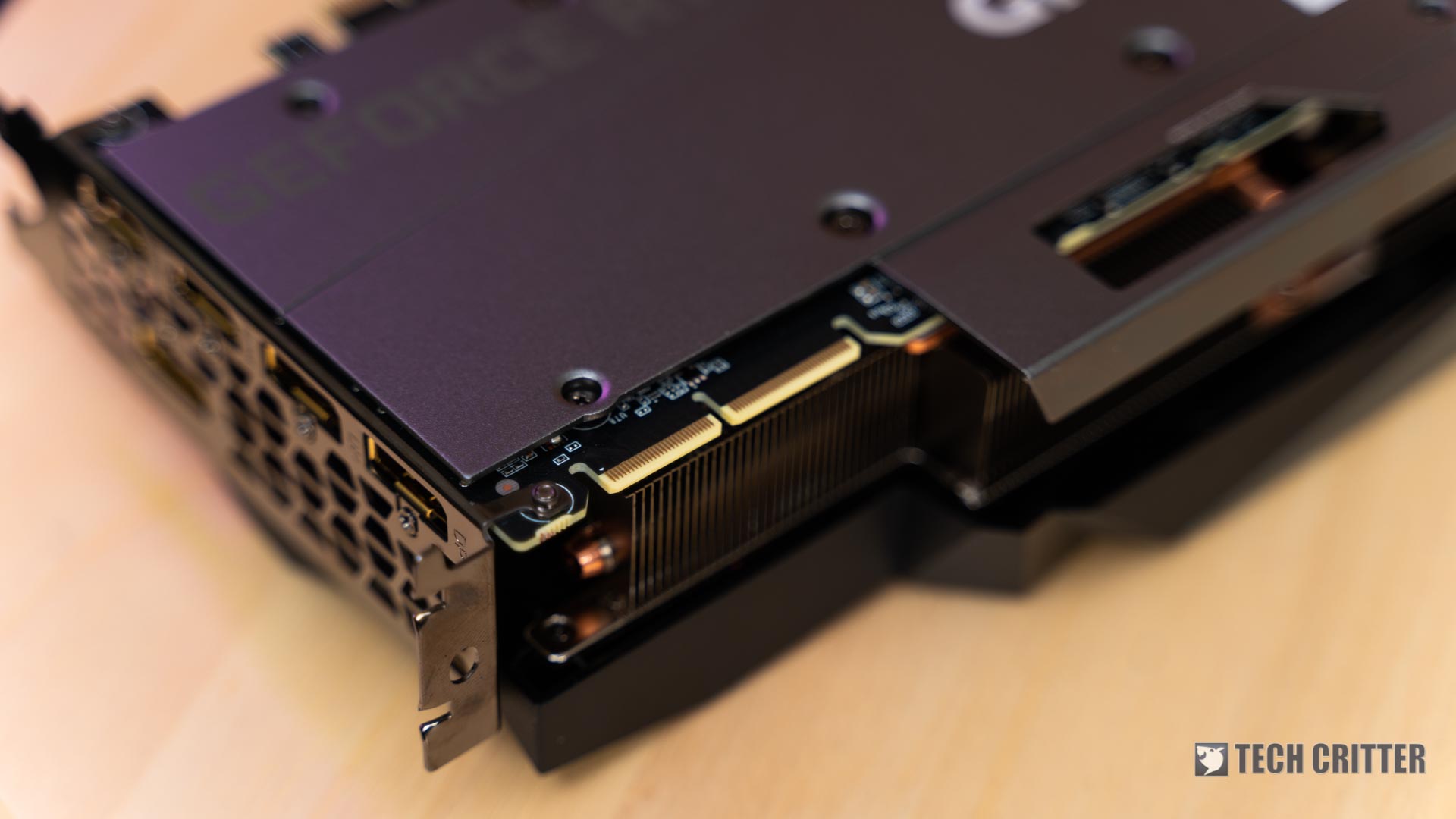 As for NVLink support… Well, it's only available on the RTX 3090 this time. It's not really a problem to me personally because the RTX 3080 itself is already a very powerful graphics card on its own and it can handle most of the games nowadays without any noticeable hiccups.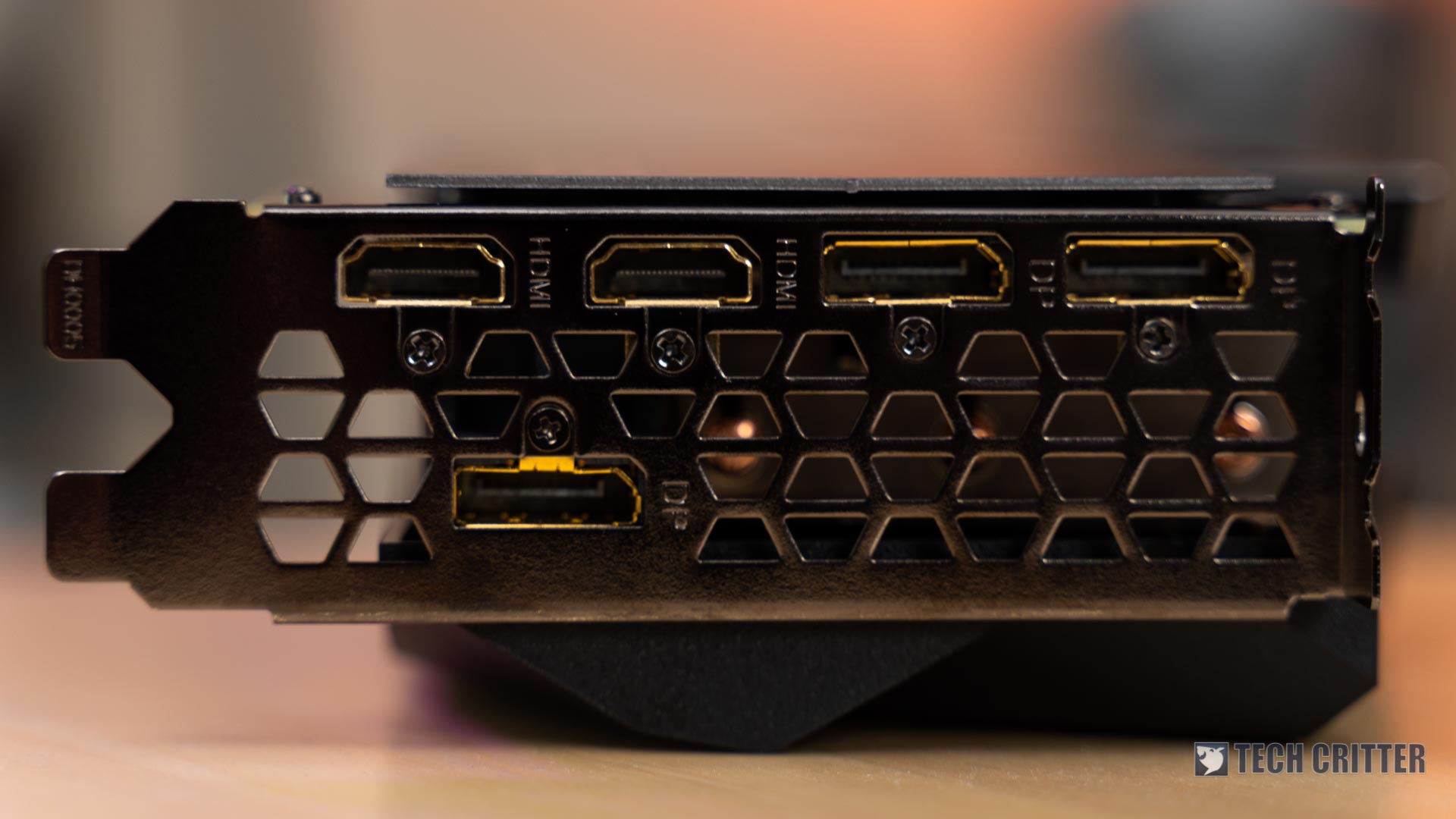 The display output on the RTX 3090 Gaming OC 24G includes 3 x DisplayPort and 2 x HDMI port, which is pretty reasonable for those who need more than one HDMI port. The only sad part is that NVIDIA has decided to exclude USB-C port for its RTX 30 series cards, a very useful feature that I personally enjoyed having on the RTX 20 series cards. Does this somehow indicate that VirtualLink standard may be already dead?
Test System Setup
For our games benchmark test, we've selected a number of AAA titles to run at its highest possible settings using the following setup under an ambient temperature of 30°C:
| | |
| --- | --- |
| CPU | AMD Ryzen 9 3900X |
| Motherboard | MSI MEG X570 GODLIKE |
| Memory | TEAMGROUP T-FORCE XTREEM ARGB DDR4 @3600MHz |
| Graphics Card | GeForce RTX 2080 Ti / ZOTAC Gaming GeForce RTX 3080 Trinity / Gigabyte GeForce RTX 3090 Gaming OC 24G |
| Power Supply | Enermax MaxTytan 1250W |
| Primary Storage | Force Series Gen.4 PCIe MP600 2TB NVMe M.2 SSD |
| Secondary Storage | WD Black 6TB |
| CPU Cooler | Cooler MasterLiquid Master ML360R RGB |
| Chassis | Streacom Open Benchtable BC1 |
| Operating System | Windows 10 64bit |
Games Benchmark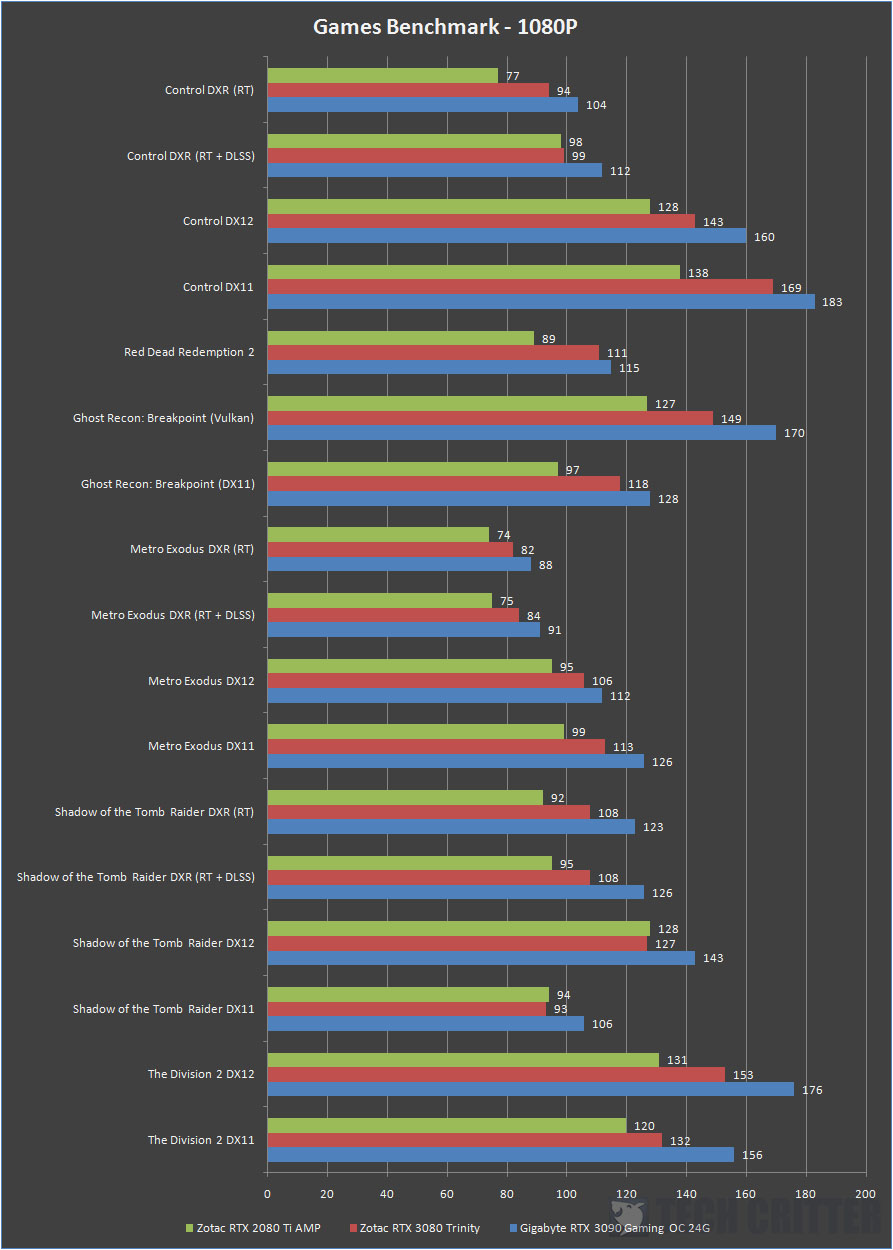 Starting from 1080p gaming, the RTX 3090 pretty much dominated both RTX 2080 Ti and RTX 3080 on all the titles by quite a margin but honestly, you probably won't be playing games on 1080p only if you can really afford this card. Of course, this applies to all the three cards we've tested here.
Moving on to 1440p, the performance gap is still pretty similar across the three cards but we can see that the RTX 2080 Ti started to struggle a little to keep some of the games with ray tracing enabled to run at an average 60fps while both the RTX 30 series cards can still maintain a consistent 60fps+ without the need to enable DLSS.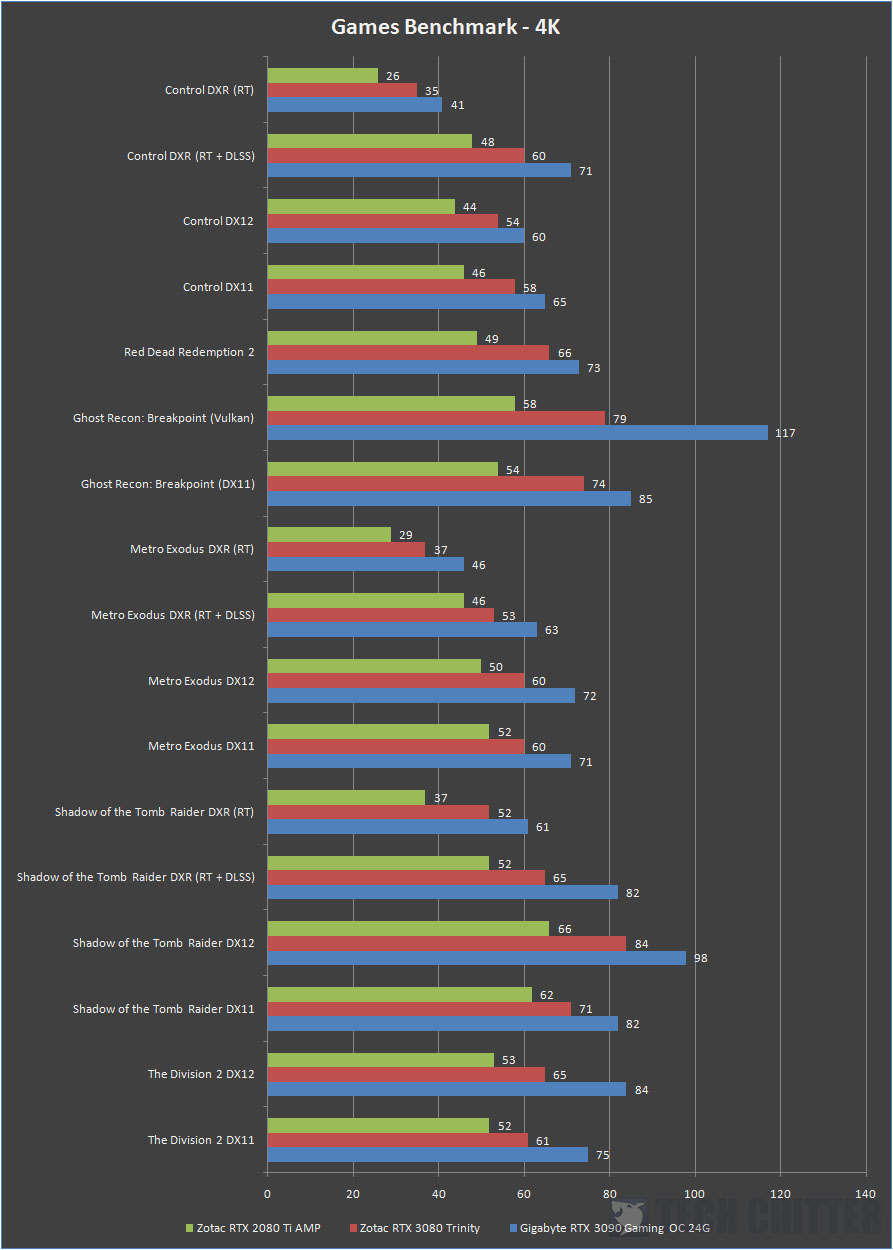 4K gaming is definitely something that the RTX 2080 Ti can handle, but we decided to bump up the settings a little more just to see how powerful these RTX 30 series cards can be with the highest possible settings on the ray tracing selection. Based on the results above, we can see that the RTX 3090 is still in the lead but it's clear that DLSS is still needed for these RTX games in order to maintain the favorable 60fps+.
Looking at the results, we can say that 8K gaming is definitely possible with the RTX 3090 but not at the highest ray tracing level for sure. We didn't really move on with the 8K gaming test due to the limited time we have with the card (again).
Operating Temperature
We left the RTX 3090 Gaming OC 24G to run 6 hours on the FurMark stress test and the highest temperature recorded is at 68°C, with the card drawing up to a 365W on maximum load. Since the fans remain pretty much inaudible from roughly 50m distance even when it's on OC mode BIOS, you can increase the fan speed or adjust the fan curve via AORUS Engine if needed to achieve a lower maximum load temperature without sacrificing too much on the acoustics performance.
You can always switch to Silent mode if you insisted on going as silent as possible with the card but you will have to settle down with a higher load temperature at 74 °C, possibly higher or lower, depending on the ambient temperature you have for your system.
Final Thoughts
There's no doubt that the RTX 3090 has it all for the ultimate gaming experience – NVIDIA's new Ampere GPU with 2nd gen RTX architecture, enhanced RT cores, Tensor cores, and new streaming multiprocessor to deliver up to 2x on ray tracing and AI performance, as well as a whopping 24GB worth of GDDR6X memory, which is considered TITAN class features and performance aim at PC master race enthusiasts and content creators who want the very best for their system.
As the first graphics card made for 8K HDR gaming, the RTX 3090 is definitely the current best performing graphics card in the market and despite our limited time with the RTX 3090 Gaming OC 24G, we can still see just how overpowered it is when compared against both the RTX 2080 Ti and RTX 3080. If you don't feel like gaming on 8K via DSR or not having an 8K monitor which is ridiculously expensive as if now, the RTX 3090 will be sure to deliver that ultimate 4K gaming experience that you've been looking for all this time.
Other than gaming, the powerful GPU and the massive 24GB worth of memory on the RTX 3090 will also benefit content creation that requires as much memory as possible i.e 8K Redcode RAW projects on DaVinci Resolve, rendering large scenes in OctaneRender, simultaneous cached playback and Arnold Render in Autodesk Maya, etc, allowing content creators to create high-quality content more efficiently than ever. This is probably the only way to put good use to that massive 24GB memory as I don't really see any existing AAA titles that will really use up that much of memory if you only game on 4K.
Is it worth to invest that much of money on an RTX 3090? Well, it depends on what you plan to do with it. With starting price of $1499 for the RTX 3090 Founders Edition and RM 7,899 for the Gigabyte RTX 3090 Gaming OC 24G, I'd say that this is a bit too much if you just want to get that ultimate 4K gaming experience without any future plans on looking into 8K gaming or these heavy rendering work for content creation at all. Personally, I think that the RTX 3080 can get the job done pretty well and it doesn't cost as much as the RTX 3090, which is about double of what the RTX 3080 costs. As for gamers who still want the best for their gaming system or content creators who have been longing for that one graphics card that packs a ton of memory for their creative works, the RTX 3090 is definitely the one card that is worthy of your considerating.
Pros
Excellent build quality
Excellent performance out of the box
Comes with 2 x HDMI ports
Excellent cooling performance
Fan runs silently even during full load
Good PCIe power connector placement
Tons of memory available for content creation workload
4-years warranty
Cons