We have seen how laptop manufacturers and accessories makers trying out ideas on secondary for laptops, for instance, Razer Project Valerie's attached triple display or ASUS's own external USB-C display. The key motivation behind all those ideas is just as simple as adding an extra display real estate to boost one's productivity.
During Computex 2019, ASUS dropped a massive surprise to the crowd with the launch of ZenBook Pro Duo & ZenBook Duo, a laptop with a built-in secondary screen. Most importantly, today is the day where both models are officially launched in Malaysia. Read on to find out more about the bigger brother of the Duo which is priced at RM12,999.
We also sat down with Nasi Lemak tech to discuss the new ASUS ZenBook Duo series regarding its usability, issues, and potential fixes to these issues.
Unboxing
What you get in the box:
ASUS ZenBook Pro Duo
ASUS Pen active stylus
Wrist rest
230W Charging adapter
Paper documentation
Specifications – ASUS ZenBook Pro Duo UX581G
ASUS ZenBook Pro Duo (UX581G-VH2015T)
CPU
Intel Core i7-9750H
GPU
NVIDIA GeForce RTX 2060 6GB
Intel UHD Graphics 630
Display 
15.6″ 4K OLED Touch 100% DCI-P3
14" 4K (3840 x 1100) IPS Touch
RAM 
32GB DDR4-2666
Storage 
1TB NVMe PCIe 3.0 x4
I/O 
1 x Thunderbolt 3 USB-C (up to 40Gbps and DisplayPort)
2 x USB 3.1 Gen 2 Type-A (up to 10Gbps)
1 x Standard HDMI 2.0
1 x Audio combo jack
1 x DC-in
Connectivity 
WiFi 6
Bluetooth 5.0
Battery 
71Wh 8-cell Rechargeable Li-Polymer Battery Pack
Dimension 
Height: 2.4cm (0.94 inches)
Width: 35.9cm (14.13 inches)
Depth: 24.6cm (9.68 inches)
Weight 
2.5kg (5.51 pounds)
Price
RM12,999
Around the Laptop
Before you open the ZenBook Pro Duo, the outlook of the laptop is just like any other clamshell laptops available in the market. Since the product is categorized under the ZenBook lineup, the overall design language follows the Zen design concept such as the signature concentric-circle finish on the lid. The ZenBook Pro Duo is considerably thicker than many of its other ZenBook series ultrabooks as it packs extra cooling component to keep the Intel Core i7-9750H and NVIDIA GeForce RTX 2060 cool. More about the performance later.
Build quality and the choice of material is exceptional on this laptop. There is plenty of ventilation and most importantly, that large piece of anti-slip feet is something we have never seen on any laptop before.
ScreenPad Plus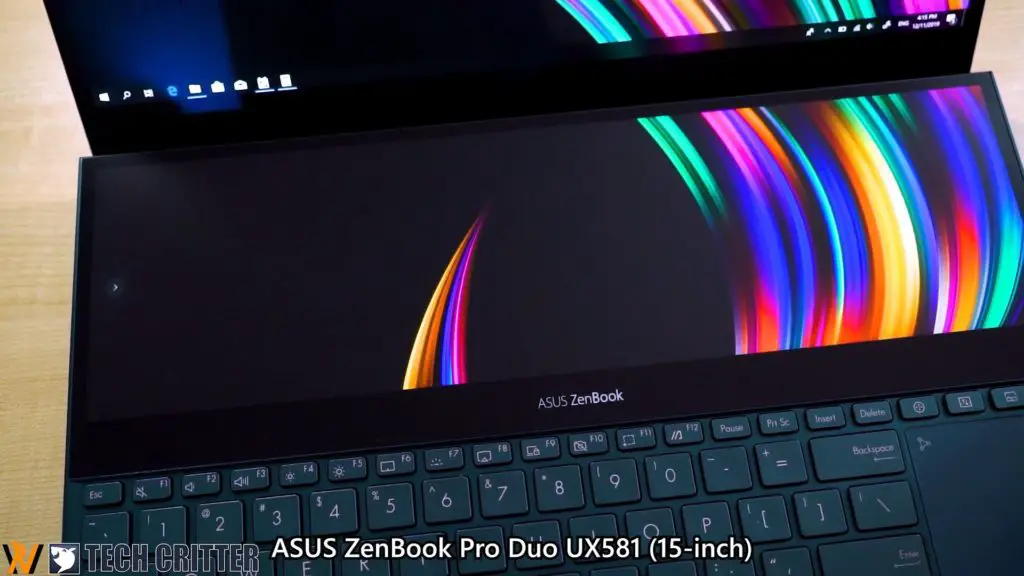 Now, the key highlight of the ZenBook Pro Duo is no other than its unique implementation of the secondary display. the 14-inch ultra-wide display, dubbed as ScreenPad Plus, takes up the top part of the keyboard segment. It has a half-4K resolution at 3840 x 1100 pixels count which is amazing considering that the 15.6-inch main display has a full 4K resolution at 3840 x 2160. In terms of scaling, you won't have to worry as they share the same pixel density but since the use of different panel and surface treatment, the ScreenPad Plus will look slightly less sophisticated as the main display.
The key difference between the two is, of course, the use of OLED panel with a glossy surface for the main display and IPS panel with a matte surface for the ScreenPad Plus. The main display is 100% DCI-P3 rated and has an excellent colour reproduction since it will be primarily used for showing all the important creative artworks. Meanwhile, the use of the matte surface on the ScreenPad Plus allows better stylus (ASUS Pen) interaction and control of the on-screen elements.
Just like how dual displays can boost our productivity, we can now open extra window elements in the ScreenPad Plus, for instance, a reference document while you're typing a report or video timeline while you're editing video on the main display. In short, it improves our quality of life. Some users might feel the ultra-wide aspect ratio doesn't help much which is a shame considered how limited space we can have on a laptop.
Disappointing Screen Expert Features and ASUS Pen
ASUS has made a custom software widget to support the use of the secondary screen. The intention is noble, just that the overall finish and usability of the widget feels limited and not as fully thought out as a completed product. For instance, the placement of the ScreenExpert drawer at the left side panel hinders with the interaction when you have a program window placed at the left side.
The most obvious glitch we would always face is the misalignment of programs if you wake the laptop from sleep mode. I can't fully blame ASUS on this as some of the quirks are actually caused by Window's native way of dealing with multiple windows. Nonetheless, users expect a seamless user experience instead of having to deal with all the minor adjustments.
As we previously mentioned, the inclusion of ASUS Pen is a noble intention to allow the pen input. Personally I think the Pen is an afterthought, some guy in the team decides it is a good idea to throw in their existing active stylus into the package and call it a day. First of all, there's no allocated location to keep the pen and secondly, the stylus requires an AAAA (Quad A, not triple-A) battery to work. I bet most of the readers out there have not even heard of Quad-A battery before.
Keyboard & Touchpad
To be completely honest with you, the ScreenPad Plus is an excellent addition, albeit the ergonomics sacrifices need to be made especially with the keyboard being moved to the bottom part of the laptop, nearer to the user. Typing posture is awkward, the same issue we're facing with the ROG Zephyrus. Granted, those who purchased the Pro Duo will get a detachable wrist rest but it is a hassle to it around.
The trackpad has to be position at the right side of the keyboard to make space for the ScreenPad Plus. Dubbed as ASUS NumberPad, it doubles as the touch-based numeric input if you actually don't mind the lack of physical feedback on each number input. Besides, it makes good use of the touchpad if you're planning to use a mouse.
I/O
1 x Thunderbolt 3 USB-C (up to 40Gbps and DisplayPort)
2 x USB 3.1 Gen 2 Type-A (up to 10Gbps)
1 x Standard HDMI 2.0
1 x Audio combo jack
1 x DC-in
The IO on the ZenBook Pro Duo is good but not without some questionable decisions, for instance, the lack of SD card or microSD card reader. I mean, this is a laptop for creators and those who want to get things done right?
Performance & Thermal
The ZenBook Pro Duo comes in two different CPU configurations – Intel Core i9 and Intel Core i7. The one we have here packed with Intel Core i7-9750H and NVIDIA GeForce RTX 2060 graphics. Unlike Intel's U-series chips, the Core i7-9750H has 6 cores and 12 threads running at 45W TDP. In other words, the battery life of this ZenBook will not be as good as its ZenBook Duo counterpart in exchange of better performance.
Upgradability
ZenBook Pro Duo's upgradability has been limited to the M.2 SSD and the network card. The RAM is soldered to the motherboard, so make sure to decide on the RAM capacity during purchase.
Battery Life
As mentioned, the Intel Core i7-9750H and NVIDIA GeForce RTX 2060 pair is not something we would put relate with the word "power-saving". They are fabricated with performance in mind, hence their power draw will be significantly higher than the Intel U-series and NVIDIA GeForce MX250.
On average use, having the dual-display turned on and running Google Chrome and Adobe Lightroom, I'm getting roughly 4 hours of battery life out of the 71Wh battery. That is almost half of the run time we could extract from the ZenBook Duo's 70Wh battery. Given that we're getting extra performance from the components and dual screen, we're pretty satisfied with what we have here.
Final Words
The ASUS ZenBook Pro Duo has a spectacular build quality and that 4K colour accurate display is a blessing to content creators. Having a secondary display built right into a laptop is unheard of, well, at least for a laptop that you can actually purchase instead of being a concept product that never made its way out of the exhibition show floor.
It brings a whole new user experience to the table where traditionally we are required to have an external display attached to the laptop. Now, everything is packed nicely in the chassis of a laptop that weighs just under 2.5 kg.
After using the ZenBook Pro Duo for a little over two weeks, looking back at the price tag, potential buyers must first identify their own requirements before judging on the more expensive price tag. If you were to compare them spec-by-spec, one might argue that the same price could've got them an Intel Core i7-9750H with NVIDIA GeForce RTX 2080 gaming laptop. However, one must not forget the advantages you could get from the additional display even when you're just working leisurely at your neighbourhood coffee shop.
Official SRP:
Intel Core i9 – RM15,999
Intel Core i7 – RM12,999
Pros
Exceptional build quality
Modern I/O ports
Excellent display quality
Dual display experience on a laptop
NumberPad (trackpad with Numpad integration)
Great performance
1TB PCIe Gen 3×4 SSD
Cool & quiet
Good battery life
Cons
No SD or microSD card reader
Non-ergonomic keyboard positioning
Not so sophisticated ASUS Pen experience
Pricey