Meet the new Acer Predator Orion X gaming desktop – it's a pre-built ITX that is also DIY-friendly, especially for users who wish to service the desktop themselves. Either to swap out hardware or just general troubleshooting, this case makes it easy to do it over the phone. It's also a sci-fi inspired design, according to Predator.
Now, we'll talk about the specs first. This Predator Orion X desktop can be equipped with up to the latest and most powerful 13th Gen Core i9-13900KS processor with up to the latest and greatest NVIDIA GeForce RTX 4090 GPU. Remember, you have the highest-end hardware packed into a mini ITX case – but the most interesting point is actually that ITX case itself.
According to Predator, the sci-fi inspired design is because of it is "space capsule-inspired design was crafted with multiple "zones" to house the CPU, GPU, air boost, and liquid cooling system". And from what I can see here, yes – it does have those features.
You see, both side panels and the top panel have labels on them. Each panel is labeled Zone 1, Zone 2, and Zone 3 respectively. Each zone houses a different component for the PC.
Then, if we look at the PC from the front, we can see the same labels too. Actually, each of these labels is actually levers. Yes, levers. By pulling each lever, you can detach its respective panels.
And since each of the zone corresponds to certain PC components, it becomes super easy to pinpoint where the hardware is located if you want to do any hardware swaps or troubleshooting yourself even if you don't have much experience working with PCs.
It's even labeled at the glass panel covering the front too.
Zone 1 is specifically designated for greater accessibility to the CPU, PSU, and SSD.

Zone 2 keeps the graphic card and dual 2.5-inch SATA HDD slots within striking distance. They did highlight that they are using a custom-engineered RTX 4090 to fit into this tiny case.
Zone 3 helps keep its powerful internals at bay as it stows the air boost and a 240 mm CPU liquid cooler, strategically stationed near Zone 1.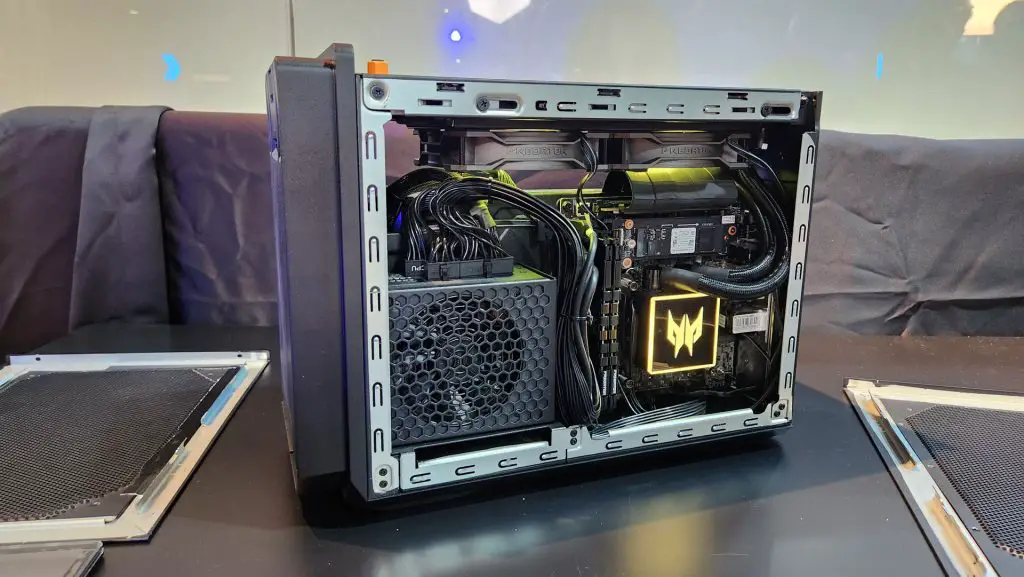 I really like the design of this ITX case. It's unique, innovative, and most importantly – offers actual practical usage. While I'm not sure if Predator is using a custom motherboard for this PC (because of the daughterboard for the M.2 SSD), I'm fairly certain it can fit in an off-the-shelf ITX motherboard because of its screw positions at the 4 corners. That aside, every other component seems to be swappable.
As for the price and availability, the Predator Orion X (POX-650) will be available in these regions at these prices at these dates:
North America – September; starting at USD $2999.99
EMEA- September; starting at EUR €2,499
China – September; starting at RMB 29,999元