With AMD finally embracing DDR5 on their latest Zen 4 CPUs and AM5 motherboards,  they have also announced the Extended Profile for Overclocking, or EXPO for short as the long-awaited response to Intel's XMP profile for memory kits. The PNY XLR8 Gaming MAKO RGB DDR5 6000MHz we have here this time is one of the DDR5 kits that come ready with both Intel XMP and AMD EXPO profiles.
While users can make use of the EXPO profile to gain a bit more performance with their DDR5 memory kit, the situation with DDR5 on AMD is very similar to what we have experienced on Intel, which still requires some optimization. So in this test, we have compared the performance between the stock EXPO profile and our slightly optimized settings, just so we can confirm if the extra effort is really worth your time.
Specifications
Capacities
Singles: 16GB
Kits of 2: 32GB
Speeds*
4800 – 6000MT/s
Latencies
CL40
Voltage
1.4V
Operating Temperature
0 °C to 85 °C
Dimensions
133.4 mm x 34.8 mm
Unboxing
The MAKO RGB DDR5 comes with two variants, which is a single module kit and a kit of two pack. Unlike the MAKO DDR5 which we have previously reviewed, the MAKO RGB DDR5 we have here a kit of two pack that has a pair of DRAM modules inside. On the box, you can see some useful information such as the capacity and the speed of the kit, and the supported RGB software that can be used with the kit.
Upon taking a closer look at the kit, we can see that the MAKO RGB DDR5 is actually very similar to the MAKO DDR5 in terms of design, except for the RGB light bar that is obviously exclusive to the MAKO RGB DDR5. Compared to the Epic X RGB DDR4 design, this is a lot better I'd say, and it actually matches their current RTX 40 series cards design.
Test System
Overclocking
As mentioned earlier,  the MAKO RGB DDR5 comes ready with both XMP and EXPO profiles but they're pretty much identical on the surface level despite the different naming. Unlike some of the DDR4 kits which you can just enable the XMP or DOCP profile and leave it as it is, it's always recommended that you optimize the timings on your DDR5 kits in order to get the best out of it.
Most manufacturers are very conservative with the timings used for XMP or EXPO profiles, and CL40 is actually quite common for memory kits with the SK Hynix M-die memory chips even though you can actually go with much lower timings on it. Of course, tightening the timings will require some adjustments to the related voltage values and the sub-timings in order to get the kit to run at the desired settings.
If you're not familiar with DDR5 memory overclocking on Zen 4, here's a simple reference for DDR5-6000 CL30 that we have tested on other DDR5 kits that uses the SK Hynix M-die just like the MAKO RGB DDR5 and you can further optimize it from here in the future once you got the hang of it. For the stability test, we're using the Karhu RAM Test and TestMem5 with Anta777 Absolutnew config. An error-free 2000% on Karhu RAM Test or all completed cycles on TestMem5 are the results you want, which shows that the system is stable for daily usage with the memory settings.
Main settings
Memory frequency: 6000
FCLK: 2000
MCLK/UCLK ratio: 1:1
Related timings
tCL-tRCD-tRP-tRAS: 30-38-38-30
tRC: 68
tWR: 48
tREFI: 65530
tRFC/tRFC2/tRFC4: 480/380/280
tRTP: 12
tRRD_S/tRRD_L: 4/8
tFAW: 20
tWTR_S/tWTR_L: 6/16
tWRRD: 2
tRDWR: 16
The rest on AUTO
Related voltage
DRAM VDD/VDDQ: 1.35V
VDDIO: 1.35V
SOC: 1.25V
Game Performance Test
While it is unlikely for you to get into any issues running your system with the ready-to-use EXPO profiles, optimizing your memory timings for DDR5 on AMD Zen 4 CPUs is actually worth doing. We have compared the performance between the default EXPO profile settings and the slightly optimized timings we have done and here are the data for your reference if you're interested to give it a try.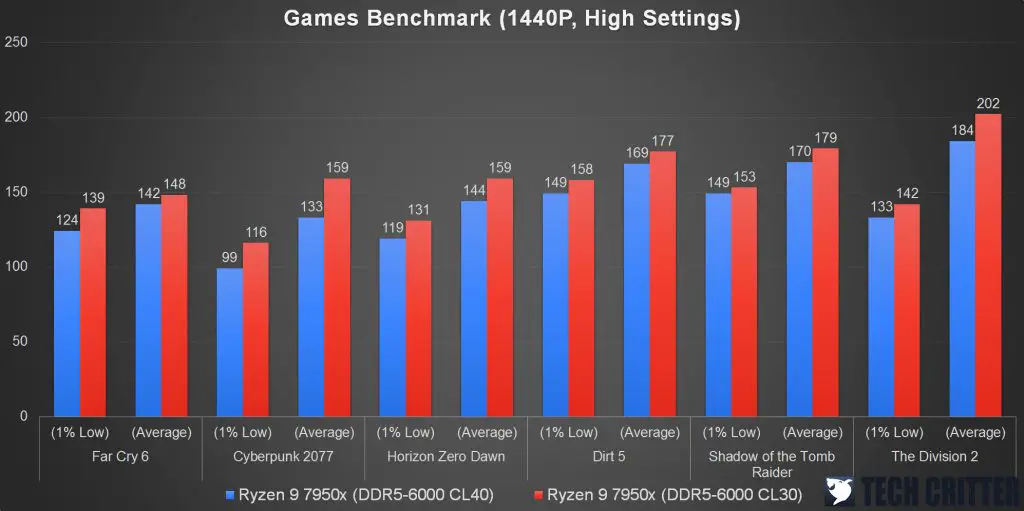 The most significant performance improvement can be seen in 1080P resolution, with both the 1% low and average FPS showing about a 10% increase compared to the default EXPO profile settings. Improvement can also be seen in 1440P resolution but the performance gain is very minimal when it comes to 4K resolution.
So if you're gaming on 1080P or 1440P resolution, sufficient optimization on the memory timings is another way to improve the overall performance apart from overclocking your GPU or CPU.
Final Thoughts
While the default CL40 loose timings might be average at first glance, the majority of the DDR5 kits with the SK Hynix M-die memory chips can be manually optimized for better performance. That goes the same for the PNY XLR8 Gaming MAKO RGB DDR5, which will require some manual optimization if you really want to get the best performance out of it. As of now, I think DDR5-6000 CL30 is still very reasonable on both Intel and AMD platforms, and it's actually very easy to achieve.
Now for the price, with DDR5 memory kits finally getting more affordable nowadays, you can easily get a pair for under RM 1000. Currently retailed at RM 569, the PNY XLR8 Gaming MAKO RGB DDR5 is probably one of the most affordable DDR5-6000 memory kits on the market right now. If you're looking for a reasonable and affordable DDR5 memory kit for your budget AMD Zen 4 or Intel 13th-gen upgrade, the PNY XLR8 Gaming MAKO RGB DDR5 is an definitely option to consider.

Where To Buy