Aside from the improved power efficiency and performance uplift, the new AVX-512 computational capabilities and intergraded RDNA2 graphics capable of AV1 decode, H.264/H.265 decode+encode are also some of the noteworthy features AMD has brought with its new Zen 4 CPUs. As of today, the wait is finally over and we can finally share with you the results of the performance benchmarks of the Ryzen 9 7950X which we have been doing for the past 2 weeks.
The Ryzen 9 7950X is the best consumer CPU that AMD has to offer this time but is it worth your money? Let's take a look at the benchmark results and see for yourself.
Specifications
MODEL
CORES/

THREADS

TDP

(Watts)

BOOST/BASE FREQ. (GHz)
TOTAL CACHE
MSRP
AMD Ryzen 9 7950X
16C/32T
170W
Up to 5.7 / 4.5
80MB
$699
AMD Ryzen 9 7900X
12C/24T
170W
Up to 5.6 / 4.7
76MB
$549
AMD Ryzen 7 7700X
8C/16T
105W
Up to 5.4 / 4.5
40MB
$399
AMD Ryzen 5 7600X
6C/12T
105W
Up to 5.3 / 4.7
38MB
$299
Unboxing
Unlike any previous Ryzen 9 CPUs we've tested in the past, the Ryzen 9 7950X doesn't come with a box cooler. Despite the size of the box, the only thing you'll get inside the box is the CPU itself and that's it. The new Ryzen 7000 series desktop processors now come with an LGA design and are noticeably smaller compared to their predecessors.
AMD has finally moved on to LGA design for the consumer CPUs, which means you no longer have to worry about the CPU sticking at the bottom of the cooler like how it is with the previous Ryzen CPUs. Although the ILM design is similar to what we've seen on the Intel LGA1700 socket, the socket design is different and you won't be able to stuff an Intel CPU on it.
Test System Setup
For our test this time, we're using the Ryzen 9 7950X and you can refer to the rest of the components used in the following lists:
Test System 1
| | |
| --- | --- |
| CPU | Intel Core i9-12900K |
| Motherboard | ASUS ROG Maximus Z690 APEX |
| Memory | Kingston Fury Beast DDR5 RGB (DDR5-6000 CL30) |
| Graphics Card | Radeon RX 6700 XT |
| Power Supply | Cooler Master V1200 Platinum |
| Primary Storage | Kingston KC3000 2TB |
| Secondary Storage | WD Black 6TB |
| CPU Cooler | Cooler Master MasterLiquid ML360R |
| Chassis | Streacom Open BenchTable |
| Operating System | Windows 11 64bit |
Test System 2
| | |
| --- | --- |
| CPU | AMD Ryzen 9 5950X |
| Motherboard | Gigabyte X570S AORUS MASTER |
| Memory | TeamGroup Dark Z FPS DDR4-4000 CL16 |
| Graphics Card | Radeon RX 6700 XT |
| Power Supply | Cooler Master V1200 Platinum |
| Primary Storage | Kingston KC3000 2TB |
| Secondary Storage | WD Black 6TB |
| CPU Cooler | Cooler Master MasterLiquid ML360R |
| Chassis | Streacom Open BenchTable |
| Operating System | Windows 11 64bit |
Test System 3
| | |
| --- | --- |
| CPU | Ryzen 9 7950X |
| Motherboard | ASRock X670E Taichi / ASUS ROG Crosshair X670E Gene / Gigabyte X670E AORUS Master |
| Memory | G.Skill Trident Z Neo DDR5-6000 CL30 |
| Graphics Card | Radeon RX 6700 XT |
| Power Supply | Cooler Master V1200 Platinum |
| Primary Storage | Kingston KC3000 2TB |
| Secondary Storage | WD Black 6TB |
| CPU Cooler | Cooler Master MasterLiquid ML360R |
| Chassis | Streacom Open BenchTable |
| Operating System | Windows 11 64bit |
Memory Settings
As we're still in the process of exploring DDR5 memory overclocking on Zen 4, DDR5-6400 CL32 is the highest we're able to get at the moment and it's done on the ROG Crosshair X670E Gene. But the main tests are still done on the ASRock X670E Taichi with the G.Skill Trident Z Neo configured at DDR5-6000 CL30 and slightly tightened memory timings. With that, we're able to achieve a slightly lower latency at 60ns as compared to 65ns from enabling the EXPO profile.
During our memory tests, we notice that the adjustments on the memory settings are significantly easier on 2 DIMM boards like the ROG Crosshair X670E Gene and the memory training time is also slightly faster. Adjustments on the sub-timings can vary by motherboards as well but as far as what we've tested, the Gene is probably my personal favorite so far.
The same timings can be achieved with other AMD EXPO certified kits like this Kingston Fury Beast RGB DDR5-6000 CL36 kit. We've also tested the system with an existing JEDEC DDR5 kit and it works, but optimizing it will take a bit more effort compared to an AMD EXPO certified memory kit.
We have also tried booting up the system with all four DIMM slots fully populated and it's just as what AMD said, it will end up with DDR5-3600 instead of DDR-4800. It's pretty much the thing you'll see in most of those TikTok PC build videos which I don't personally recommend unless you're not aiming for the high-frequency game. We did, however, manage to get your test system to boot at DDR5-5600 using the EXPO profile but that's the highest we can go.
Games benchmarks – 1080P
Games benchmarks – 1440P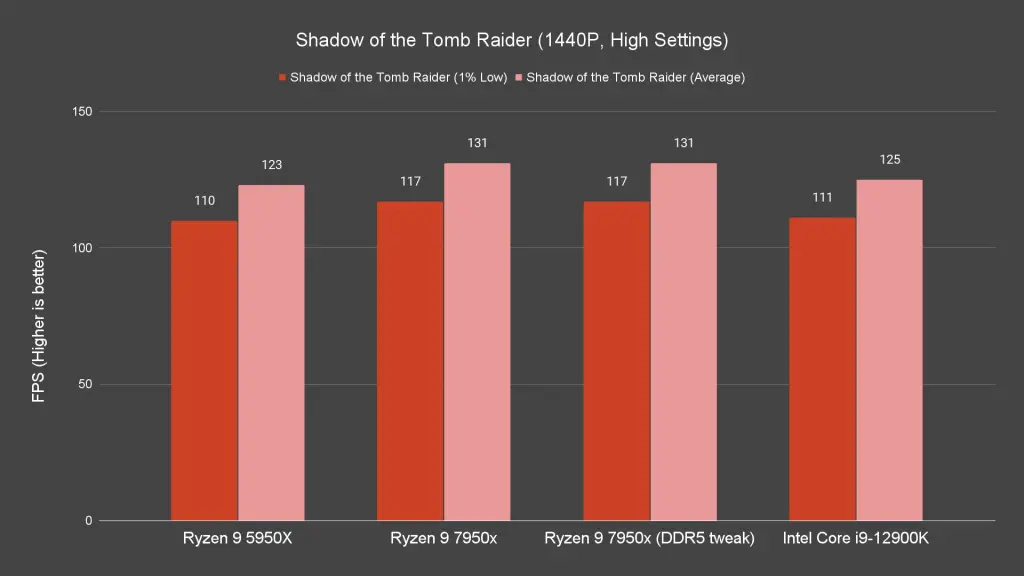 Games benchmarks – 4K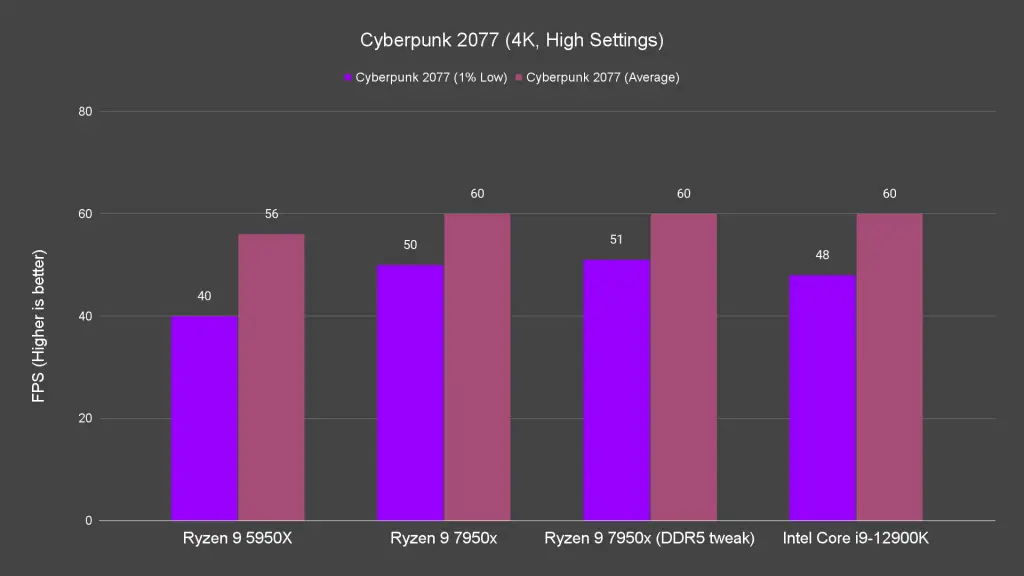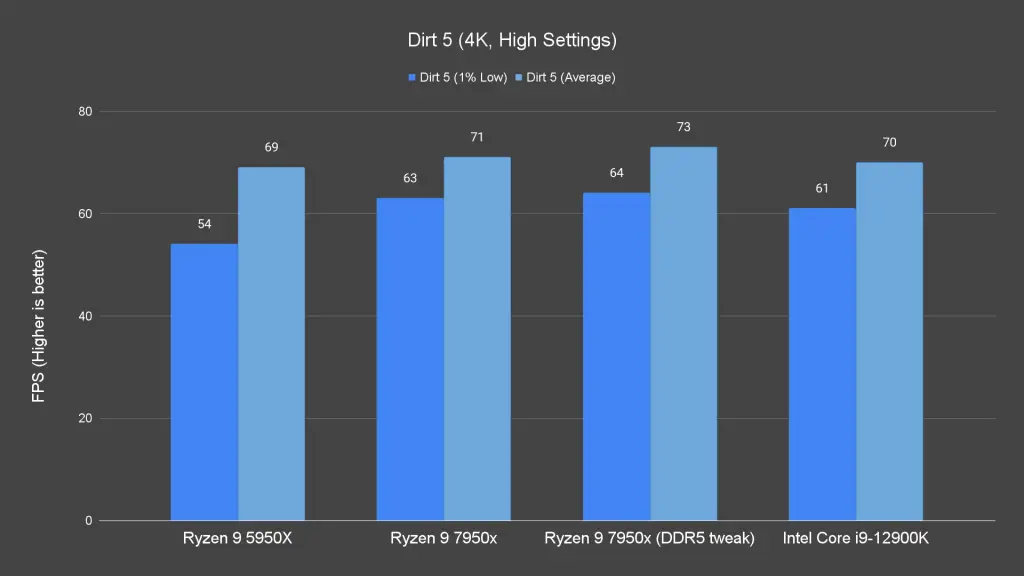 Starting off with gaming performance, for games that are more CPU-bound like Far Cry 6, Shadow of the Tomb Raider, and The Division 2, the performance gain on 1080p resolution is the most noticeable of course. As higher resolutions of 1440P and 4K are more GPU bound, the performance impact with CPU is no longer that significant and you're mostly limited by the GPU itself.
We can see a performance uplift of up to 24% against the R9 5950X, and up to 6% against the already very powerful i9-12900K, and I think that's a really impressive feat that AMD has managed to pull off this time. Even for games that are more GPU bound, we can still see a reasonable gain between 8~15%. If you have a much more powerful GPU on hand, you're going to see even better performance numbers than what we have here.
With our slightly tweaked memory settings, some games will benefit from it and some don't really show too many differences. For games that do, the improvement can be seen on the 1% low. This basically means smoother gameplay and consistent frame times.
Synthetic benchmark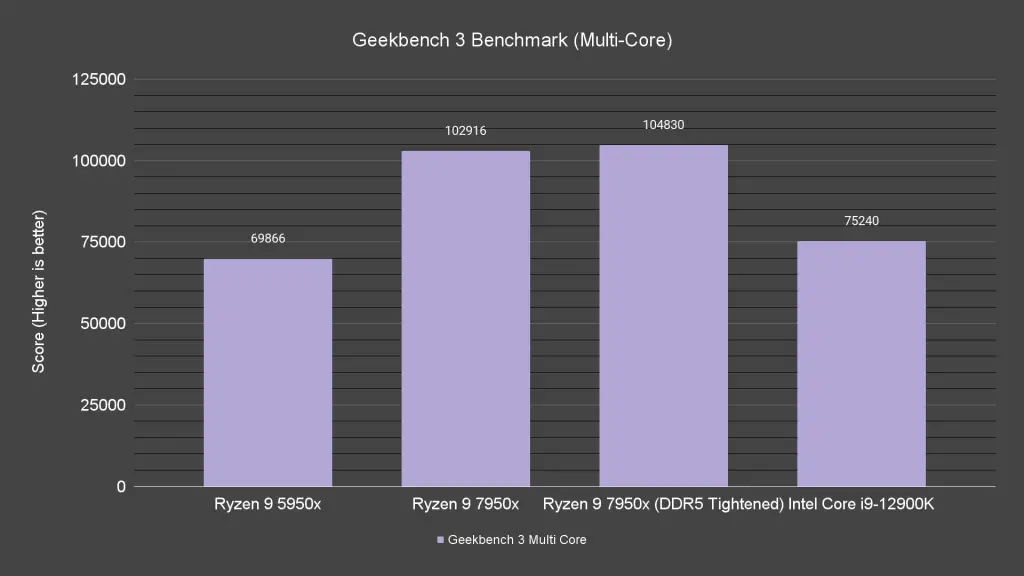 Moving on to the productivity tests, this is pretty much what AMD always boasts on with the crazy high cores and threads count on their Ryzen CPUs. From the results, including the benchmarks that focus on content creation tasks such as photo edition, video editing, and rendering works, the 7950X as it easily tops the chart in our benchmark when compared against both the 5950X and 12900K.
Power, thermals
Now for the power draw and thermals – is it hot? is it drawing a lot of power? Yes, of course. if you're going to fully utilize all the cores and threads at all. The 7950X has a rated TDP of 170W and a max socket power of 230W. Unlike the Ryzen 7 7700X and Ryzen 5 7600X, this CPU is meant for those who will really need all the cores it has.
I'd recommend using an AIO cooler with a 360mm radiator for this one but if you don't have any of those fancy coolers, you can always make use of the AMD Eco Mode which let the 7950x operate at 65W TDP. Even with that limitation, the chip is still capable of performing on par or if not, better than a 5950x at uncapped TDP. While I don't know in what circumstance you will want to do that, you can't deny that is some crazy power efficiency right there. And if you do have a reasonably powerful AIO cooler for the 7950x, you can even explore the PBO settings in the BIOS for the best performance out of it.
In our test, the highest load we've observed so far is at 218W with the highest load temperature hitting 95°C but only with Realbench just for fun, and we're using an older model of the Cooler Master ML360R AIO. While the 45°C for idle temperature we're seeing during our tests may be high, in most use cases, the 7950x barely even go above 90°C during benchmarks with productivity works. During our game benchmarks session, the CPU load temperature is even lower, mostly hovering around the 70°C range.
Conclusion
So that's everything we have for you as of now with the Ryzen 9 7950X but here's the age-old question – is it really worth your money? Well, I'd say that totally depends on what you are currently using right now.
Upgrading to Zen 4 is the same as upgrading to the Intel 12th gen because you will need a new motherboard for it. Since AMD is fully committed to DDR5, the cost might be higher since DDR5 RAMs are more expensive. However, AMD seems to have better optimization out of the box even though it's their first time getting onto DDR5. I'd probably not recommend the upgrade for AMD Zen3 or Intel 11th gen users, as these are still pretty powerful today and will probably last for a while.
As for those who are coming from AMD Zen2, Intel 10th gen, or lower, yes, I would recommend the upgrade. The upgrade cost is going to be steep, $699 for the Ryzen 9 7950X alone, not counting in the motherboard and RAM. But hey, at least the performance difference is going to be a lot more significant and you'll probably be using it for a very long while.
Where to buy? (Affiliate links)