NVIDIA announced its brand new Pascal architecture GPU early May 2016 as the new king of consumer graphics cards, mainly of its greatly improved performance over both GTX 980Ti and GTX Titan X deemed to be the best at the time. Other than the vastly improved performance, NVIDIA has also redesigned the cooler shroud of the card, which now looks like a geometric sculpture with a mix of futuristic accent and is given the name 'Founders Edition'. The Founders Edition is basically a reference card with a new name, it's not cherry picked nor factory overclocked, it's not a limited edition card despite sounding like one. Well, that's pretty much the brief intro and let's get back to business! 
The GeForce GTX 1080 Founders Edition as most of you know, retails at $700 or approximately RM3399 after GST but heck, having a reference card isn't totally bad as there are users who actually wanted a reference card of the GeForce GTX 770 but there's none available to purchase as the AiB partners often replaces the reference cooler with a lower cost alternative. 
Before we continue any further, we would like to express our greatest thanks to the great peoples at CIZA Concepts and NVIDIA for arranging the GeForce GTX 1080 Founders Edition to Tech Critter's lab for today's review!
Specifications
Graphics Processing

GeForce GTX 1080

Core Clock

Boost: 1733 MHz / Base: 1607 MHz (With 2560 CUDA Cores)

Memory Clock

10010 MHz

Process Technology

16 nm

Memory Size

8 GB

Memory Bus

256 bit

Card Bus

PCI-E 3.0 x 16

Memory Type

GDDR5X

DirectX

12

OpenGL

4.5

PCB Form

ATX

Digital max resolution

7680×4320 (requires 2*DP1.3 connectors)

Analog max resolution

4096×2160

Multi-view

4

Output

Dual-link DVI-D *1
HDMI-2.0b*1 (Max Resolution: 4096×2160 @60 Hz)
Display Port-1.4 *3 (Max Resolution: 7680×4320 @60 Hz)

Recommended PSU

500W

Power Connectors

8 pin*1

Card size

H=42 L=266.7 W=111 mm
The GeForce GTX 1080 Founders Edition
The GTX 1080 Founders Edition aka reference design at first glance, look nothing like previous reference cards. It's undoubtedly the best-looking reference card ever made by NVIDIA and it's definitely won't be the last either. The card can take on the form of various objects when viewed from a different angle, race car, spacecraft, electric razor… and more. 
As it is a reference design card, the fan design is the blower type cooler. The only difference here is instead of having the hot air exhausted to the back of the card, the new Titan style cooler has an extra opening at the front of the card as well so hot air can be vented from the card faster in both directions instead.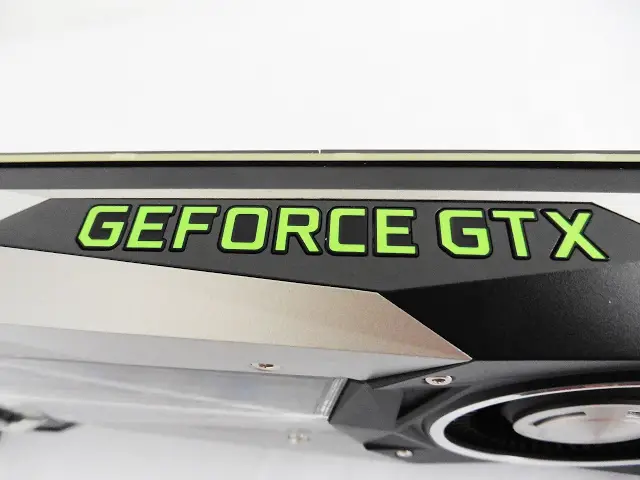 The glowing 'GeForce GTX' that has been a signature of NVIDIA reference coolers since the GTX Titan can be seen on the GTX 1080 Founders Edition as well.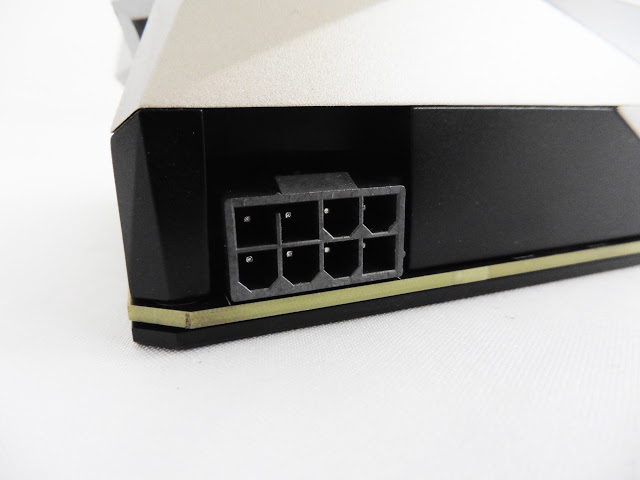 The GeForce GTX 1080 is complimented for its power efficiency. Unlike any previous high-end NVIDIA graphics card that runs on 8-pin and 6-pin PCIe power with a minimum requirement of 600W, the GTX 1080 now runs only on a single 8-pin PCIe power and PSU requirement as low as 500W.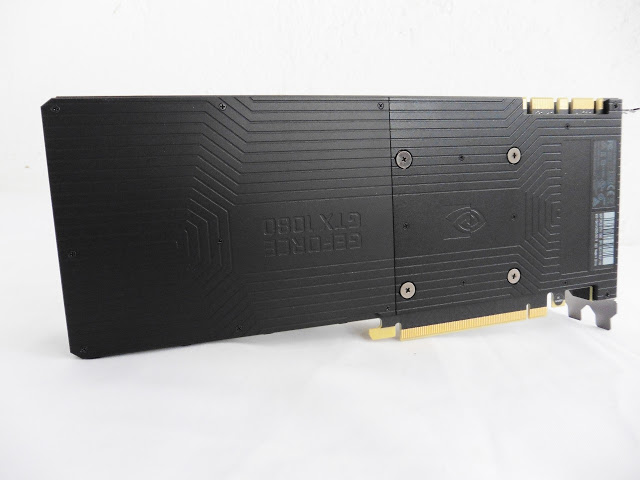 A metal backplate is included on the GeForce GTX 1080 Founders Edition, mainly to enhance the overall rigidity of the card to prevent PCB sagging that usually occurs on graphic cards with a large heatsink.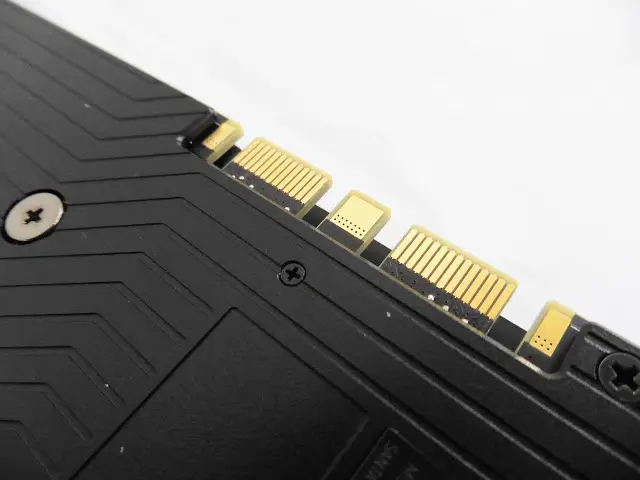 SLI fingers are still available on the card, but as NVIDIA discourages any setup beyond 2-way SLI, NVIDIA and its partners has released a new SLI bridge that is supposed to support only 2-way SLI and improved performance compared to the older version of SLI bridge that used to comes along as an accessory with motherboards.


While NVIDIA discourages SLI setup that goes beyond 2 way SLI, power users, enthusiasts and overclockers who wants to beat the world record or getting better benchmark scores can request this special key from NVIDIA's website and download it to enable above 2-Way SLI configuration support.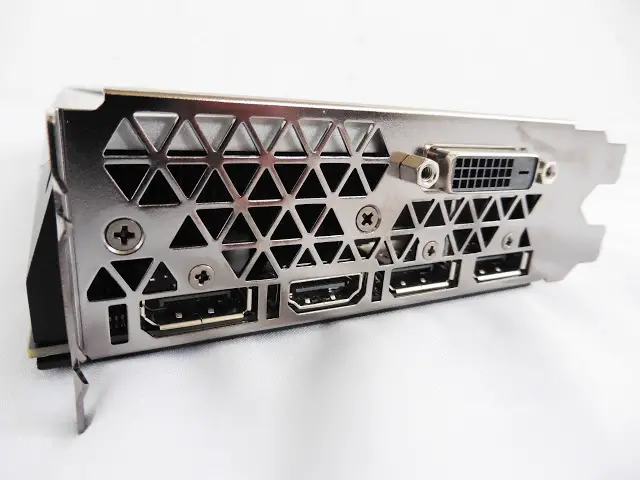 The display output option is pretty common nowadays, 1 x DVI-I connector, 3 x DisplayPort and 1 x HDMI port.
Performance Test
Test Rig Configuration

CPU Cooler

Raijintek Triton 240

CPU

Intel Core i7 4790K @4.6GHz

Motherboard

ASUS Maximus Hero VII

Memory

G.Skill TridentX 2400MHz

Primary Hard Drive

Crucial M500 120GB

Power Supply

Be Quiet! Straight Power 10 600W

Chassis

Vector Bench case
We mounted the GeForce GTX 1080 Founders Edition on our test bench as above and each and every benchmark is conducted in a room of about 30C° ambient temperature.
Performance 
We ran a few graphically demanding games and synthetic benchmarks in our possession on a selected settings at 1080p, which is considered as high for much of our test as usual.The final result of each benchmark is presented in the form of the graph below: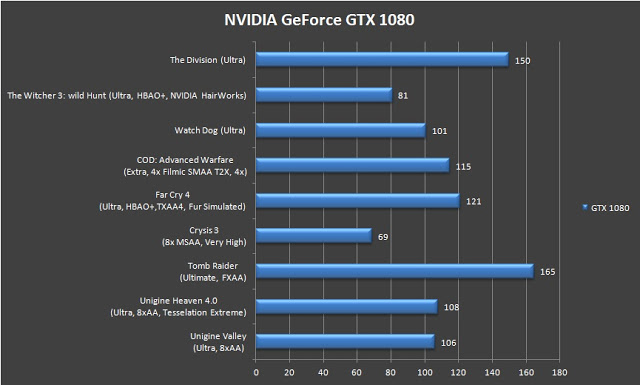 Overclocking
We ran the same graphically demanding games and synthetic benchmark on 1080p with the highest achievable clock speed for both its memory and GPU that is stable enough to be able to complete each benchmark with the following values:
248MHz raise on the GPU core clock
568MHz raise on the memory clock
Extra 20% gain on the power
That's quite a lot considering that this is a reference card and we managed to hit a beefy 2113MHz GPU clock speed on boost during our benchmark session. 
Performance Comparison With GTX 980Ti and GTX Titan X
We've done a performance comparison with both of the previous king GTX 980Ti and GTX Titan X, and the result of that populated in the following graph: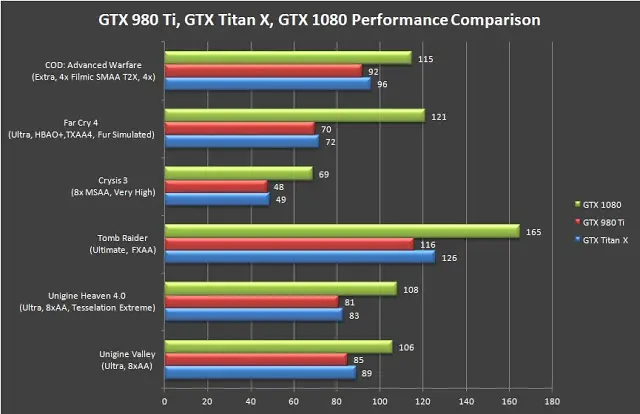 Performance Comparison With GTX 980Ti and GTX Titan X After Overclock
We've done another round of comparison with both GTX 980Ti and GTX Titan X but this time, all the cards used has been overclocked to its best potential :
Temperature
Temperature wise, we've observed a pretty decent temperature record of 40°C during idle and 82°C on load while running on default clock speed. Bumping up the GPU core clock with an extra 248MHz results in a much higher temperature of 89°C requiring the cooling fan to run at its maximum speed to keep the temperature below dangerous levels. 
Verdict
The GeForce GTX 1080 Founders Edition might be a reference card, but it's no doubt a very capable one when it comes to its overclocking capability. With the stated GPU boost clock of 1733MHz, we've managed to hit a beefy GPU boost clock of 2113MHz with minimal effort. We're positive that the GeForce GTX 1080 is more capable that this and can go even further on the GPU clock if it wasn't because of the Green Light program that puts a limit on the overvoltage. Let's hope that there will be a custom BIOS soon (hopefully), that further unlocks the capability of the GTX 1080.
Cooling performance is just okay while running on stock speed for both GPU clock and memory clock. If one were to push the GTX 1080 Founders Edition further by bumping up the GPU clock, they will have to deal with either a rather uncomfortable temperature if acoustic performance is on priority, or sacrificing the acoustic performance for the sake of lower operating temperature on full load.
The NVIDIA GeForce GTX 1080 Founders Edition comes with a pretty steep price of RM3399, a rather big figure that is going to cost most of us an arm and a leg. However, if you're planning on getting a GTX 980Ti for your gaming rig, the NVIDIA GeForce GTX 1080 Founders Edition is still a pretty worthy choice if you're really into the new reference cooler – it looks good, it's solidly built and it overclocks pretty well too.  
Pros
Combination of both aesthetics and solid build quality
Easily overpowered both GTX 980Ti and GTX Titan X
Good overclocking headroom 
Low power requirement
Reasonable price for the build quality and performance that it can deliver
Cons
Temperature can go very high when bumping up the GPU core clock
Higher price compared to other AiB partner's card with better cooling design