NVIDIA has finished prepping the new GeForce Game Ready driver slated for release tomorrow that brings day-0 optimizations for the critically acclaimed God of War and Ubisoft's Rainbow Six Extraction.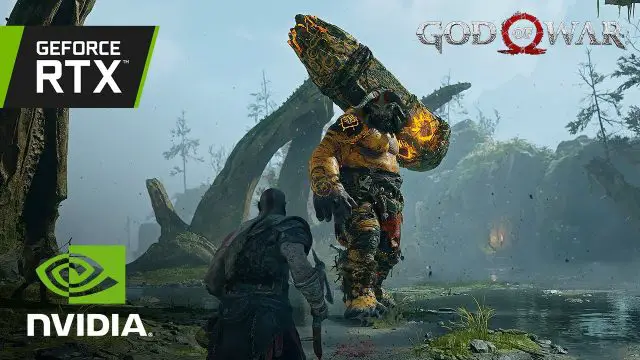 Launching on January 14, the long-awaited ex-PlayStation exclusive God of War is arriving on PC with several new exclusive features just for the platform and to harvest all the brand new upgrades, NVIDIA has worked closely with Sony where GeForce RTX gamers will be getting the NVIDIA DLSS and NVIDIA Reflex on launch to make sure gamers get the best visuals with high frame rates and super responsive inputs to play as daddy Kratos.
On the other hand for Rainbow Six Extraction, the game that launches on January 20 already has optimizations, NVIDIA DLSS and NVIDIA Reflex all included within this round of updates so for any gamer that applies this update beforehand, they'll be the ones that will have the least trouble and smoothes game launch and play session.
For starters, a brand Deep Learning Dynamic Super Resolution (DLDSR) uses AI to upscale image input which then downscales back to the monitor resolution for better image quality and smoother edges. It works a bit different than NVIDIA's own DLSS but the compatibility and application for DLDSR are way more general and usable while consuming very little computing power which means a minimal performance hit. More so, the NVIDIA Freestyle provides gamers the ability to customize and apply settings on the fly is getting 3 depth-based filters of Screen Space Ray Traced Global Illumination, Screen Space Ambient Occlusion, and Dynamic Depth of Field to make the entire gaming experience more enjoyable and immersive to one's liking.
Additionally, 8 more gaming monitors have been added to the G-SYNC Compatible list so more gamers can enjoy tearless gameplay without committing big bucks for the actually G-SYNC module.
AOC AG275QG3R4B+
AOC Q32G3WG3
AOC AG275QXE
Dell G2723HN
HP OMEN 27i IPS
MSI MPG321UR-QD
Philips 24M1N3200ZA
ViewSonic VX3220-4K-Pro