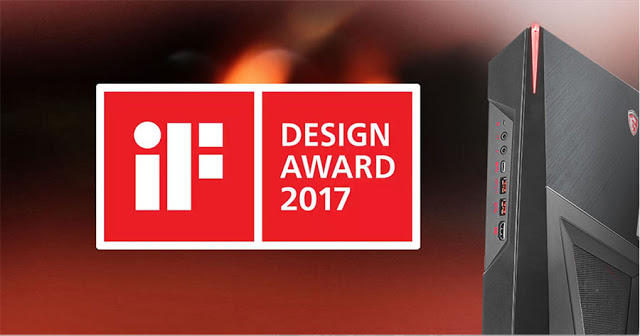 Known by some as the Oscars of design, the prestigious iF design awards represent the best of the best. Winning two iF awards this year, world leading gaming brand MSI stood out from the competition.
The winning products are the top-notch gaming motherboard MSI Z270 TOMAHAWK and one of the world's tiniest VR Ready gaming desktops, the MSI Trident 3.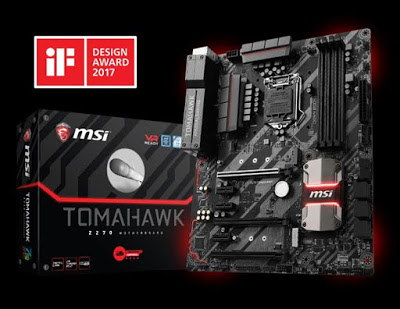 READY TO DOMINATE – Z270 TOMAHAWK
Winning the award for motherboard product design, the MSI Z270 TOMAHAWK perfectly illustrates the evolution of the new generation of MSI motherboards. The design concept is inspired by main battle tanks, with the heatsinks looking like reactive armor plates and bolt-on armor IO cover. A red gaming glow coming from different parts of the motherboard adds to a grand impression. Attention to details makes all the difference, like the hi-tech military-themed PCB print adding the final touches to the design. Taking the tank analogy even further, another key aspect of the Z270 TOMAHAWK is its excellent stability and reliability by using high quality Military Class components. 
Besides its award-winning appearance, the Z270 TOMAHAWK motherboard is packed with a host of strong features for gamers. 

Supporting Twin Turbo M.2 (32 Gb/s, Gen3 x4) with Steel Armored slots allows gamers to connect ultra-fast storage devices for in-game benefits. Being Intel® Optane™ Memory Ready, this motherboard brings game-changing performance to memory and storage devices. Using the exclusive MSI M.2 GENIE software, setting up RAID has never been easier. Using the Lighting ASmedia 2142 USB 3.1 Gen2 controller, Z270 TOMAHAWK offers incredibly high USB speeds using multiple USB devices at the same time. 
MSI GAMING LAN Manager powered by Intel® automatically classifies and prioritizes the latency-sensitive applications for online games. This ensures a smooth gaming experience with low latency.
THINK SMALL, PLAY BIG – MSI Trident 3 Gaming Desktop
MSI Trident 3 brings the best of a gaming desktop packed into a small and compact chassis of a mere 4.7 liters. Providing the graphics horsepower is a customized MSI desktop GeForce® GTX 1060 GAMING graphics card. This graphics card uses high quality Military Class components and is ready to handle blockbuster games for years to come. Besides graphics prowess, Trident 3 equips the latest Intel® Core™ processors to ensure a powerful gaming machine. Coupled with MSI's exclusive Silent Storm Cooling 2 thermal design, Trident 3's cooling efficiency is unmatched, making it as quiet as an assassin. 
Beyond its high powered hardware on the inside, it's the breathtaking design of the Trident 3 that won this years iF award. The stylish compact case with embedded RGB Mystic Light will suit any room in the house. It offers a host of connectivity ports on the front- and backside to connect all your gaming devices. Plug in your portable storage device and gaming peripherals and jump straight into the action! Completing the package, Trident 3 is equipped with VR-Link, which includes an easily accessible front HDMI-out for VR device. MSI's 'One-click-to-VR' software optimizes your PC for VR with just one click by making sure other software applications don't impact your VR experience. 
The MSI Trident series redefines the size needed for true PC Gaming performance and allows gamers to bring true Gaming desktop performance with them, wherever they go.