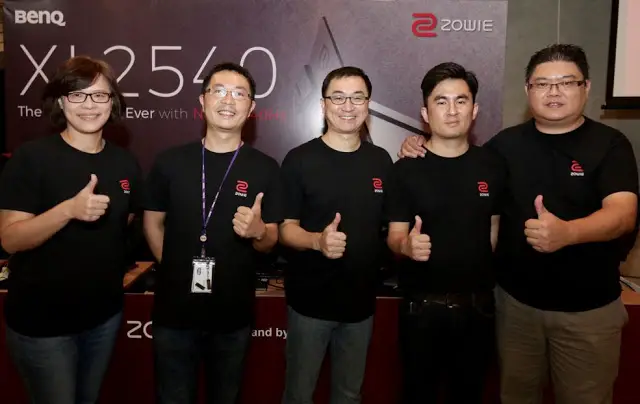 BenQ ZOWIE announces the new ZOWIE XL2540 monitor, providing additional options for the fulfillment of individual gaming experience. This is the first 240Hz professional e-Sports monitor to be readily available for purchase at retail outlets nationwide.
From its inception, ZOWIE has been dedicated to the development of e-Sports equipment to enable competitive gamers to play to the best of their abilities. As the latest addition to the XL series for PC e-Sports, XL2540 introduces increased smoothness in-game and its native 240Hz refresh rate can be fully activated to deliver different levels of gameplay experience when the computer generates over 240 frames per second (fps). BenQ recommends the latest video card such as the NVIDIA GeForce GTX 10 Series, AMD Radeon RX 480 or higher.
The ZOWIE XL2540 also comes with a Shield and Height Adjustable Stand that allows gamers to feel comfortable during any competition, from adjustable angle to preferred height.
Besides its physical aesthetics, the e-Sports monitor daunts some hidden features such as the Black eQualizer that increases the visibility in dark scenes without overexposing the bright areas; as well as, 20 levels of Color Vibrance settings –furnishing users with specific viewing requirements and preferences for all types of gameplay.
The 24.5-inch monitor gives easy access for different scenarios with the S Switch. It is designed to shift between saved modes and different inputs seamlessly. Whether users are watching, reading, surfing, gaming or connecting with multiple monitors, switching between the presets and different monitors, or navigating among menus is as simple as 1-2-3.
The BenQ ZOWIE XL2540 professional e-Sports monitor will be available at selected retail outlets starting from mid-March 2017, priced at RM2,399.