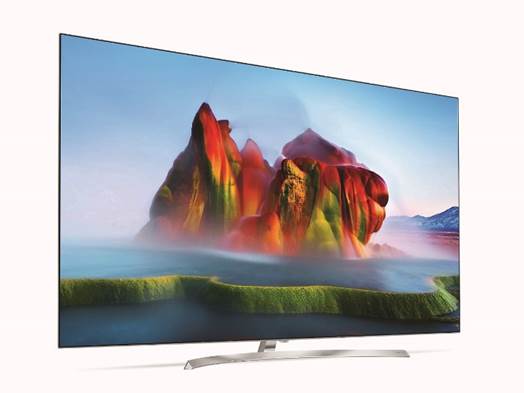 SEOUL, 23 February 2017 — LG Electronics (LG) announced the launch of its 2017 SUPER UHD TV lineup featuring Nano Cell display lineup at its R&D Center in Seoul today. Alongside the amazingly thin LG SIGNATURE OLED TV W first unveiled at CES last month, LG has high hopes that its dual premium strategy for TVs will expand its market share in the global TV industry. LG SIGNATURE OLED TV W will be available in Korea and the United States starting this month. SUPER UHD TVs with Nano Cell technology will become available in the weeks to come while customers in other markets will see both premium products beginning in the second quarter of 2017.
TVs with Perfect Picture, Design and Sound
LG SIGNATURE OLED TV embodies the company's pursuit of the best possible viewing experience, featuring the most advanced technologies available in the display industry. The innovative design of the W7 series follows LG's "less is more" philosophy, stripping away everything to emphasise the beauty of the screen alone.
LG OLED TVs are considered by industry experts to offer the most advanced display technology. As each pixel on the display can be individually switched on and off, OLED offers an enhanced picture quality without image degradation, such as light bleed typically found in conventional backlit systems. This results in the highest quality image rendering with the purest black and lifelike colours.
The sleek razor-thin profile of the 65-inch W7 – less than 4mm thick when mounted on the wall – creates the illusion of gazing out a window, not of watching TV. LG's 2017 OLED TV lineup offers innovative Dolby Atmos sound for the first time in the market, delivering both stunning image and sound quality. Dolby Atmos isolates the relative location of each sound to create rich and multi-layered audio that reflects the intricate sounds of the real world. The 77-inch version of the W7 received the Best of CES Innovation Award 2017 in the Video Displays category, besting all other new TV offerings at CES and won Engadget's Best of the Best Award at the show.
LG will introduce five 4K OLED TV models in Korea with screen sizes varying from 77/65W7, 77/65G7, 65/55E7, 65/55C7 and 65/55B7 in Korea. Specific models in other markets will be announced locally at the time of launch.
The Most Advanced LCD TV Available Today
LG's third-generation SUPER UHD TV lineup features Nano Cell technology, which harnesses approximately one nanometer-sized particle to offer incredibly accurate colour reproduction. The Nano Cell display achieves impressive picture quality by absorbing unnecessary light waves, resulting in purer, cleaner colours. This light absorbing capability allows LG's new LCD displays to filter out specific colours with much greater precision, rendering each colour exactly as it was intended. For example, the colour red on conventional TVs can blend with other colour wavelengths, such as yellow or orange, causing the colour to fade and take on yellowish. LG Nano Cell dramatically reduces instances of colour fading, image instability and other colour degradation issues. LG Nano Cell Display also deliver consistent colours at wider viewing angles with virtually no colour difference between viewers seated directly in front of the screen and those watching from a 60-degree angle.
Expanded HDR Capabilities
All 2017 LG OLED and SUPER UHD TVs feature Active HDR to render brighter scenes and greater shadow details when displaying HDR content. Active HDR allows LG TVs to process the picture scene by scene, inserting dynamic data where needed. In addition, 2017 LG TVs support the full palette of HDR formats, including Dolby VisionTM, HDR10 and HLG (Hybrid Log Gamma). This versatility is compounded by the new HDR Effect feature, which processes standard definition content to improve brightness in specific areas, enhance contrast ratios, rendering more precise images.
Enhanced webOS User Experience
The latest webOS Smart TV platform helps make LG's entire lineup of premium TVs exceptionally user-friendly. LG webOS 3.5 is equipped with enhancements for easier control and faster access when using the improved Magic Remote and the new Magic Link feature. Viewers can instantly access their favourite services such as Netflix and Amazon Prime Video by pressing a hot key on the remote control, tapping into a wide variety of stunning 4K programming.
"Our 2017 TV lineup features state-of-the-art display technologies that break the boundaries of TV viewing," said Brian Kwon, president of LG Electronics Home Entertainment Company. "This year, we will continue to extend the premium TV market with a dual premium strategy based on our unrivalled OLED TVs and groundbreaking SUPER UHD TVs with Nano Cell display. With these innovative TV products, our customers will be able to enjoy the best home entertainment experience that the industry has to offer."