With DDR5 memory getting more affordable nowadays, users who have been holding back on DDR5 can finally make the jump. While the memory ICs you can find on DDR5 memory are the usual Micron, SK Hynix, and Samsung, the more popular ones nowadays are the Hynix M-die and A-die which are known to be better when it comes to memory overclocking.
In this article, we'll be taking a quick look at the Ares RGB DDR5-6000 from Lexar, which we have confirmed to have the Hynix M-die memory ICs. Let's see what we can do with this kit.
Specifications
| | |
| --- | --- |
| Capacities | 32GB Kit (16GB x 2) |
| Speeds* | 5600MT/s, 6000MT/s |
| Latencies | CL32-36-36-68, CL34-38-38-76 |
| Standard | Intel XMP 3.0, AMD EXPO |
| Voltage | 1.2V, 1.3V |
| Operating Temperature | 0 °C to 85 °C |
| Dimensions | 140 x 43.3 x 7.9 mm |
Unboxing
This slideshow requires JavaScript.
While we can see many single kit or kit of two packs from other brands, the Ares RGB DDR5 here only comes available in the kit of two variant. It has the DDR5-5600 and DDR5-6000 models, both support Intel XMP 3.0 and AMD EXPO.
This slideshow requires JavaScript.
Looking at the design, Ares RGB DDR5 is technically the same as the Ares RGB DDR4. The design is decent I'd say but compared to the Hades DDR4 and Hades RGB DDR4, I'm more of a fan of the clean and simple design of the Hades myself.
Under the heatsink, you'll find the SK Hynix M-die memory ICs that are known to clock better than both Micron and Samsung at the moment. From our past experience with Hynix M-die, it's clear that the CL34-38-38-76 timings aren't exactly the best even though it works and I'd recommend tightening the timings to improve the memory latency. Of course, how much improvement you'll get depends not only on the quality of the kit itself but the motherboard and IMC as well.
Test System
| | |
| --- | --- |
| CPU | Intel Core i9-13900K |
| Motherboard | ASUS Maximus Z790 Apex |
| Memory | Lexar Ares RGB DDR5-6000 CL36 |
| Graphics Card | NVIDIA GeForce RTX 3080 |
| Power Supply | Cooler Master M2000 Platinum |
| Primary Storage | Kingston KC3000 2TB |
| Secondary Storage | WD Black 6TB |
| CPU Cooler | Cooler Master MasterLiquid PL360 Flux |
| Chassis | Cooler Master MasterFrame 700 |
| Operating System | Windows 11 64bit |
Memory Overview
While manufacturers can be quite conservative when it comes to the XMP and EXPO profiles, there's a good reason behind this and that's to ensure the best stability the kit can offer right out of the box. So if you're looking into improving the memory latency, you'll have to know why you're doing this and if it's worth the amount of time and effort you'll be spending doing this.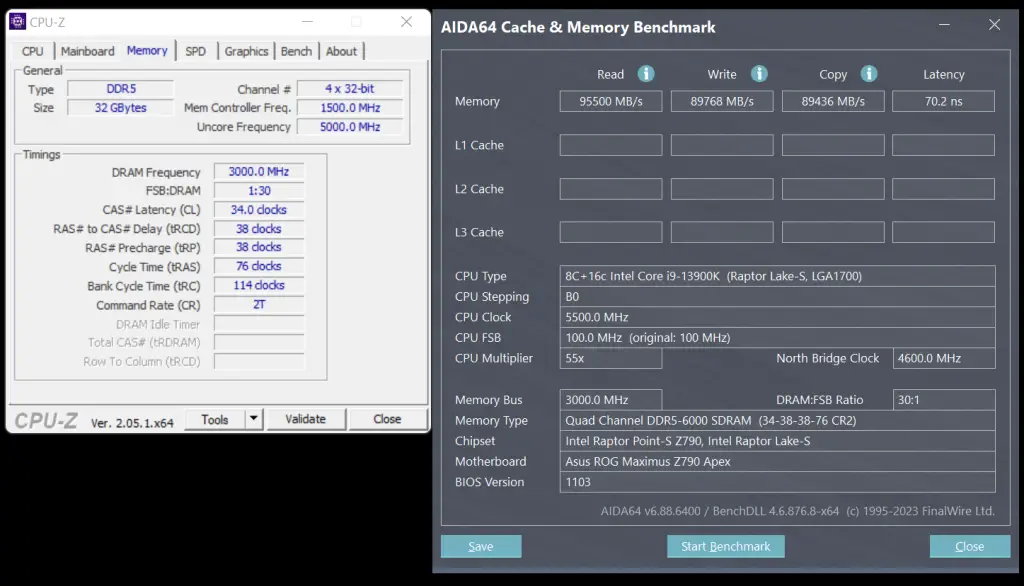 Enabling XMP will allow the kit to run at DDR5-6000 just as advertised but here, we can see that the latency is at 70 ns. The system will work just fine with this but you can manually tighten the timings to lower the latency.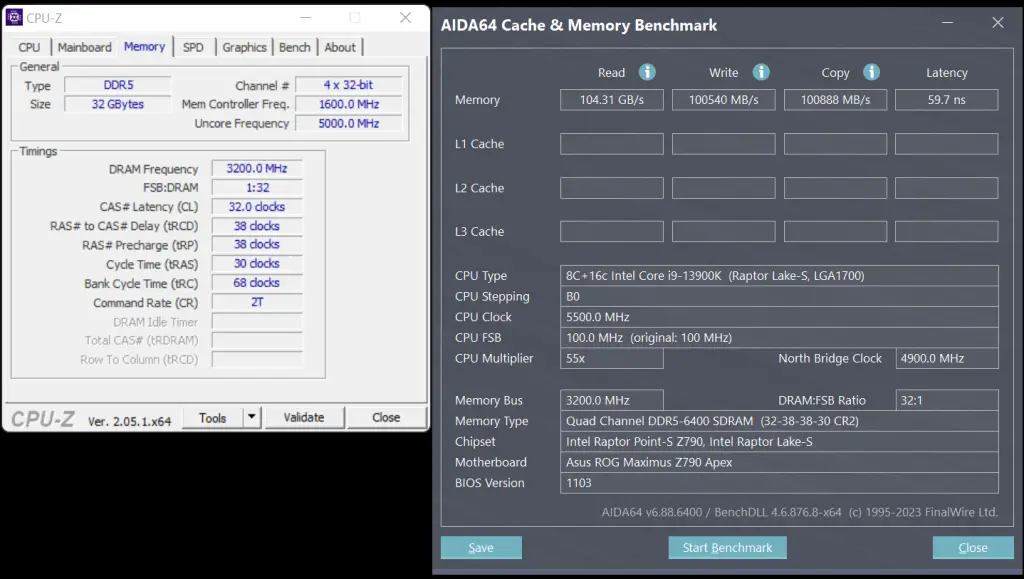 For the Ares RGB DDR5 here, you can achieve 60 ns latency easily with just the adjustments on the primary timings. Depending on what kind of results you like to see, DDR5-6000 to DDR5-6400 range is very reasonable, and going any higher totally depends on your motherboard, at least this is what we have observed during our test. Our initial test was done using a TUF Gaming Z690-PLUS WIFI and we hit the ceiling at DDR5-6400 CL34.
Swapping the motherboard to a ROG Maximus Z790 Apex does help a lot with the limit and we're able to go beyond DDR5-6600 without much trouble. Do note that while lowering the tRAS does help with lowering the latency, we did find out that not all motherboards can do 30 on the tRAS, notably the mid-tier Z690/Z790 boards. The reasonable tRAS for some of the motherboards as we have tested, is at 52 or 54.
And just for the fun of it, the best we've achieved with the Ares RGB DDR5 is at DDR5-7200 CL32. With a bit more adjustments to the sub-timings, we're able to achieve a slightly lower latency at 45 ns. At this speed, you'll need a higher voltage on the VDD, VDDQ, and memory controller that requires some time and effort to get right because you cannot just bump up the voltage just like that and expect it to work.
All the settings we have shown in this test are tested with anta777 absolut config on TM5 to ensure stability. You can also use Karhu RAM Test for memory stability test which can be purchased at the price of €9.99.
Verdict
Design-wise, I think Lexar did a pretty good job with the ARES design. The design is not overly exaggerated and the RGB lighting is not harsh to the eye at all, which gets an okay from me because I'm never a fan of those crazy fancy-looking memory kits myself – I'm still more inclined to the HADES design, of course.
Just like most of the DDR5 memory kits out there, the Ares RGB DDR5 will require manual adjustments in order to achieve better results, but I'd say it's totally worth the effort. For most use cases, DDR5-6400 CL32 is actually more than enough but if you just want to stay on the same frequency of DDR5-6000, DDR5-6000 CL30 is easily achievable with this kit.
Overall, I think the Ares RGB DDR5 is an OK memory kit and at the price of $149.99, I don't find any issue recommending it to users who are looking for a reasonable DDR5 memory kit for their new system.