USB can be extremely useful due to its universal standards across the manufacturers, however, the connector itself may causing quite a lot of confusion to general consumers. Not to mention when you are trying to access to certain data on a microSD card only to find that you're stuck with a device without SD card slot or wrong USB connector. In this review, we are going to take a look at the Kingston MobileLite Duo 3C USB 3.1 Gen 1 microSD reader. This is a special reader where it supports dual interface – USB Type-A and USB Type-C, both capable of delivering USB 3.1 Gen 1 speed.
Product Highlights:
Interface: USB 3.1 Gen 1 (Type-A & Type-C)
Supported card formats: microSD, microSDHC UHS-I, microSDXC UHS-I
Casing material: Aluminium
Warranty: 2 years limited warranty
Packaging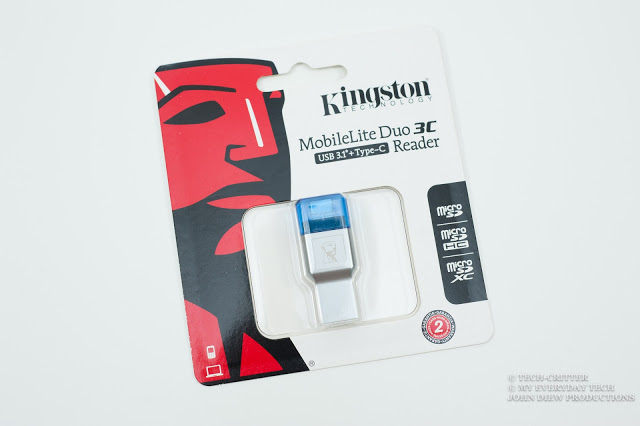 A typical packaging just like any other USB flash drives on the market. The reader is securely fitted into the plastic enclosure with rigid cardboard envelope.
This illustration perfectly showcased the use of the MobileLite Duo 3C microSD card reader. The USB Type-C interface is not just suitable for smartphones, it is also useful for the new MacBook and MacBook Pro owners where the laptop lacks the USB Type-A port and SD card slot.
What's included in the box is the reader itself and a lace.
The llace allows you to secure the cap to the reader with some room for the cap removal.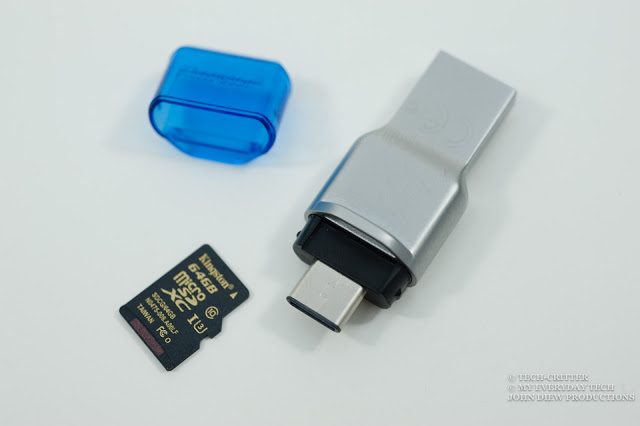 In this review, we will be using the provided Kingston latest Gold series microSDXC card with UHS-I Class 3 speed. It has a capacity of 64GB.
Slotting the microSD card into the reader. The body of the card reader is made of aluminium alloy and it gives the user a solid and premium impression. The downside, however, is that the reader itself will become uncomfortably hot while plugged in.
It works just like a regular USB flash drive.
With Type-C interface, you can now access any content in your microSD card from a phone without having the need to pop out the SIM or microSD tray.
Real World Usage
Read Speed
The Kingston Gold series microSDXC U3 is promised to have 90 MBps read and 40 MBps write speed.
Write Speed
As you can see, the reader itself has no problem keeping up with the card's potential.
Final Thoughts
The Kingston MobileLite Duo 3C is an excellent accessory for content creators. If you fly drones or operates action cams, you will appreciate how easy it is to access the videos and photos you shot directly from your mobile devices.
Official selling price in Malaysia has not been decided at the time of writing of this review. So we can't say anything regarding whether the pricing is great or too expensive.
Pros
Excellent build quality
USB Type-A and Type-C connectors
Can be used as USB flash drive
USB 3.1 Gen 1 speed
Cons
Metal body gets uncomfortably hot while in use