The 11th Gen Intel Core processors are finally here and this time, we managed to get our hands on the i9-11900K for a quick run. In this performance overview, we've compared it against the previous 10th Gen Intel Core i9-10900K and the only AMD Ryzen 9 5950X we have on hand to see what kind of performance can we expect from the top of the line CPU in the 11th Gen Intel Core processor lineup.
Specifications
| | | |
| --- | --- | --- |
| | Intel Core i9-10900K | Intel Core i9-11900K |
| Cores / Threads | 10C/20T | 8C/16T |
| Base Clock / Max Boost | 3.7 / 5.2 GHz | 3.5 / 5.3GHz |
| Cache | 20MB L3 cache | 16MB L3 cache |
| Memory | Dual-channel, DDR4-2933 | Dual-channel, DDR4-3200 |
| Integrated Graphics | Yes, UHD Graphics 630 up to 1.2 GHz |  Yes, UHD Graphics 750 up to 1.3 GHz |
| PCIe | 16 lanes, PCIe 3.0 | 16+4 lanes, PCIe 4.0 |
| TDP | 125W | 125W |
| Process | 14nm | 14nm |
| Socket | LGA 1200 | LGA 1200 |
Overview
Based on the technical specs we can see that the 11th Gen Intel Core processors are also based on the LGA 1200 socket, which means that they will be compatible with the previous generation Intel 400 series chipset motherboards. While there's nothing much to say about the overall appearance, a side-by-side comparison shows that Intel has somewhat changed the IHS for its 11th Gen Core processors. It's unknown how much of an improvement we can see on the thermals but I doubt that it'll do much when all the cores on the CPU are running on full load over time.
Other than the graphics aside which I don't think most gamers or enthusiasts will even care of, the most notable changes on the Core i9-11900K over its predecessor is the native support for PCIe 4.0, doubled DMI link to 8X and DDR4-3200 that many are waiting for – especially those who are more inclined to Intel platforms. On the i9-11900K, you'll get a total of 20 PCIe 4.0 lanes which 16 lanes are dedicated for the graphics and 4 lanes for the SSDs.
Test System Setup
| | |
| --- | --- |
| CPU | AMD Ryzen 9 5950X / Intel Core i9-10900K / Intel Core i9-11900K |
| Motherboard | MSI MEG X570 GODLIKE / Gigabyte Z590 AORUS XTREME |
| Memory | XPG Spectrix D50 Xtreme DDR4-4800 / XPG Spectrix D60G DDR4-3600 / AORUS RGB MEMORY 4800MHz |
| Graphics Card | AORUS GeForce RTX 3060 ELITE |
| Power Supply | Cooler Master V1200 Platinum |
| Primary Storage | Corsair Force Series Gen.4 PCIe MP600 2TB NVMe M.2 SSD |
| Secondary Storage | WD Black 6TB |
| CPU Cooler | Thermaltake Floe Riing 360 RGB |
| Chassis | Cooler Master Test Bench V1 |
| Operating System | Windows 10 64bit |
CPU Benchmark
We've set all cores to run on 5.0GHz just to see if there any significant performance gain but turns out that having all cores running at 5.0GHz will only result in lower performance overall. Manual overclocking method aside, Intel does have several boost features such as Thermal Velocity Boost and Adaptive Boost that can help for some games and apps that will benefit from multithreaded performance. Though the requirement is still the same when it comes to cooling, and users with a water-cooling setup are sure to benefit the most from this.
Creative Workload Benchmark
V-RAY Benchmark 4.10.07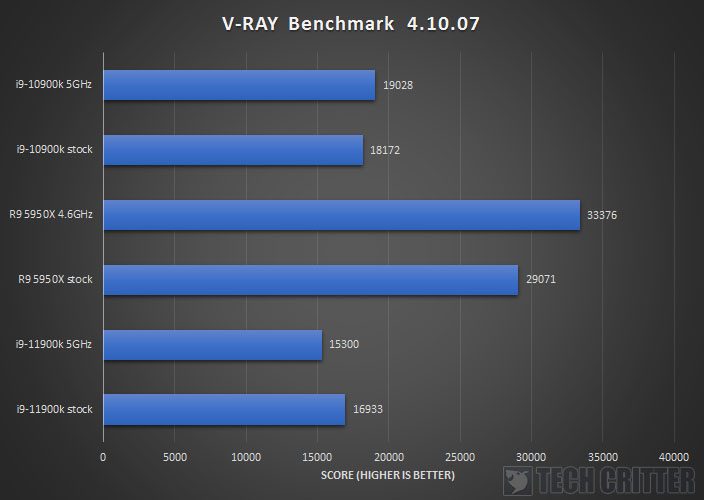 Corona 1.3 Benchmark

Blender 2.82 – BMW 2.7 CPU Benchmark

Cinebench Benchmark (Single-Core performance)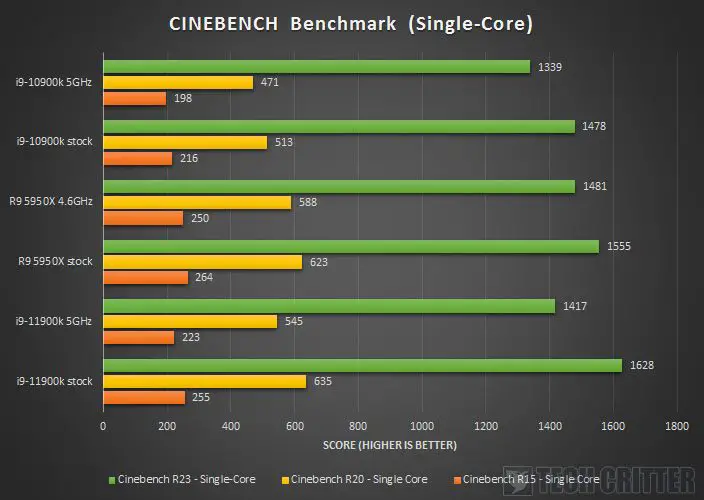 Cinebench Benchmark (Multi-Core performance)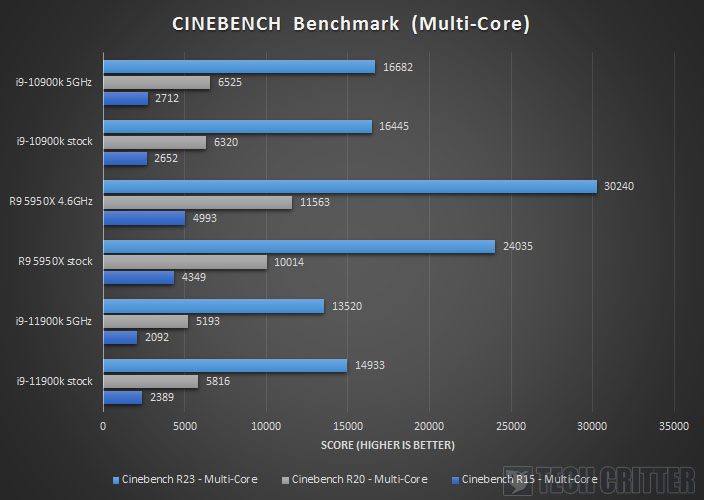 HWBot X265 Benchmark

File Compression & Decompression Benchmark
Synthetic CPU Benchmark
Instead of having the same cores and threads count as the previous generation i9-10900K at 10C20T, Intel decided to make it 8C16T, which is technically the same as the i7-11700K apart from the higher boost clock. Although it does seem to have the advantage of the high boost clock on certain applications, only a few benchmarks will take advantage of that. For creative works, the i9-10900K will still have a clear advantage over the i9-11900K if you're not working on a faster PCIe 4.0 SSDs.
Games Benchmark
Moving on to the games' benchmark, we have the AORUS GeForce RTX 3060 Elite test on all the three CPUs, i9-10900K, i9-11900K, and Ryzen 9 5950X. We have our first two sets of tests with both the Ryzen 9 5950X and Core i9-10900K configured at the settings which we think is best for gaming, followed by the i9-11900K at stock settings and 5.0GHz just to get a better idea of the performance difference between the three CPUs.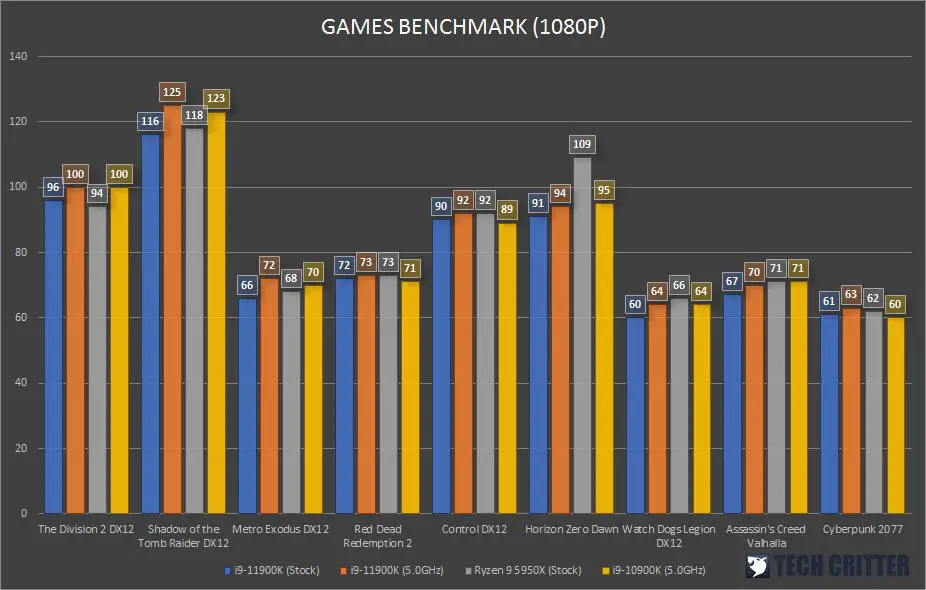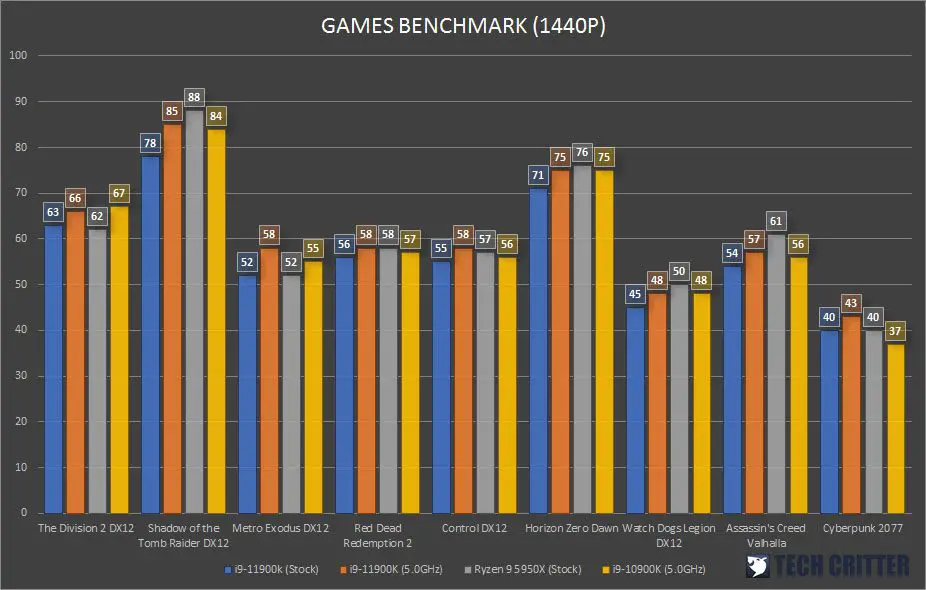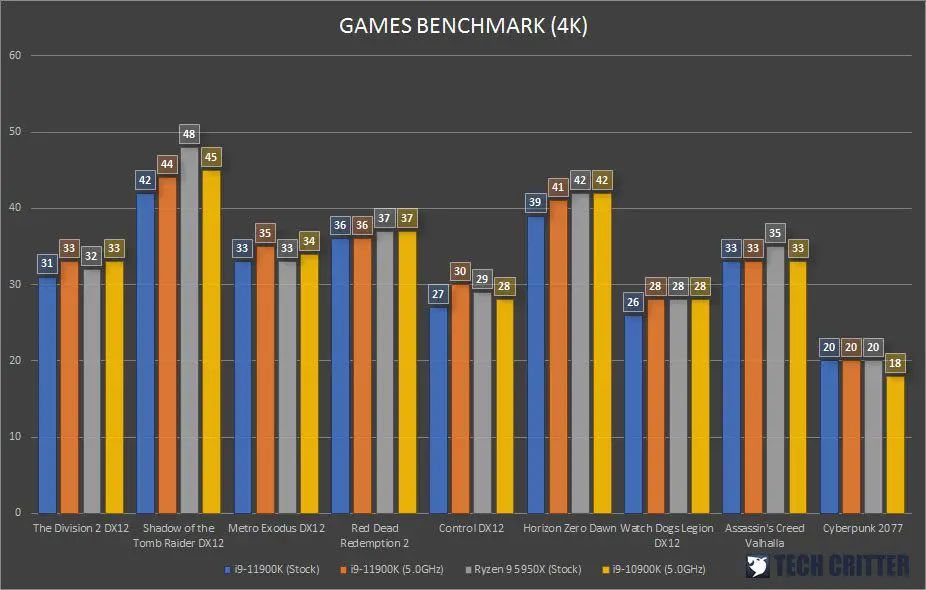 Looking at the numbers above, I must say that the gaming performance on stock settings is quite disappointing. Although the i9-11900K can boost up to 5.3GHz during our CPU benchmark, that's not exactly the case when it comes to gaming. On all the games we've tested, the highest clock recorded is at 5.0GHz but only on two of the cores while the rest will only reach up to 4.8GHz at most.
Setting all cores to 5.0GHz will give you some boost that can go on par with the i9-10900K and Ryzen 9 5950X for certain titles. On average, the i9-11900K with all cores on 5.0GHz will only bring its performance close to the i9-10900K but that's pretty much it. Better performance can be achieved with higher clocks but that totally depends on the cooling solution you have for the CPU because even using an AIO with a 360mm radiator, the load temperature for our i9-11900K on 5.1GHz is already hitting 97ºC and yet the performance gain is very minimal.
CPU Overclocking
While pretty much all of the Intel CPUs we've tested starting from the Kaby Lake era can hit 5.0GHz with ease, keeping the temperature low is getting more challenging with each generation. For the i9-10900K, 5.0GHz is the sweet spot while paired with our usual Thermaltake Floe Riing 360 which the load temperature never exceeds 87ºC when the CPU is on a heavy load but that gives us the idea of how much heat the CPU is generating at that frequency and the cooling capacity of our cooling solution.
What really surprises us is that the i9-11900K is giving out pretty much the same amount of heat at the same frequency even though it has 2 cores less than the i9-10900K. As there are only two cores that will go up to 5.3GHz during load when it's on stock configuration, the power draw is pretty much close to what has been advertised, which is at around 128W. As soon as we set all the cores to 5.0GHz, the power draw immediately went up to the 240W range and requires more power to operate.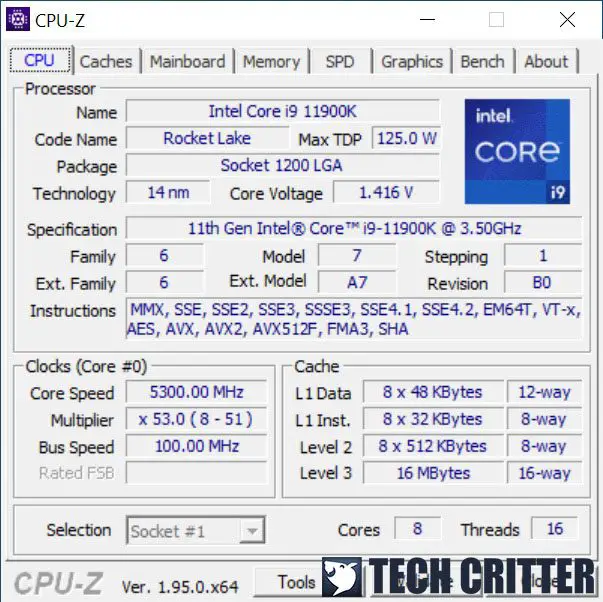 Although the Vcore required for each CPU to run at a specific configuration is totally depends on the silicon quality, the thermal throttle immediately kicks in with load temperature hitting TJmax in just a matter of seconds on our unit here because of the high core voltage at 1.4V+ to keep it stable at 5.3GHz. In the end, we settled down at 5.0GHz with 1.32V on the core voltage, which gives us an average load temperature of 87°C.
Memory Overclocking
Moving on to the memory overclocking performance, this is probably the one that is worth the highlight.  With the 11th gen Intel Core Processors, Intel introduced a new memory controller that can run in Gear 1 and Gear 2 mode. What it does here is that Gear 1 mode basically lets the memory controller run at the same clock as your memory kit for better efficiency while Gear 2 mode will reduce the clock by half to cater for high memory frequencies.
DDR4-5000 CL19-26-26-46
DDR4-5200 CL20-27-27-48
With Gear 1 mode, we've compared the performance between both the i9-10900K and i9-11900K with some of the high-performance memory kits we have on hand, and the improvement is very significant. High-performance memory kits like the XPG Spectrix D50 Xtreme DDR4-4800 and AORUS RGB MEMORY 4800MHz can boot into the main operating system without any further adjustments after enabling the XMP profile on the i9-11900K is something we cannot do on our i9-10900K.
Going up to DDR4-5000 appears to be easier as well, especially with a decent Samsung B-die kit. The XPG Spectrix D60G DDR4-3600 kit which we're able to overclock to DDR4-4800 back then can now go up to DDR4-5000 easily after some adjustments on Vdimm and the sub timings. We have yet to test the rest of the memory kits we have on hand but technically, they should be able to reach a higher clock speed that is higher than what we're able to achieve back then with the i9-10900K.
Even without having to enable Gear 2 mode, we're able to get our system to post at DDR4-5400 with the same primary timings as our DDR4-5200 settings. Enabling Gear 2 mode doesn't really give us any chance to go beyond DDR4-5400 with the memory kit used but it does somehow increased the memory latency significantly.
Final Thoughts
The 11th gen Intel Core processors can be seen as the completed version of what's supposed to be delivered on the previous generation Intel Core processors, notably the native support for PCIe 4.0 and DDR4-3200. While we can definitely see better performance in some benchmarks despite having 2 cores less than the i9-10900K, the gaming performance and thermals are quite the opposite of what we've initially expected. As the stock performance for gaming is somewhat disappointing to look at, overclocking it to at least 5.0GHz is recommended if you want to get more performance out of the i9-11900K.
What makes the i9-11900K still considerable but unfavorable for its $539 price tag is the new boost technology and overclocking features that might still be useful to enthusiasts and overclockers who are into it. The new Adaptive Boost Technology can be really useful for some applications that are multicore intensive that is accompanied by the excellent memory overclocking regardless of the Gear 1 and Gear 2 mode chosen on the new memory controller for the 11th gen Intel Core processors is probably the only good features I can say about the i9-11900K as of now, which is sad.
If you're only into the gaming performance and not really desperate for the PCIe 4.0 native support, it's definitely not a worthy investment at all as the 10th gen Intel Core i9-10900K is still clearly a better option as a whole. As for those who are clearly holding their purchase back then just for the sake of the 11th gen Intel Core processors, the i7-11700K which comes at a lower price of $399 is still a better choice mainly because of its almost identical specs.
Pros
Improved single-core performance
Native support for PCIe 4.0
New Adaptive Boost Technology
Excellent memory overclocking performance
Better compatibility for high-performance memory kits
Cons
Cost more than its predecessor despite having a lower core count
Gaming performance isn't impressive at all
High power draw and runs hot
PCIe 4.0 for M.2 slot only available on the first slot