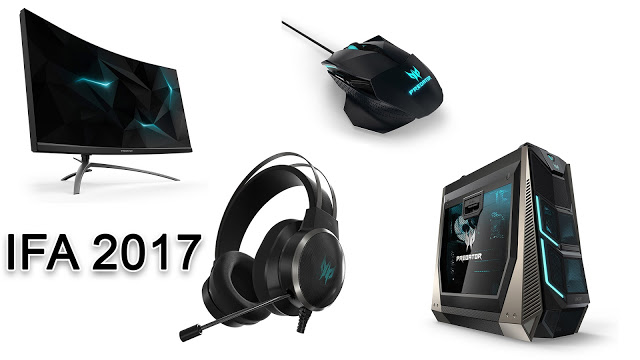 Acer has announced new additions to its premium Predator gaming lineup. The new products include the Predator Orion 9000 series gaming desktops; the Predator X35 monitor; and also a new Predator headset and mouse to enhance gaming enjoyment and control.
Acer Predator Orion 9000
The Predator Orion 9000 will offer up to a cutting-edge Intel Core i9 Extreme Edition 18-core processor and up to 128 GB quad-channel DDR4 memory, allowing it to handle compute-intensive tasks with ease while providing exceptional performance.
As one of the initial major OEMs to bring AMD's latest Radeon RX Vega graphics to a gaming desktop, Acer raises the bar with the capability to support up to 4 Radeon RX Vega cards to deliver near-photorealistic imagery – in real-time at high resolutions in stereo and at high refresh rates. Gamers also have the option of two NVIDIA GeForce GTX 1080Ti cards in SLI, which supports virtual reality with ease.
Acer Predator X35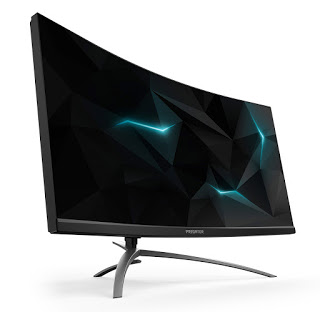 The Acer Predator X35 is a 35-inch, 21:9 monitor that sports an immersive 1800R curve and a high definition WQHD resolution (3440 x 1440). Featuring NVIDIA G-SYNC, Acer HDR Ultra and quantum dot technologies, it also provides the best possible contrast quality with high dynamic range.
The Predator X35 delivers a broader, more deeply saturated colour gamut covering 90 percent of the DCI-P3 colour standard, and a luminance range several times greater than that of traditional dynamic range monitors. The fast 4 ms response time and high 200 Hz refresh rate combined with NVIDIA G-SYNC makes gameplay smooth and life-like with no tearing or visual artefacts.
Predator Galea 500 & Predator Cestus 500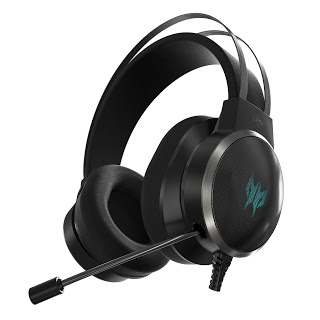 The Predator Galea 500 gaming headset puts you right inside the game, giving you the ability to hear and not just see the exact location of elements within the game. Featuring a driver diaphragm made from bio-cellulose with rubber surround, the Predator Galea 500 headset delivers clear highs with resounding lows and responds quickly to precisely reproduce vocals and mid-high range notes, while a unique acoustic cavity helps deliver punchy rhythmic bass.
The new Predator Cestus 500 gaming mouse features a unique dual switch design, which allows gamers to adjust the click resistance according to the game type they are playing, such as a lighter resistance for FPS games that demand a more nimble reaction, or a heavier resistance for fine manoeuvres in RTS games. It features 16.8 million RGB colour lights, 8 lighting patterns, 5 onboard profile settings, 8 programmable buttons, and a gold-plated USB connector
Pricing & Availability
The Predator Orion 9000 Series gaming desktops will be available in North America in December with prices starting at $1,999, and in EMEA in November starting at €1,999.
The Predator X35 display will be available in Q1 2018.
The Predator Galea 500 gaming headset will be available in North America in November at $299.99, and in EMEA in November at €299.99. The Predator Cestus 500 gaming mouse will be available in North America in November at $79.99, and in EMEA in November at €89.99.
Exact specifications, prices, and availability will vary by region. To find out about availability, product specifications and prices in specific markets, please contact your nearest Acer office or retailer via www.acer.com.