Sep 22, 2015 – The needs of the PC enthusiast go far beyond those of the average PC gamer. They're not interested in just GTX gaming-grade performance, but also in owning an elite and customizable system with the very best hardware, the likes of which can only be found in desktop PCs.
We're changing that beginning today with the launch of a new class of ultra-performance notebook, designed specifically for PC enthusiasts. At the heart of this new breed of mobile performance powerhouses is the very first desktop GeForce GTX GPU in a notebook form factor. Specifically, the desktop GeForce GTX 980 GPU, which exploded onto the scene a year ago, delivering unprecedented performance, unprecedented efficiency, and an unprecedented list of game and experience-enhancing technologies such as DSR, MFAA and VXGI, and future-proof support for DirectX 12 and Virtual Reality.
Powerful notebooks and desktop replacements have existed for years, but now it's possible to have the same desktop hardware in a notebook. In each GeForce GTX 980 notebook you'll find the GPU gamers the world over know and love, and new Intel Skylake CPUs that are identical to their desktop counterparts. And like the GPUs and K-series CPUs you find in desktops, the parts in new GeForce GTX 980 notebooks can be overclocked to your heart's content.
To reiterate, you can now get the same GeForce GTX 980-class performance, and features, in notebooks engineered for the incredible demands of PC enthusiasts.
Overclocking is deeply rooted in the DNA of any PC enthusiast. The idea that they can push the limits of their system and squeeze every ounce of "free performance" is on every enthusiast's mind as they select components. When designing this new breed of enthusiast notebook, we've have done the same: from meticulously designed components, to adding in the fastest video memory you'll find in notebooks, we have defined a system that will handle the rigors of overclocking and deliver record breaking performance.
Newer cooling systems with up to 2x the cooling efficiency of existing GTX gaming notebooks keep these components ticking in the tight confines of a mobile form factor, and new fan and overclocking controls enable users to tweak fan speeds, fan control curves, and clock speeds.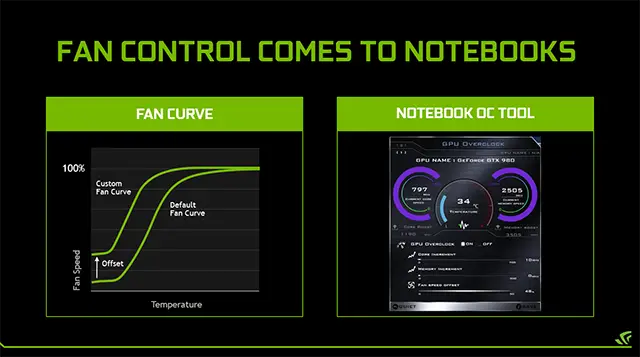 Combined, desktop hardware and world-class notebook cooling equals desktop-equivalent performance in a mobile form factor that you can carry in a backpack. In tests using the same GPUs and CPUs on desktops and in notebooks, performance is nigh on identical in all of our benchmarks, delivering record-breaking single GPU mobile gaming performance.
Virtual Reality is even more demanding than the latest blockbusters, requiring the GPU to render significantly more detail at even higher framerates. With the new GeForce GTX 980 notebooks that's not a problem though, and with GameWorks VR, and each notebook's HDMI outputs, you simply plug and play.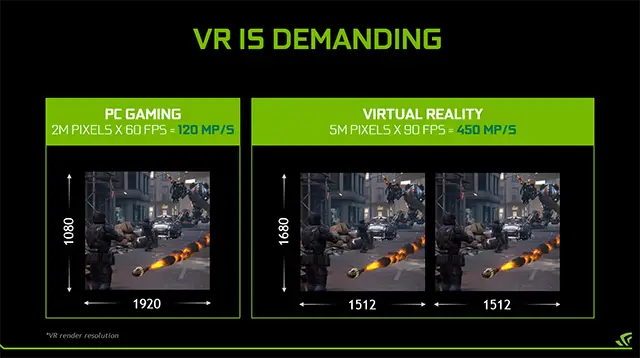 Surround gaming is similarly demanding due to its use of three monitors in an immersive super-wide setup. With the necessary display outputs, and the required performance, new GeForce GTX 980 notebooks are equally capable of playing games like Shadow of Mordor, Grand Theft Auto V and War Thunder in Surround, at a high level of fidelity.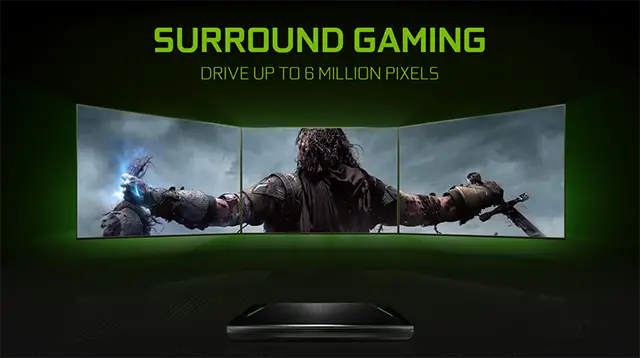 And if you have the horsepower to run surround gaming, you'll have the horsepower to game on the newest ultra-wide monitors. Imagine running your favorite game at 3440×1440 with NVIDIA G-SYNC, driven by a notebook with the GeForce GTX 980. Just attach the new Acer Predator X34 into the display port on your new enthusiast notebook, and you're ready to game like never before.
As of today, six GeForce GTX 980 notebooks are being revealed, each redefining all expectations of the performance available in a form factor. And further bolstering their gaming chops is the inclusion of G-SYNC displays, eliminating screen tearing and stuttering, and delivering an all-round improved viewing experience (learn more about notebook G-SYNC).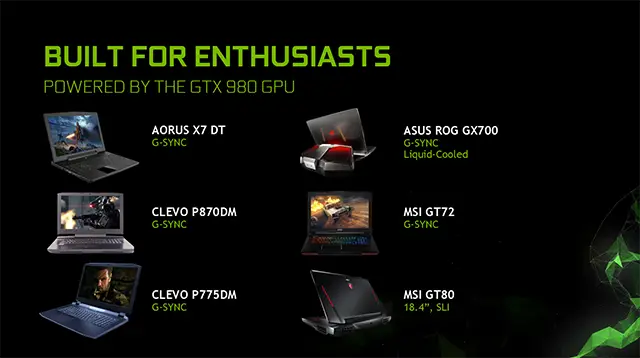 Of the six models announced, the ASUS ROG GX700 has likely caught your eye, boasting a removable liquid cooling unit that decreases operating temperatures and raises the bar for overclocking, enabling even faster performance when you're back in the comfort of your own home. With desktop hardware now in play, just about anything is possible.
If you want a desktop replacement, a high-performance notebook, a portable VR-ready system, or a small form factor system, these new Enthusiast class notebooks with GeForce GTX 980 GPUs can do all of the above, and more. And like a desktop GeForce GTX 980, all game and experience-enhancing technologies are available to you, extreme overclocking is an option, and NVIDIA-exclusive innovations like GeForce Experience GameStream Co-Op await.