It's been a while since the last Hydro PTM series was released, and FSP has finally unveiled the new Hydro PTM X PRO lineup of PSUs, an ideal option for gamers and content creators who look to build high-performance systems with low noises in a compact mid-tower case.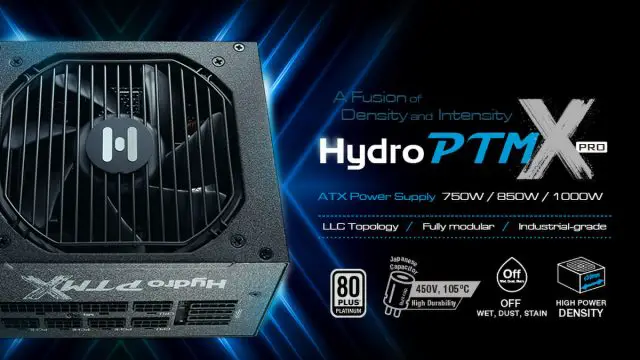 The new Hydro PTM X PRO 80 Plus Platinum-certified PSU comes in 850W and 1000W units, bringing unparalleled versatility with an all-new design built into a robust 130mm chassis. Compared to a regular 190mm PSU, its unique short footprint is highly compatible with any mid-tower PC case while greatly outperforming a standard PSU with greater power density. On top of that, the PSU is coated with an industrial-grade conformal coating that shields it from harsh conditions such as dust, stains, and humid work environments.
Featuring Japan-made 105°C durable capacitors, the Hydro PTM X PRO is built to perform well under heavy workloads without experiencing the infamous capacitor leakage issue. Its 3.3V & 5V DC-DC module design enhances the reliability and provides high component compatibility with low ripple noise, thereby reducing interference of system components and prolonging hardware lifespan.
The PSU also boasts cutting-edge technologies such as the LLC half-bridge topology, which enables zero voltage switching of the main switches, reducing switching losses, and significantly boosting system efficiency. Additionally, it can handle all of the modern graphics cards easily as well thanks to a single +12V rail power output design.
Pricing and Availability
The FSP Hydro PTM X PRO series has yet to arrive in Malaysia, so here's an estimated MSRP until the distributor announces the local pricing for them.