v-color has recently introduced the Advanced OC Smart Sorting System, a patented automated sorting system for DDR4 and DDR5 memory ICs, alongside the new Manta XSky RGB DDR5 memory kit that uses Hynix ICs for excellent overclocking performance.
Patented Advanced OC Smart Sorting System
The automated Smart Sorting System speeds up the testing process of memory ICs, and v-color is presently the only company to automate the testing and sorting of ICs with up to 50% greater efficiency and reliability than manual sorting. The system is configurable to test DDR4 and DDR5 memory ICs at any speed up to 6800MHz.
Furthermore, v-color has created a patented, two-stage memory overclocking testing technique for its Smart Sorting System to ensure performance, yield, rates, and quality. The test results are synced with cloud servers and HMI (Human Machine Interface) for remote access and monitoring.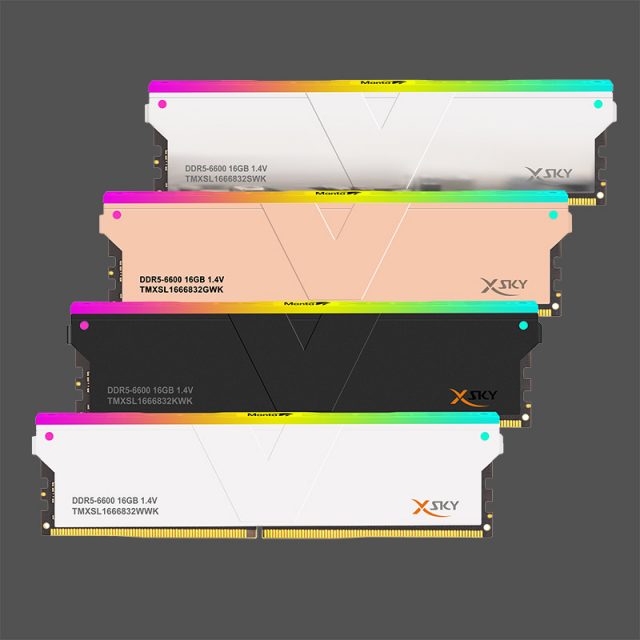 Manta XSky RGB DDR5 Memory Kit
The Manta XSky RGB comes in 32GB (2x16GB) modules and is able to deliver speeds of up to 6600MHz with CL32. Each of these modules features a custom-made stamped heatshield that is available in black, white, gold, or silver color. On top of that, its diffused RGB also meets the demands of RGB lovers as well, as each module has 16 individually addressable LEDs and is compatible with all motherboard lighting software.
For superior performance and stability, it uses Hynix IC and is paired with an onboard PMIC (Power Management Integrated Circuit) chip and on-die ECC chips. The memory kit's speed can also be achieved through XMP 3.0 by selecting profiles in the BIOS.
You can refer to the following list for the specification of Manta XSky RGB DDR5.
Part Number
H/S Model
Memory Capacity
Frequency
CAS Latency
Voltage
TMXSL1666832SWK
Silver
32GB (2x16GB)
6600MHz
CL32-39-39-102
1.4V
TMXSL1666832GWK
Golden
TMXSL1666832KWK
Black
TMXSL1666832WWK
White
Pricing and Availability
The Manta XSky RGB DDR5 6600MHz32GB (2x16GB) memory kit is now available for USD$399.99 through v-color's online shop.