It's been a while since we last look at a power supply from FSP and this time, we'll be taking a quick look at the FSP Hydro PTM Pro 750W power supply. FSP Hydro series probably one of the affordable choices for PC builders who are looking for a decent budget-friendly power supply for their build. Personally, I'm using the FSP Hydro G 650W on my casual gaming PC which serves me really well for almost 3 years now and still counting.
The FSP Hydro PTM Pro 750W is an 80 PLUS Platinum-rated model in the FSP Hydro PTM Pro series lineup that was announced back in Q3 2020, designed to be the buffed-up version of the Hydro PTM series to cater to the latest NVIDIA GeForce RTX 30 series cards. For this overview, we'll be putting the FSP Hydro PTM Pro 750W to the test and see if it can really handle a GeForce RTX 3080, which according to its official specifications, requires a 750W power supply to run.
Specifications
| | |
| --- | --- |
| Model | HPT2-750M |
| Rated Output Power | 750W |
| Form Factor | ATX |
| 80 PLUS Certification | Platinum |
| Input Voltage | 100-240Vac |
| Input Current | 10-5A |
| Input Frequency | 60/50Hz |
| PFC | Active PFC |
| Efficiency | >92% |
| Fan Type | FDB Fan, 135mm |
| Dimensions (L x W x H) | 150 x 170 x 86mm |
| Weight | 1.68kg |
| Protection | OCT, OVP, SCP, OPP, UVP, OTP |
More info available at FSP official website.
Unboxing
The packaging is pretty standard I'd say and you can find pretty much all of the information you'll need regarding the design and specifications. While there's not much to highlight for the packaging aside from the 10-year warranty label, one thing I really appreciate is the dual CPU connector label which can be really helpful for buyers who are looking for a power supply with two EPS 8-pin cables.
Inside the box, you'll find the FSP Hydro PTM Pro 750W, label stickers for the power supply in case you don't like the plain look on the stock label stickers, and all the cables you need for your build. We're surprised to see that FSP actually included a total of three PCIe power cables for the Hydro PTM Pro 750W, which you don't get to see that often even on the renowned brand supplies.
The FSP Hydro PTM Pro 750W
While the overall design is pretty much similar to the FSP Hydro PTM series, the FSP Hydro PTM Pro 750W here has a rough surface texture for its enclosure which I have taken a liking to it right after unboxing. The warranty seal sticker, however, is placed at a rather fragile spot on the enclosure, which is really prone to damage during installation if not handled with care.
The power output as according to the label has a really capable +12V rail that can output 62.9A, which is more than enough to support quite a lot of powerful graphics cards nowadays.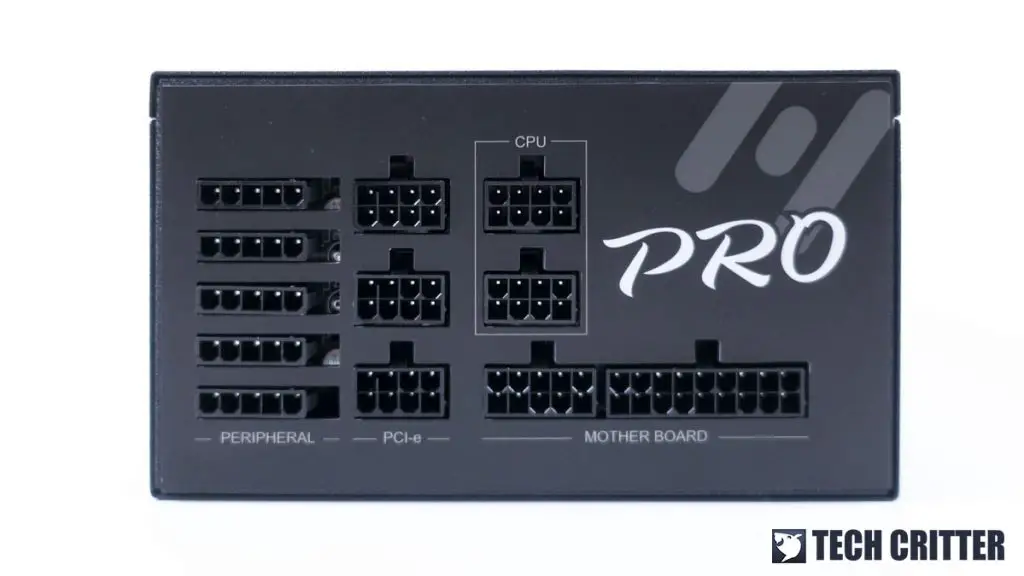 Moving on to the connectors, despite the slight changes in the label design, the actual layout on the Hydro PTM Pro 750W is pretty much identical to the Hydro PTM 750W.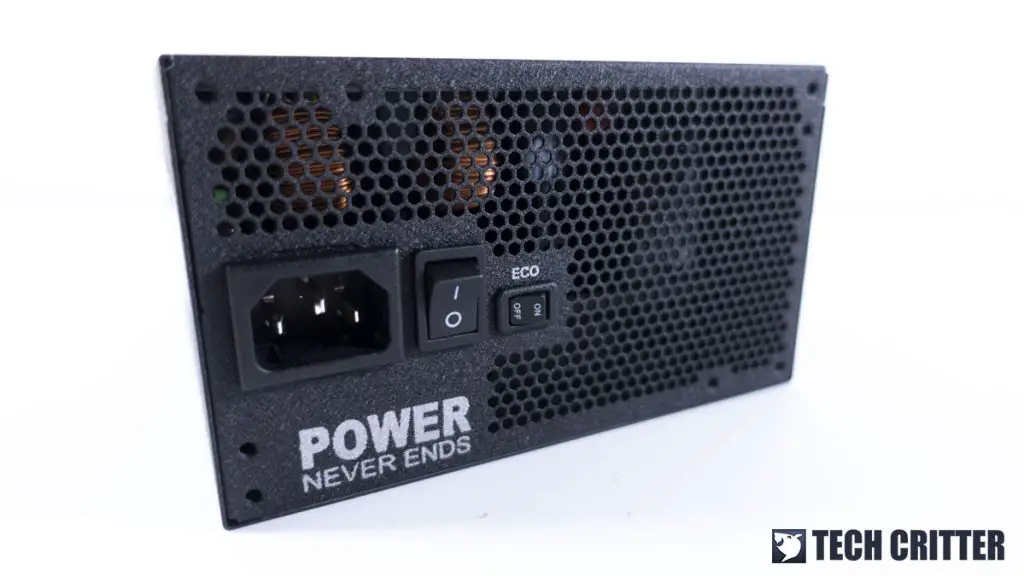 The honeycomb grille design is pretty common nowadays and can be seen on a lot of power supplies in the market but what's interesting here is the switch to toggle the semi fanless eco mode. If you want the keep your system noise to the minimum during idle, enabling eco mode will suspend fan operation until the load has exceeded 30%.
User Experience
Starting off with our basic synthetic stress test, we have our test system stressed with various stress test utility such as FurMark GPU stress test tool, ROG RealBench, Cinebench R23, Prime95 for 1 hour each. The total system power draw will go up to about 510W for some of the more intensive tests but it's pretty much nothing for the Hydro PTM Pro 750W and we never experience any failure throughout the test sessions. A similar result can be observed on our gaming tests that show a slightly higher total system power draw at 536W for very heavy titles like Cyberpunk 2077, which is also an easy task for our Hydro PTM Pro 750W here.
With the basic test going well, we then moved on to a longer stress test with the utilities we've used for our synthetic stress test and let it run for a much longer period of time. After a week-long of continuous random stress test, we've happy to say that the Hydro PTM Pro 750W managed to survive through all the tests without any failure and what's best is that the average temperature during load is always under 50ºC.
Verdict
From the news release, FSP highlighted that the Hydro PTM Pro series is specially designed to deliver an even better performance than the Hydro PTM series and to cater to the GeForce RTX 30 series cards. We've tried it ourselves and seems that it's working just as intended on our test system with an Intel Core i9-10900K and ROG Strix GeForce RTX 3080. The extra PCIe cables are definitely worth highlighting as it's just exactly what we need for our ROG Strix GeForce RTX 3080 that comes with a total of three PCIe power connectors.
Seeing how well it managed to handle our test system for long hours of stress test, the Hydro PTM Pro 750W is definitely going to be on our list of worthy power supplies without a doubt. We have yet to see the Hydro PTM Pro 750W being widely sold here in Malaysia at the time this article is written but it's definitely not going to be cheap if the official MSRP is already at $189.99 USD.