Memory overclocking can be tedious to some, but it's no rocket science and it can be really fun if you're really putting the effort into it. The Spectrix D60G from XPG which was used by renowned overclockers around the globe to set various numbers memory overclocking world record is one of the kits that we set our eyes on for quite some time now and we've finally managed to get our hands on one with the help from the great folks at XPG.
The Spectrix D60G is available in four different frequencies ranging from DDR4-3000 to DDR4-4133 that comes with different latencies depending on the model. In this article, we'll be putting the DDR4-3600 CL14-14-14 kit to the test and see what kind of performance can we expect from this kit.
Specifications
Frequency
DDR4-3000
DDR4-3200
DDR4-3600
DDR4-4133
Latency
CL16-20-20
CL14-14-14
CL14-18-18
CL16-18-18
CL16-20-20
CL14-15-15
CL17-18-18
CL18-20-20
CL19-19-19
CL19-23-23
Voltage
1.35V
1.35V
1.4V
1.35V
1.45V
1.35V
1.4V
Capacity
1 x 8GB
2 x 8GB
1 x 16GB
2 x 16GB
1 x 8GB
2 x 8GB
1 x 16GB
2 x 16GB
1 x 8GB
2 x 8GB
1 x 16GB
2 x 16GB
1 x 8GB
2 x 8GB
Dimensions
133.35 x 45.93 x 8.4mm
Warranty
Limited Lifetime Warranty
Unboxing
The Spectrix D60G ships in a pretty standard packaging that you'll see on most of the memory kit nowadays. You can find some useful information around the box i.e the RGB software compatibility, simple information on the specifications of the kit, and the cutout that the back of the box for you to have a glimpse of how the kit looks like. XPG also included a QR code that directs you to the product page at the back of the box in case the makes things easier in case if you want to lookup for more information about the product.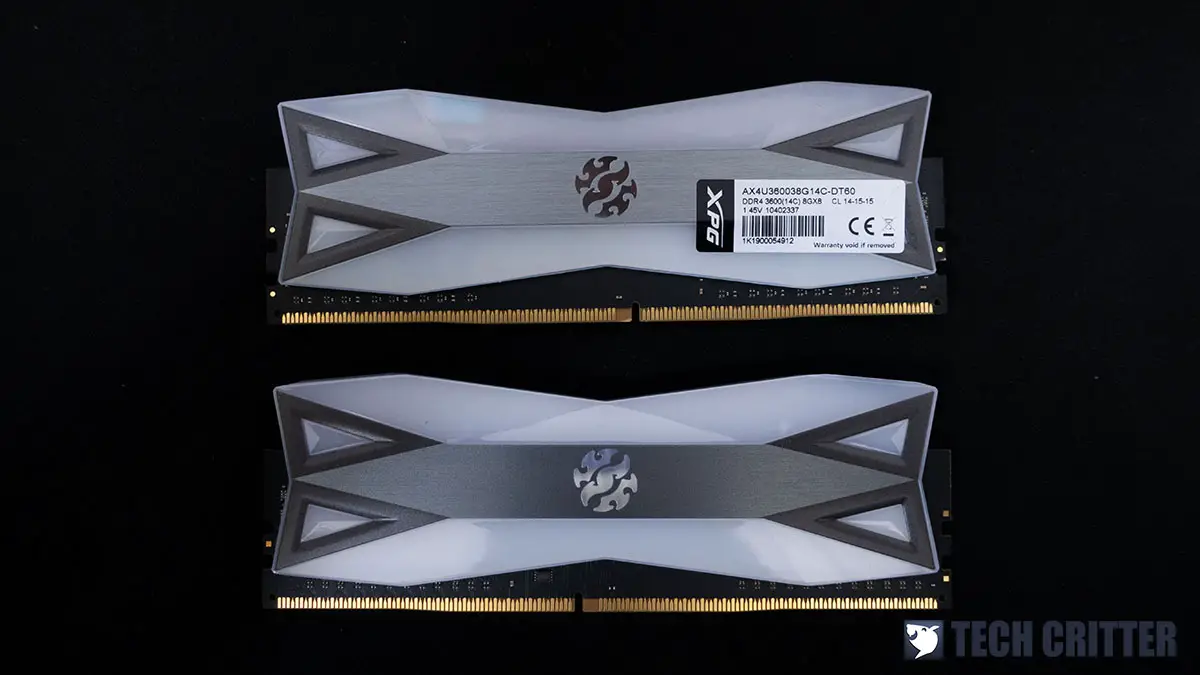 For the content, it's pretty much the same for most memory kits you'll find in the market. Other than the Spectrix D60G, you won't find any other accessories i.e stickers or catalog inside the box.
The XPG Spectrix D60G DDR4-3600 CL14
The Spectrix D60G is a pretty unusual-looking kit when it comes to the design. Pretty much the entire kit is covered in a light diffuser 'heatsink' and you can immediately tell that this kit is specially made to maximize the amount of RGB lightings you can have on a memory kit. If you're looking for a memory kit that has all the RGB you'll need for your RGB build, I don't think there's any other memory kit that is currently available on the market that will be able to compete with the Spectrix D60G when it comes to the RGB aesthetics.
Despite the rather outstanding and fancy appearance, we're quite concerned about the thermal performance because there are no metal parts that are in direct contact with the memory chips. It's not hard to tell that the material used for the light diffuser can dissipate heat as fast as a metal heatsink does.
If you're interested to take a look at what memory chips the Spectrix D60G is using, the 'heatsink' can be removed with ease but you'll have to be extra careful to not damage the adhesive on it. We don't have a full list of the type of memory chips used on the full list of Spectrix D60G models but we can confirm that the DDR4-3200 CL14 and DDR4-3600 CL16 models are using Samsung B-die.
If you don't feel comfortable taking things apart, Thaiphoon Burner is a really useful tool that can help you to identify the memory chips on the module as long as the information didn't get removed or modified intentionally by the manufacturer.
Test System
| | |
| --- | --- |
| CPU | AMD Ryzen 9 3950X |
| Motherboard | ASUS ROG STRIX B550-I Gaming |
| Memory | XPG Spectrix D60G |
| Graphics Card | NVIDIA GeForce GTX 1050 StormX |
| Power Supply | be quiet! Straight Power 10 600W |
| Primary Storage | ADATA XPG SX8200 Pro 1TB |
| Secondary Storage | WD Black 6TB |
| CPU Cooler | AMD Wraith Prism |
| Chassis | Streacom BC1 Open Benchtable |
| Operating System | Windows 10 64bit |
Overclocking
We'll be using the ASUS ROG STRIX B550-I Gaming for our test this time, a board that I personally wanted to try for quite a long time for memory overclocking. The adjustments done during the test include increasing the VDIMM, primary timings, and sub timings to ensure the settings are stable and able to clear HCI MemTest with at least 400% coverage each.
XMP – DDR4-3600 CL14-15-15-35
Manual – DDR4-4000 CL14-15-15-35
Manual – DDR4-4666 CL16-17-17-36
Manual – DDR4-4800 CL18-22-22-42
While the Spectrix D60G DDR4-3600 CL14 kit we have here works great on our Intel Z490 and AMD X570, B550 motherboards, we cannot guarantee that it will work on other boards and it's always best to check the QVL list for your motherboard to make sure the kit you're eyeing on is compatible before you make any purchase. As DDR4-3600 is the common sweet spot frequency for the Ryzen 3000 series CPUs, the Spectrix D60G DDR4-3600 CL14 is pretty much sufficient for those of you who prefer to let things run on XMP without any further adjustments.
With the ASUS ROG STRIX B550-I Gaming, we managed to get the kit to run at DDR4-4800 CL18-22-2242 with some adjustments on the sub timings and Vdimm at 1.56V, which is stable enough to be able to clear up to 500% on HCI MemTest. Though DDR4-4800 is not really the kind of setting we would use for our daily driver, DDR4-4000 is a much more reasonable and easier frequency to deal with. Depending on the motherboard you're using, the adjustments on the primary timings and sub timings may vary.
For DDR4-4000, we managed to get the Spectrix D60G to run on CL14-15-15-35 with some slight adjustments on the sub timings and Vdimm of 1.48V but we have to reconfigure the settings as soon as we swapped the kit to a different motherboard and ended up with CL16-17-17-36 instead.
Of course, we're only doing this out of curiosity and for fun, as we have yet to see any significant benefit for most users to have their memory kit running beyond DDR4-4000. We've attached a thermocouple to the kit during one of the stress tests and we can confirm that it's definitely running at a slightly higher temperature than what we normally see on a kit that comes with a metal heatsink. It's not going to hurt the memory if you're running it on XMP or slightly higher Vdimm at 1.4-1.45V but the thermals can definitely be better with a proper metal heatsink attached.
Closing Thoughts
Starting off with the aesthetics, the RGB lightings on this kit are probably the fanciest looking one we've ever come across. Personally, I'm not much of an RGB fan myself but if you want something different that has the extra bling to spice up your RGB build more, the Spectrix D60G is definitely one of the most unique-looking options available on the market. Though you might want to look into the more affordable models like the Spectrix D60G DDR4-3200 CL16 and DDR4-3600 CL18.
Other than the not so adequate heatsink, we don't really have much to complain about the XPG Spectrix D60G DDR4-3600 CL14 when it comes to the performance. It has plenty of headroom for overclocking and looking at the results we've achieved with this kit, this is easily one of the better kits that we highly recommend if you're into memory overclocking. Even if you're not chasing for the high frequencies for benchmark purposes, the Spectrix D60G DDR4-3600 CL14 is capable of hitting DDR4-4000 CL14 on some of the higher-end boards or DDR4-4000 CL16 on the mid-range boards with very minimal adjustments.
Is the XPG Spectrix D60G a good kit? Well, that depends on what you will be using it for. Models like the Spectrix D60G DDR4-3600 CL14 we've tested here are specially made for enthusiasts and overclockers who like to mess around with the memory settings will cost you twice as much as the more affordable DDR4-3600 CL18. Users who are more into the performance will find the RM 800-ish price justifiable but if you're just in for the looks, the DDR4-3600 CL18 will fit the budget better.
Pros
Clean and simple design for the heatsink
Good build quality
Butter smooth color transition with the RGB lightings
Good overclocking headroom
Limited lifetime warranty
Cons
Slightly higher temperature because of the non-metal 'heatsink'
Subjective
Better kits will cost twice the amount of the standard kits

Where to buy?