Ubisoft has revealed the roadmap of the full post-launch content for its upcoming title Far Cry 6 so you can shell out your hard-earned cash with confidence.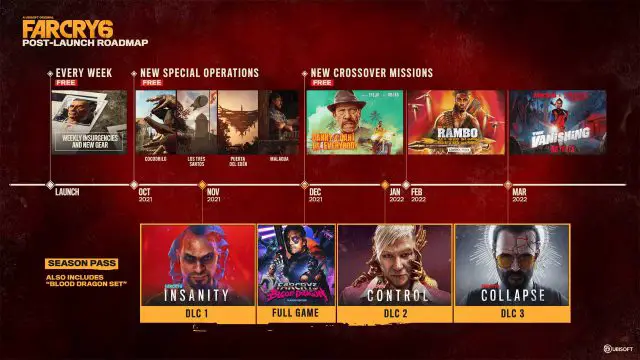 Let's talk about the season pass first as these types of bonus content are often bundled with "Deluxe Editions" at launch. What you'll get is a total of 3 DLCs that let you take control of the famous and classic villains from past installments: Vaas Montenegro, Pagan Min, and Joseph Seed. The game mechanics are set to be bearing the roguelike inspiration where players are starting off within the struggling horrors of their own minds. Armed with nothing but a pistol at the start, explore the unknown pathway while gathering new weapons and powerups to fully understand the backstory of the entire cause such as each villain's past, personal demons, and motivations. Ubisoft is also including a copy of Far Cry 3: Blood Dragon when purchasing/owning the Season Pass while the main Far Cry 6 unlocks a special Blood Dragon Set comprised of 7 items from outfits and vehicles to special weapons and customizable parts.
Moving onto the main game, starting from the day of launch, there will be weekly insurgencies for players to tackle through the bounty hunter-like mechanic – Track, Hunt, Reward. Overall the course of October and November, a total of 6 special operations will be made available slowly where these maps will introduce a new gameplay mode where players are required to intercept powerful chemical weapons and reaching the extraction point before they overheat with the first 2 locations being Mesozoico and Maceo. Lastly, 3 crossover missions will be added featuring Danny Trejo, Rambo, and Stranger Things.
Price and Launch Period
The Far Cry 6 Season Pass can be obtained separated at the price of RM125 or included with the Gold/Ultimate/Collector Editions with the DLCs made available at the following time. The best thing is these DLC can be played with a friend even if they don't own the Season Pass. A single price for double the fun? Sounds good to me.
Episode 1: "Vaas: Insanity" – November 2021.
Episode 2: "Pagan: Control" – January 2022.
Episode 3: "Joseph: Collapse" – March 2022.