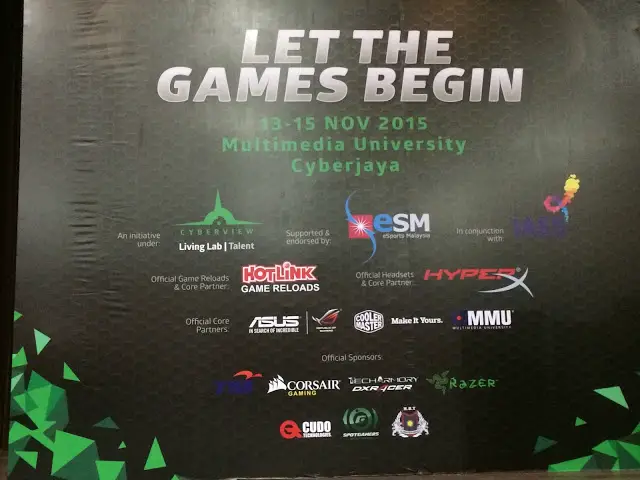 And here we are at MMU Cyberjaya, atttending the annual event CyberFusion 2015! CyberFusion is an annual event where gamers gathers around, play their favorite games and make new friends like all the LAN party that has been going on  around the globe.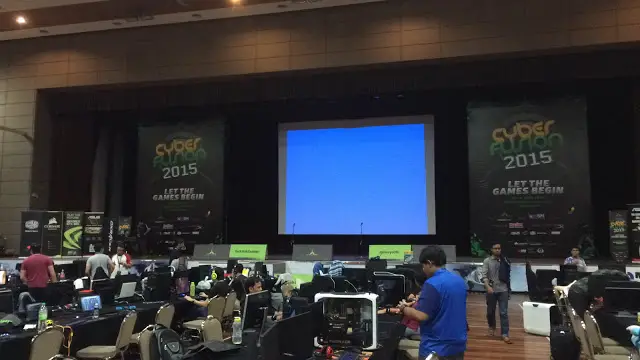 It has been confirmed that there's a total of 600 participants this year, which makes CyberFusion 2015 the  largest known compared to what we've experienced in the past CyberFusion.  
We arrived the venue 1 hour before the registration opens, but it looks like the participants arrived ahead of us and already got their system done setting up.
The opening ceremony speech by Secretary General of Esports Malaysia, Rinie Ramli, or better known as the FIFA Legend Si_Jali. Welcome to CyberFusion 2015!
The live modding counter by the renown
Mod'n'Go Design
, they'll be doing a live modding right here at CyberFusion 2015! If you're interested into PC modding or ever wanted to see how things are done, do check them out when you're coming to CyberFusion 2015.
Participants enjoying themselves, those who came with their friends enjoy competitive games with other gamers.
It's never too late for one to game, regardless of age  of course! Here's a participant showing a great gamer spirit, all the best to you sir!
LAN party is not limited only to the PC master race guys, the console gamers showing their passion for games with their own gaming arsenal.
Some participants came with their very own design of system, here's the one-of-a-kind table top system we've spotted during the event. 
Long graphics card but small chassis? Not a problem!
Here's a pretty unique spot that caught our attention – lot's of ROG robot and an army of Cooler Master's Master Case 5.
Here's the ROG ARX, the signature gaming machine of CyberFusion 2015. One lucky participant will be enjoying his awesome 3 days of CyberFusion right  here.
As most system on this island is still being setup, we'll come back to this island again for more coverage once it's ready!