When it comes to picking a decent speaker for one's daily driver, Edifier is no stranger to those who has been in the scene for the past few decades. We ourselves, have some pretty good experience with the Edifier R1600TIII and we expect nothing less from what we're about to review this time, the Edifier XM6BT 2.1 speakers which arrived at Tech Critter's lab a couple of weeks ago – special thanks to Inter-Asia Technology for the provision of the Edifier XM6BT!
Let's move on with the unboxing and tests to see what can we expect from the XM6BT, Edifier's latest 2.1 speaker that comes with Bluetooth function can deliver!
Specifications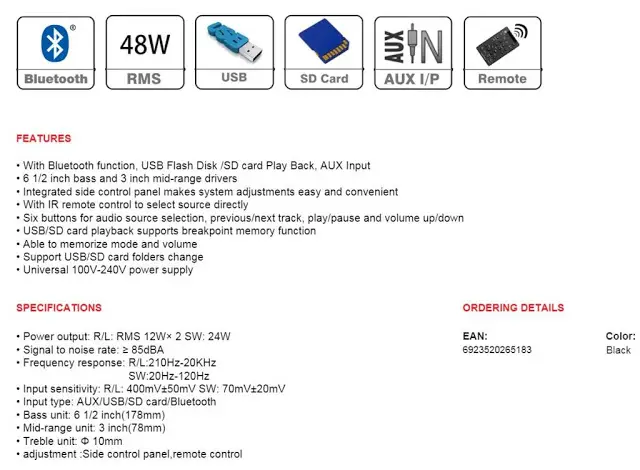 Packaging
The XM6BT ships in a rather huge box, one with the size that gives you the impression of 'Oh, this should be a good….' seriously, the box is massive! At the front, you'll find the highlighted feature of the XM6BT i.e IR remote control, support for USB portable storage devices, SD cards, Bluetooth connection, the standard Aux-in. More details on the highlighted features and specification can be found at the back of the box.
Accessories
The accessories that come together with the XM6BT includes a warranty card, user's guide, 3.5mm male to male AUX cable, and an IR remote controller.
The Edifier XM6BT 2.1 Speaker
Design wise, the XM6BT looks exactly the same as its non-Bluetooth counterpart, the XM6PF, with 6.5-inch bass driver powered subwoofer, 10mm twitter and 3-inch mid-range driver powered satellite speakers that deliver 48W output.
The enclosure is made from 100% medium-density fiberboard (MDF), a composite of resin and real wood fiber that will dampen out undesirable vibration for optimum sound quality. Both the speakers and subwoofer comes with a grill covered with acoustic fabric that specially designed and engineered for sound transmissibility and enhance aesthetic appearance.
Looking at the speakers, we can see that Edifier retained its classic minimalist design for those who takes minimalism seriously. And in case if you plan to have these speakers mounted on the wall, the satellite speakers of the XM6BT does come with the mounting option, be it for the sake of space saving or aesthetics.
Moving on to the subwoofer, you'll find the all mighty bass reflect port located on the left of the subwoofer, a distinctive feature which can be seen on better quality speakers that enhance the reproduction of low frequencies generated by the bass driver.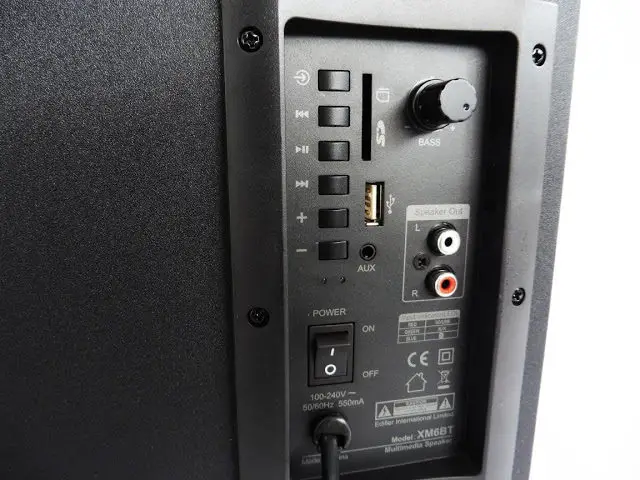 At the back of the subwoofer, you'll find the control buttons for audio source selection, next/right track selection, and volume control, bass control,  as well as the I/O for AUX-in, USB port, and SD card reader for an external audio source.
A CR2025 battery powered IR remote control is really convenient when the subwoofer is out of reach and you're just not in the right mood to leave that comfortable throne of yours.
User Experience
We started off our test with the Bluetooth audio source. The pin requirement during pairing can be device dependent, but the pairing process is easy as a breeze and it only takes around a second or two to get everything set. As of its audio performance, there is a minimal but noticeable delay during our test, but it's device dependent as well as we found that the delay only occurs when we're playing videos from our iPhone and iPad, but not when we paired it to our desktop workstation that comes with an onboard Bluetooth 4.0 module.
For the USB and SD card audio source test, the reading doesn't really take much time (which is a good thing). But it turns out that the XM6BT only recognize USB storage and SD card that is formatted to FAT32. So, do keep that in mind if you're planning to get the XM6BT for a mini event, gathering, etc that doesn't require a PC / laptop as the audio source.
Audio performance wise, the XM6BT is capable of delivering a pretty decent audio quality, especially on the mid and high without any assistance from audio enhancing hardware or software. While it appears as a pretty solid all-rounder, we find that modern music with mixed kicks and bass as well as action packed movies is what the XM6BT is made for.
As for the controls, it's definitely not something for those unprepared. To not face with unintentionally, overly loud volume, users will have to adjust the volume lower before playing their music/movie. This is as the volume control design doesn't allow one to easily adjust it compared to control knobs.
Verdict
If you're looking for a decent budget speaker that offers both quality and convenience, the Edifier XM6BT is definitely an option worth looking into. Balanced performance and good build quality is something that you can pretty much expect from the brand itself, and adding extra value to it is the multiple audio source option via SD card, USB drives, Bluetooth connection or AUX-in to match the modern day needs for a powerful and convenient speaker for home entertainment, mini gathering, event, party, etc.
There are of course some shortcomings with the design, such as device dependent audio delay on Bluetooth connection that we've experienced with our iPhone and iPad, and the volume control design that isn't as convenient as the traditional knob design when it comes to unintentionally and overly loud playing volume.
Judging from its build quality, audio performance, and features, the Edifier XM6BT is no doubt, a real steal when you consider its MSRP of RM239. And if the Bluetooth connection isn't really a feature you need anytime, the non-Bluetooth XM6PF with a lower MSRP of RM209 is another good alternative you can consider!
Pros

Good build quality
Decent sound quality
Good price
Multiple audio source selection
IR remote controller included

Cons

Audio delay on Bluetooth connection (device dependent)
Button volume control design is less convenient compared to knob control design