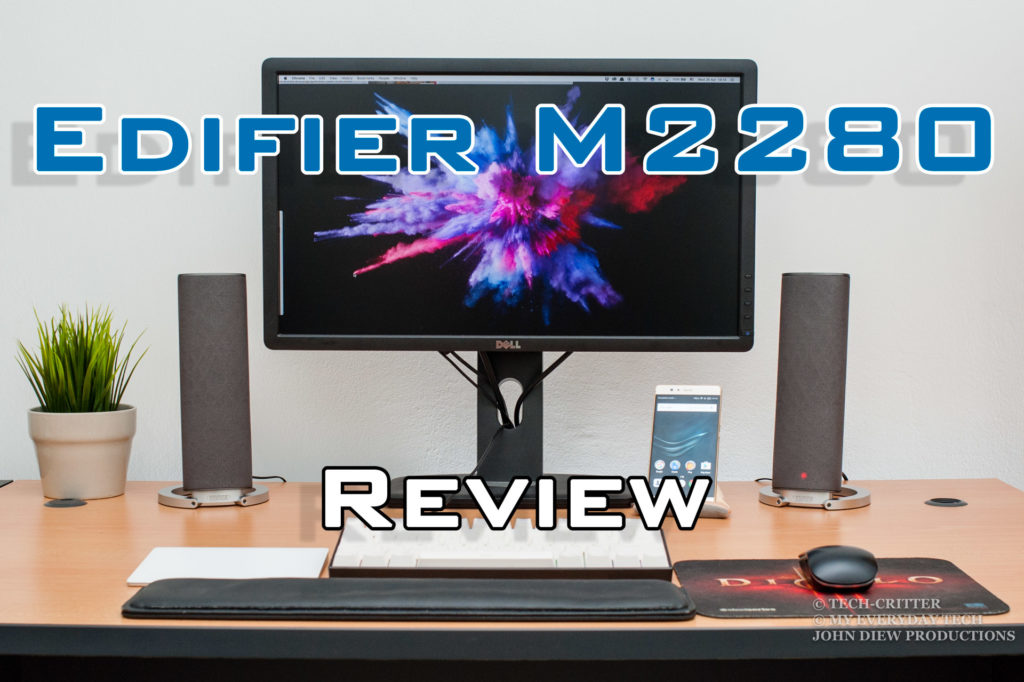 If you know me personally, I am the type of person who appreciates any peripherals or gadgets that bridge the users with the computers. While I may be a keyboard enthusiast but input/output gadgets do include mice, trackpads, monitors, speakers and more. There are literally tonnes of weird I/O tools out there, but today I'm going to talk about the audio. To be precise, as the title suggest, I'm reviewing the Edifier M2280 multimedia stereo speakers.
Edifier M2280 Specifications Overview
Build Quality & Design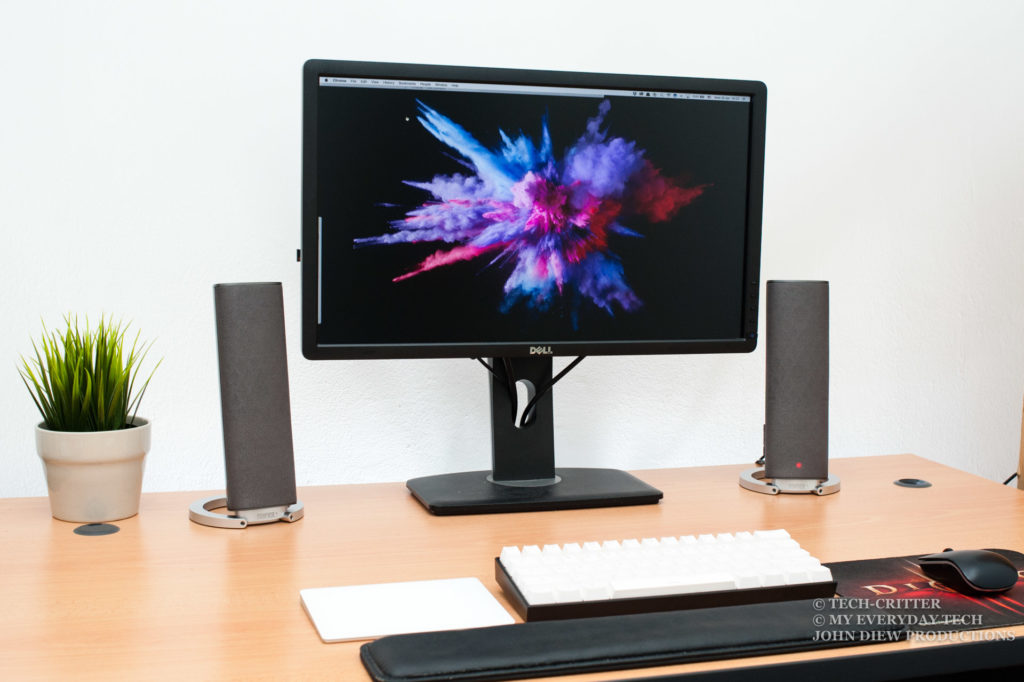 Starting off with the appearance, I'm really digging the looks of it. A clean and minimalist design is plastered all over the speaker itself. It gives me a sense of those miniaturised home theatre towers, especially when you put them beside your monitor.
The speaker itself is made out of plastic. Nevertheless, the build quality is something to be praised of because it doesn't feel flimsy at all. I do know there are a lot of cheaply made plastic speakers out there, but at least the Edifier M2280 did not choose to use thin plastic panels.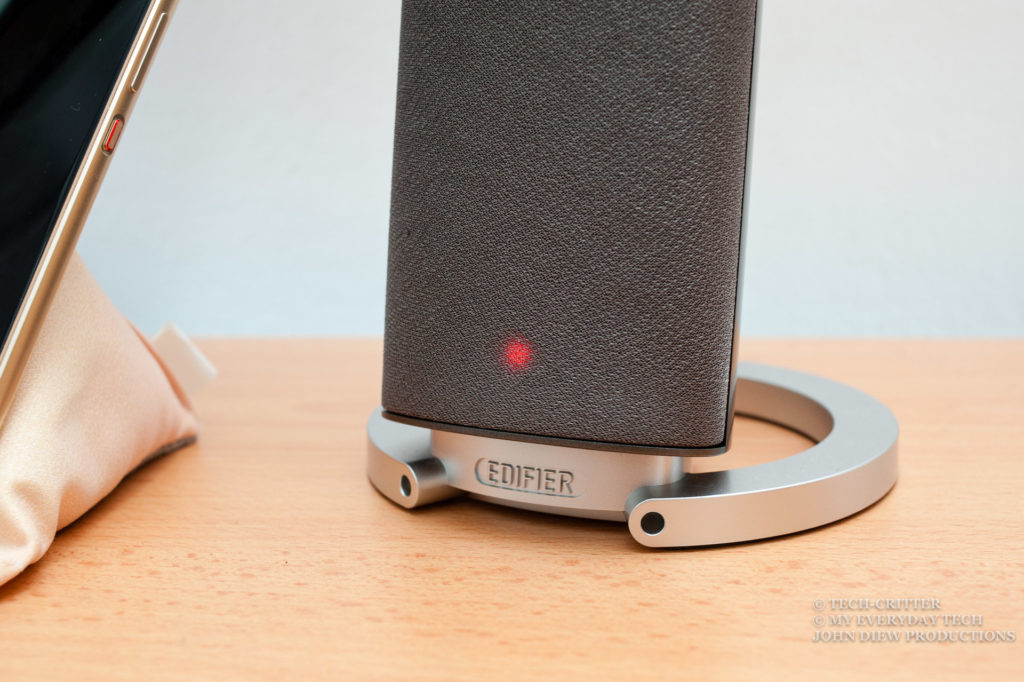 Edifier offers 2 colour choices for the M2280, Grey and Black. This particular model I have here is the Grey model. The base of the speakers remains the same Silver finish for both colour options.
Overall, I really love the design of this speaker except for that distracting red LED. The light goes on when you turn on the speakers. While it is not that kind of blindingly bright LED, but it literally destroyed the look and feel of the speaker. Edifier should just invert the LED lighting mode, only to lit the LED when the speaker is turned OFF. Otherwise, use a smaller green colour LED and position it behind the speakers instead of facing the front.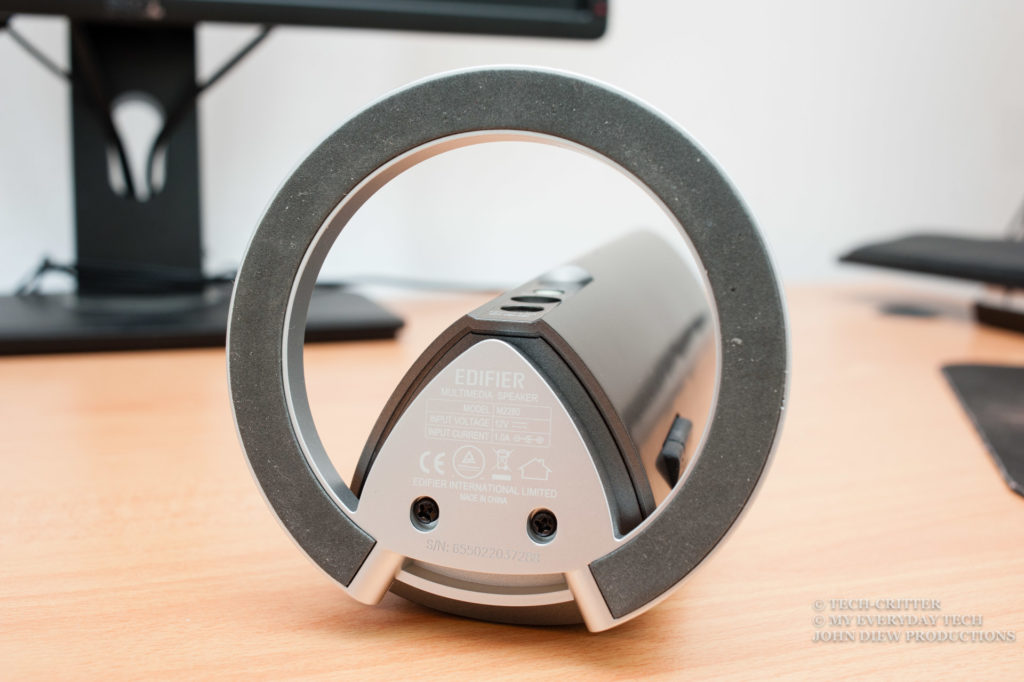 Alcantara-alike and soft feet at the round base to protect your desk surface while preventing the transfer of vibration from the speaker to the desk.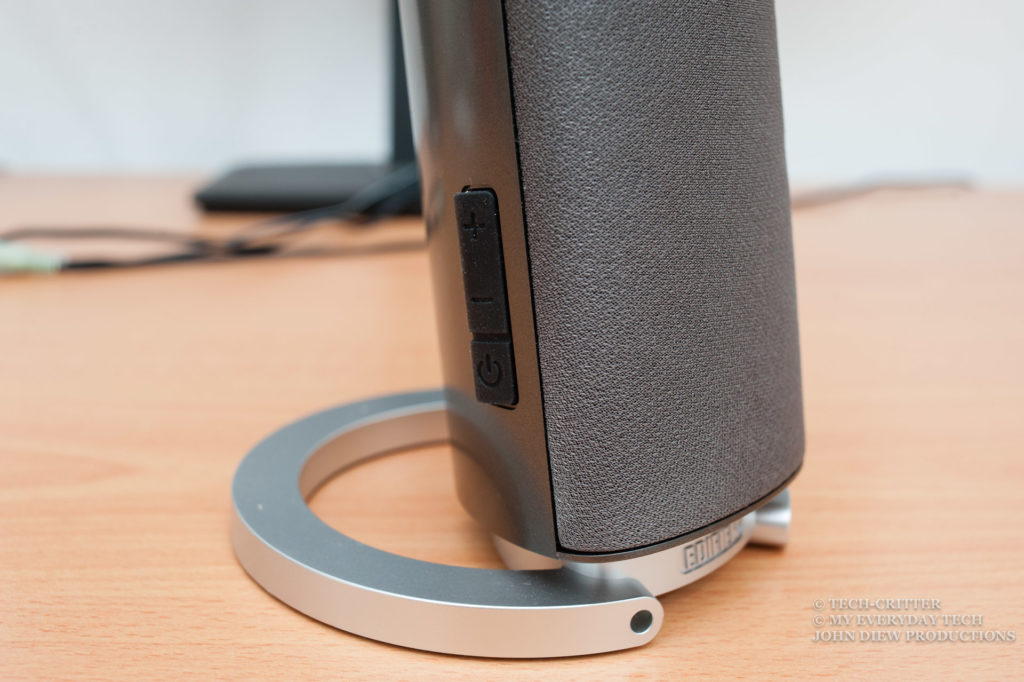 Rather than knobs, Edifier had these soft rubber buttons for the power and volume control. Hold the power button for 1 second to toggle between ON and OFF.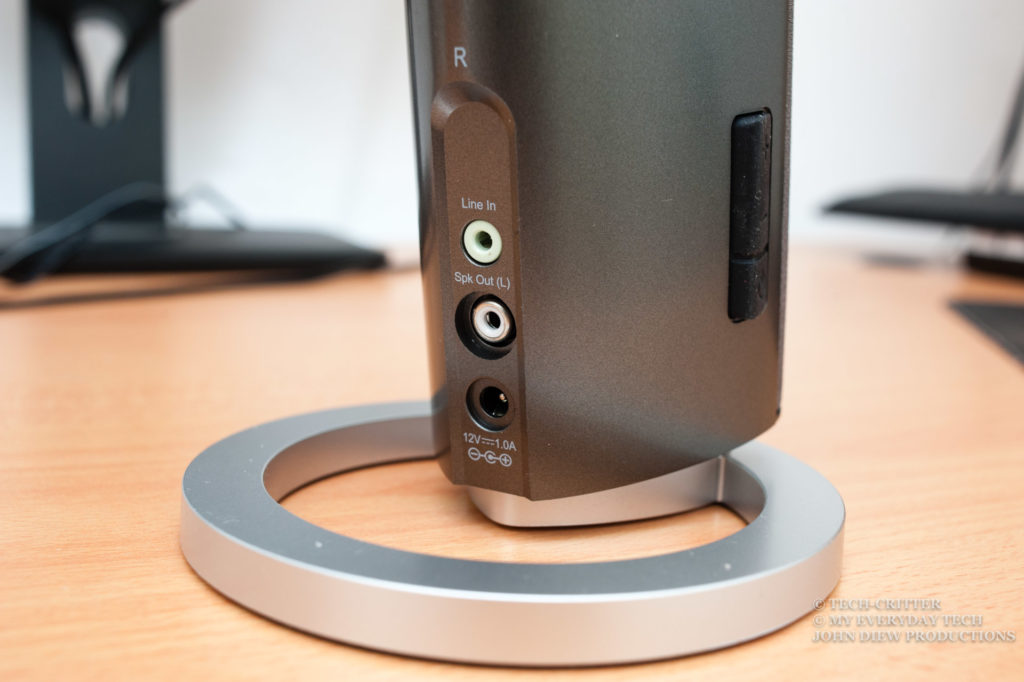 The right channel speaker is the master speaker, hence the I/O ports and toggle buttons are found here.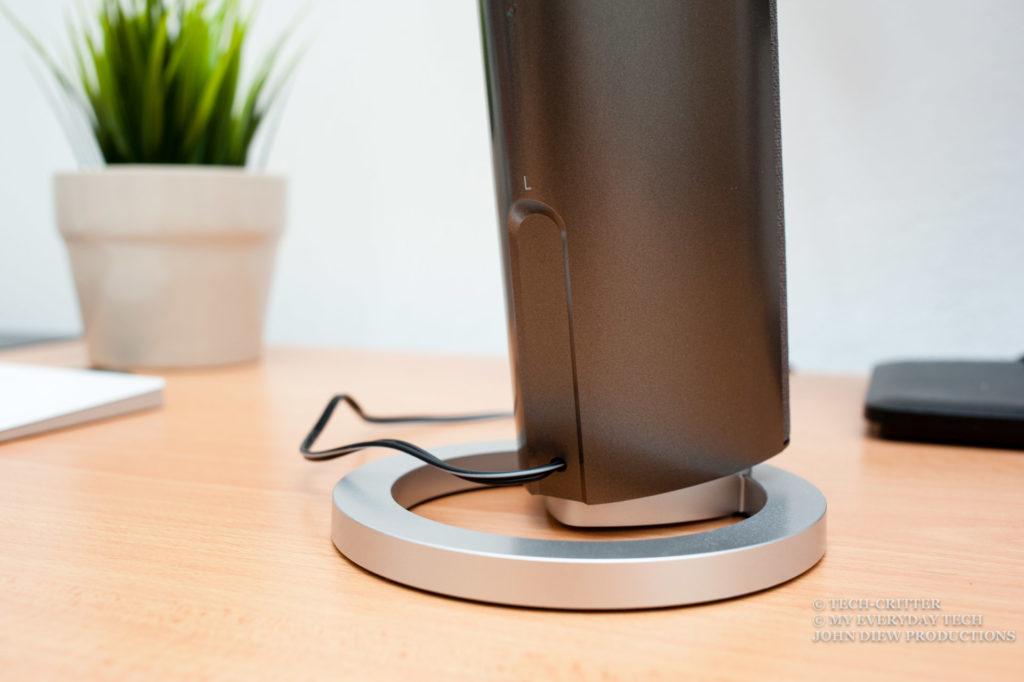 Meanwhile, the left channel speaker had the input cable permanently attached.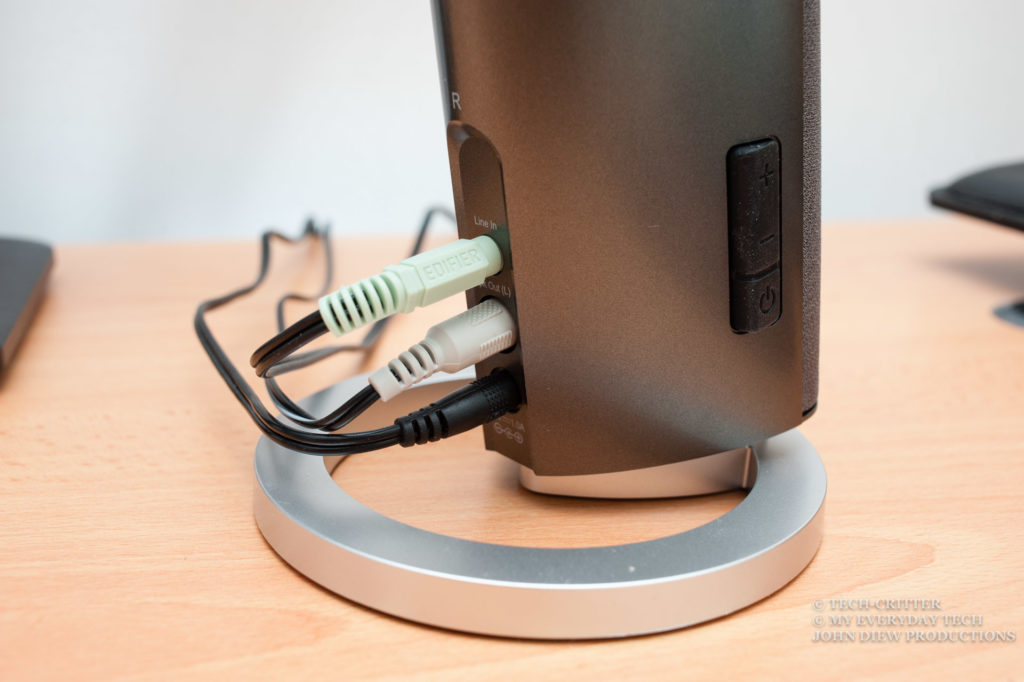 Getting started with the speakers is rather straightforward, just plug-n-play with the included cables. It took me less than 15 minutes to setup, that includes unplugging my old speakers and some cable management.
User Experience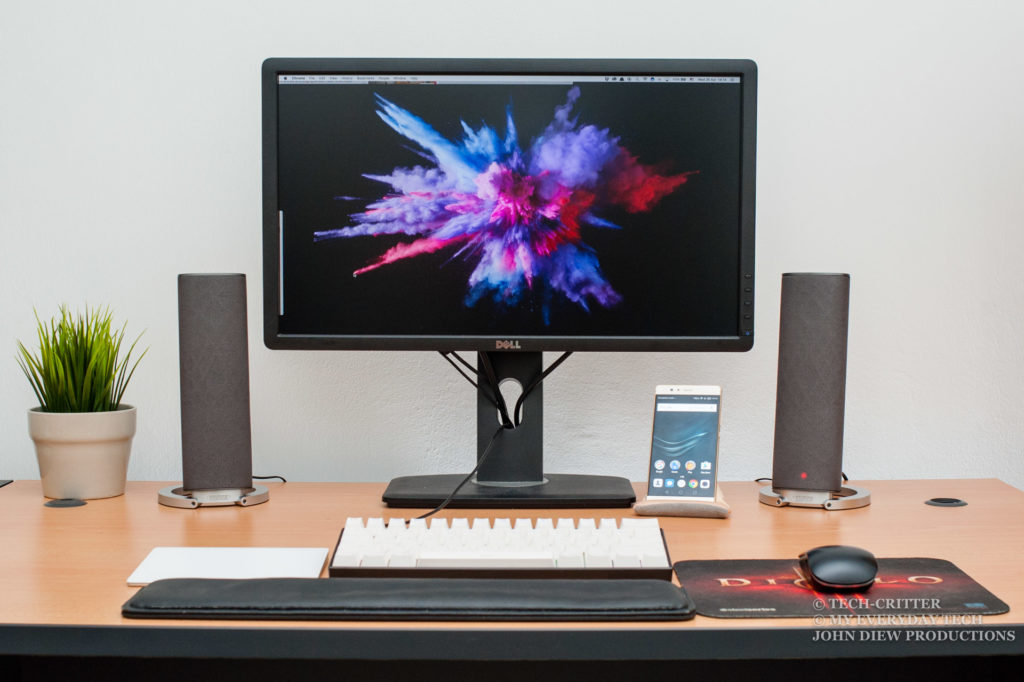 When I first got the speaker, I was sceptical about it as I have owned various good sounding speakers and headphones. You know, once you go deep into the rabbit hole, you often become more and more demanding towards the gadgets that you can reach. Anyhow, I unplugged my 2.0 bookshelf speakers and get the speakers running. As usual, I had the speaker to burn in for 3 weeks with regular usage, mostly music and videos as I don't game that often on my work desk anymore. Nevertheless, blockbuster movies should do the justice, right?
The first and the most obvious sound quality you'll notice is the lack of bass. For a pair of 2.0 stereo speaker that comes equipped with 70mm driver unit, you don't expect it to produce punchy lows. The overall sound quality is more like an equaliser with an s-curve graph, bright highs and toned-down lows. Even at high volume, the control on the treble is great without any distortion. The mids are clear and suitable for vocals or podcasts.
Music wise, it really depends on your personal preference. If you enjoy EDM or bass heavy music, this pair will not satisfy your needs for that punchy booms. General pop music and classical sounds just right for these and I personally really like that genre of music. For movies, due to the setup does not have a dedicated woofer unit or bass driver, the blockbuster sound effect might be lacking the power itself, vocals and spoken words, however, are good.
Final Words
After one month into owning the speaker with everyday usage, I enjoyed using it more than what I expected. Well, at least it is not that bad as I initially thought. Most importantly, it gave me an idea that the target users who would actually buy and enjoy using this pair of speakers. It is for those who wants a pair of good looking speakers that sounds good and compact at the same time.
Retailing at RM 150, not that I say it is cheap, but this is the best compact 2.0 speaker offering by Edifier. Some of you might argue that we are better off getting a 2.1 setup for that price. Yes, Edifier does have many models of 2.1 speakers to match the price, namely the XM2, M1335, M1380 and P2060. However, we need to make clear of ONE very important factor, desk space. The advantage of getting a good-old 2.0 stereo speaker over the 2.1 speakers is that you have 1 less woofer component to worry about especially when you have space constraints or you don't want to deal with the extra cable. Some 2.1 speaker system even comes with external controller unit which means another cable to deal with.
If you raise your budget to RM 200, the next 2.0 speaker offered by Edifier is the R1000TIII bookshelf speaker, which will take up quite a bit of your precious desk space. So, If you're in the market want a compact and good-looking speaker that produce good sound quality, the Edifier M2280 could be your choice for your home PC or even your office desk.
PROS:
Good build quality
Sleek design
Compact
Good sound quality
CONS:
Distracting red LED
Lack of bass