Portable SSD might be a gadget for the niche market at the moment, but as SSD becomes more affordable, there's a big chance that more and more users will start to adopt portable SSD over the traditional USB flash drives or portable hard drives in the near future.
Transcend are among the SSD manufacturers that has been offering portable SSD for users with demand for speed that has been pushing hard on their portable SSD for the past few months. We managed to get our hands on the Trascend ESD220C this time, special thanks to Transcend.
(The Transcend ESD220C 120GB is retailed at RM360)
Unboxing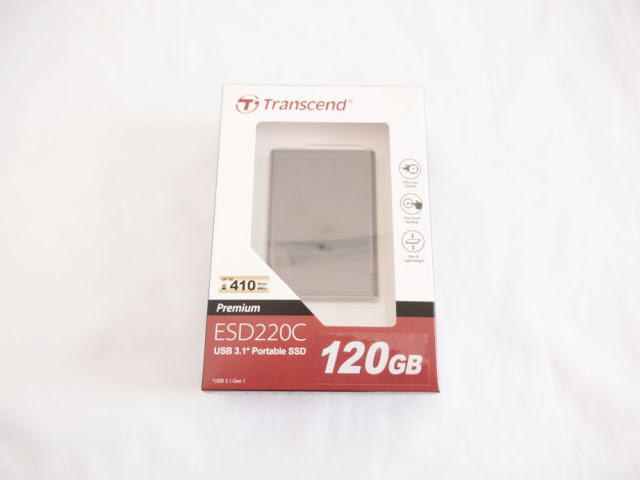 Packaging wise, you'll be seeing Transcend's same ol' red-white themed box that comes with a display window, along with some of its highlighted features such as its transfer speed, one-touch backup feature, ultra compact form factor and the USB 3.1 Gen 1 interface aka the USB 3.0 that we used to know.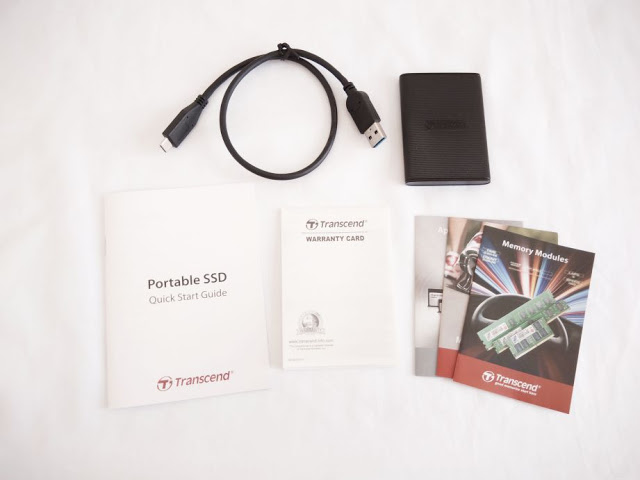 Inside the box, you'll find the ESD220C unit and its accessories pack that contains the USB Type-C to Type-A data cable, quick start guide, warranty card (3 year limited warranty) and some catalog for other solutions available from Transcend.
The ESD220C features an ultra compact enclosure that measures a thinness of only 9.6mm and an anti-scratch coating that will survive most of the minor scratches such as your nails or coins. Of course, don't push your luck with any sharp objects – it will scratch the enclosure for sure.
While the specification sheet stated its weight as 52g, the actual unit of the ESD220C weighs only around the weight of 33g and the additional weight actually comes from the data cable.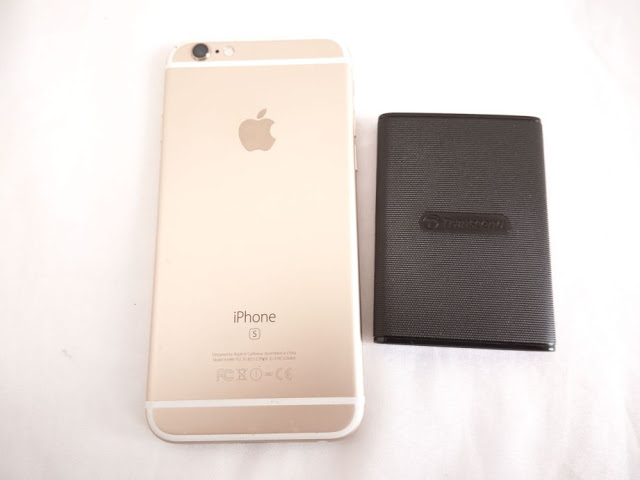 For size comparison, we placed the ESD220C next to an iPhone 6S. You can clearly see that the ESD220C is as thin as the phone and not even 50% of the total volume of the phone itself, which makes it extremely easy to carry around.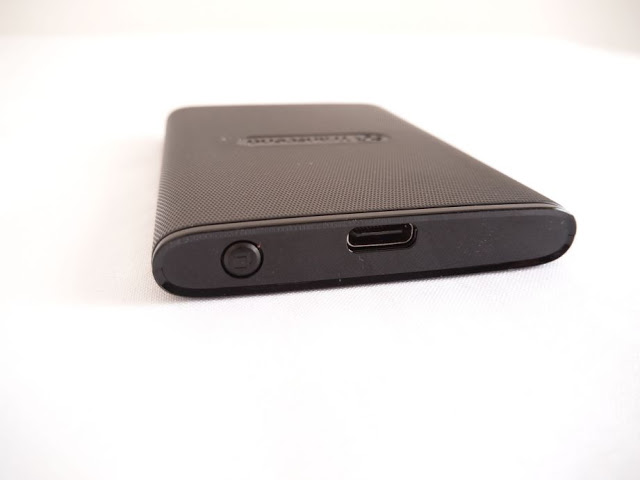 Aside of having a USB Type-C interface for high-speed data transfer and ease of plugging in the data cable, the ESD220C also comes with a one-touch backup button that allows you to instantly backup and synchronize data between your workstation and the drive when used together with the Trascend Elite data management software.
Software: Transcend Elite Data Management Software
The Elite data management software is highly recommended for the end users who really wanted to make use of all the available features to the fullest. Backing up and restoring assigned files and folders can be done easily with just a few simple steps on the initial configuration, encrypting and decrypting data on the drive for privacy and extra security measures, syncing data between the selected folders or cloud services i.e dropbox for extra copy of backup.
Unlike the previous revision, the Transcend Elite data management software we have here is a newer version that comes with a new and better looking user interface. Instead of having everything packing in one single window, the functions available are now in tabbed menu design.
Setting up backup schedule or restoring previous backup can be done from the Backup and Restore tab.
Encrypting and decrypting sensitive data can be done in a separated tab, which helps to prevent unauthorized users from accessing the information stored.
Synchronizing data between the ESD220C and a designated drive, or to a cloud storage i.e Dropbox, Google Drive can be done from the Sync and Cloud tab, depending on which function you will need.
And last but not least, the security tab that allows you to secure the ESD220C with a layer of password which the drive can only be accessed via the Transcend Elite data management software.
Test System Configuration
Test Rig Configuration

CPU Cooler
Corsair Hydro Series H80
CPU
Intel Core i5 3570K @4.5GHz
Motherboard
ASUS Sabertooth Z77
Memory
Corsair Vengeance 16GB DDR3
Primary Hard Drive
Intel 330 Series 120GB SSD
Power Supply
Be Quiet! Straight Power 10 600W
Chassis
Cooler Master Test Bench V1.0
The test is conducted using an older generation system of Intel Z77 chipset in order for us to see just how well can the ESD220C can perform on earlier revision of USB 3.0 interface.
Performance Test: Synthetic Benchmark
For synthetic benchmark, we put the Transcend ESD220C to test using CrystalDiskMark separately using 1Fill and 0Fill test data. From the results shown above, we can see an average speed of 360MB/s read and 340MB/s write. While it's not exactly the advertised 410MB/s read and 400MB/s write, we'd say that it's still a pretty good result as we're testing the drive on an earlier revision of USB 3.0 interface.
Performance Test: File Transfer
Moving on to a more realistic test, the common data copying that everyone is doing everyday. We're using various types of files which includes iso files and game folders that comes with different type and sizes of files as test data. From the few sets of data copy test conducted, we can see that the ESD220C is capable of reaching up to 315MB/s read and 289MB/s write in overall.
Verdict
As a portable storage device that is capable of 410MB/s read and 400MB/s write, there's no doubt that the Transcend ESD220C is one high-speed portable storage that the speed freaks need. While running on older system with earlier revision of USB 3.0 interface, the ESD220C were able to achieve a pretty reasonable performance of 360MB/s read and 340MB/s write on synthetic benchmark, and 315MB/s read and 289MB/s write in file our data copy test.
Speed aside, what makes the ESD220C unique is none other than its ultra-compact form factor that allows you to virtually fit it into any of your pocket or travel pouch. But here's something to take note, the anti-scratch coating might be able to protect the enclosure from a certain degree of scratch resistance, but intentional damage and very sharp object will still leave a mark on the enclosure. It's a pretty neat piece of gadget, why would you want to destroy it? Right?
While the SRP for the ESD220C is kind of on the higher side, the RM360 that you'll be paying is considered as a worthy investment if you need a high-speed portable storage device for your fast paced work.
Pros
Pretty decent performance even when it's running on older revision of USB 3.0 interface
Very compact design, easy to carry around
Make use of USB 3.0 Type-C interface for speed and convenience
Well featured bundled software
Easy and convenient one-touch data backup feature
Backed by a 3-year limited warranty from Transcend
Cons
Price is slightly on the higher side
Anti-scratch coating doesn't stand a chance against very sharp objects and intentional damage done to it