With industry-leading technical experience and expertise, Transcend has received for the 16th consecutive year the Taiwan Excellence Awards, including the latest Taiwan Excellence Awards 2020. Transcend also recently made the list of Taiwan's top 20 brands for the 13th year in a row. Transcend will continue to devote itself to developing innovative products that help the brand stand out in the global market.
The awarded products of this year include the ESD350C and ESD240C portable SSDs, StoreJet 25M3C and StoreJet 25C3S portable hard drives, PCIe SSD 220S, the DrivePro Body Control Center and the DPD6N docking station.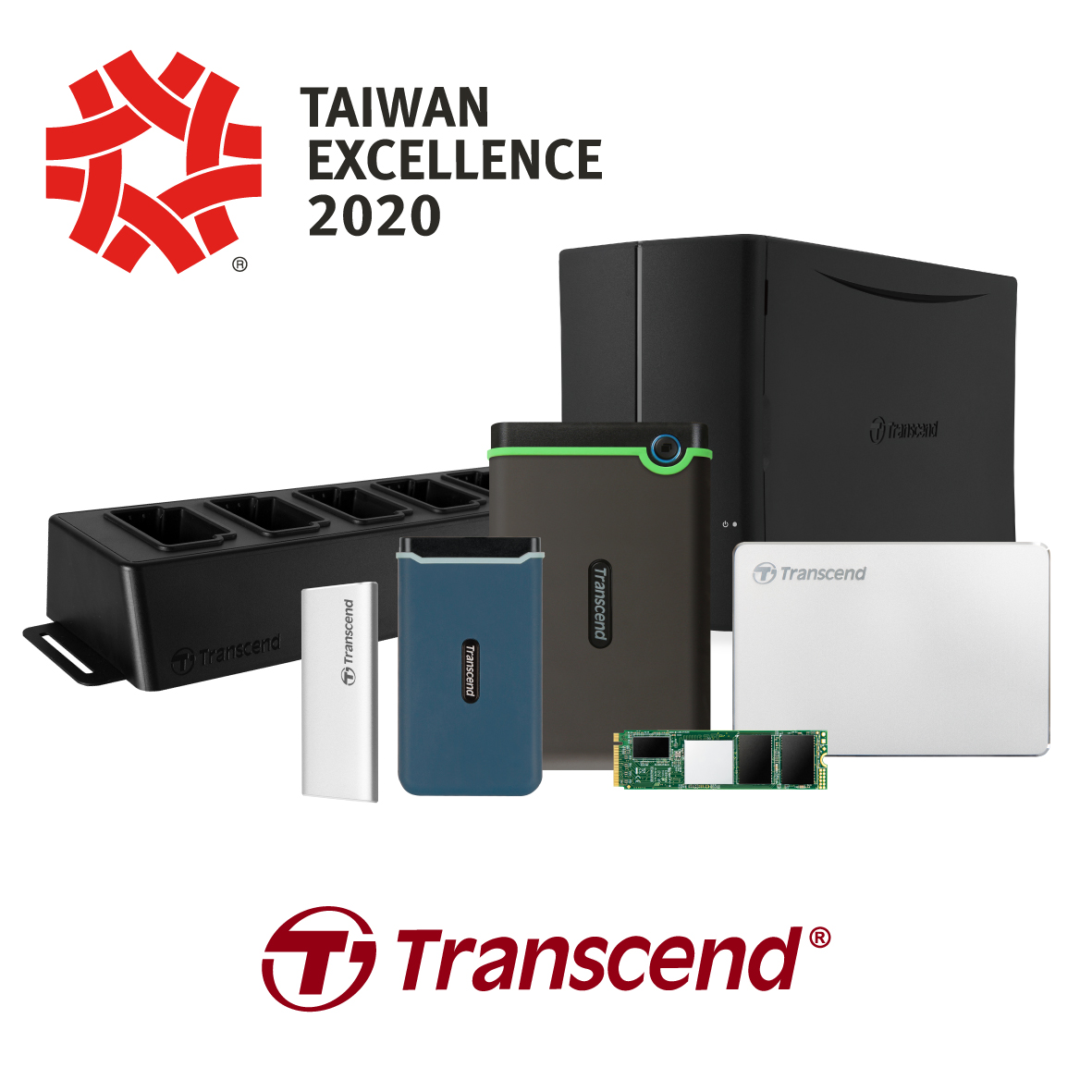 Portable SSDs: ESD350C and ESD240C
Transcend's ESD350C Type-C portable SSD features a compact, ruggedized, and shock-resistant construction, and transfers files at an impressive 1,050 MB/s. The ESD240C, which comes in a lightweight metallic casing, offers excellent anti-shock capability and a maximum transfer speed of 520 MB/s.
External Hard Drives: StoreJet 25M3G and StoreJet 25C3S
Transcend's newly released StoreJet 25M3C hard drive features a native USB Type-C port, a USB 3.1 Gen 1 interface that allows users to store and back up their files at amazing speeds, and a ruggedized three-stage shock protection system that meets US military drop-test standards. Housed in an aluminum alloy, Transcend's slim-and-sleek StoreJet 25C3S comes with a Type-C port and includes a USB Type-C cable and a USB Type-C to Type-A cable to connect to desktops and laptops featuring the USB Type-C or USB 3.1 interface.
PCIe M.2 SSD MTE220S
Transcend's MTE220S PCIe M.2 Solid-State Drive utilizes the PCI Express Gen3 x4 interface and is compatible with NVM ExpressTM (NVMeTM) specifications. Utilizing this interface means never-before-seen transfer speeds of 3,500 MB/s read and 2,800 MB/s write are now a reality. Using 3D chips and packing into an M.2 2280 form factor, the MTE220S SSD is the must-have for gaming enthusiasts and high-end applications.
DriveProTM Body Control Center and Docking Station DPD6N
Transcend's DrivePro Body Control Center is a digital evidence management system designed specifically to work with the TS-DPD6N networked docking station. With up to 16TB storage capacity, this secure, centralized server can store more than 4,000 hours of 1080P video recordings.
The "2020 Taiwan Excellence Award" was organized by the Taiwan External Trade Development Council (TAITRA) commissioned by the Ministry of Economic Affairs (MOEA) of Taiwan. Taiwan Excellence winners represent the most revolutionary, high quality, and high value-added products made by Taiwanese companies.