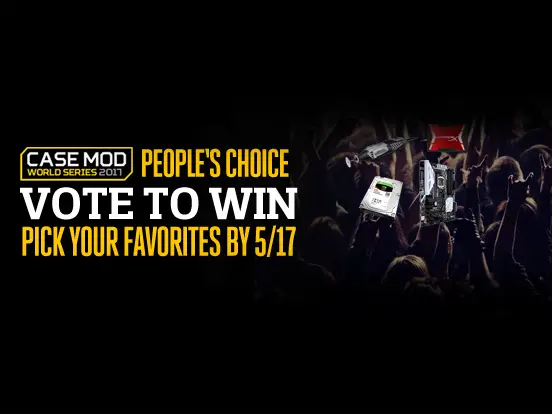 Cooler Master, a leader in design and manufacturing computer components and peripherals, today released the full list of entries in this year's Case Mod World Series. 
The largest global case modding competition has garnered more than 100 spectacular mods this year, all of which can be seen in the official competition gallery
http://makerhub.coolermaster.com/case-mod-world-series-2017-vote
. PC craftsman from all over the world have given their best in hopes of taking home a piece of that $45,000 in cash and prizes.
"We are thrilled to see another year of exceptional mods. Year after year the Case Mod World Series and community continue to grow and attract modders from all walks of life. We are also excited to seemore partners in recognizing the importance of modding to the PC building community," said Raymen Wu, Marketing Director.
The competition consists of four categories this year, with up to eight possible winners. As in past years of the competition, the Tower and Scratch categories will offer prizes to the top three mods in each category. This will be the third consecutive year that Cooler Master will also allow the people to choose a winning mod with the People Choice Award. As a special bonus in celebration of Cooler Master's 25th anniversary, a special category has been added offering a prize to the modder who creates the best project using one of a special list of classic cases.
This year's competition is awarding more prizes than ever before, totaling $45,000 in value. Winning modders will be awarded prizes from Cooler Master and sponsorship partners in the form of both products and cash. All winners will be awarded enough parts to build a new PC, but each prize level includes differing levels of parts and bonuses. 

Vote for the People's Choice Award
The winner of the People's Choice Award will be decided by you, the people. That means it's your job to vote for your favorites. To vote, simply visit the Case Mod World Series 2017 gallery and click the vote button for the mods you like. You can vote for as many mods as you want, up to one time each. Vote now:
http://makerhub.coolermaster.com/case-mod-world-series-2017-vote
Vote to Win
Modders aren't the only ones who can win prizes with the People's Choice Award this year. Every voter will be entered for a chance to win prizesprovided by Cooler Master and it's sponsors: NVIDIA, ASUS, Seagate, Bitspower, HyperX and Dremel. Just for voting, you can win hardware such as cases, coolers, GPUs, memory, and even your very own Dremel rotary tool.Make the Choice. Make It Cooler Master. Make It Yours.