Nanoxia is very well known for its PC case that focuses on minimalist design and silent features, and we've visited its booth this year to find out what's new from Nanoxia – glad to say that we're not disappointed at all.
Project S ATX Drawer Case
According to Nanoxia, the "Project S" has been inspired by the Nanoxia Project that is on display during Computex 2015.  high-end HTPC case with aluminum front and tempered glass top. As with the original Nanoxia Project, it's a drawer design, allowing users to pull out the tray that holds PSU, motherboard, fans/radiators and HDD's/SSD's. The classic case features an I/O-panel with 2 x USB 3.0, 1 x USB 3.1 Type C, and HD Audio. A RGB Rigid LED is installed in the lower part of the front. 
The drawer designs allow users to pull out the system, even when it's running, making installation and maintenance much easier compared to most traditional design cases. Two 2.5 or 3.5 inch HDDs, as well as three 2.5 inch SSDs, can be installed, with all the HDD mounting spaces being fully removable. It comes also with a very well designed cable management system that allows a very clean installation. For fans of water cooling, a holder is provided for a 280mm solution in the front and a 360 mm radiator on the right. Another 240mm system can be installed on the left after the HDD-holder has been removed. 
For users who prefer tower over HTPC cases, the Project S can be used standing up. The glass top will then function as the left side panel, the PSU will be on the bottom and you can install up to three 120 mm fans under the top. All fan mounting spaces will be equipped with dust filters. The Nanoxia Project S will be available in Europe from August.
CoolForce 1
The next model, to be expected to arrive in Germany at the end of August, will be the CoolForce 1 from the CoolForce Series case lineup. As Nanoxia is taking feedbacks from both sides of end-users and reviewers seriously, perks such as USB 3.1 Type C front connector, in addition to the two USB 3.0 and HD Audio connectors has been added to the CoolForce 1 to meet the user's needs. The new front panel design is based on the feedback as well, which makes it easy to access the dust filters and front fans. 
The interior design allows for maximum compatibility. The newly designed HDD-trays can simply be removed, when not needed. Users can also opt to install one of our separately available 2-bay or 3-bay HDD-cages at the bottom. The mounting rail is a bit offset from the front panel, in order to allow the installation of a 240 mm radiator. Alternately, either two 2.5 inch SSD or a 120/140 mm fan can be installed here. Under the top cover, a 360 mm radiator can be installed. The mounting holes are offset for the maximum compatibility with motherboards. 
The CoolForce 1 will be fully soundproofed, with two noise insulated side panels. Hard disks and the PSU are decoupled and a fan control for up to three case fans is included, allowing the best compromise between maximum air flow and low noise. Nanoxia also offers tempered glass side panels as a side accessory for the CoolForce 1 case, mainly for users who wants to showcase their system.
More Updates
Other than introducing new cases, Nanoxia has also mentioned its upcoming Special N.N.V fans. It's "back to the roots" for Nanoxia – which is how the company started with innovative, high-end fans. This fan uses patented technology, developed for the German automobile industry. Nanoxia has struck a deal with the inventors and we are now the only company in the world to use this special technology for the PC market. 
The "Special Nanoxia No Vibration" fan produces NO VIBRATION at all. The fan rotor is completely decoupled from the frame, allowing no vibration to be transferred to the case. This makes the Special N.N.V. the only case fan in the world without any vibration noise. As such, it is practically inaudible. With the "German Silent Force" our fan-business receives an unexpected, yet very powerful reinforcement! 
Nanoxia will be introducing a new range of 120 mm fans which includes four models with different speeds starting from Q04/2016, one PWM-model with a maximum speed of 1,650 rpm, three models with fixed speeds, ranging from 800 – 2,000 rpm.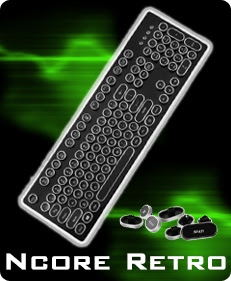 Last but not least, Nanoxia is surprising us with another news – they will be presenting the first of a variety of high-quality, mechanical keyboards known as the Nanoxia Ncore Retro mechanical keyboard. 
While there's no display unit available during our visit, Nanoxia stated that the Ncore Retro mechanical keyboard will take on the form of an aluminum-made antique typewriter and it comes with interchangeable keys. 
*Just so you know, Nanoxia is coming back to Malaysia very soon! So… stay tuned with us for more updates on its availability in Malaysia!*