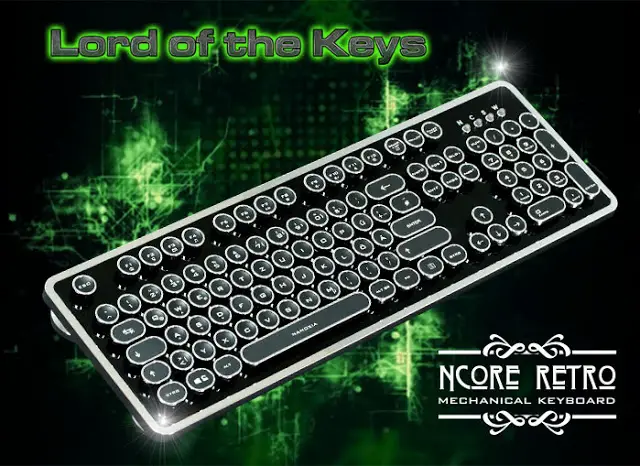 The name speaks for itself – the keyboard offers a true retro-look to its owner. Circular, detached keys ensure that the Ncore Retro has the distinctive look of a classical typewriter. The chrome finished surface in combination with the silver enclosed key caps underlines the high-quality design of the keyboard. 
Don't let the deliberate "retro-look" fool you, underneath it's a true mechanical keyboard with all the advantages they bring. This includes for example Anti-Ghosting and the possibility to switch between 6-Key and N-Key Rollover, as well as a series of function keys which you can find on the modern day mechanical keyboards. 
A total of 12 multimedia keys are included, in addition to the possibility to lock the Windows key, switch the functionality of the WASD and arrow-keys and change between 6-key and N-key rollover. As such, the keyboard is not only aimed at fans of old typewriters, but also at enthusiastic gamers and dedicated design buffs, who are looking for a classic keyboard for their office. 
Nanoxia deliberately chose the Kailh White Switches to give the user the haptic feeling of writing with a typewriter. The operation force is approx. 50 cN, while the full tactile force is 60 cN. The switches offer a pronounced and precisely detectable switching point. The Kailh White switches use a more solid key shaft with gold contact and offer a life expectancy of 70 million hits per key. 
Another special feature of the keyboard is the possibility to remove each key of the Ncore Retro on its own, allowing users to change the whole layout of the keyboard, if desired. The Ncore Retro is also water resistant, allowing easy cleaning of the keyboard. You can even spill a glass of water over our keyboard by accident. 
The keyboard is connected to your PC by USB. Three different keyboard layouts will be available in Europe. Besides the German layout version, Nanoxia will be offering a UK- and a US-layout as well. And of course, European layouts has been included in the future release plan.
The Ncore Retro is expected to be available in stores from the end of this week with MSRP for all three models to be set at 109.99€ ,incl. 19% VAT. Advance sales in Germany have begun today.
If you wish to know more about the Nanoxia Ncore Retro, kindly visit the following link to learn more: 
https://goo.gl/vdnEAP