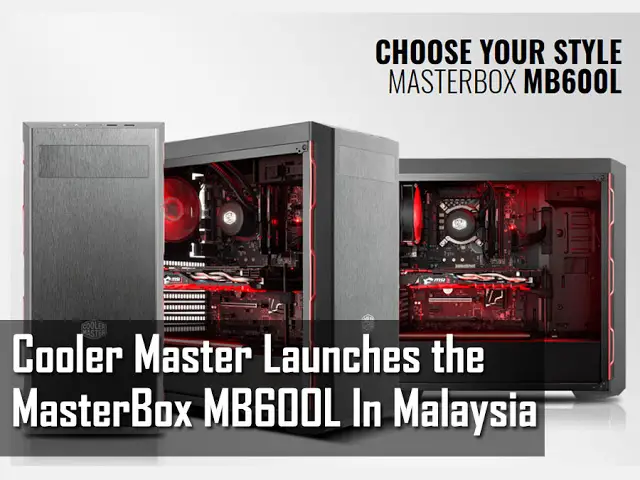 Cooler Master, a leader in design and manufacturing computer components and peripherals, today announced the launch of a new model in the MasterBox series, the MasterBox MB600L.
Sleek and Elegant Design
The MasterBox MB600L is designed to blend into its environment. Its sleek design makes it the best choice for office or home usage and the brushed front panel gives the case an elegant outlook. The edge to edge transparent acrylic side panel provides easy access and a clear view to internal build components. The inside of the case has a full black coating and PSU cover, which will help to facilitate a clean build with easy cable management. 
Color Plan of Side Trims
The MasterBox MB600L will be available in three different color models, red, blue and gunmetal, to match build color preference of most users.
360mm Radiator Support
The spacious interior and two chamber design of the MasterBox MB600L provides sufficient freedom for build customization. It can support up to a 360mm radiator in the front (up to a 280mm radiator for the ODD model) and a 120mm in the rear to optimize cooling performance. The MasterBox MB600L also supports graphics cards up to 400mm, tower coolers up to 160mm and PSU's up to 180mm.
ODD Support
For those who prefer to use an optical drive, Cooler Master is offering a version with ODD. However, for those who prefer a seamless front panel without ODD support, another model will be available.   
Pricing & Availability
The release of MasterBox MB600L will commence immediately, priced at RM 199.
MCB-B600L-KANN-S00 (Red Trim without ODD)
MCB-B600L-KA5N-S01 (Blue Trim with ODD)
MCB-B600L-KA5N-S02 (Gunmetal Trim with ODD)